Horse trailer camera systems will come in handy when you're trying to hitch up your trailer. It's also a useful tool when you're backing into a tight spot and need a wider view. Horse trailer cameras are ideal for safety and will give you some peace of mind as you travel down the road with your horses in tow.
Key Takeaway

We claim the Yakry Wireless Backup Camera makes the best horse trailer camera system for its great observation and stable signal. The system allows you to connect up to 4 cameras. It comes with a high-resolution screen monitor, which is a great perk. This camera system brings all the necessary features to trailer your horses safely while not breaking your budget.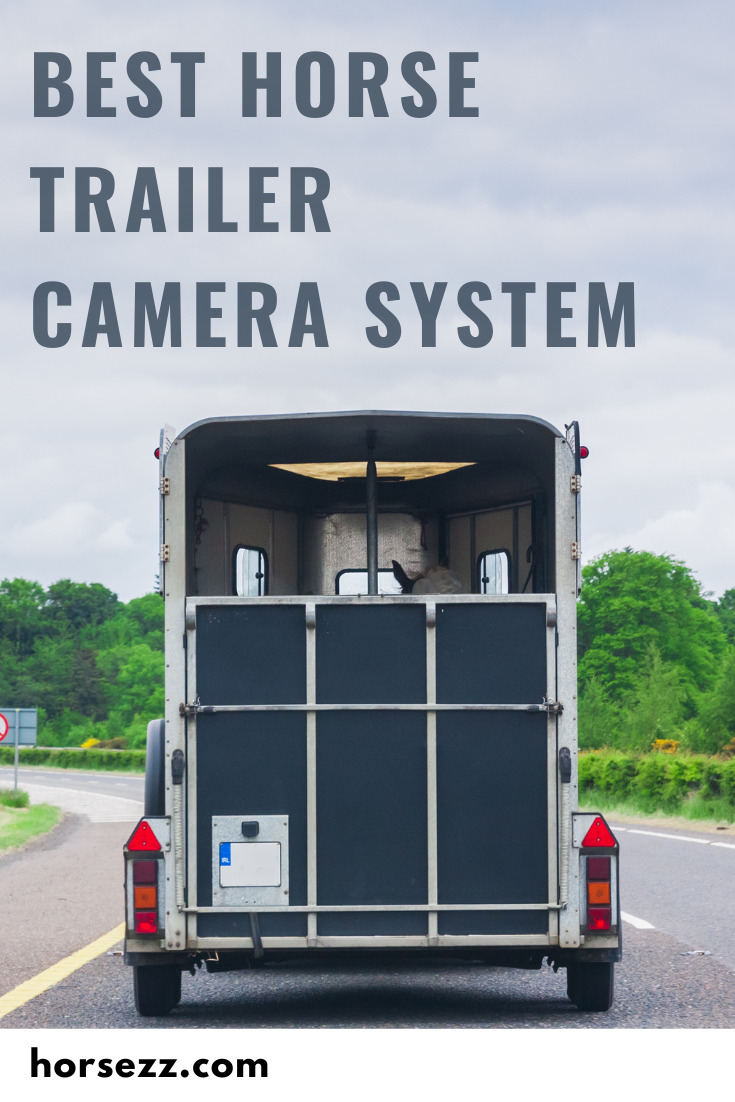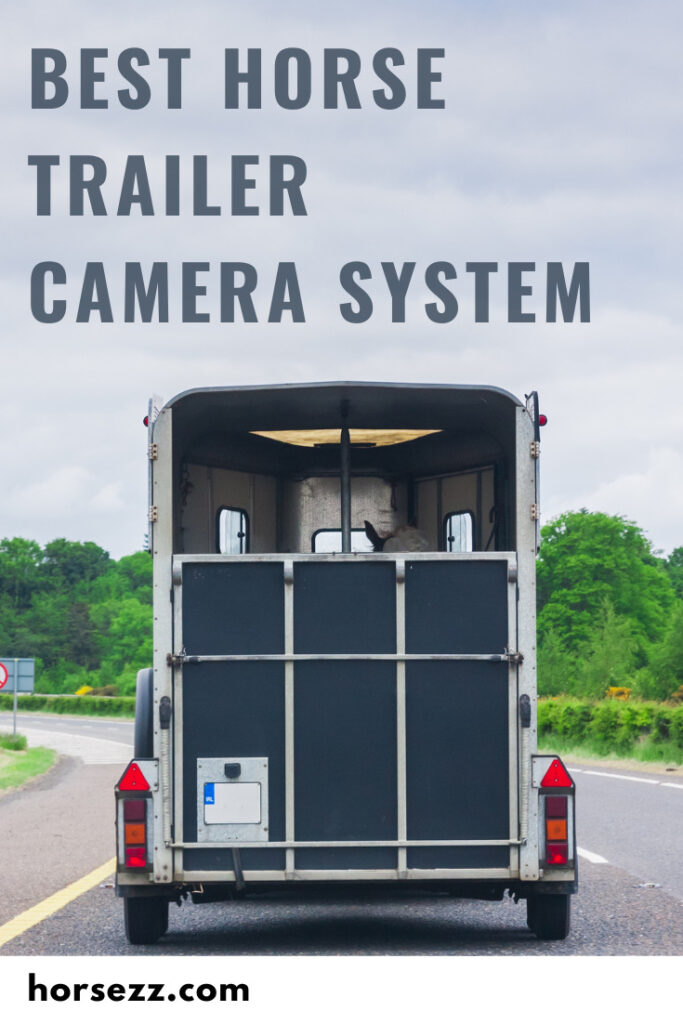 5 Best Horse Trailer Camera Systems
Here's a detailed guide on the top 5 trailer cameras that make a solid camera system for horse trailers.
1. Yakry Wireless Backup Camera
The Yakry Wireless Backup Camera holds first place in our list for its versatility and durability. It's a great wireless camera kit that comes with a digital monitor. The Yakry Backup Camera is easy to install and use. It has a water-resistant design and a night vision feature. The Yakry camera also comes with a mounting bracket.
The Yakry Wireless Camera is one of the most affordable cameras on our list. It's a great budget-friendly option for those who are looking for a good-quality trailer camera system.
Features
The Yakry camera is IP69K waterproof.
It has a night vision feature.
You can on\off the backup lines when needed.
The monitor comes with a 1080P HD resolution for a clear image.
The signal works at a distance of up to 320ft.
Bottom Line
The Yakry Wireless Backup Cameras is a great option to install on your horse trailer. The tool is waterproof and provides a strong signal. You can check the horse tow with the help of the HD 1080P digital monitor. Add up to four cameras to the systems so you can see your vehicle from various angles.
---
2. EWAY WiFi Magnetic Camera
The EWAY WiFi Magnetic Camera system is one of the best wireless trailer cameras on the market. The EWAY product is easy to set up, and you can do it yourself in a few minutes. Just download the EWAY app, connect it to your phone, and start using it. The trailer camera works with both Android and iOS devices.
The battery of this tool lasts for up to five hours when recording. You can also use the power cord that comes with the package if you want to keep it plugged in all the time. This product has an HD 1080P resolution with a viewing angle of 120 degrees. That way, you can see everything that's happening around your horse trailer while you're driving.
The EWAY WiFi Magnetic Camera is also weatherproof, so you don't have to worry about it if it rains. The EWAY device has a built-in microphone so you can hear the sound coming from the surroundings of your horse trailer. You can also record loop videos and take photos with this camera.
Features
The EWAY trailer camera can be easily attached to any metallic surface.
Use the USB power cable to recharge the device.
The EWAY camera claims to be IP68 waterproof.
The tool comes with 9 automatic infrared night vision lights.
The wireless trailer camera provides a signal at a distance of up to 100ft.
Bottom Line
If you're looking for a magnetic trailer camera, we highly recommend the EWAY camera. It's easy to install, has a long battery life, and is weatherproof. Plus, the device has night vision, so you can monitor your horse trailer around the clock. You can use your smart phone to monitor what is going on behind your back. Just install the EWAY app on your device.
---
3. TadiBrothers Wireless Backup Camera Kit
The TadiBrothers Wireless Backup Camera System can be easily mounted on your horse trailer. The camera has a range of up to 70 feet. The device is loved for its big 7-inch LCD digital monitor. There is a dash mount and overhang, so you can install the screen at the desired angle. The camera system comes with a wireless transmitter and receiver, so you do not have to worry about any wiring.
The camera is weatherproof and can withstand extreme temperatures. This makes it perfect for use in horse trailers as well as RVs, trucks, and cars.
Features
The TadiBrothers wireless trailer camera provides a 120-degree view.
The device is waterproof and has auto night vision.
You can add up to 4 cameras and observe the view from the split-screen mode.
The signal can go through objects of up to a 70ft range.
Bottom Line
TadiBrothers Trailer Cameras are a great option for those who want to monitor their horse trailer while on the road. The wireless feature makes it easy to install, and the 120-degree view gives you a clear vision of what is happening inside your trailer. You will also get all the necessary mounting hardware in the kit. You can add multiple cameras to this system for a wider view.
---
4. DOUXURY Wireless Backup Camera
The DOUXURY Wireless Camera is another top-shelf choice for those who are looking for a trailer camera system. This DOUXURY camera has a wide viewing angle of 170 degrees and is also waterproof. The device comes with a night vision feature that allows you to see even in low-light conditions. The wireless connection of this camera makes it very easy to install. You can also connect multiple cameras to this system to get a wider view.
Features
The wireless camera has a dual antenna design for a more solid signal.
The camera system comes with a 7-inch 1080P monitor that has a 4-split mode.
The signal can reach up to 180ft in vehicles and 320ft in an open area.
The monitor has a recording function so that you can save your rides on a 128G SD card.
Bottom Line
If you're looking for an easy-to-install horse trailer camera system with a wide view range, the TadiBrother is the one. The device is also loved for its great signal and recording function. It's a great choice if you want to save your rides or monitor your horse while you're away.
---
5. Rohent RV Backup Camera
The Rohent trailer camera is an ace choice if you're looking for a budget-friendly RV camera. The device has a 170-degree viewing angle and can reach up to 980ft in an open area. The monitor is also quite large – it's a seven-inch TFT LCD screen. The device is easy to install and comes with all the necessary cables.
Features
The Rohent camera system comes with a dual antenna design for a clear signal.
The signal can reach up to 980ft in an open area and 260ft in vehicles, which is solid.
All the videos can be recorded and stored in a 128G SD card.
The IP69 waterproof monitor can withstand extreme temperatures ranging from -22℉ to 176℉.
Bottom Line
Consider the Rohent RV Backup Camera if you're looking for an affordable RV camera with a wide signal range. The monitor is quite large and has a 1080p resolution. There's a CCD image processing chip to process all the data. You can watch your vehicle in 2-split and 4-split screen modes as well. The 170-degree camera view reduces the blind area while trailering your horse.
---
How to Choose a Horse Trailer Camera System – The Buying Guide
There are a few key factors you'll want to keep in mind when searching for a horse trailer camera kit.
Wired vs Wireless?
The benefits of wired cameras are that they're less expensive and easier to install. However, the main drawback is that the wires can be damaged easily, which can cause signal issues.
A wireless-mounted backup camera is more expensive but offers a number of advantages over wired systems. The wireless system is easier to install since there's no need to run any wiring through your horse trailer. Wireless camera systems also offer greater flexibility in terms of where you can place the cameras.
Number of Cameras You Need
For most horse and RV owners, one camera is sufficient. However, if you're opting for a more comprehensive system, then you might want to consider multiple cameras. A camera system allows you to keep an eye on different areas of your horse trailer at the same time. This can serve you well if you have a larger trailer or if you transport multiple horses.
Camera View
The viewing angle is essential because it determines how much area the camera will be able to cover. If you want to see everything behind your horse trailer, then you'll need a camera with a wide viewing angle. Most RV backup cameras have a viewing angle of around 120 degrees. This article reveals some cameras with even wider angles if you need them.
Image Quality and Resolution
The image quality affects how clearly you'll be able to see what's behind your horse trailer. Most trailer cameras have an image resolution of 720p or 1080p. If you want the clearest possible image, then you should look for a camera with 1080p resolution.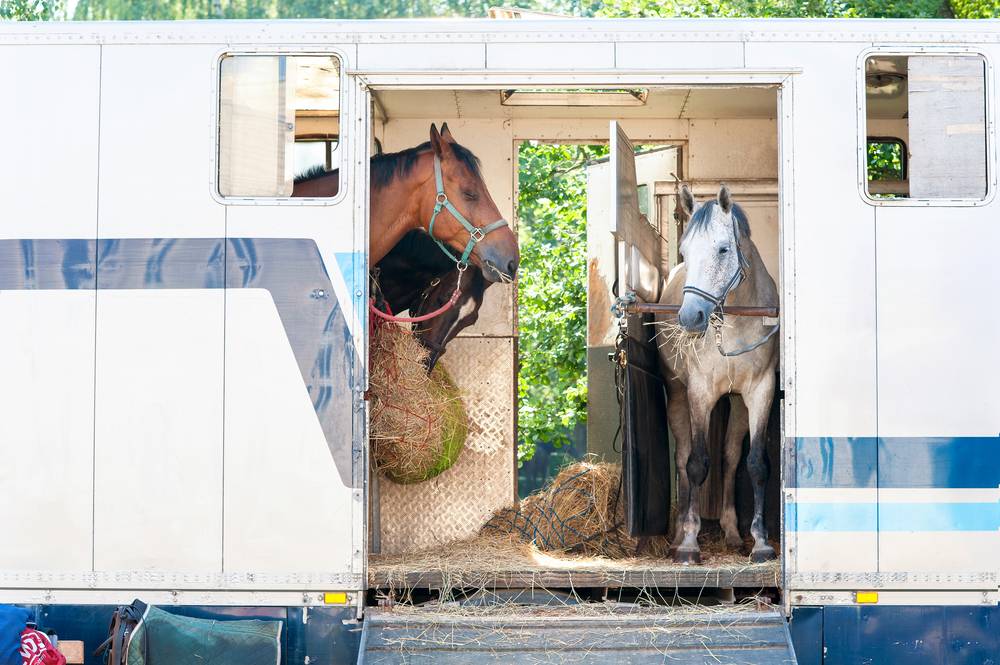 Video Recording
Some horse trailer wireless cameras come with a built-in recording device that saves footage of what is behind the trailer. This can be helpful if you are involved in an accident or incident while backing up your trailer.
Ease of Installation
Some horse trailer camera systems are easier to install than others. If you're not confident in your ability to install the system yourself, then you should look for a kit that comes with everything you need for an easy installation. These include camera mounts, power cables, and an installation guide.
Cost
The cost of camera systems for horse trailers can vary depending on the number of cameras you need and the features you want. Basic systems with two cameras and basic options can start at around $100. More advanced systems with four cameras and additional features like night vision capabilities can cost upwards of $1,000. The average price for a camera system is $200-$300.
---
How to Install a Camera in a Horse Trailer – Step-by-Step Guide
Horse trailer camera installation is a pretty easy process that anyone can do with a little time and patience. You'll need the following tools and materials:
camera;
drill;
hole saw or jigsaw;
wire stripper/cutter;
electrical tape;
screws;
hose clamps (optional).
Then follow these steps to install a camera in a horse trailer.
Decide where you want to mount the cameras. Consider a few factors when choosing the placement of your cameras. You'll want to make sure they're mounted high enough to avoid being blocked by hay or other objects, but low enough that you can still see them clearly. You'll also want to choose locations that will give you the best view possible of all areas of the trailer.
Drill pilot holes for the screws. Do not drill too deeply, as you don't want to damage the wiring.
Next, thread the camera's power wire through the pilot hole and screw the camera into place.
Repeat this process for each of your cameras.
Once all of your cameras are in place, it's time to connect them to the monitor. Depending on the camera system you have, this process will vary slightly. Refer to your user manual for specific instructions.
Once everything is connected, turn on the power and test your system to make sure everything is working properly. Make sure to adjust the angle of each camera so that you have a clear view of all areas inside the trailer.
Horse trailer cameras are an outstanding way to keep an eye on your horse while you're on the road. Knowing that you can check in on your horse at any time is relieving. Such cameras can also help you stay aware of potential hazards inside the trailer.
---
Frequently Asked Questions
Do I Need a Horse Trailer Camera System?
If you frequently haul horses, then a trailer camera system can be a valuable investment. Horse trailer cameras provide an extra layer of safety by allowing you to see what is happening inside the trailer while you are driving. They can also be used to monitor your horse while it is in the trailer. This tracking option can be helpful if you are hauling multiple horses or have concerns about your horse's health.
How Much Does a Trailer Camera System Cost?
The cost of a horse trailer camera system varies depending on the number and type of cameras you purchase. You can expect to fork out from $200 to $1,000 on a camera kit. This will include a monitor and 1-4 camera(s). Some systems also come with an SD memory card to store recorded videos.
How to Power Camera in Horse Trailer?
Most trailer eyes are powered by a cigarette lighter adapter. This is the same type of power source that you would use to power a GPS unit or other 12-volt accessory in your vehicle. If you do not have a cigarette lighter outlet in your trailer, you can hardwire the camera to the trailer's battery using an aftermarket wiring kit.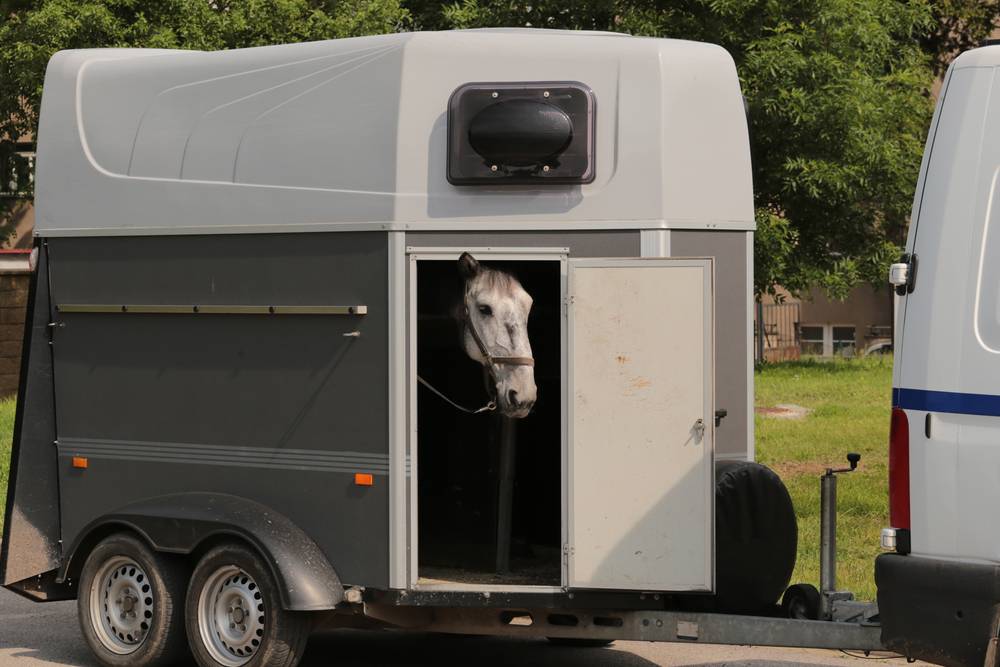 How Do You Hook up a Backup Camera to a Trailer?
Backup cameras for trailers are typically mounted on the back of the trailer and wired to the monitor inside the tow vehicle. The camera sends a wireless signal to the monitor, which displays what is behind the trailer. Most backup cameras will activate automatically when the vehicle is placed in reverse.
What Is the Best Backup Camera for an RV?
We recommend the Yakry Wireless Backup Camera system, which is ideal for RVs and horse trailers. The device has a strong signal, a wide-angle view, and a large display. Also, check the rest of the options mentioned in this article, as they are all great backup cameras. When choosing a backup camera for an RV, check the size of the unit, the type of monitor, and the power source.
How to Install a Backup Camera on a Travel Trailer?
First, make sure that the chosen model is compatible with your RV. Then, follow the instructions in the user manual. In most cases, you will need to mount the camera on the back of the RV and connect it to the monitor inside the vehicle. To do that, you'll need to run the power and video cables from the camera to the monitor. Drill some holes to run the wires through, and it's a good idea to check the user manual before you start drilling. Also, make sure that you don't drill into any wires or gas lines. Once you have everything connected, turn on the RV's engine and test the camera to make sure it's working properly.
An average wireless horse trailer camera comes with a built-in battery, so you don't have to worry about running out of power while you're transferring your horse. However, it's always a good idea to keep an extra battery on hand in case of emergencies.
---
Best Horse Trailer Cameras Revealed
Provide a safe ride when trailering a horse by having a trailer camera system installed. Review our top 5 picks to find wired and wireless horse trailer cameras on the market. Start from our winner, Yakry Wireless Horse Trailer Camera, which is loved for its durability, night vision, easy installation as well as waterproofing and fog resistance features. When choosing a camera system for your horse trailer, it's important to consider specific factors. These include the monitor's resolution, viewing angle, number of channels, and storage capacity. With these crucial factors in mind, you can narrow down your choices and find the best camera system for your horse trailer.