Grooming is a paramount aspect of horse care to keep your companion looking great and promote their healthy state. This process requires a set of brushes, scrapers, and other items that are suitable for various horse body parts. All the grooming supplies make up a kit to provide excellent care from the shoulders to the horse's legs.
Like people need showering, grooming is a necessary routine for horses. By regularly grooming your equine, you can make sure there are no unnoticed health issues or injuries before and after workouts. Thus, having a complete groom kit at hand should become second nature to all professional horsemen.
Various grooming kit makers offer bundles that differ in the quantity and quality of the items. That's why we've put together this comprehensive review to help you choose the right set for your equine.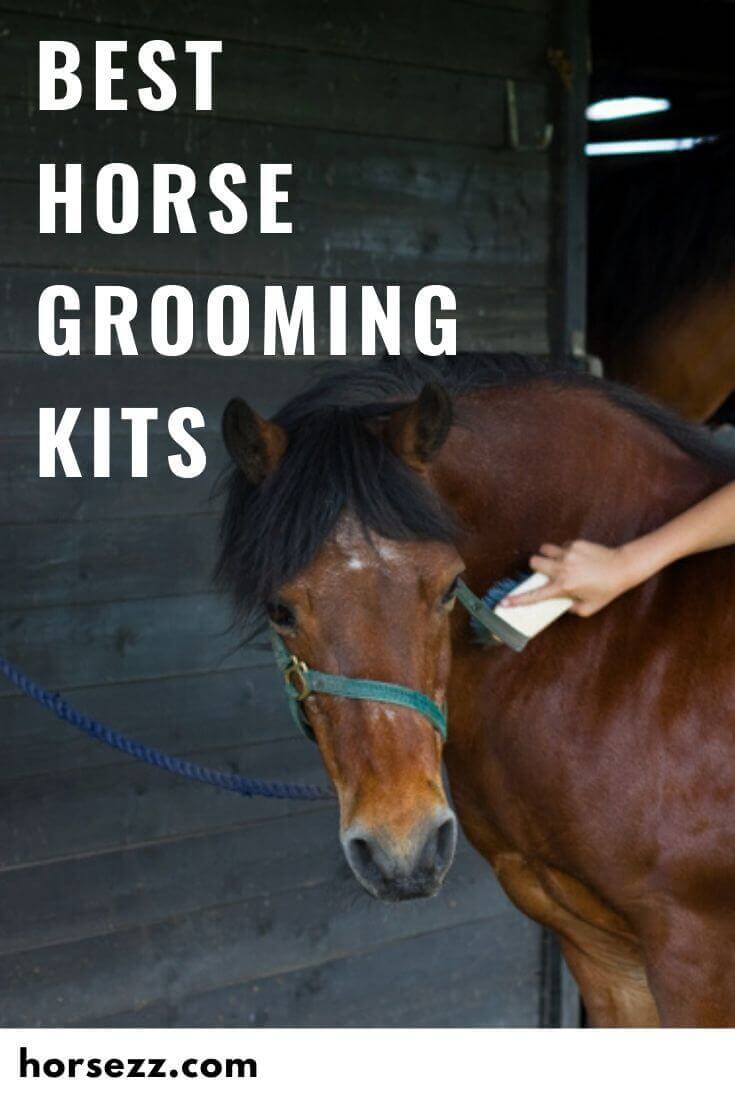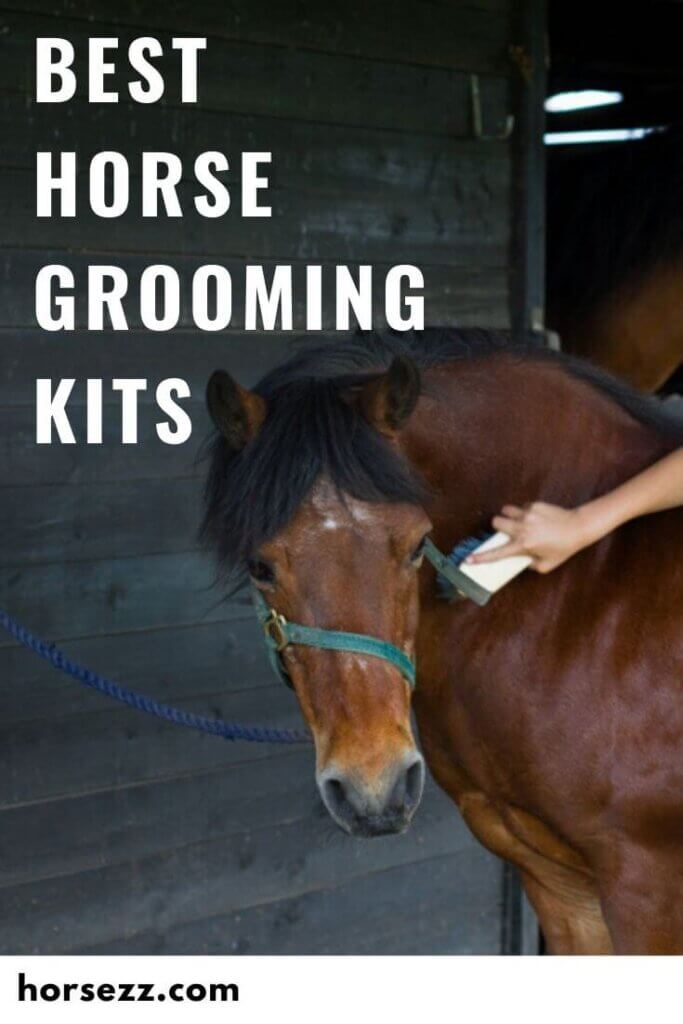 Best Horse Grooming Kits Detailed Review
Here is a detailed review of the 5 best grooming kits for horses that fit any budget and needs.
1. Oster Equine Care Series – Rubberized Handy Set
The Oster Equine Care Series comes in a handbag style that requires little space to store. The great benefit is that the tools have a rubberized finish to improve the grip, so you don't have to worry that the goods will slide off your hands when grooming your companion, which is a plus.
Key Features
The kit comes with 6 tools such as a stiff grooming brush, a soft finishing brush, a coarse curry comb, a mane and tail brush, a mane and tail comb, and a hoof pick.
The case is easy to carry and the goods are stored well-organized under elastic straps.
The gear has a comfy design being made with an adjustable shoulder strap as well as a hand holder.
The tools are designed with rubber polish and elastic bands to hold them tight.
Bottom Line
The Oster Equine Care Series is a fascinating choice for those who are looking for a compact grooming case that you can store everywhere as it needs little space. The tools are quite solid and comfy to hold as they have rubber cover. The bag comes in two different colors, blue and pink, as well as the tools inside.
Pros
Laconic case
Decent tools
Improved grip
Cons
Not for those who need extra room
Bristles of the curry are far apart
---
2. Desert Equestrian Grooming Set – Easy-to-Grip Kit
The Desert Equestrian Grooming Set provides 8 grooming tools that are placed in a quite spacious bag. Moreover, the gear has outside pockets to keep bare essentials near at hand. All the goods are designed with ergonomic handles so you can grip them in a comfortable way.
Key Features
The kit comes with a grooming tote, a body brush, a dandy brush, a face brush, a mane and tail brush, a hoof pick, a mane comb, and a sweat scraper.
The body brush comes with a web strap for a more comfortable grip.
All the tools are stored in a nylon matching-color carry bag.
There is extra room for keeping a helmet, gloves and other equestrian stuff right in one place.
Bottom Line
The Desert Equestrian Grooming Set would be an awesome gift for any equestrian rider. Having a plenty of space inside and several extra pockets outside the tote, the gear will be a great solid carry on bag for sure. The product is available in two colors, blue and purple, which look top-notch!
Pros
Tools are comfy to handle
Lots of space
Easy to carry
Cons
Tools might be small
Poor color palette
---
3. Weaver Leather Grooming Kit – Take-to-Go Bag
The Weaver Leather Grooming Kit is produced by a highly reputable brand that knows what modern equestrians and their horses crave for. The gear is loved by its high range of tools included as well as a convenient tote bag design which you can easily take with you wherever you need.
Key Features
The kit comes with 7 grooming pieces such as a face brush, a coarse curry, a sweat scraper, a mane and tail brush, a comb, a dandy brush, and a hoof pick.
The nylon tote bag is designed with 6 spacious pockets to keep everything organized.
There's a drawstring closure at the top of the bag that is easy to use.
The gear comes with a thick shoulder strap that is quite adjustable.
Bottom Line
The Weaver Leather Grooming Kit will definitely bring satisfaction to both the horseman and their partner in a daycare activity. The gear features its versatile content and comfy fit. In addition, their horse grooming kits come in 4 color styles both constrained and vivid glitter to satisfy any horseman's taste.
Pros
Solid tools
Compact bag
Adjustable strap
Cons
No zipper
Poor mane brush
---
4. Tough 1 Grooming Package – Ergonomically-Designed Kit
The Tough 1 Grooming Package is loved by dozens of customers by its solid material used as well as a convenient design. The tote bag includes 7 different grooming pieces that are essential in everyday horse care. In addition, the bag is spacious enough so you can keep your extra essentials in one place which is a great perk.
Key Features
The kit consists of a stiff brush, a finishing brush, a hoof pick, a curry, a tail and mane brush, a comb and a sweat scraper.
The nylon tote bag has a few inner compartments to keep things in order.
The gear comes with decent handles and a clip strap for comfortable carrying.
The handles of the tools have a bump design to enhance the grip.
Bottom Line
The Tough 1 Grooming Package is a firm kit that comes with 7 ergonomic grooming tools. The tools are comfy to handle because of the non-slip design. They come in a tote bag that is quite roomy and convenient to carry. The set is available in 5 vivid colors with matching tools to keep you in the spotlight.
Pros
Spacious bag
Solid tools
Inner pockets
Cons
No zipper
Bristles may come apart
---
5. Derby Originals Horse Grooming Kit – Huge Bundle Gear
The Derby Originals Horse Grooming Kit differs from other competitors by its bigger variety of grooming tools. Apart from common brushes and a scraper, there is a bathing sponge included which is a nice plus. Moreover, the set comes in bright colors to match the rest of the horse's tack gear perfectly.
Key Features
The set comes with 8 pieces such as a bathing sponge, a sweat scraper, a hoof pick, a mane and tail comb and brush, a dandy brush, a soft brush, and a rubber curry comb.
The bag has enough room to keep all the necessary equipment and even more.
The bag is designed with adjustable straps to carry it over the shoulder or as a handbag.
The kit includes decent pockets outside the bag as well as a zip lid for convenient and safe storage.
Bottom Line
The Derby Originals Horse Grooming Kit would be a tremendous birthday gift idea for equestrian lovers whether they are kids or adults. All the tools are placed in a roomy bag that does up at the top and has several ample compartments. What is also beneficial, the set comes in 8 different color styles to choose the lovely one.
Pros
Versatile tools
Improved bag
Easy to carry
Cons
Tools may be small
Poor sponge quality
---
Top 5 Horse Grooming Kits Comparison
Rank
Image
Product
Price

1




Oster Equine Care Series

6 tools
Rubber handles
Leightweight design

Check Price

2




Desert Equestrian Grooming Set

7 tools
Nylon tote bag
Roomy pockets

Check Price

3




Weaver Leather Grooming Kit

7 tools
Nylon tote bag
Shoulder strap

Check Price

4




Tough 1 Grooming Package

7 tools
Nylon tote bag
Ergonomic handles

Check Price

5




Derby Originals Horse Grooming Kit

8 tools
Spacious pockets
Zipper design

Check Price
---
How to Choose the Best Grooming Set – The Buyer's Guide
As different horses have various care needs, you should check if you've got everything necessary for your companion.
Hence, if you own a hairy horse, you should look for knot-free brushes with quality bristles to deal with the long mane and tail. Besides, check for a horse spray to keep the hair soft and silky.
For messy horses, who enjoy getting dirty, you should invest in a solid dandy brush that can easily cope with excessive mud. Additionally, an extra-strength shampoo may come in handy.
If you're into horse competitions, your companion has to look stunning. A wide range of grooming tools is needed to keep the coat shine and hair top-notch, including a horse conditioner for a jaw-dropping appearance.
If you own a pony, its mane and tail should never be neglected. A high-quality brush with soft bristles is essential for daily grooming. As well as a pony-friendly hoof pick to keep your animal's feet healthy and well-maintained.
---
Frequently Asked Questions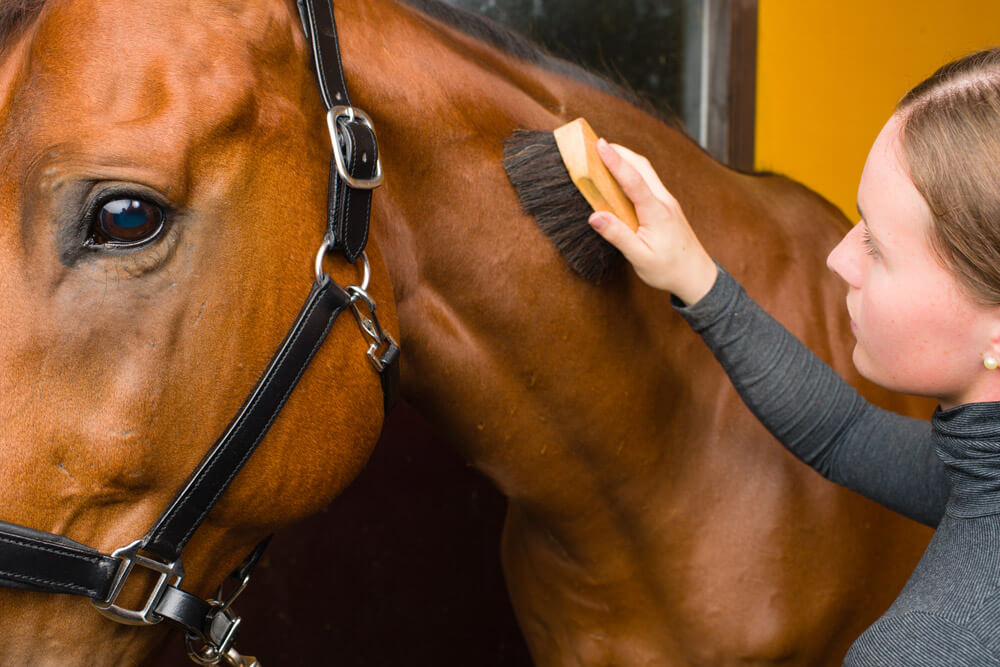 Why Does My Horse Need a Grooming Kit?
It goes without saying that every owner has to take care of their companions. And a quality grooming kit is an integral part of the everyday cleaning routine. Don't underestimate grooming a horse, as it might lead to health issues over time.
As humans brush their hair every day, the same goes for horses. You want your little friend to always be neat and clean. Thus, a solid grooming set can help your horse to get rid of excessive dirt, mud, and hair, using specific grooming tools.
Apart from health benefits, regular grooming also strengthens the bond between you and your companion. As your horse becomes accustomed to human contact during brushing sessions, an emotional connection develops that endures over time.
What Does a Grooming Kit Consist of?
Today, you may be faced with loads of various horse kits available on the market. So we'd like to mention the most common tools, which belong to a grooming package.
Bathing sponge. It's used for gentle areas, including the horse's eyes, nose, and lips.
Hoof pick. The tool is aimed to clean the horse's hooves from dirt and mud.
Mane and tail comb. As its name implies, use this comb to brush the horse's mane and tail.
Rubber curry comb. It's used to remove dirt and hair on the horse's coat as well as promote skin oil producing.
Shedding blade. Use this metal tool to get rid of the horse's loose hair. The smooth side can also be used to get rid of water and sweat.
Soft brush. It comes with soft bristles to remove the dust and debris on the coat.
Stiff brush (hard brush). Unlike a soft brush, a stiff brush features 'harder' bristles in order to get rid of the mud and dirt.
Sweat scraper. Use this tool after training or showering to remove sweat and water from the horse's coat.
Grooming tote. All the tools mentioned above can be placed in a special bag named a grooming tote. It usually comes with large pockets and comfy handles.
To find out more information on how to clean and brush a horse, check out our detailed guidelines on grooming basics.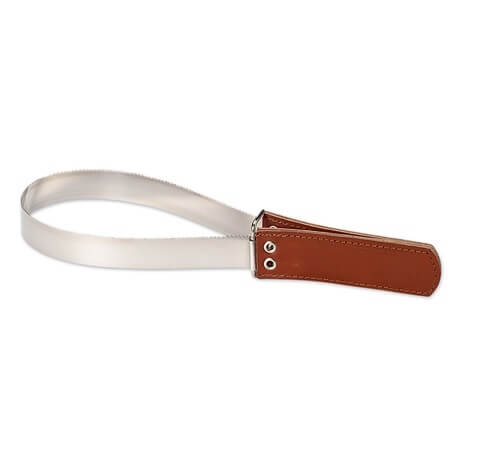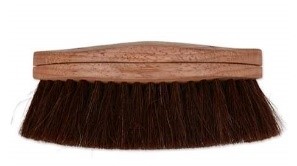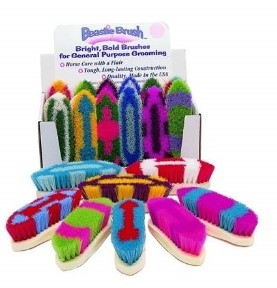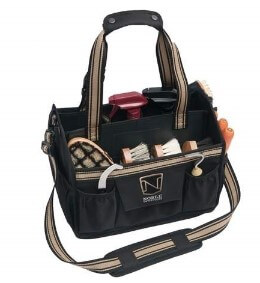 What Are the Materials of Grooming Kits?
Different manufacturers offer various grooming sets made with either natural or synthetic materials.
For instance, natural brushes can be produced with goat or boar hair. Such combs are softer and more expensive, in comparison with synthetic ones. However, you will find such tools quite durable and quality.
Alternatively, synthetic (plastic, rubber) brushes are stiffer, and it might be helpful to get rid of the dirt, which is hard to clean off.
In addition, some equestrian brands make rubber handles of the instruments in order to provide a better grip when using a tool, which is a great perk.
How Often Should I Change a Grooming Set?
Frankly, the answer depends on how often you're going to use a kit. Thus, it's better to replace the grooming set as soon as it's worn out. Besides, you don't need to buy an entire kit every time one of the tools is dead. You can easily renew that specific brush and add it to your old set.
Generally, a solid horse grooming package may stand you in good stead for years. If the quality of the goods leaves something to be desired, you may end up refreshing the tools more often. Therefore, we strongly recommend you to consider investing in a firm horse grooming kit, so both you and your horse are satisfied for long.
How Much Does a Horse Grooming Kit Cost?
On average, horse grooming kits come for around $20 to $50, while advanced kits that include top-tier materials may be up to $100. The cost of a grooming set can range drastically based on the quality and quantity of tools, the brand name, and any accompanying case or tote.
As for quality, you'll find that natural bristle brushes are more costly than synthetic ones. While wide-toothed combs come with a raised price tag compared to narrow versions. Purchasing totes grooming kits made from luxurious materials can add to the overall expense due their higher durability over basic nylon bags.
The reputation of the brand is often a factor in determining the price of horse grooming kits. Most prestigious makers may charge more due to their esteemed reputations for dependability and robustness. But an extra cost does not necessarily guarantee top-notch quality or results, so be sure you carefully read feedback and thoroughly investigate while choosing an item.
---
Horse Grooming Supplies Reviewed
If you are fond of horse riding activities you should also take care of your companion beyond training. When it's bath time, you have to be aware of grooming basics and get a solid grooming kit as barn supplies. Usually, a decent toolset comes with a wide range of brushes, combs, and scrapers that are designed with various hardness for different grooming purposes. And all of the tools are stored in a firm bag that is easy to carry and there's enough space to keep items well-organized.
Apart from grooming kit, don't forget about safety tack for your companion such as horse protective boots. The detailed review is already waiting for your attention.
Image Source: blog.smartpakequine.com, horseyhooves.com.