When the biting winter winds start to blow and snow blankets the ground, a horse's well-being becomes paramount. More than just a fancy accessory, horse blankets play a vital role in protecting equines from harsh elements. We prepared this comprehensive guide based on our thorough review of the top five horse blankets worth considering.
Horse blankets or horse sheets are designed to protect your horse from various weather conditions such as rain, snow, wind, and cold. Such a versatile tack ensures their horses stay warm, comfortable, and healthy throughout the chilly seasons. Different materials used in horse blankets may stand you in good stead for sundry purposes and needs. For instance, such gear is helpful to control the temperature of your companion or just to cover your horse when he's inside a stable.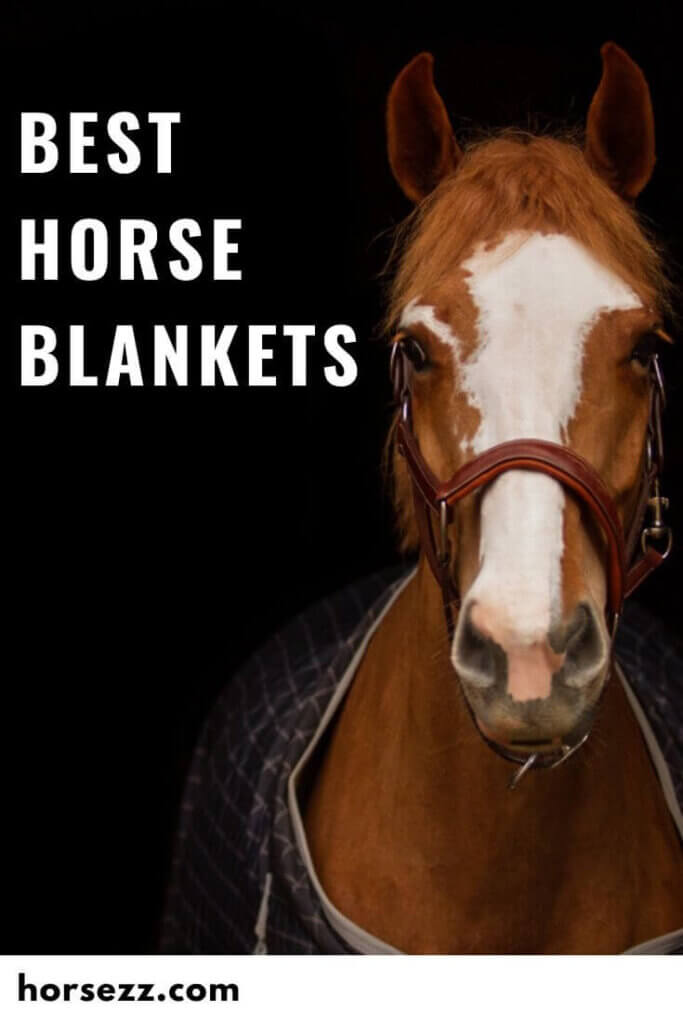 Best Horse Blankets Detailed Review
Below you'll find the top five blankets from trusted brands that will protect your horse from weather conditions and insects.
1. Tough 1 Waterproof Horse Sheet – Great Adjustable Rainsheet
The Tough 1 Waterproof Horse Sheet is a tremendous option if you're searching for a gear suitable for a rainy climate. It's made with thick waterproof nylon, which is perfect for sudden rain showers. The product also features adjustable leg straps and crossed belly harness to provide more flexibility when the sheet is on.
Key Features
The blanket is made with solid 600 Denier waterproof nylon and 70 Denier lining that heeps the horse dry.
It comes with shoulder gussets to bring more convenience and free moving.
The gear has a double buckle closure system at the front, which is simple to adjust.
There are adjustable leg straps and belly harness underneath to sit still on a horse.
Bottom Line
The Tough 1 Waterproof Horse Sheet is a fascinating option to keep your horse dry and protect him from the wind for long. It's made with solid nylon fabric, which is easy to clean and store. The blanket comes in a huge range of vivid colors and sizes, so you're able to find the perfect match for your companion.
Pros
Waterproof material
Solid lining
Adjustable leg straps
Cons
No neck protection
Could be heavy
2. ARMORFlex Challenger Turnout Blanket – Solid Waterproof Cover
The Turnout Blanket by ARMORFlex is a premium tack crafted to ensure superior comfort and protection during cold weather conditions. The gear boasts an adjustable neckline with buckles to fit a wide selection of horse breeds. With enhanced waterproofing, this blanket will serve you well even in the toughest conditions.
Key Features
The turnout blanket is crafted with ARMORFlex fabric that is made of 1200 Denier Ripstop Polyester Outer.
The cover features a waterproof and breathable outer shell, keeping the horse dry and comfortable even in warmer wet weather.
The adjustable V-Free neck design ensures it fits from narrow-withered horses to wider ones.
ARMORFlex comes with a detachable tail flap that provides extra protection and makes a horse comfortable during the summer months.
Bottom Line
The ARMORFlex Turnout Blanket is an excellent choice for horse owners seeking for improved waterproofness (medium-weight insulation). The blanket boasts a robust construction, adjustable fit, and additional features like shoulder gussets and tail flap to provide exceptional protection. The gear is ideal for medium-sized horses like Arabians, and Quarter Horses, as well as stock equines.
Pros
Perfect for stock horses
Adjustable fit with leg straps
Secure surcingle closure system
Cons
Pricey
Limited color options
3. Weatherbeeta Comfitec Essential Combo – Extensive Turnout Protection
The Weatherbeeta Comfitec Essential Combo offers a great mix of a classy style and solid protection. The gear is made with firm polyester, which is waterproof. So you can use the blanket out of a stable with no probs. The product covers not only the back of a horse but also its neck, which is a great plus.
Key Features
The garment is made with 1200 Denier Polyester coat for enhanced water resistance.
It comes with 210 Denier lining for better comfort and warmth.
The product has shoulder gussets and removable leg straps for improved movement.
Apart from body protection, the gear also covers the neck and tail.
Bottom Line
The Weatherbeeta Comfitec is a tremendous turnout blanket that is waterproof and durable. We love this garment for its full-coverage design, which helps your horse feel cozy for long. It comes in blue color with lots of sizing options that many equestrians will find it delightful.
Pros
Waterproof design
Thick lining
Neck protection
Cons
May be heavy
Neck cover isn't detachable
4. Shires Lite Turnout Sheet – Fancy Lightweight Blanket
The Shires Lite Turnout Sheet has a catchy design with its outstanding printing that will definitely keep you in the spotlight. It's claimed as a waterproof turnout blanket that may come in handy on a rainy day. It features a breathable material that helps control the temperature of a horse, which is great for older companions.
Key Features
The blanket is made with 600 Denier nylon fabric, which has a moisture-managing feature.
The sheet is quite breathable to help regulate the temperature of a horse.
The nylon is waterproof to keep your horse dry for long.
The gear comes with two front closures, belly straps, and a tail flap.
Bottom Line
The Shires Lite Turnout Sheet is a sturdy raincoat made with breathable fabric. It's well-known for its fancy color designs that you may fall in love with. In terms of safety, the gear comes with front chest closures and belly straps to fix the cover properly.
Pros
Waterproof fabric
Tail protection
Lightweight design
Cons
No leg straps
No neck protection
5. TuffRider Mesh Fly Sheet – Extra Soft Protection
The TuffRider Mesh Fly Sheet is offered by a popular equestrian brand that is good at providing safety and comfort. The cover is designed with polyester fabric which is soft and breathable. In addition, the product features a shoulder lining to prevent friction. Apart from insect protection, the gear has UV protection as well, which is awesome.
Key Features
The sheet is made with polyester that is light and durable.
The fabric features UV protection to avoid overheating.
The product comes with the front chest closure, belly harness, and removable leg straps. There's an improved tail coverage as well.
It's machine washable, so the blanket is easy to clean and maintain.
Bottom Line
The TuffRider Mesh Fly Sheet is a marvelous variant if you're looking for lightweight fly protection. It features a soft design, front closure, adjustable straps, shoulder lining, and a tail flap to provide a convenient fit. The good comes in various colors and sizes to choose the ideal product for your horse.
Pros
UV protection
Lightweight design
Machine washable
Cons
No neck protection
Not for sweltering weather
---
Top 5 Horse Blankets Comparison
Rank
Image
Product
Price

1




Tough 1 Waterproof Horse Sheet

Made with Nylon
Waterproof fabric
Shoulder gussets

Check Price

2




ARMORFlex Challenger Turnout Blanket

1200D Ripstop Polyester
Adjustable neckline
5 year warranty

Check Price

3




Weatherbeeta Comfitec Essential Combo

Made with Polyester
Waterproof fabric
Neck cover

Check Price

4




Shires Lite Turnout Sheet

Made with Ripstop
Waterproof fabric
Regulates temperature

Check Price

5




TuffRider Mesh Fly Sheet

Made with Polyester
Breathable fabric
UV resistant

Check Price
---
The Main Types of Horse Blankets
There's a huge array of horse covers available on the market, which are different in styles and purposes. So here's a list of the most popular horse blanket types.
Coolers. As the name implies, such blankets are used to dry a horse out faster. The garment features moisture-wicking fabric that helps to cool off properly. Typically coolers are made with cotton, mesh, wool, or fleece.
Fly Sheets. The gear is designed to protect a horse from insect bites. It's commonly used in warm seasons when horses tend to rest outside a lot. Most of the fly sheets provide UV protection to avoid overheating. Such cover is lightweight and breathable; mesh is a common fabric. Neck protection may also be included.
Quarter Sheets. It has an unusual design as it typically covers the horse's lower back. The garment is designed to be used as a cover at the very beginning and end of riding a horse. So the horse's muscles are warming up gradually after he leaves the stable. So your companion feels comfy when he goes outside in the cold weather.
Rain Sheets. It goes without saying that rain sheets keep your horse dry in rainy conditions. The waterproof fabric is used, which is lightweight, and it's easy to clean. Mostly such cover is made with synthetic materials that are moisture-wicking and durable.
Stable Blankets. Stable blankets may help your horse feel comfy indoors. Typically, they are not waterproof. The main feature is to keep a horse warm overnight. There are different types of stable blankets – from lightweight to heavy – suitable for various weather conditions.
Turnout Blankets. They are worn when a horse is outside. Thus, such cover is commonly waterproof and provides free motions. Turnout blankets come with shoulder gussets, belly harness, leg straps, and tail flaps for better fixing and protection.
How to Measure a Horse for a Blanket
As there's a wide range of horse blankets on the market, you should be aware of its sizing. Before you purchase a product, you need to take measurements of your horse properly. When measuring a horse for a blanket, you'll need a fabric tape.
Every manufacturer provides its customers with its own sizing instructions. But generally, you'll need to get measurements starting from the horse's chest to the rear of his hind legs. Probably, you'll need a helping hand to take measurements duly. Make sure that you choose the appropriate size as a blanket shouldn't be too tight and too loose on a horse.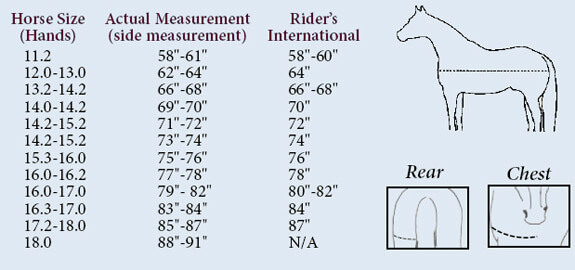 ---
Frequently Asked Questions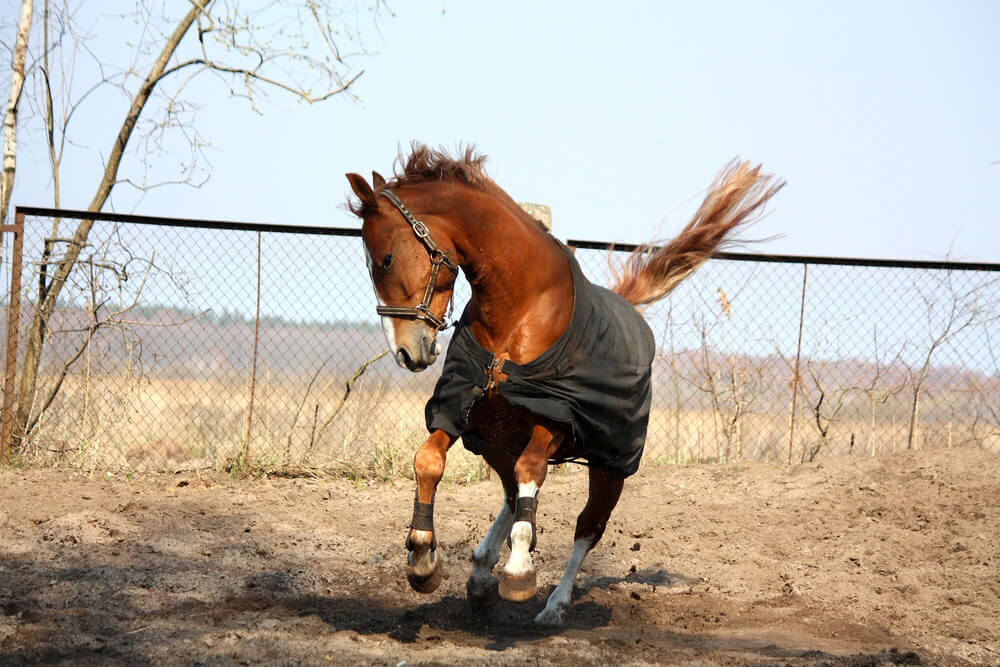 Why Do I Need a Horse Blanket?
Any piece of tack gear is made for specific purposes, generally, to bring more comfort and safety to the rider and their horse. And a horse sheet is not an exception. Horse blankets are designed for quite different needs, that's why you can face loads of options on the market.
For instance, some blankets may be helpful to keep warmth in a cold climate. Old and sick horses wear blankets to help them regulate their temperature. Some sheets may come in handy to protect a horse from the sunlight and insects when the horse is out. Another product is good for grooming and avoiding excessive dirt. Hence, it's up to you which blanket to choose, depending on your horse's needs.
What Are the Materials Used for Horse Blankets?
As the purposes of using blankets are different, the range of fabric used is also versatile.
Cotton – it's a solid fabric that prevents the product from bleaching out. It's quite lightweight and breathable, so cotton blankets are suitable for hot weather conditions. However, it's not waterproof, so this is not the best option for rainy weather.
Fleece – this fabric is a great variant for cooler climate when you need to keep your horse warm overnight. But if the quality is poor, there may be fabric pilling over time.
Mesh – it's another lightweight material that is UV protective, which is perfect for resting under the sun. Besides, the fly mesh is designed to protect a horse from insect biting.
Synthetic – such fabric dries fast and is waterproof, so it's suitable for cold and wet weather. On the contrary, synthetic blankets tend to have poor ventilation, so it's not so good for a hot climate.
Canvas – it's rather breathable and durable, partially waterproof. But if you wet it, the blanket gets too heavy. Thus, it's ideal for a dry climate.
Hot to Pick the Right Weight?
Apart from color styles, purposes, and sizes, horse blankets are different in weight and thickness as well. This is a crucial aspect you should bear in mind when choosing a horse cover for sundry weather conditions and climates. To make things easier, here's a useful chart below that shows you which blanket weight is appropriate for various temperatures.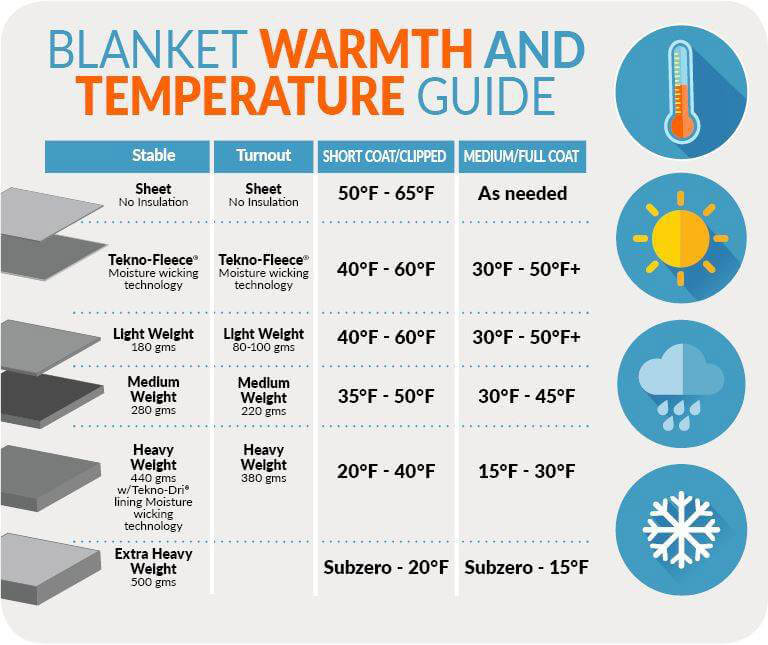 How to Fold a Horse Blanket?
Folding a blanket can help keep the gear organized, save space, and prolong its lifespan. Here's a step-by-step guide to follow:
Remove any loose dirt as well as debris from the blanket by shaking it off. If there is any stubborn dirt or hair, a brush may be needed to remove it.
Place the tack on a clean, flat surface like the ground or a large table. Ensure to smooth out any wrinkles or creases.
To fold a blanket, simply bring one end towards the other, making sure the edges align, then fold it in half lengthwise. While folding, smooth out any wrinkles to ensure a neat finish.
Fold the blanket in half again, lengthwise, bringing the other end towards the first fold. Make sure the edges align, and smooth out any wrinkles for a neat finish.
To create a neat and compact bundle, fold the gear in thirds widthwise. Start by folding one end towards the middle, then fold the other end towards the middle. Both folds should overlap in the middle.
Fold the blanket in thirds again, compressing it further to reduce its size.
To keep the folded blanket in shape during storage, be sure to secure any straps or fasteners. This will help maintain its form and quality.
Store the blanket in a clean, dry place. You can protect the product from dust and pests by placing it in a breathable bag or storage container.
How Much Does a Horse Blanket Cost?
The average price of a horse blanket goes anywhere between $50 to $150. Mid-range options with added features like insulation, waterproofing, or higher denier cost between $150 to $250. Premium blankets, made with advanced materials and innovative designs for extra durability, range from $250 to $400 or more. The price can fluctuate based on the brand, quality, material, design, and additional features.
Conclusion
Horse blankets and sheets are at the top of the agenda in terms of horse safety and comfort. Such gear can help you avoid discomfort in hot or rainy weather, control your horse's temperature as well as protect from the sun and biting insects, when a horse is out of a saddle.
Image Sources: doversaddlery.com, sstack.com.