After we jumped in 22 pairs of horse riding breeches we concluded that the TuffRider Ventilated Schooling Tights is top-tier from the list that will totally last for long and bring comfort in equestrian riding.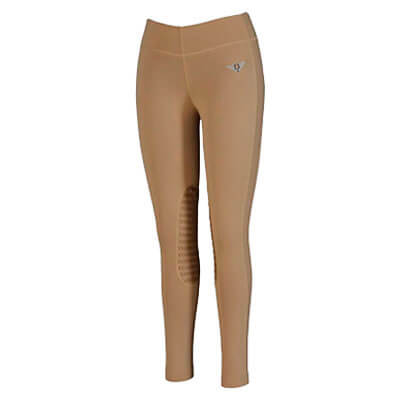 TuffRider Ventilated Schooling Tights - Lowrise Mobile Gear
Wide waistband for comfy sit.
Made with stretchy polyester and spandex.
Low rise waist design.
Silicone knee patches for better gripping.
As well as there are specific equestrian helmets and gloves for the upper body, there are also horse riding trousers for the lower body particularly designed for equestrian sports. A wide range of such trousers is available nowadays – breeches, jodhpurs, leggings, and many others. Despite the slight difference between these types, the major air is the same – to bring more comfort when horseback riding.
That's why we've prepared a list of top-notch equestrian breeches and other trousers for women to help you choose the best equestrian gear.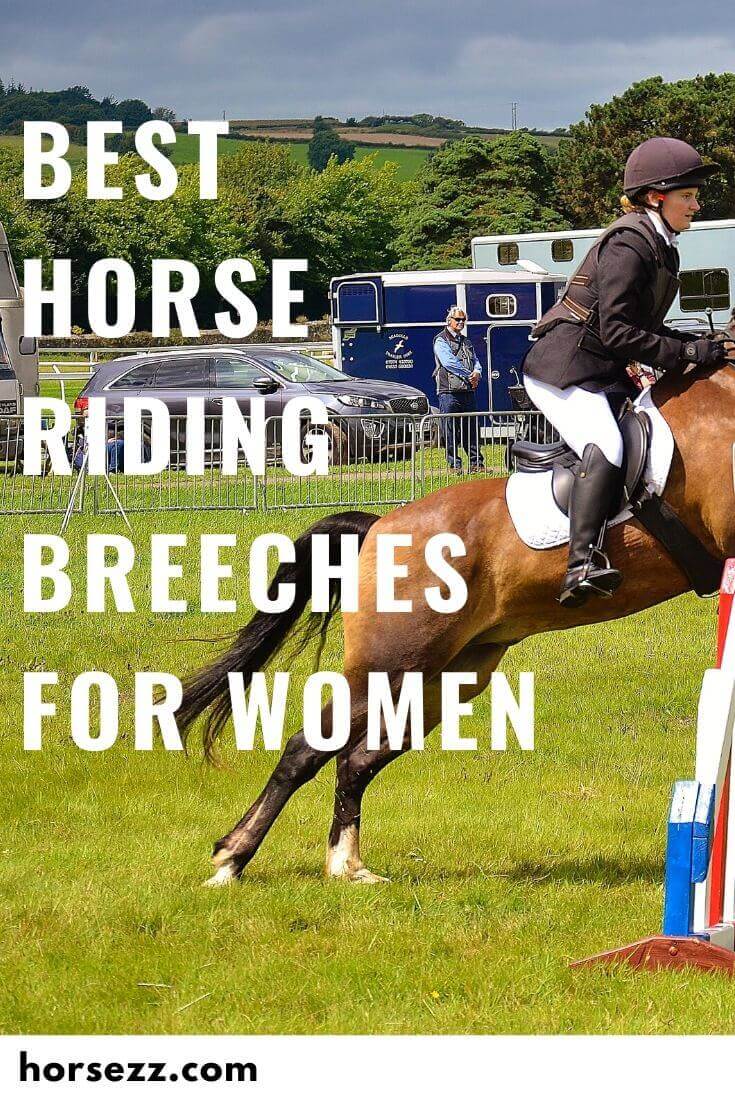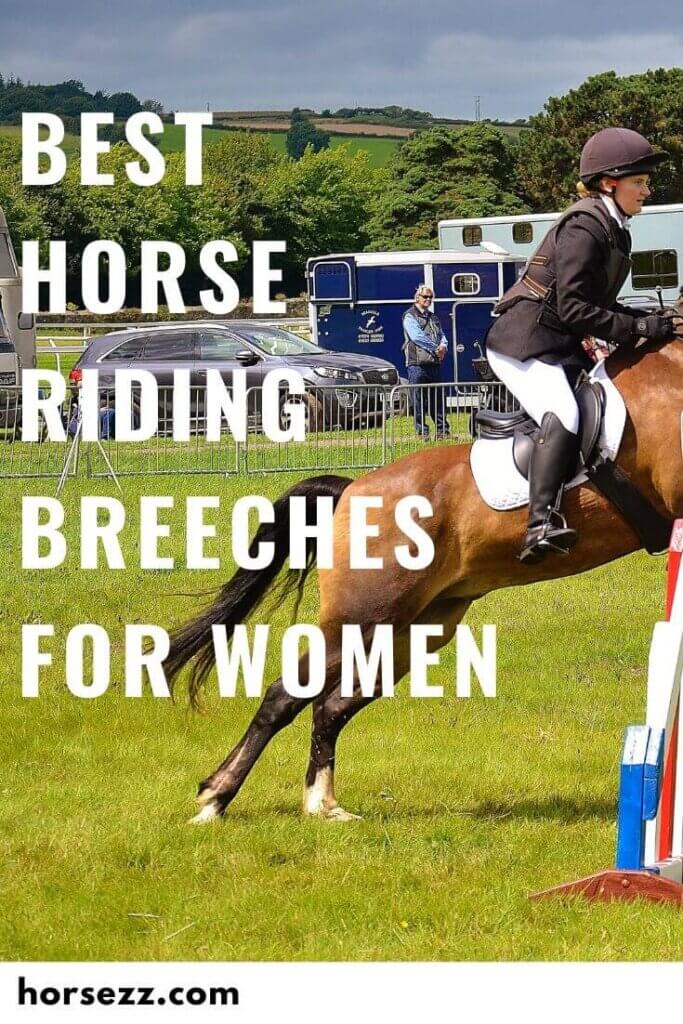 Click to Share. We Appreciate Your Help:
Top 5 Horse Riding Breeches for Women Comparison
Rank
Image
Product
Price

1




TuffRider Ventilated Schooling Tights

Polyester/spandex fabric
Improved ventilation
Wide waistband

Check Price

2




HR Farm Full Seat Breeches

Cotton fabric
Silicone grip
Middle waist

Check Price

3




ELATION Riding Breeches

Cotton/spandex fabric
Alos leather pads
Elastic ankles

Check Price

4




Kerrits Full Seat Tight

Nylon/spandex fabric
Cooling design
Full-seat grip

Check Price

5




FitsT4 Women's Riding Tights

Polyester/elastane fabric
Improved ventilation
Suede knee pads

Check Price
Best Horse Riding Breeches for Women Detailed Review
Equestrian breeches are designed to provide better comfort to the rider. That's why we'd like to highlight the top 5 equestrian breeches (with a detailed review) that will definitely keep you tight in a saddle due to their stretchy, breathable, grip-reinforced, and other essential features. Keep scrolling!
1

TuffRider Ventilated Schooling Tights - Lowrise Mobile Gear
The TuffRider Ventilated Schooling Tights have a pull-on style with a quite wide waistband to wear them with no issues. The product features a silicone grip that is solid and durable. Moreover, it's highly ventilated so you can wear the tights in any weather.
The TuffRider Ventilated Schooling Tights is a fascinating horse riding equipment that is suitable particularly for schooling. The product is light, soft and quite breathable thanks to its wide waistband ventilated style. The silicone patches ensure a strong grip and non-slip effect.
2

HR Farm Full Seat Breeches - Silicon Grip Jodhpurs
The HR Farm Full Seat Breeches get a blue ribbon because of their fascinating features. The product is made with stretchy cotton blend knit material to keep the rider comfy during the ride. It features a full-seat silicon design to provide an excellent grip. In addition, the bottom of the breeches is elastic to fit ideally.
The HR Farm Full Seat Breeches is a great mix of comfort and durability. Having made with belt loops and a zipper, they will sit tight and not slip off. Different color and size styles will satisfy any lady's taste for sure.
3

ELATION Riding Breeches - Leather Patch Pants
The ELATION brand offers the horse riding breeches that are made with a cotton spandex fabric. This makes them highly stretchable and comfortable to put on / off easily. The gear features a middle waist with a fake zipper and belt loops that are great for schooling and riding.
The ELATION Riding Breeches is a great gear that has a pull-on design and could be worn for long. It features a sleek middle-waist design with a faux zipper and stretchy ankles to fit tight. The leather patch is super soft and grips well.
4

Kerrits Full Seat Tights - Extra Cooling Tights
The Kerrits Full Seat Tights is a fascinating option if you're looking for full-seat breathable tights to sit tight and comfy for long. The product features the Ice Fil Tech that helps stay cool during hot weather by reducing the temperature of the rider's skin. In addition, it's designed with UPF 50+ sun protection to keep you safe in hot seasons.
The Kerrits Full Seat Tights are popular for its pull-on stretchy design with anti-slip reinforcement. They will definitely stand you good stead in hot weather as the tights feature sweat absorption and high breathability. In addition, a vivid color palette will keep you at the forefront for long!
5

FitsT4 Women's Riding Tights - Mesh-Styled Gear
The FitsT4 Women's Riding Tights are highly flexible and convenient thanks to its stretchy pull-on design. The product features a lowrise style with a wide waistband to keep you comfy in the saddle during the ride. It's claimed as a great choice for schooling and riding.
The FitsT4 Women's Riding Tights are greatly suitable for hot weather as they have a mesh design as well as the fabric is moisture absorbable. The light stretchy material used keeps you comfy and freely movable. The suede knee pads help you hold tight in the saddle.
Frequently Asked Questions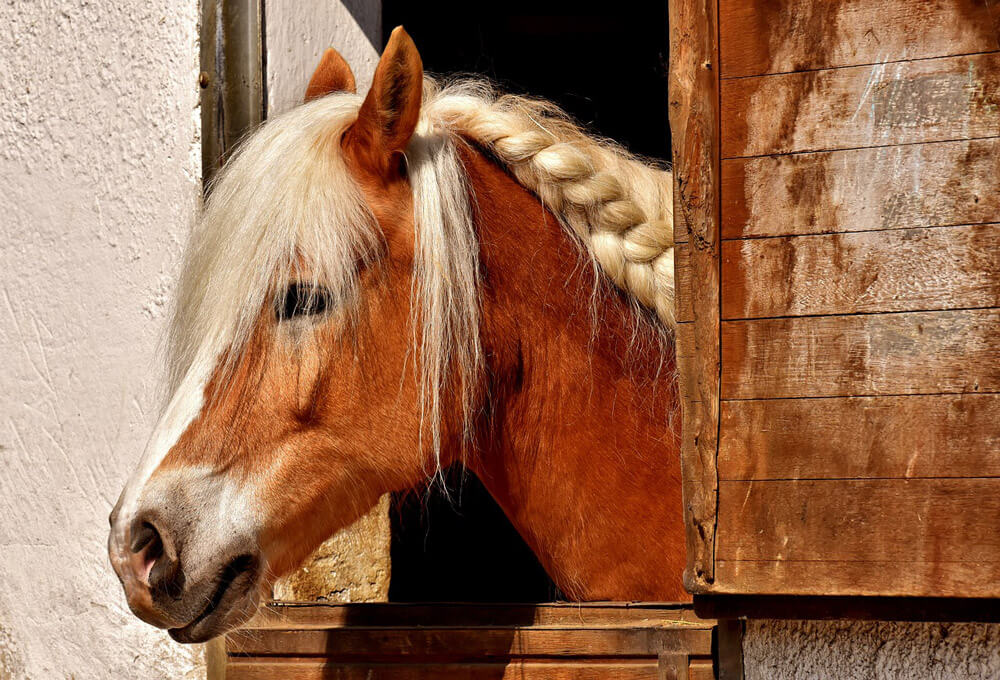 Why Do I Need Horse Riding Breeches?
When riding a horse, you should feel quite comfortable to be totally focused on riding. As you sit in a saddle for long, it's recommended to choose a convenient pair of riding pants.
In fact, horse riding breeches are specially designed to bring you more convenience and freedom of movement. Typically, such gear doesn't have inner seams to avoid uncomfortable friction when you're in a saddle. Moreover, most of them come with knee pads to improve the grip.
What is the Fabric of Horse Riding Breeches?
A solid pair of horse riding breeches has to sit snugly, breath and stretch well in order to shun distraction.
Generally, riding breeches are made with cotton as this fabric is rather thin and breathable. But there are also lots of brands that add polyester / spandex to bring more flexibility during the ride. Apart from that, such pants are moisture absorbing that's easy to clean.
How to Choose the Right Size of Breeches?
No matter which brand you'd like to purchase, horse riding breeches should sit well, not too loose and not too tight. To find your perfect size, you have to take measurements of your body by using a soft fabric tape like with regular pants.
Usually, a size chart provided by a manufacturer offers a variety of measurements to choose the size more precisely. These are the waistline, hips, inseam (the inner length from the crotch of the breeches to the bottom of the gear), outside length, knees, and others. Match your results with the size chart of the brand you picked.
What Are the Main Types of Riding Pants?
In fact, horse riding breeches are not the only kind of riding pants, they are the most popular though. Here's a list of common types of riding pants:
Riding jeans – with a high waist and snug ankles.
Riding breeches – mid-calf pants suitable for tall boots.
Riding jodhpurs – long snug ankles suitable for short boots like paddocks.
Riding leggings – stretchy and breathable, seamless design.
Check out our article on basic equestrian equipment to find out more about horse riding garment.
Can I Wear My Jeans for Horse Riding?
Well, if you're into Western riding, you can wear regular pants. But when it comes to long-term riding, it's better to consider investing in equestrian gear instead.
That is because jeans have inside seams that may distract you and make you feel uncomfortable in a saddle. Besides, they don't grip well which is crucial especially for beginners. Another point is that jeans which are baggy may be pinched during the ride which can cause an accident. So if you'd like to try wearing jeans, tall boots are the best match in this case.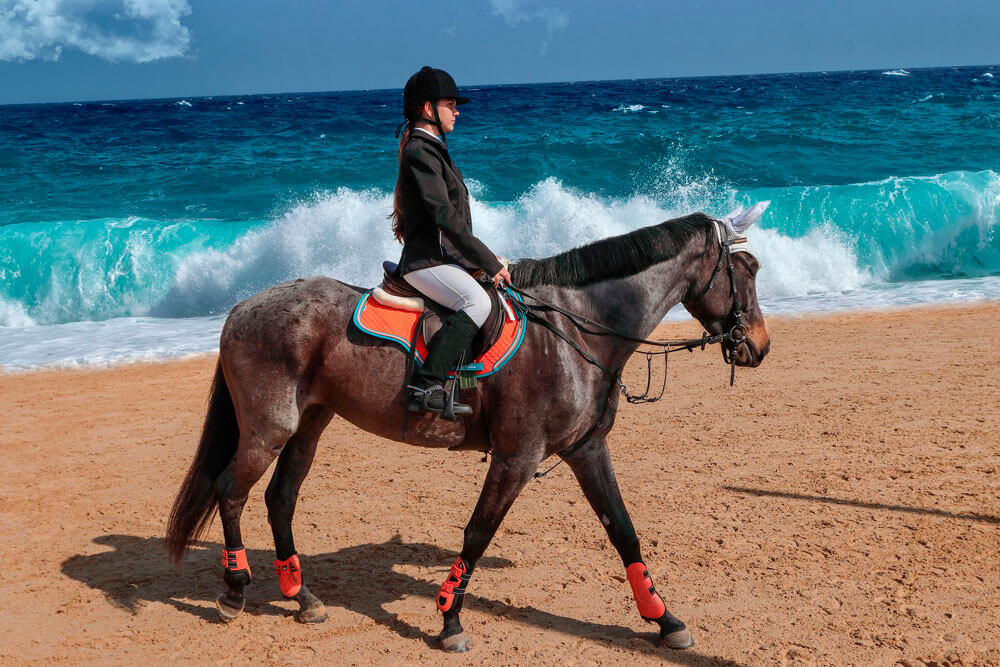 Here's a list of 5 first-rate horse riding breeches, jodhpurs, and tights for women that will help you feel snugly in a saddle. Having made with high-quality stretchable materials, they improve the movements of the rider for sure. The breeches typically come with reinforced knee pads to improve the grip and at the same time, it reduces the friction. Most of these products such as TuffRider Ventilated Schooling Tights are greatly ventilated as well, so you can stay dry and cozy for a long time. There's a huge bunch of size and color style on the market, thus you're able to find your perfect equestrian breeches according to your individual needs and purposes.