After we tested 12 grazing muzzles for horses, we found out the Weaver Leather 65-2346 Grazing Muzzle showed the best results. It's durable, lightweight, and sits snugly. With the Weaver grazing muzzle, you'll easily control your horse's grass intake on the pasture.
Do you have a horse that likes to overeat? Do you worry about your horse's weight and the amount of grass they consume? A grazing muzzle may be the answer for you. This is a device that attaches to a horse's head and prevents the horse from overeating. Let's check which options are available on the market.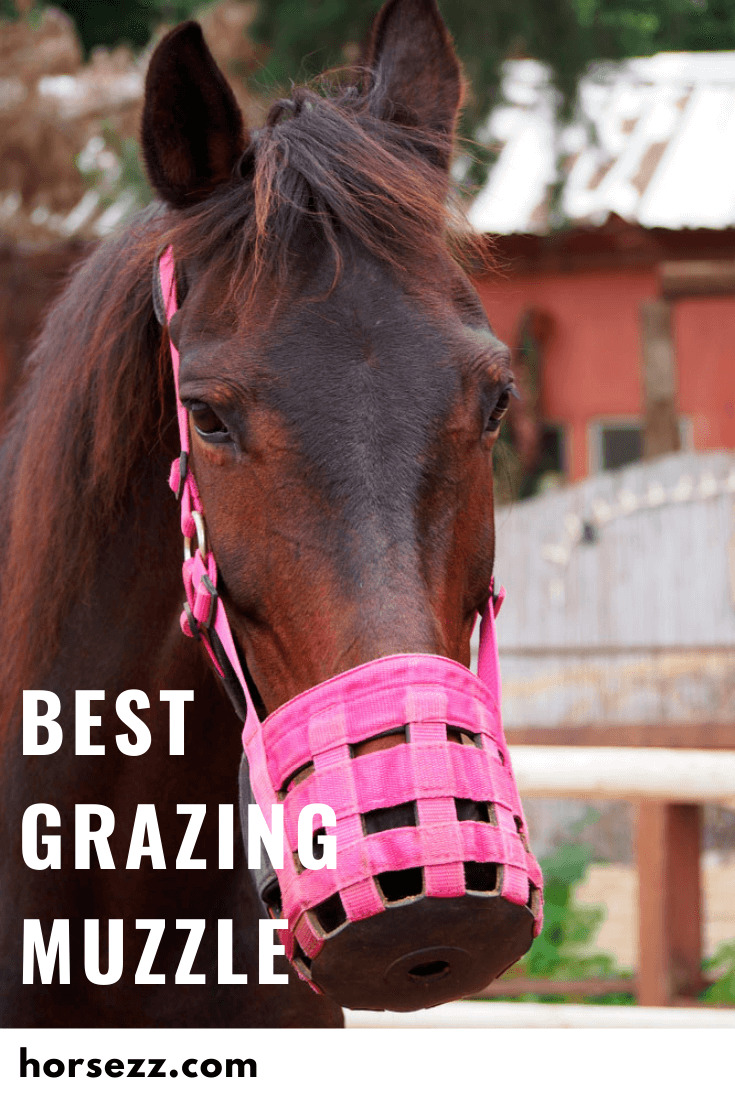 5 Horse Grazing Muzzles Detailed Review
We compiled detailed reviews of the 5 best grazing muzzles for horses that you should consider for your equine.
1. Weaver Leather 65-2346 Grazing Muzzle
The Weaver Leather Grazing Muzzle is a popular choice for horse owners. It is made of durable plastic and fits most horses. This muzzle allows the horse to drink water easily. The device has openings at the bottom for saliva and mucus drainage.
Grazing Muzzle Features
The Weaver Leather Muzzle is made of nylon and rubber.
It comes with a neoprene liner to sit on the horse's face comfy.
The double buckle crow is made of vegetable-tanned leather.
Metal buckles make the muzzle adjustable and durable.
The muzzle comes in black color that suits any horse tack.
Bottom Line
Weaver Leather Grazing Muzzles feature a webbing basket that sits well. The rubber bottom provides longer longevity. While the neoprene liner ensures convenient wear. This grazing muzzle grabs the first place for its durability and adjustability.
---
2. Tough 1 Easy Breathe Grazing Muzzle
The Tough 1 Grazing Muzzle is all about quality. The basket can be worn for long due to large holes all over the device. The Tough 1 grazing muzzle features three loops that are attached to the halter.
Grazing Muzzle Features
The Tough 1 muzzle is made of nylon webbing.
The bottom that contains a hole for grazing is made of rubber.
The muzzle comes with three tabs to attach a halter.
There are large holes in front for better ventilation.
The grazing muzzle is available in black color.
Bottom Line
Tough 1 Easy Breathe Grazing Muzzles provide comfort to the horse's face while grazing. The nylon webbing sits well on the horse. The muzzle is attached to the halter with quick loops. This is an ideal device to control your horse from overeating in hot seasons.
---
3. T TEKE Deluxe Grazing Muzzle
If you want to provide the maximum comfort for your horse, the T TEKE Grazing Muzzle is the one. Horse owners like the fleece fur lining on the basket. So your horse will. The best thing about the T TEKE grazing muzzle is that it comes with a built-in halter.
Grazing Muzzle Features
The T TEKE muzzle is made of nylon webbing and a rubber bottom.
The horse grazing muzzle comes with detachable fleece.
The device has a lower-cut design on the chin for a more comfy fit.
The built-in halter is adjusted with Velcro.
There's a D-ring to attach the lead rope.
Bottom Line
T TEKE Deluxe Grazing Muzzles have everything you need for turning out. It offers a halter and a D-ring for the lead rope as well. This is a great perk as you'll save a buck on these extras. Another favorite thing about the T TEKE Grazing Muzzle is the fleece fur. You can detach it if needed so it's friendly to any season.
---
4. Prairie Deluxe Grazing Muzzle
The Prairie Grazing Muzzle is made of neoprene and nylon for comfy wear. It also comes with a built-in halter which is a plus. The padded noseband and neck strap bring even more convenience for your horse. The neck strap is adjustable to fit your horse's head.
Grazing Muzzle Features
The webbing is made of nylon that is durable.
The bottom is made of neoprene with a small hole in the center.
The muzzle comes with built-in chin and neck straps.
The chin and neck straps are cushioned for better comfort.
The grazing muzzle is available in three different sizes.
Bottom Line
Prairie Grazing Muzzles provide extra padding like other muzzles don't. Another benefit is its chin and neck straps that are included in the package. The Prairie device comes in black color with three sizes available. Prairie offers a horse and pony grazing muzzle. The muzzle is quite adjustable so you will fit it to your horse.
---
5. UDRENM Horse Grazing Muzzle
The UDRENM Grazing Muzzle is all you need to control your horse's eating. The device comes with a halter that is adjusted with Velcro. The neck strap is cushioned for more comfort. There are different sizes to choose from so you can fit the most suitable one.
Grazing Muzzle Features
The webbing basket is made of heavy-duty nylon.
The nose part is neoprene with a small hole inside.
The neck strap is padded to provide comfy wear.
The halter is easily adjustable with the hook-and-loop Velcro.
The grazing muzzle comes with a ring to attach the lead rope.
Bottom Line
UDRENM Horse Grazing Muzzles provide comfort and stability. You don't need to search for a halter for this device as the straps are built-in. Plus you can easily attach the lead rope with the ring on the basket. UDRENM offers a range of grazing muzzle sizes so you can fit your horse's face snugly.
---
Frequently Asked Questions
What Is a Grazing Muzzle?
A grazing muzzle is a horse training device used to restrict the horse from eating too much grass at once. It fits over the horse's nose and mouth, similar to a halter. Grazing muzzles also help avoid colics and laminitis getting inside with grass consumption.
How Does a Grazing Muzzle Work?
A muzzle is worn over the horse's muzzle and nose. It is fitted with a basket that allows the horse to eat grass. But the device restricts the horse from taking larger bites. But still, the horse can breathe freely. As well as consume water through the muzzle.
Does My Horse Need a Grazing Muzzle?
Some horses tend to overeat or have digestive problems when grazing. If this is accurate to your animal, your veterinarian may recommend using a grazing muzzle. Horses that are not used to wearing muzzles should be introduced slowly. Put the device on for short periods of time at first.
You can try a grazing muzzle to protect horse hooves from laminitis. This disorder may be caused by excessive eating of high-carbohydrate horse foods like grain. As compared to other horse turnout accessories, such as a grazing head collar, muzzles are more restrictive. When it comes to controlling your horse's diet and preventing overfeeding, a muzzle is a thing.
Also, if you want your horse to lose weight, then using a muzzle will be beneficial for you. The device will help control the horse's intake of food he has in one go. So that excess amount of weight will slowly start to decrease.
A grazing muzzle is not only for overweight horses. But also for those who have problems with their teeth. If your horse has bad or missing teeth, then a muzzle can help him from over-eating as he won't be able to chew properly.
Another good use of the grazing muzzle is when you are traveling. Use it when you don't have enough time to stop and give your horse a break to graze. You can put the horse in a safe area and put the muzzle on. So that the animal can feed on hay or grass safely without having access to other food sources. As those might upset its stomach.
When Should a Horse Wear a Grazing Muzzle?
A grazing muzzle is used during pasture time when the horse is not supervised. It should be put on the horse only in a safe area. This way you avoid accidents and injuries while wearing it. If your horse has a tendency to overeat or just like to chew, then the grazing muzzle is for you.
How Long Can a Horse Have a Grazing Muzzle on?
A horse should wear a grazing muzzle only for limited periods of time, no more than 10 hours in a row. This is not something you can leave on the horse all day long. The horse needs the freedom to graze in its natural manner. And this includes chewing properly as well. You need to consult an expert first before taking any decision about putting such an object on your horse's head.
How Long Does Grass Need to Be for a Grazing Muzzle?
The horse needs access to grass that is at least six inches long. If the grass is shorter than that, the horse may have difficulties with reaching the forage. The grazing muzzle is not good for short-grassed pastures. Make sure you have a proper area set up where your horse can graze and eat properly.
Can a Horse Drink with a Grazing Muzzle?
Yes, the horse can drink with a grazing muzzle. As the webbing basket of the muzzle has holes all over the devices, the horse has free access to water. Make sure you put water in that area so your horse can drink easily.
How to Put a Grazing Muzzle on a Horse?
Step One. Put the muzzle over the head of your horse and hold it with both hands (one hand at each side). Make sure the horse's nose goes through the holes in front of where the ears are placed. The small loop attached to one side should be next to his face. While the big loop needs to be under his chin.
Step Two. Pull up from underneath so that everything adjusts well together. Adjust what is under the horse's chin. Make sure it goes around his chin and over his muzzle so that it fits well.
Step Three. Take the straps behind your horse's ears and go through the small loops until they are facing forward. Then adjust them so they are not too loose or tight. You must be able to fit two fingers between the strap and the horse. Buckle up using both buckles on each side of his face to secure everything in place. The noseband should be firm but comfortable for him.
Step Four. Check if he can breathe properly from below as well as from above by opening his mouth and lips. The webbing should not bother the horse's nostrils. Check if he can drink, eat and pick up things from the ground. If all of these are possible, then your horse is ready to go out for grazing.
Step Five. Use this grazing muzzle for horses every time they spend some time in a pasture. Remember that horses need more than just grass. Make sure you give him hay as well along with the rest of his regular diet.
How to Measure for a Grazing Muzzle?
To choose the right grazing muzzle for your horse, you will need to measure your horse's head. Measure the circumference of your horse's head just below his ears with a soft measuring tape. This is the size you will need to order a new grazing muzzle.
If you are not sure about the size, we suggest ordering one that is one inch larger than your horse's actual measurement.
What Is the Best Pony Grazing Muzzle?
We recommend the Prairie Deluxe Grazing Muzzle to put on your equine. This brand offers a pony grazing muzzle that is durable and firm. The device comes with built-in straps for the chin and neck. That's a great perk if you're looking for more security when ponies spend much time on the pasture.
Are Grazing Muzzles Effective?
Grazing muzzles are quite effective. A horse or small pony cannot eat too much forage while wearing the muzzle. This prevents it from getting any excess calories and weight gain through grazing. The horse will still be able to drink water, making it healthy and happy.
---
5 Common Types of Grazing Muzzles
There are five grazing muzzle styles that are most commonly used:
The traditional basket muzzle is made up of wire mesh. It looks like a metal birdcage for horses. It allows them to eat but restricts their drinking ability.
The net muzzle has fine holes all over it. So it does not restrict eating or drinking but can cause a horse's head to overheat in summer.
The hay net muzzle is a bag made of thick material. It fits around the horse's nose and mouth. The device restricts both overeating and drinking.
The mask muzzle allows horses to eat while restricting their drinking ability. But it can be removed easily by your horse if they are not tied up properly.
There are also complete muzzles with a cage covering the entire face instead of the horse's mouth. It has holes drilled into it so they don't restrict airflow. This type of grazing muzzle usually comes with straps for attaching. They restrict both overeating and drinking as well. However, these types tend to make horses overheated when worn during hot and humid weather.
---
What to Look for in a Horse Grazing Muzzle?
1. Materials Used
A standard grazing muzzle is made of either nylon or leather. However, horse owners should consider other factors such as durability and quality of the materials used. In addition, horse grazing muzzle products made of high-quality material have better ventilation. This will prevent overheating issues. Unlike those that are made from less durable ones.
2. Noseband Style
There are various noseband styles ranging from simple designs with a single strap closure just like any halter. To more intricate models with several straps across the horse's face. Look for a nose strap for optimal comfortability during use at all times. No matter what type of horse activity they engage in (grazing included).
3. Size Options
Horse grazing muzzle sizes come in a range of mini to horse-sized muzzles. Be sure to pick the right size for your horse or pony. If it's too small, the horse can't graze properly. And the muzzle will wear off quickly. If the device is too large, it might fall off.
4. Ease of Use
Some horse owners find a grazing muzzle more difficult to put on their horse. While others are easy to use with just one simple Velcro that attaches around the horse's neck. Consider how easy the product is to use before making your purchase decision.
5. Built-In Halter
Some models come with attached halters. The horse can't take the muzzle off as easily with an attached halter for added security and safety.
---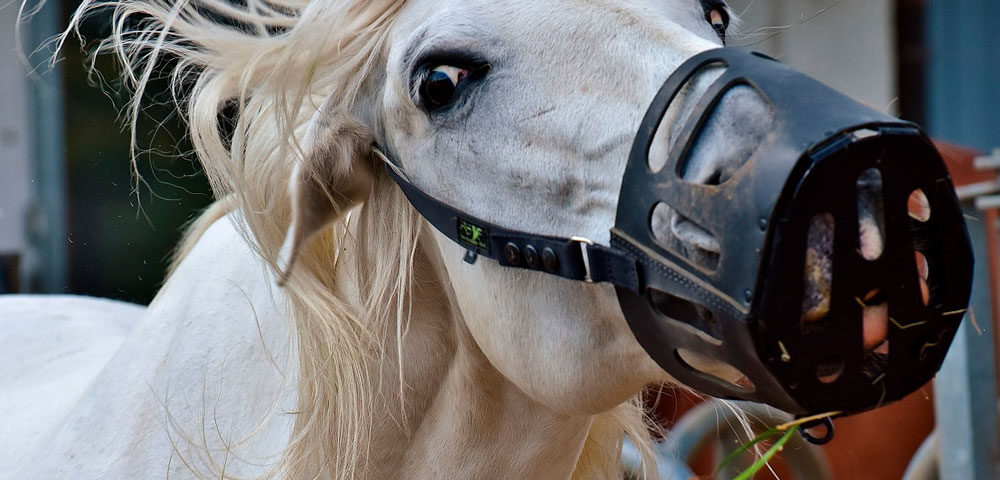 Conclusion
A traditional grazing muzzle is a great tool for horse owners to help their horses maintain a healthy weight. It prevents horses from excessive grass intake. Especially when they are fed with high-calorie food. It could lead to the development of laminitis or even equine obesity.
Horse muzzles also reduce the risk of choking. This may be caused by eating too much in large amounts at once without chewing properly. So if you want your horse's health to be better than ever before, then this device is worth considering.
Check our winner first, the Weaver Leather 65-2346 Grazing Muzzle. It's a quality piece made by a well-known equestrian brand. The other four picks are also worth your attention as they offer their own features. The following muzzles provide a snug fit and comfortable wearing.