A solid pad plays a crucial role in distributing pressure, absorbing shock, and preventing discomfort during horseback riding. It's also a necessary piece of tack for various types of horse shows and competitions. We tested saddle pads designed by different brands and for a range of purposes. And after conducting experiments with them, we created this ultimate review of the top 5 saddle pads so you can find your best fit.
A saddle pad (also known as a saddle blanket) serves as an extra layer of cushioning between a saddle and the horse's back. This helps to prevent discomfort from friction or avoid pressure points on the animal. With proper padding, the rider's weight distribution evens out properly. Some saddle blankets boast impressive moisture-wicking abilities. They help control the horse's body temperature by absorbing sweat and moisture. This results in maintaining a dry back and preventing overheating or getting too cold.
That's why we prepared this detailed review of the five horse saddle pads to fit any need.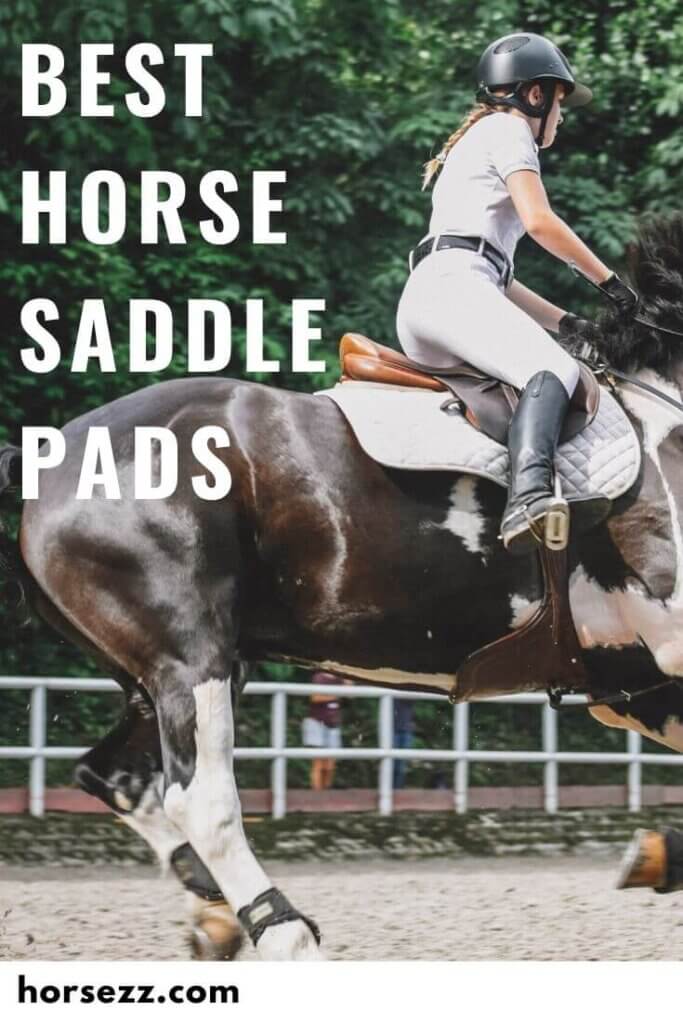 Best Horse Saddle Pads Detailed Review
Let's delve into a detailed review of the top 5 equestrian saddle pads featuring their key characteristics.
1. LeMieux White Dressage Saddle Pad – English Pad for Competitions
The LeMieux brand offers comfortable and secure tack for dressage, and their pad is not an exception. Through our practical knowledge, the dressage saddle pad comes with super soft suede binding to protect the equine's back while performing. With LeMieux's modern technology, the pad is designed to fit a broad range of dressage saddles.
Key Features
The gear is made of PU Leather material that will serve for long.
LeMieux pad comes with a suede binding and bamboo lining that absorbs sweat under the saddle.
With its square and high-wither design, the product suits various saddle sizes.
There are elasticated D-Ring tabs on both sides to improve girth protection.
This English pad is available in vibrant colors to fit the rest of the tack, which is perfect for showing.
Bottom Line
The dressage pad by LeMieux will stand you in good stead in all your competitions with its durable tack. Made of top-quality leather and suede accents, the gear provides comfort for the horse and their rider. Another great perk is that LeMieux offers matching collections, so you can pick the entire set for your performance.
Pros
Super soft suede pad
Perfect for dressage
Enough wither room
Cons
Needs high maintenance
Leather dye may stain
2. TuffRider Basic Saddle Pad – Great Lightweight Pad
The TuffRider Basic Saddle Pad is a light pad that is quite versatile. With the dimensions of 20″ x 21″, it's quite wide and soft. The pad is made with micro-polyester material that is silky-like and sturdy. The flannel underlying is highly convenient to put on.
Key Features
The pad is made with 84% polyester and 16% cotton.
Diamond quilting curved design for a classy look.
The flannel underside keeps the horse comfy.
It comes with a loop strap to hook your stuff on.
A huge range of colors is available.
Bottom Line
The TuffRider Basic Saddle Pad is a great equestrian gear that is easy to tack and maintain. It's made with quite soft materials to make your ride extremely comfortable. This product will be a great addition to all-purpose close-contact saddles like English equestrian saddles.
Pros
Lightweight design
It fits flat saddles well
Perfect for schooling and competitions
Cons
The cushion should be improved
Not good for hot weather
3. Weaver Leather Contoured Saddle Pad – Thick-Cushioned Universal Pad
The Weaver Leather Contoured Saddle Pad features high durability and easy maintenance. Thanks to Merino wool fleece padding, the product sits still and softly to assist the horseback. The blanket, which is 32″ x 32″, also dries quickly and cleans easily, so it's perfect for daily riding.
Key Features
The Merino wool material controls absorption.
Soft fleece inside is non-irritating to the skin.
Mold and mildew-resistant Herculon material for durability.
Contoured design to suit well and wither relief.
The pad is easy to clean and brush off.
Bottom Line
The Weaver Leather Western Saddle Pad is a thick cushioned blanket that will keep you still in the saddle for a long time. The product is easy to maintain and handle. A big selection of vibrant colors won't definitely remain you indifferent!
Pros
Thick soft padding
Sits great on the withers
Absorption feature
Cons
The leather piece might be sticky
The color could differ a bit
4. Diamond Wool Contour Ranch Pad – Wither-Relief Felt Gear
The Diamond Wool Contour Ranch Pad is made with high-quality ranch-tough wool felt. This helps to stay the pad still and also improves the airflow to keep the horseback cool and dry. It features a notch on the spine to relieve the withers and distressed leather spots.
Key Features
It's made with wool contour felt to stay cozy.
Very thick padded design for better comfort.
It's quite flexible and fits the horse perfectly.
It comes with a cutout on the withers.
Perfect for ranch roping and riding.
Bottom Line
The Diamond Wool Western saddle pad is a perfect choice for ranch work as well as trail riding. It's extremely thick and soft which helps reduce sweat and friction immensely. The pad comes in two sizes – 30″ x 30″ and 32″ x 32″ – so you could choose one for the better fit.
Pros
Flexible soft design
Doesn't slide around
Thick and durable
Cons
It takes much time to dry it out
Not good for high-wither horses
5. Kavallerie Saddle Pad – All-Purpose Protective Gear
The Kavallerie Saddle Pad is actually a half pad designed for extra comfort. So if you're looking for gear to add cushion and avoid overheating and soreness, this saddle pad is a must. The Kavallerie brand provides its customers with a big variety of equestrian pads for different needs and purposes.
Key Features
The flexible gel design prevents horseback issues.
The pad aims to reduce uneven pressure on your horse.
It's designed with numerous vent holes for better airflow.
The gear is easy to maintain and clean up.
4 different pad types are available for improving specific conditions.
Bottom Line
The Kavallerie Saddle Pad is a wonderful option for those who are searching for versatile ergonomic equestrian gear. Being made with Reiter gel material, the pad is shock-absorbing, pressure dispersing as well as back supporting. Moreover, it's easy to customize by cutting the edges through the scissor lines.
Pros
Great for high-wither breeds
Perfect for swaybacked horses
Easy to adjust and cut off
Cons
Too thick for a dressage saddle
Not good for a hot climate
---
Top 5 Horse Saddle Pads Comparison
Rank
Image
Product
Price

1




LeMieux White Dressage Saddle Pad

Suede binding
Square design
Enough withers room

Check Price

2




TuffRider Basic Saddle Pad

All-purpose design
Flannel inner lining
Easy to clean

Check Price

3




Weaver Leather Contoured Saddle Pad

High-quality top fabric
Easy to clean
Thick wool fleece

Check Price

4




Diamond Wool Contour Ranch Pad

Soft wool felt used
Wither-relief notch
Flexible design

Check Price

5




Kavallerie Saddle Pad

Solid gel material used
Back-relief design
Highly ventilated

Check Price
---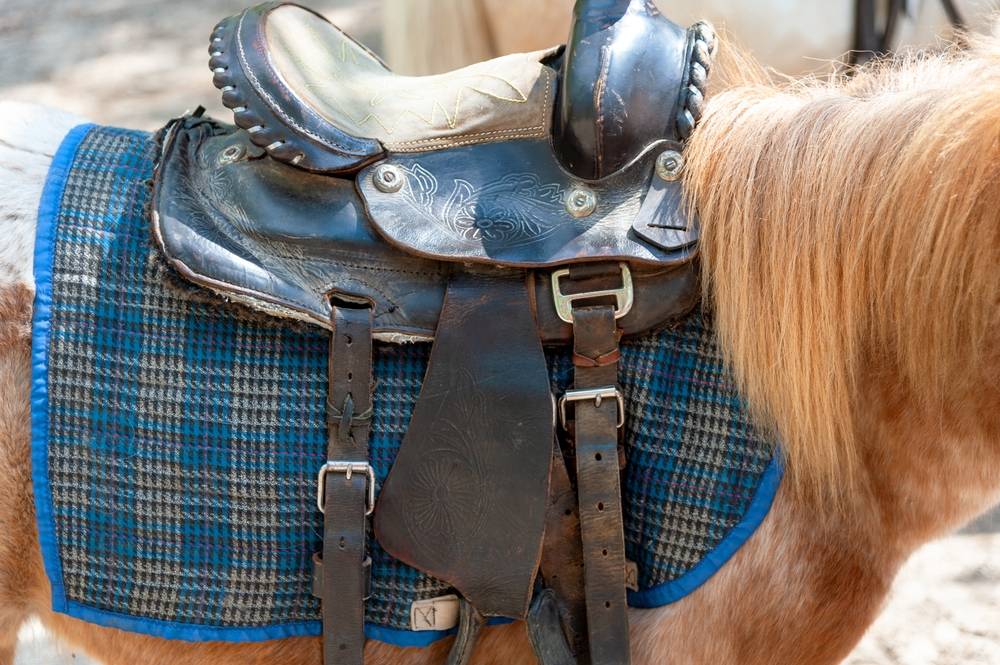 The Main Types of Saddle Pads
Depending on the style you ride a horse and the equestrian sport you choose, there are various saddle pad styles you should take into consideration before purchasing it.
Shaped saddle pads – the common type of design it resembles the shape of a horse saddle. Popular in hunting and showing.
Square saddle pads – they typically have a larger design than shaped pads. Perfect for eventing, jumping, and dressage.
Western saddle pads – tend to have a big and rectangular shape, like a blanket. Good choice for trail riding and showing.
Sheepskin half-pads – these are thick-lined pads made with genuine or synthetic sheepskin. Well-known in jumping and dressage.
Corrective half-pads – made of impact gel, such tack is made for horses with special needs. They have fascinating ergonomic and shock-absorption features.
---
Choosing the Right Size of a Saddle Pad
The major measurements you have to take when choosing a new pad are the length, width, and thickness. First of all, you'll need a soft fabric tape to measure your saddle, which you want to tack up a pad underneath. Measure the length of the saddle's skirt. The proper saddle pad should be a few inches longer than your saddle so it shows up from both sides of the saddle. So if your saddle is 25" long, you'll need a 27" saddle pad.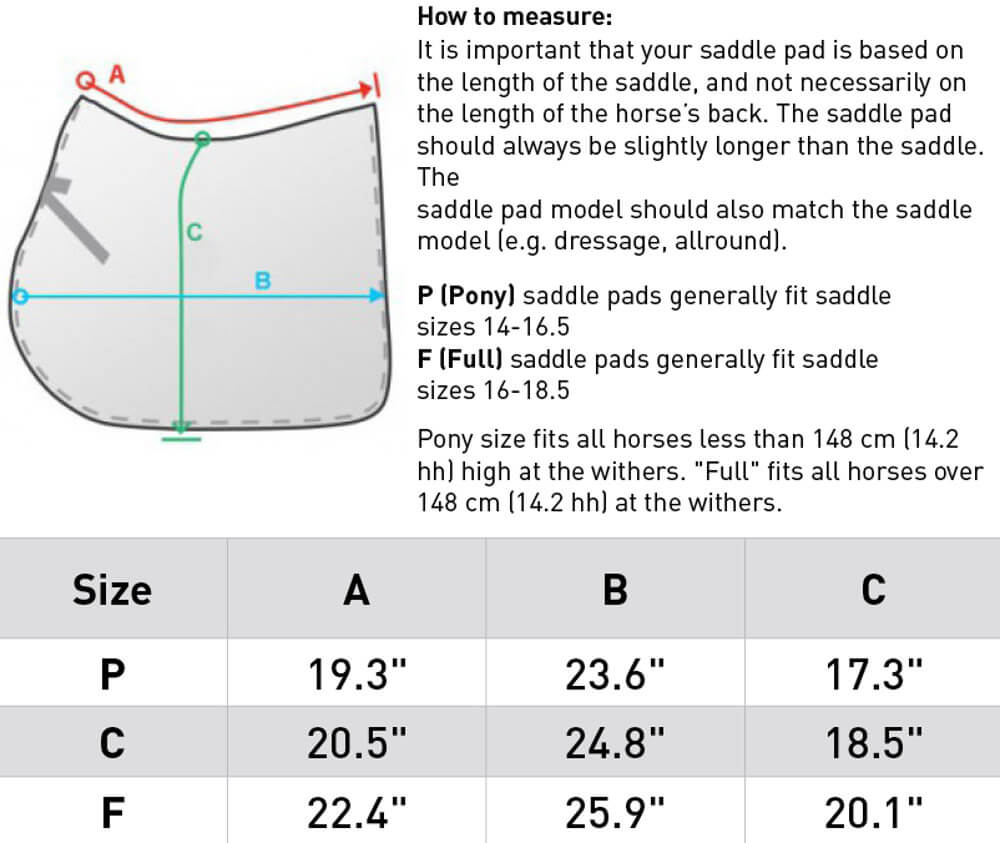 ---
How to Put a Saddle Pad on a Horse – The Step-by-Step Guide
Prepare all tack, including a clean saddle pad, a well-fitting saddle, and a halter and lead rope to safely control the equine before you begin.
Take the horse to a secure cross-tie or grooming area where the animal feels safe. Use a halter with a lead rope to tie your equine. Make sure your companion is calm and relaxed before moving forward.
Hold the pad in front of you with the front or wither end facing upward. The tack must be clean and free of any debris or wrinkles that could potentially make the horse uncomfortable.
Be cautious while lifting the pad above the animal, do not spook or harm the horse.
Place the front end of the pad gently on the horse's withers, where the neck slopes down and the mane ends. The pad must be centered and lay evenly on the equine's back. Position the gear snugly against the skin, avoiding any wrinkles or folds.
---
Frequently Asked Questions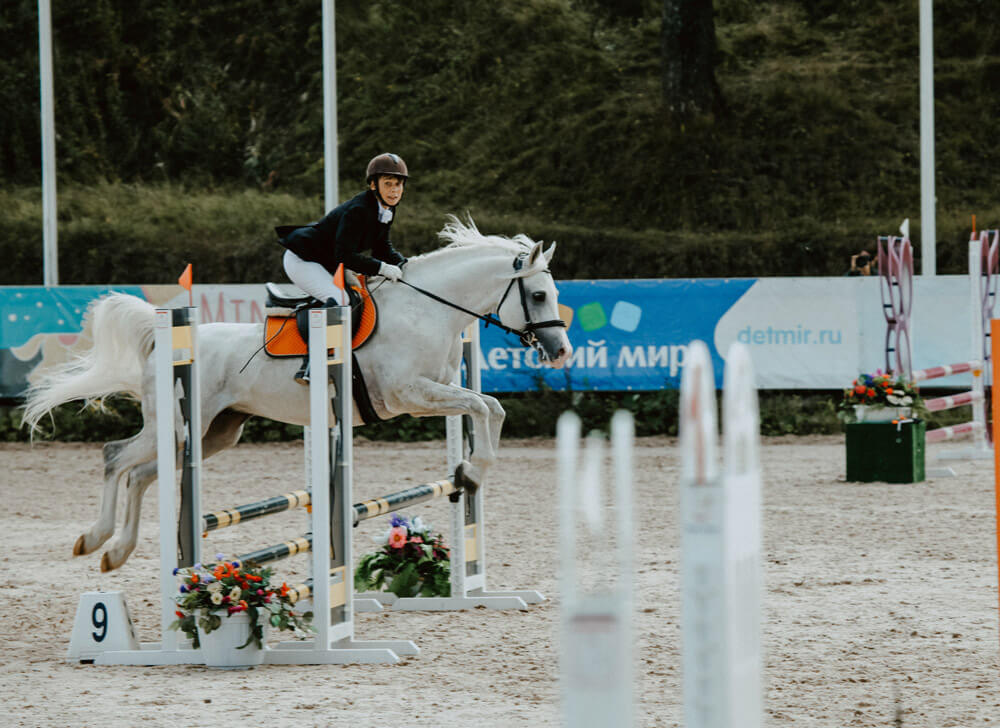 Why Do I Need a Saddle Pad?
A saddle pad is a part of tack equipment that is used to add extra comfort when you sit in a saddle. The gear provides better cushioning between a saddle and a horse in order to avoid friction. The thick lining improves the grip so the saddle doesn't wobble on a horse. Besides, as pads tend to have a sweat-absorption feature, they help keep the saddle cleaner during a long ride.
What Are the Fabrics Used in Saddle Pads?
The modern market offers a huge array of options in terms of materials used as well. Here's a list of the most popular fabrics for horse saddle pads.
Cotton. Lots of English saddle pads are made with cotton. Usually, they are thin and lightweight. Great for beginners.
Neoprene. It's a solid synthetic fabric in terms of flexibility and moisture resistance. Such pads are rather breathable, and they don't slip.
Foam. Foam pads are loved for their enhanced shock absorption feature. The gear is extremely flexible as well to fit the shape of the horse's spine.
Wool or Felt. These are typically thick-lined pads made with natural or synthetic wool. They feature great sweat absorption and heat control.
Fleece. Fleece pads are also thick-cushioned and absorb well. But it may lose some padding over time.
How Thick is a Horse Saddle Pad?
When choosing a brand-new saddle pad, you should also consider its thickness, as it might be different in various pad styles.
½" – great for showing, not too thick, not too thin.
¾" – suitable for everyday use.
⅞" – good for trail riding.
1" – perfect for long rides.
1 ⅛" – designed for team and calf roping.
How to Clean a Saddle Pad?
Use a firm brush or curry comb to get rid of any loose dirt, hair, or debris from the surface. Brush following the direction of the item's fibers to loosen and remove any particles.
Before cleaning, check the care label to see if it is machine washable. If it is, wash the pad in a machine on a gentle cycle along with mild detergent. If it is not machine-friendly, fill a clean bucket with mild detergent and water. Soak the pad in the solution and gently agitate it by hand. Rinse the gear thoroughly until all the soap is removed.
When you're done, gently squeeze out any extra water without twisting or wringing the product. Soon after, you can lay the pad flat on a clean surface or hang the item up to dry. As direct sunlight or high heat can harm the materials, avoid such issues. Make sure the tack is fully dry before you use it again.
How Much Does a Saddle Pad Cost?
A basic saddle pad made of synthetic materials costs between $20 to $50. Mid-range saddle blankets typically cost $50 – $100. They are crafted from better quality materials such as wool or high-density foam. Such pads may have extra features like the ability to wick away moisture, provide shock absorption, or feature anatomical designs.
Saddle pads that are specifically designed for certain disciplines like dressage or barrel racing can be pricey and cost between $100 to $300 or even more. They are made of advanced materials and constructed in a specialized way with unique features that match the needs of the discipline.
What is a Half-Pad?
As its name says, a half pad is a tack gear two times smaller than a regular horse pad. The main purpose of half-pads is to add extra cushioning, so the product is used in addition to a regular pad, not instead of it. The half-pad is placed between the saddle and the common pad. Some of these pads are designed to support some problematic body areas of a horse like withers. Many brands produce gel half-pads with an ergonomic design and improved shock-absorbing features.
---
Conclusion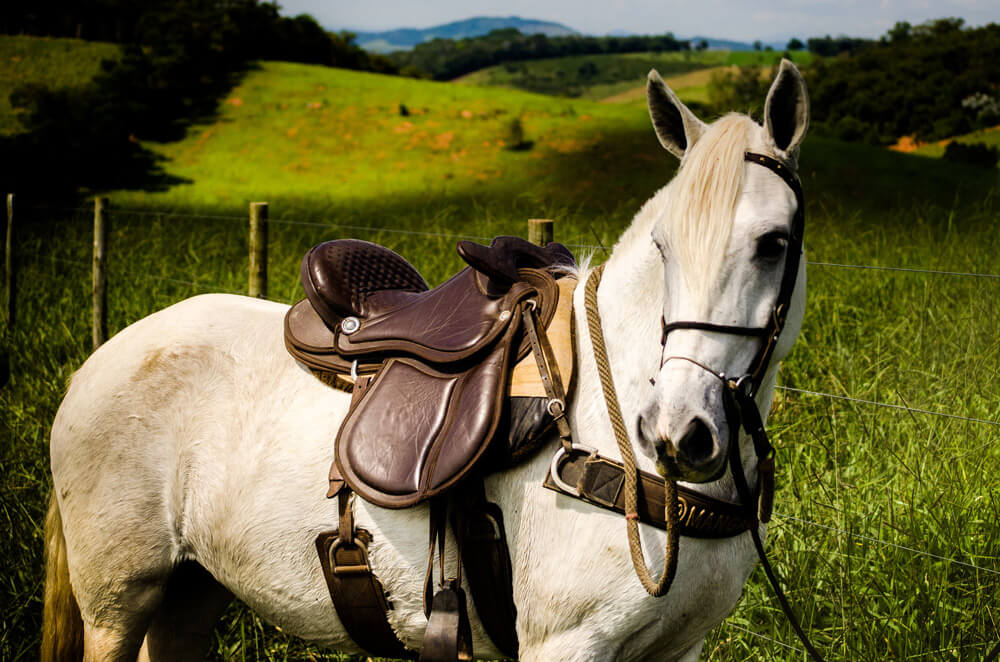 There's a big array of saddle pads available on the market. All of them aim to satisfy the riders' particular needs. But the common thing is that a solid equestrian pad must be comfortable, durable, and protective.
The top-shelf pad should be a perfect match to your horse riding saddle or considered as a sturdy blanket for using alone if you're a bareback rider. In addition, keep in mind that the pad should also keep your horse cool and cozy while providing effective relief and avoiding health issues.