In the realm of stable management, every horse owner must prioritize the safety of their horses. This is where stall guards and chains come into play, as such gear provides proper ventilation and visibility while ensuring secure stabling. Through a comprehensive review of their features, functionality, and benefits, we reveal the top 5 stall guards for horses complemented with stall chains that are worth considering.
5 Horse Stall Guards and Chains Detailed Review
1. Southwestern Equine Nylon Stall Guard
The stall guard by Southwestern Equine provides a dependable option for maintaining optimal air ventilation and visibility. Made from top-notch nylon material, this gear showcases a sturdy construction, specifically crafted to endure the challenges of a stall environment.
Key Features
Southwestern Equine stall door guard boasts a rugged nylon that resists wear and tear seamlessly.
Equipped with adjustable straps, this product can be customized to fit various stall sizes.
The guard for stalls features six sturdy snaps and buckles that can be securely attached to the doorway.
The nylon material is easily washable, simplifying the cleaning process and maintaining the guard's appearance over time.
Southwestern Equine guards can also find use in trailers, barn aisles, and other areas requiring assistance to prevent escape.
Bottom Line
Through our trial, we outline the Southwestern Equine Premium Nylon Stall Guard as a prime example of a well-balanced and practical approach to security. Crafted from top-class nylon and featuring an adjustable design, this item offers a reliable barrier between the gates and the animal. Available in an extensive selection of colors, this horse stall guard allows owners to match the gear with their stable's décor.
---
2. Dover Saddlery Stall Guard
The Dover Saddlery stall guard is designed to cover stall gates between 45″ and 51″ while allowing proper airflow and visibility. Crafted with durability and ease of use in mind, this stall equipment is a practical accessory for conscientious horse owners.
Key Features
Crafted from textilene mesh, the manufacturer promises a long-lasting and dependable performance.
With an adjustable range from 45″ to 51″, the item accommodates a variety of stall doors.
The Dover Saddlery stall guard is equipped with 4 brass-plated snaps and buckles that ensure secure attachment to stall fronts.
The product's straightforward installation process allows horse owners to quickly set up barn aisle guards without the need for extensive tools.
With a myriad of unconventional color choices, this stall guard will definitely add a touch of personalization to the stable's ambiance.
Bottom Line
The Dover Saddlery Stall Guard is a user-friendly solution for maintaining well-ventilated enclosures for horses. With an adjustable length and reinforced hardware, it provides a reliable barrier that will serve for long. The gear offers options for personalization through color and pattern choices, enhancing the aesthetic appeal of the stall environment.
---
3. Equiessentials Closed Stall Guard
Unlike conventional open stall guards, this Equiessentials closed guard offers secure enclosures while providing excellent air ventilation and visibility. After conducting experiments with this gear, we found out it is quite durable and adjustable to fit a range of aisles.
Key Features
The standout feature of the Equiessentials guard is its innovative closed design, which provides a solid barrier.
Crafted from sturdy fabric and nylon web, this barn aisle guard promises long-lasting performance.
The gear comes complete with 8 snaps and 8 buckles to maintain the enclosure's integrity and ensure horse safety.
This Equiessentials stall guard features adjustable straps to range the size from 36.5 to 40 long.
Bottom Line
Equiessentials Closed Stall Guard provides a secure yet ventilated enclosure for equine companions. Unlike traditional web guards, its closed design strikes a balance between containment and visibility. The durable construction and secure fastenings ensure horse safety and comfort.
---
4. Harrison Howard Horses Stall Guard
The Harrison Howard stall guard serves as a reliable solution for ensuring the safety and ventilation of horses. The gear comes with adjustable straps and a wide range of color options to fit various needs and sizes.
Key Features
The adjustable guard straps allow you to customize the fit according to various stall dimensions.
Equipped with sturdy spring hooks, this stall guard attaches firmly to stall fronts.
Made from 1680D fabric, the Harrison Howard Stall Guard is water-repellant and resists any wear and tear.
The polyester material is machine-washable, no dryer required.
The aisle guard comes with adjustable straps and locks in each corner for easy installation.
Bottom Line
With adjustable straps and sturdy spring hooks, the Harrison Howard stall guard creates secure and customizable protection for different stall sizes. The durable material ensures longevity, even with active horses. Easy installation and attention to details make it a valuable stall accessory. For horse owners seeking a versatile and well-crafted solution for stall management, this Harrison Howard product is an excellent choice.
---
5. Tough-1 Heavy Rubber Coated Stall Chain
The Tough-1 stall chain provides a durable option for those looking for a reliable alternative or addition to conventional stall guards. With its distinctive rubber-coated design, horse stall chains by Tough-1 stands as a sturdy and practical choice for an effectively-managed horse facility.
Key Features
The rubber material not only enhances durability but also minimizes the risk of injury to horses.
Crafted from sturdy metal, the stall chain is designed to withstand the demands of equine environments.
The Tough-1 Stall Chain is 1″ thick and 43″ long.
Equipped with secure chains on the ends, the item attaches firmly to stall fronts.
Installation is hassle-free, as the stall chain can be quickly put in place without the need for specialized tools.
Bottom Line
Tough-1 Heavy Rubber Coated Stall Chain is an excellent alternative to traditional stall and aisle guards. It ensures the comfort of horses with its sturdy rubber-coated design and heavy-duty chain. With secure fastenings, it maintains enclosure integrity while improving stall ventilation.
---
Top 5 Stall Guards & Chains Comparison
Rank
Image
Product
Price

1




Southwestern Equine Nylon Stall Guard

Nylon webbing
Adjustable design
Nickle-plated hardware

Check Price

2




Dover Saddlery Stall Guard

Textilene mesh
Vivid colors
Adjustable straps

Check Price

3




Equiessentials Closed Stall Guard

Nylon webbing
Closed design
8 buckles

Check Price

4




Harrison Howard Horses Stall Guard

1680D polyester
Waterproof
Closed design

Check Price

5




Tough-1 Heavy Rubber Coated Stall Chain

Quality rubber
Chain ends
Easy attachment

Check Price
---
Factors to Consider When Choosing a Stall Guard for Horses
Material Quality
The choice of material for the stall guard ensures its durability and long-lasting performance. Opt for premium materials (nylon, fabric) that can withstand the rigors of a stable environment, ensuring optimal longevity and resilience.
Attachment Mechanism
Seek out durable snaps, hooks, or buckles that offer a robust and dependable connection. Some models come with 6+ buckles and straps for a more secure fit.
Adjustability
Stall guards must have adjustable settings to accommodate stalls of different sizes. This characteristic guarantees a proper fit, avoiding any gaps that horses might get trapped in.
Visibility and Ventilation
A reliable horse stall protector should offer sufficient visibility and ventilation, ensuring that your horse can observe its surroundings and enjoy optimal airflow. Such features contribute to the equine's overall comfort.
Safety Features
Safety precautions, like rounded edges and the absence of sharp corners, are crucial to safeguard your horse and prevent injuries. Certain stall guards even incorporate rubber coatings or padding to minimize the likelihood of accidents.
Ease of Installation
A convenient stall guard for horses that is simple to install while dividing different sections of the facility. Seek out items that do not necessitate extra tools or intricate procedures for setup.
Aesthetic Appeal
Although the functionality of the stall guard is not affected, its appearance can influence the overall aesthetics of your stable. Some products are available in different colors and patterns to complement the decor of your stable, which is a nice perk.
Brand Reputation
Select guards from reputable brands recognized for their commitment to equine safety and product quality. Valuable insights can be gained from reviews and recommendations shared by fellow horse owners.
Horse Behavior and Temperament
Take into account your horse's demeanor. If your equine tends to be restless or leans on stall guards, pick a sturdier option.
Budget
Stall and aisle guards are available at different prices. Determine a budget that aligns with your needs and desired features. While ensuring quality is crucial, there are choices to fit various budgets.
---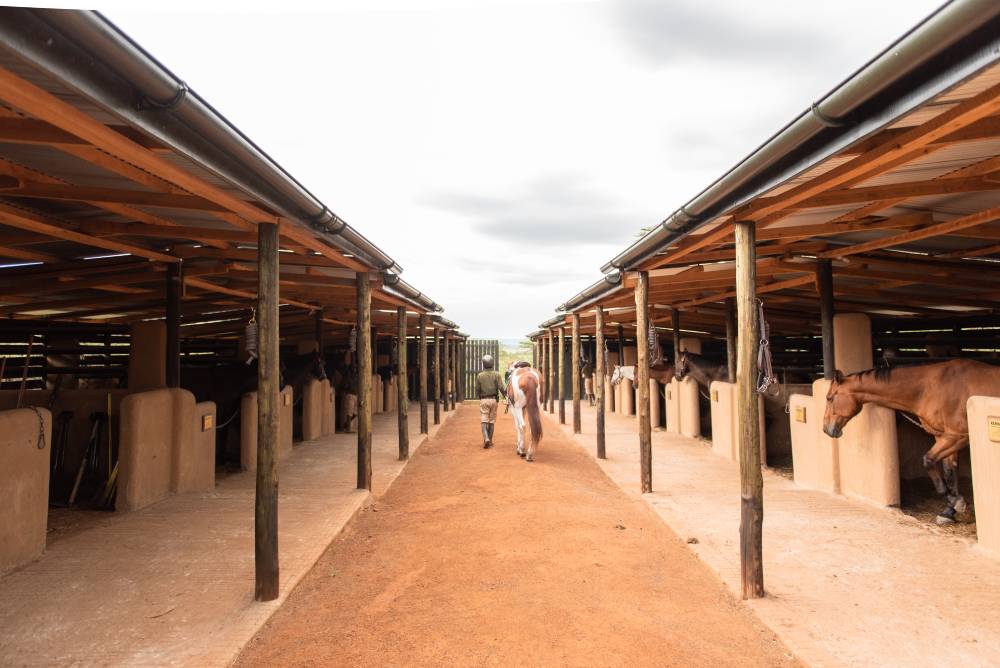 How to Attach a Stall Guard – the Step-by-Step Guide
Here's a detailed guide to assist you in securely attaching a stall guard.
Materials Needed:
stall guard;
snaps, hooks, or buckles (included with the stall guard);
screwdriver or drill (if needed).
Instructions:
Get the guard, along with any accompanying snaps, hooks, or buckles. If you are using any additional hardware, get those prepared as well.
Measure the width of your stall opening to ensure proper fitment of the stall guard. In case your product features adjustable straps, adjust them based on the measurements of your stall.
Position the stall guard at the desired height within the stall opening. Ensure that the bottom of the stall guard is set at a safe level to prevent any entanglement or harm to the horses.
To ensure proper installation of the guard, attach it securely using the appropriate snaps, hooks, or buckles. These attachments are designed to connect the guard to the stall, ensuring a reliable and safe setup.
Begin by securing the upper part of the stall guard. If the gear is equipped with fasteners such as snaps, hooks, or buckles, connect them to the bars or fixtures located at the upper part of the stall entrance. Ensure a tight fit with no spaces in between.
Secure the bottom of the stall guard using the identical technique employed for the top. This will effectively deter any potential swinging or flapping of the item.
Ensure that the stall guard is correctly aligned and hanging in a balanced manner. Verify that it is neither tilted nor askew.
The stall guard is firmly attached by gently pulling on it. It should not easily come loose or detach.
If required, perform any required modifications to guarantee the proper alignment and security of the guard.
Step away and visually examine the stall guard. Verify that it is hanging in a straight, secure manner, and at the desired height.
---
Frequently Asked Questions
Are Horse Stall Guards Safe?
Yes, a horse stall guard provides a safe environment when installed and used correctly. Opt for high-quality stall guards with secure attachments and safety features to provide proper airflow and visibility. Regular checks as well as maintenance are essential to keep a safe stable environment.
What Are Barn Aisle Guards Used for?
An aisle guard serves as a barrier in barn aisles or walkways, controlling access and preventing horses from roaming freely. They promote safety by confining equines to designated areas, minimizing the chances of accidents, and limiting access to barn areas prohibited to animals (e.g., the ones where a horse fan is installed).
How Much Does a Stall Guard for Horses Cost?
A simple stall guard can be purchased for $20-$30, while more advanced or personalized models can range from $50 to over $100. The price of a horse guard can differ significantly depending on the brand, material, features, and size.
How Long Can a Stall Guard Be?
The size of a stall guard can differ, but adjustable items usually have a length ranging from approximately 24 inches to 54 inches. This allows them to fit various stall sizes. Depending on the design and manufacturer, certain guards may offer even more flexibility.
What Are Stall Chains Used for?
A stall chain is frequently used as a substitute for a stall guard. The gear helps to secure a horse's stall while permitting solid visibility. These chains, typically constructed from metal or rubber, create a regulated barrier that can be easily dropped when needed.
---
Conclusion
Stall guards and chains shape the safety, comfort, and organization of our horses' living spaces. In this comprehensive guide, we have explored five exceptional options that cater to the diverse needs for stable management. From closed guards for robust security to rubber-coated stall chains for durability, these products reflect the innovation and dedication of the equine accessory market. The options presented here exemplify the blend of functionality, safety, and aesthetics, allowing you to prioritize your companions' well-being.