Horse boarding is a service provided by horse stables to keep your companion there. That's a good option for horse owners who don't have the possibility to arrange a horse stable on their property or need a temporary cover.
What is a Livery Stable?
The livery stable is also called a horse stable or a livery yard. It's a place where horse owners can keep their hooved friends within a specified period of time. While animals are being "stored" in a horse boarding stable, you can come and train your horse as well as ride and groom.
Some horse boarding facilities include a one-night boarding for passers-by keepers, while others prefer to provide extended services: horse keeping for days, weeks, and even months. Horse owners have to pay the fee weekly or monthly depending on the horse boarding contract terms.
Thus, a livery stable definition is a stable where horses are cared for and their horse owners are charged for their companions' accommodation. Various facilities can be offered at a livery yard.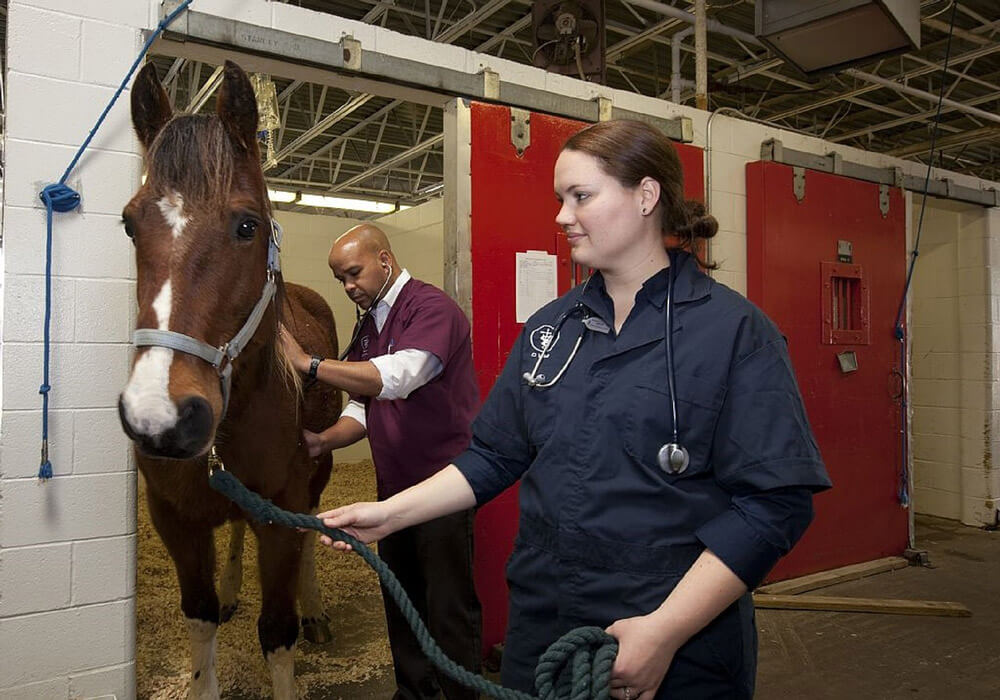 What Does Boarding a Horse Include?
When you board your horse at the livery stable, you can expect a range of conveniences included in the service. Read the horse boarding agreement carefully to be aware of what the horse stable is going to provide you with. Horse boarding includes horse feeding and cleaning.
Depending on the type of boarding stable, you may find different extras presented. The boarding type affects the amount of workload the horse boarding stable will be doing. For an extra fee, the livery yard can improve the horse's nutrition, add grooming, training, vet appointments, and many others.
You can look for horse stables that provide 24-hour supervision, riding lessons, equestrian events, etc. Apart from a box stall (loose box), your hooved pal may be given a huge array of fascinating features. Some barns even have a farrier to get your horseshoes done.
If you wonder how to find a horse stable for your companion, there are lots of options online. If you don't have any contact in your neighborhood, no probs. Just search "horse boarding facilities near me" and choose the most suitable option for you.
Let's check the horse boarding types available to find out what services each of them provide.
Types of Horse Boarding in the USA
Before letting out your companion, read this guide that describes different types of horse boarding. As they offer various options, you can choose the best boarding stable according to your needs and requirements.
Full Board
The full boarding service includes horse accommodation, feeding and watering, and stall-cleaning. Apart from that, some barns offer to turn out your horse (walk it outside) to get fresh air. Most full board horse stables also provide grooming and horse riding for an extra payment.
And that's not the full list yet. If you crave more features, look for a horse boarding stable that includes horse riding lessons as well. To check your companion's state of health, you may ask for an examination by a vet. A farrier may come in handy if your companion needs shoeing. If the weather is getting colder, you may ask to blanket your horse.
Part Board
Partial boarding provides fewer services than full-board. It generally includes accommodation, watering, and limited feeding. The main point of a part board lies in taking care of your companion while it's kept in the horse stable. So you pay less than for a full board but you do the grooming, stall-cleaning, and feeding on your own. Generally, extra facilities as a farrier, a vet, horse training are not included in the boarding agreement.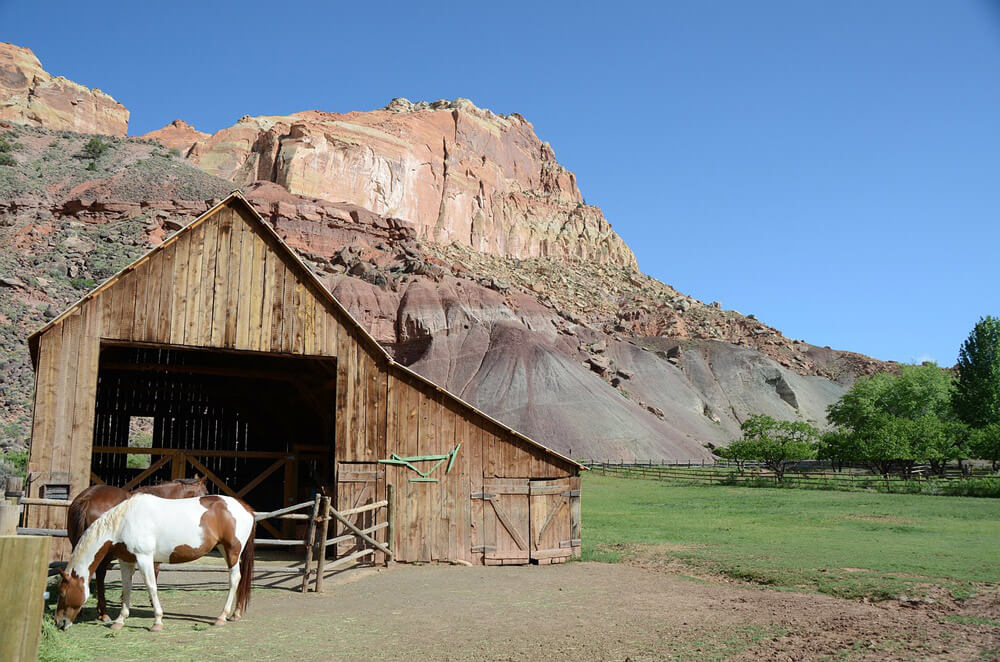 Pasture Board
Pasture boarding is especially common in grass-growing seasons. The hooved pal is provided with food, water, and a run-in shed. You may ask for blanketing for an additional fee. Horses spend much time outdoors grazing around while being constantly supervised. Thus, they are not stabled, you get a paddock with shelter. In colder seasons, you'll need to bring supplemental feeding for your buddy.
Self Board
Self-care boarding offers horses stabling while you're responsible for the rest. Hay feeding may be included in the service but all the grooming, cleaning, and training are on you. This is the least expensive option, however, mind that you have to visit your horse regularly, a few times a day.
Working Board
Working boarding can be a part of riding schools. The idea is that you get a discounted or free-of-charge service of keeping your companion. And in return, your horse can be used for riding in classes.
Types of Horse Boarding in the UK
In the UK there are similar services provided but with different names. Here's a list of English horse boarding types ordered respectively to the American ones.
Full Livery.
Part Livery.
Grass Livery.
DIY Livery.
Working Livery.
Frequently Asked Questions
Should I Board My Horse?
There are several reasons why boarding a horse is a life-saver. Some horse keepers enjoy horse riding but they don't have a proper property to keep it at home. Some of them live in a city so keeping a horse there is off the table. Thus, they look for a horse stable near their location to shelter their companion and treat him nicely.
Alternatively, if your lifestyle can't get you to settle down and you're always out-of-town, a boarding stable is a good way out. So you can rest assured your hooved friend is well-fed and supervised in a stable.
Another reason is if you love your buddy but don't have enough time to get all the chores done, you can pay someone to do it instead of you. Besides, horses are herd animals and they could feel lonely and bored being alone for long. And boarding a horse with other animals can positively affect its well-being.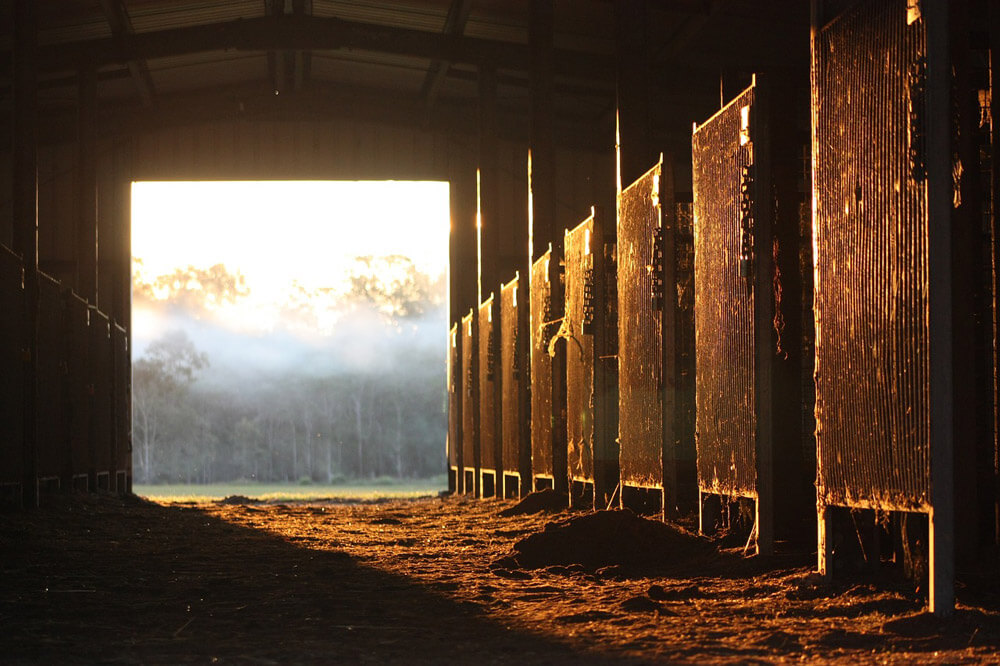 How Much Should I Charge for Horse Boarding?
If you're considering boarding horses at your property you should think of the horse boarding cost. The price will vary depending on the size of your areas as well as the services you can provide.
You should take into account lots of aspects including your indoor area, outdoor area, pasture, and paddock. Mind the presence of box stalls with tack storage. Whether you can provide a run-in shed for grazing. Think of extra features, as a farrier, a vet, grooming, horse riding lessons, etc.
Besides, mind your location and if there are any other boarding stables nearby. Depending on the type of horse boarding you're about to provide, you can charge from $100 per month (for Self Board) to $1000+ (for Full Board). The price depends on the range of facilities you're ready to offer.
How Much Does Horse Boarding Cost?
The average price you can face is about $400. It may be different for various horse boarding types. Check the barn's website to get the price or call the manager. Here's a list of boarding options you can stumble upon:
Self Board: $100 – $200 per month.
Pasture Board: $150 – $400 per month.
Part Board: $200 – $500 per month.
Full Board: $300 – $1000+ per month.
The working board cost may vary depending on the total hours spent on riding your horse. You may be offered a discount (from 10% to 100% of the fee) according to the workload obtained.
Final Thoughts
If you're short of place or time to keep a horse, try horse boarding. There are various options available with different facilities provided. You can visit your companion to take care of it or pay for its full maintenance. This service is available for disposal shelter as well as for an extended period. Check out the main horse boarding types to choose the ideal option.
When working with a horse, don't forget to put on proper gear. Read the horse riding gloves review that describes the goods that can be used at the stable as well.