After a number of durability tests of 24 kids riding helmets, we concluded that the Troxel Spirit Horseback Riding Helmet would be the best protection of your child's head due to its firm design, thick padding, and adjustment features.
The adjustable dial mechanism is easy to use.
Mesh aperture design for better ventilation.
Full coverage helmet for improved protection.
The headliner is easy to remove and wash.
Price updated on November 26, 2020
When our children take up doing sports, we have to be very careful and pay attention to the kids' safety gear, and head protection is not an exception. Moreover, it's a vital piece of equestrian equipment, especially for beginners.
In fact, horse riding helmets reduce the risk of severe head injuries so not wearing them could lead to serious health issues and, as a result, make your child give up the sport. That's why we've chosen extremely durable, solid, trusted horse riding helmets for kids.
Click to Share. We Appreciate Your Help: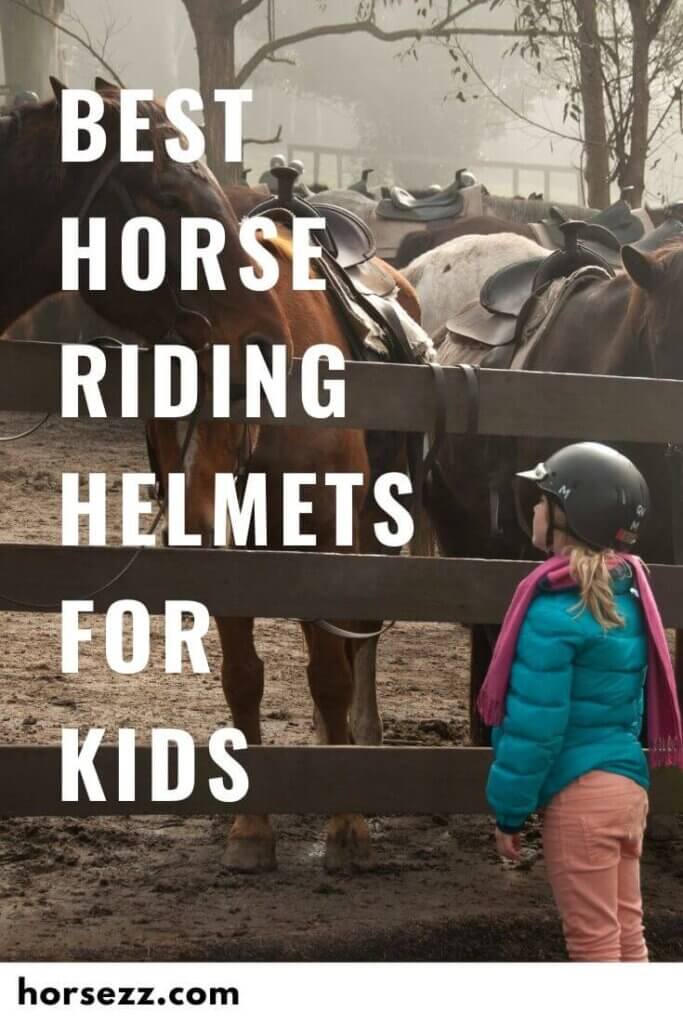 Top 5 Horse Riding Helmets Comparison
Best Horse Riding Helmets for Kids Detailed Review
Check out the list of the top 5 equestrian helmets for kids that are certified as safety is the highest priority with regard to the kids' well-being. Furthermore, modern manufacturers provide their customers with trendy helmet designs suitable for girls and boys so you could mix business with pleasure. What a win-win solution!
1. Troxel Spirit Horseback Riding Helmet - Sturdy Adjustable Helmet
The Troxel Spirit Horseback Riding Helmet is known for its flexible features and colorful styles. It has a dial-fit system so you could fit the helmet by using the twist dial and chin straps. It comes with mesh apertures on the helmet to provide better ventilation. The Troxel helmet is ASTM-SEI certified so it's been protection tested. Lots of colors and sizes are provided, thus both girls and boys will definitely find their style as well as their parents.
The Troxel Spirit Horseback Riding Helmet could be a great protective gear for young equestrian riders. It's highly valuable for its sturdy full-coverage design and adjustable features. The ventilation option makes it super cozy to wear during long rides.
2. Troxel Legacy Schooling - Slim Profile Helmet
Another fascinating product by Troxel is the Legacy Schooling model that features a sleek narrow profile that is perfect for children and teens small head sizes. It comes with a dial-fit system on the back that allows you to tighten it or release while your kid grows up. The headliner inside is removable and washable.
The Troxel Legacy Schooling Helmet is a perfect choice for kids and teens due to its narrow profile design. The helmet is quite adjustable because of the dial-fit mechanism on the back of the helmet. And the horse print will blow you away!
3. Ovation Metallic Riding Helmet - Great Lightweight Gear
The Ovation Metallic Riding Helmet is popular for its metallic finish design and a lightweight feature. The adjustable dial mechanism improves comfort and gives an opportunity to fit a range of sizes using the same gear. It comes with high flow vents to stay cool for a long ride.
The Ovation Metallic Riding Helmet is a great option if you're searching for a protective gear that is quite durable and lightweight. The product is highly adjustable, the visor and headliner are removable and washable. This helmet will definitely last for long.
4. IRH Equi-Lite Helmet - Highly Vented Helmet
The International Riding Helmets is a trusted brand that produces high-quality durable gear with a big range of colors and sizes. The IRH Equi-Lite Helmet is not an exception, it features a dial-fit system that helps you fit the helmet perfectly. It comes with a 3-point harness and a buckle to put on / off the product easily. The helmet is greatly ventilated because of the numerous cooling vents all over the gear.
The IRH Equi-Lite Helmet is good protective gear for kids of all ages, beginners and higher. The solid design is quite practical and comfortable due to its dual-fit mechanism and 3-point harness. Another perk is that the product meets American and European standards so it's been thoroughly tested.
5. TuffRider Starter Horse Riding Helmet - Tough Equestrian Gear
The TuffRider Starter Horse Riding Helmet is well-known for its solid and thick padded design. The vent apertures are covered with stainless steel mesh for better durability. The ABS outer shell design improves protection to avoid injuries. The dial-fit mechanism on the back is easy to adjust.
The TuffRider Starter Horse Riding Helmet could be a great protective equestrian gear for both kids and adults. The protective feature is improved by the steel mesh and ABS coverage. The visor is detachable as well as the headliner that is also washable and moisture resistant.
Frequently Asked Questions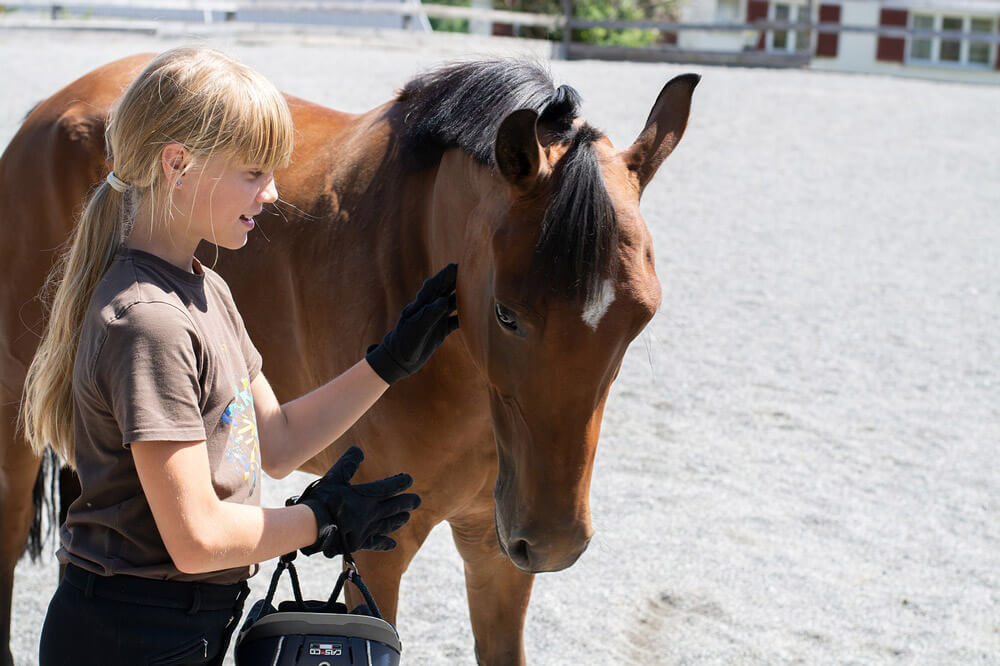 Do My Kids Need a Horse Riding Helmet?
Horse riding equipment is designed to provide both safety and comfort to the rider, especially when it comes to children. A horse riding helmet is not an exception. The headgear is designed in order to protect your children's skull and brain from serious traumas in case of falling off a horse. In addition, a solid horse riding helmet has a shock-absorbing feature that helps reduce the impact on the kid's head.
How to Pick a Size of a Helmet?
If you'd like to purchase a helmet for your kids online, you have to be sure that the size is accurate. We recommend using the size chart that is usually available on the web site of the manufacturer, which brand you'd like to order.
To pick the right helmet, just take measurements of your kid's head using a regular measuring tape and following the manufacturer's instructions. Typically kids' horse riding helmets have adjustable design so there's a great chance of choosing the right helmet.
Are There Western-Style Helmets for Kids?
In fact, horse riding is deemed to be divided into two styles – British and Western. Check out our article on how to differ these two types of horse riding.
Traditionally, western riders wear a cowboy / cowgirl hat, not a helmet. This is a substantial part of their classy riding apparel. But nowadays you can also find a Western protective riding headgear for your kids.
Can My Kid Wear a Bike Helmet for Horse Riding?
Actually, it's not recommended to use a bike helmet for horse riding as it's designed especially for riding a bike. The main reason is that the garment for horse riding is deeper and covers more areas of your kid's head including their forehead and the back of the head. Unlike bike helmets, horse riding headgear is ASTM-certified and / or SEI-certified which means they are safe for equestrian sports and horseback riding.
Choosing the most comfortable equestrian helmet for kids could be challenging, that's why we did thorough research and tested dozens of the most popular products. No doubt, the horse riding helmet must be safe, solid, and durable, and the Troxel Spirit Horseback Riding Helmet meets all of these requirements. So if you're still not sure what to pick, check out this helmet first.
No matter which horse riding helmet you choose, just remember that safety takes the highest priority. Thanks to professional equestrian gear manufacturers, we're able to choose a convenient product according to our needs, requirements, willings, and style, both kids and adults sizes of riding helmets are available. Ride safe!