In the world of equestrian sports, selecting the right pair of pants is paramount, so we created this guide to help you make that crucial choice. Riding apparel must provide convenience and durability, so we reviewed the 5 best horse riding pants for men suitable for English and Western disciplines.
Whether you're a seasoned rider or just starting out, the importance of proper riding breeches for men is key. Such gear offers not only comfort but also safety and style, ensuring a smooth experience across all riding styles. Properly chosen trousers could improve the rider's actions and flexibility. The materials used for producing men's riding pants are quite different, as well as the colors, so you're able to pick top-notch apparel that matches the rest of the clothes.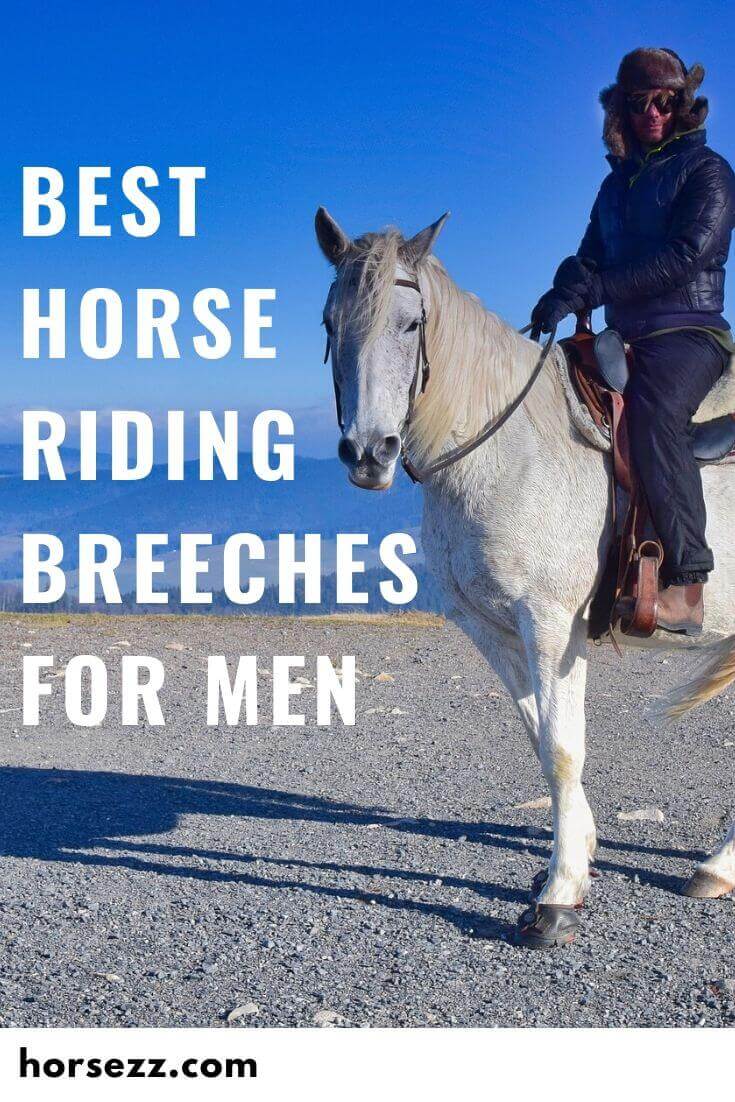 Best Horse Riding Pants for Men Detailed Review
Based on our thorough research, these are the 5 best riding trousers for men equestrians on the market.
1. TuffRider Men's Breeches – Highly Durable Gear
The TuffRider Men's Breeches are made by a popular equestrian brand that is trusted by dozens of customers. That's why first you should consider this product as it's highly durable and comfy. Being made with stretchable materials it will totally improve your flexibility during horseback riding.
Key Features
Made of polyester and spandex to fit stretchy.
The gear comes with 2 front and 2 back pockets.
Non-pilling fabric that is machine washable.
Come with soft knee patches for a better grip.
Bottom Line
The TuffRider Men's Breeches is a great option for schooling and riding. They are quite stretchable and sturdy, so they will last for long. In addition, the gear comes with 4 pickets, so you can easily keep your stuff during the ride.
Pros
Great for schooling
Machine-friendly
Come with belt loops
Cons
Don't breathe well
Non-silicone grip
---
2. Ariat Relaxed Boot Cut Jean – Western-Style Jeans
The Ariat jeans for men is an excellent option for horse riding enthusiasts who value comfort, durability, and style. Specifically designed for cowboys, these pants seamlessly combine functionality and fashion. When we tested these jeans, we found our the product matches well with cowoy boots and withstand several mashine washes.
Key Features
Men's Ariat jeans are crafted from durable denim that endures the challenges of horse riding.
The M2 Relaxed fit offers ample space for unrestricted movement.
The design of the boot cut allows for the convenient placement of riding boots for men while preserving a classy appearance.
Ariat's cutting-edge technology guarantees effective breathability, ensuring you stay comfortable throughout your long rides.
The jeans are designed with reinforced stitching at points of stress, which improves their lifespan.
Bottom Line
The Ariat men's jeans are specifically designed for equestrian activities, these trousers offer a relaxed fit without compromising style. Equipped with reinforced seams, they are built to withstand the test of time. While they may come at a higher price point, the investment is worthwhile for riders who desire top-notch performance and fashion.
Pros
Perfect for Western disciplines
4 pockets, 5 loops
Lots of colors and styles
Cons
---
3. Ovation Woven Breeches – Well-Resistant Breeches
The Ovation Woven Breeches are produced by another well-known equestrian brand that's trusted for its high durability and quality materials. This product features soft microfiber woven that's non-clingy. It comes with 4 pockets that are super convenient for a safe ride.
Key Features
Made of microfiber woven fabric that is stretchy and sweat-absorbable.
The wear comes with synthetic suede knee patches for a better grip.
Designed with 2 front and 2 back pockets to keep all your things.
The breeches also have hook-and-loop ankle closures to fit snugly.
Bottom Line
The Ovation Woven Breeches is a top-class equestrian gear made with woven fabric that is hair and odor resistant. That's a great option for schooling and riding. Furthermore, there's a big range of size and color options so you can choose the best fit.
Pros
Great for everyday use
Belt loops
Ankle closures
Cons
Small pockets
Not full-seat
---
4. HORZE Men's Riding Breeches – Silicone Knee Pants
HORZE Men's Riding Breeches are designed with silicone knee patches for extra grip in the saddle. They feature a belt loop waistband so that you can adjust to get the right fit. These riding pants also have stretch panels at the sides and a back pocket for extra comfort. Lastly, they come with two front pockets and ankle closures to ride safely and keep your belongings at hand while riding.
Key Features
These men's breeches with silicone knee patches are great for jumping and hunting.
The medium rise waist design provides a comfy seat in the horse saddle.
Elastic ankles create a perfect match with English riding boots.
The stretchy waistband ensures the pants will sit snugly.
Bottom Line
HORZE riding breeches are perfect for men who need extra grip in the saddle. Their adjustable waistband and stretch panels make them comfortable to wear. The knee patches, back pockets, and ankle closures offer great functionality. Whether you're looking for a new pair of riding breeches or just want to upgrade your current ones, these men's riding breeches will be a great choice!
Pros
Contoured waistband
Stretchy pockets
Elastic bottoms
Cons
Not for dressage
Not-zip pockets
---
5. Mountain Horse Polar Unisex Breeches – Warm Windproof Breeches
The Mountain Horse Polar Unisex Breeches is a wonderful gear if you're looking for breathable winter horse riding breeches. They are quite windproof and waterproof so you can easily wear them in any weather. Being designed with a synthetic leather seat, the grip is well-improved and super comfortable to ride.
Key Features
The breeches are made with polyester and fiberfill to keep warm.
The seat is made with nylon and polyurethane to provide a solid grip.
They come with snow gaiters at the bottom to keep out the snow.
The gear has two front pockets with fleece inside.
The zippers are full-length and placed at the sides of the wear.
Bottom Line
The Mountain Horse Polar Unisex Breeches prefer cold temperatures while keeping you warm and comfy during horseback riding. Being designed with tick lining, waterproof fabric, and snow gaiters, this garment is claimed as protective horse riding equipment. Moreover, the unisex design and different sizes give an opportunity to fit any equestrian rider well.
Pros
Perfect for cold season
Ergonomic design
Foot straps attached
Cons
Might be too long
Baggy design
---
Top 5 Men's Breeches Comparison
Rank
Image
Product
Price

1




TuffRider Men's Breeches

Polyester/spandex fabric
4 pockets
Non-pilling design

Check Price

2




Ariat Relaxed Boot Cut Jean

100% Cotton
Zipper closure
Deep pockets

Check Price

3




Ovation Woven Breeches

Woven fabric
4 pockets
Great absorption

Check Price

4




HORZE Men's Riding Breeches

Polyamide/lycra fabric
4 pockets
Stretchy design

Check Price

5




Mountain Horse Polar Unisex Breeches

Polyester/fiberfill fabric
2 fleece pockets
Snow gaiters

Check Price
---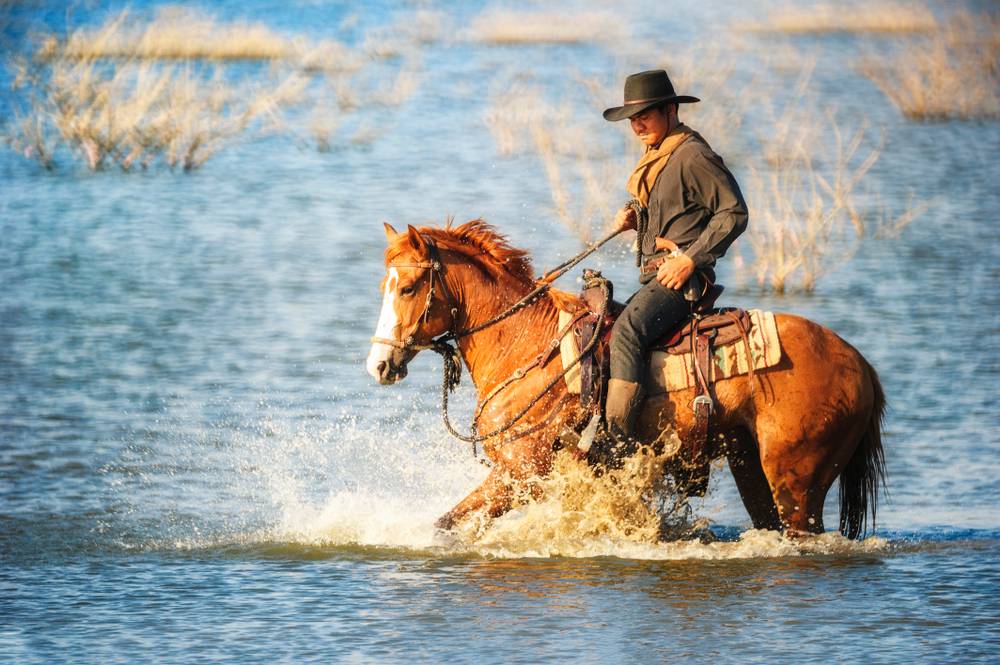 How to Choose the Right Horse Riding Pants for Men
Follow these handy tips to ensure you'll fit in your new horse riding breeches:
Look at the fabric. Choose a material that is moisture-wicking, breathable, and offers enough grip while on a horse.
Check the seams of the riding pants. They should be strong enough to withstand regular wear and tear.
Think about the fit of the riding pants for men. Opt for a pair that offers a snug but comfortable fit. Riding pants shouldn't be too tight or loose around your body.
Make sure you choose the right size. Use size charts from the manufacturer as an estimate before making a purchase.
Pay attention to details such as pockets, belt loops, ankle closures, and adjustable waistbands. These features can make a difference in the comfort and fit of your riding breeches.
Look for features like padding, stirrups, or gaiters that can provide extra support while horse riding.
Check product reviews if possible. They'll give you an idea of how well-made the item is and how comfortable it really is.
---
How to Size Riding Breeches for Men?
Before you purchase a new pair of pants you have to pick the right size. You can just use a regular soft tape to take measurements of your body. In fact, various brands provide different size charts so you should follow the instructions of the manufacturer you chose. But generally, horse riding breeches for men are measured by the waistline, hips, and inseam (the inner length from the crotch of the breeches to the bottom of the gear).
---
What Are Full-Seat Riding Breeches?
Full-seat riding breeches are designed with a special full-seat panel that offers extra grip and support when you're in the saddle. They provide superior stability and balance for an improved riding experience. The material used in this type of horse riding pants for men is usually made from suede, leather, or knitted fabric. It can help keep you snugly secured while horseback riding.
Full-seat riding pants for men often come with a wide selection of features like a stretchy waistband, belt loops, and ankle closures. Such trinkets offer more control over the fit and comfort level.
---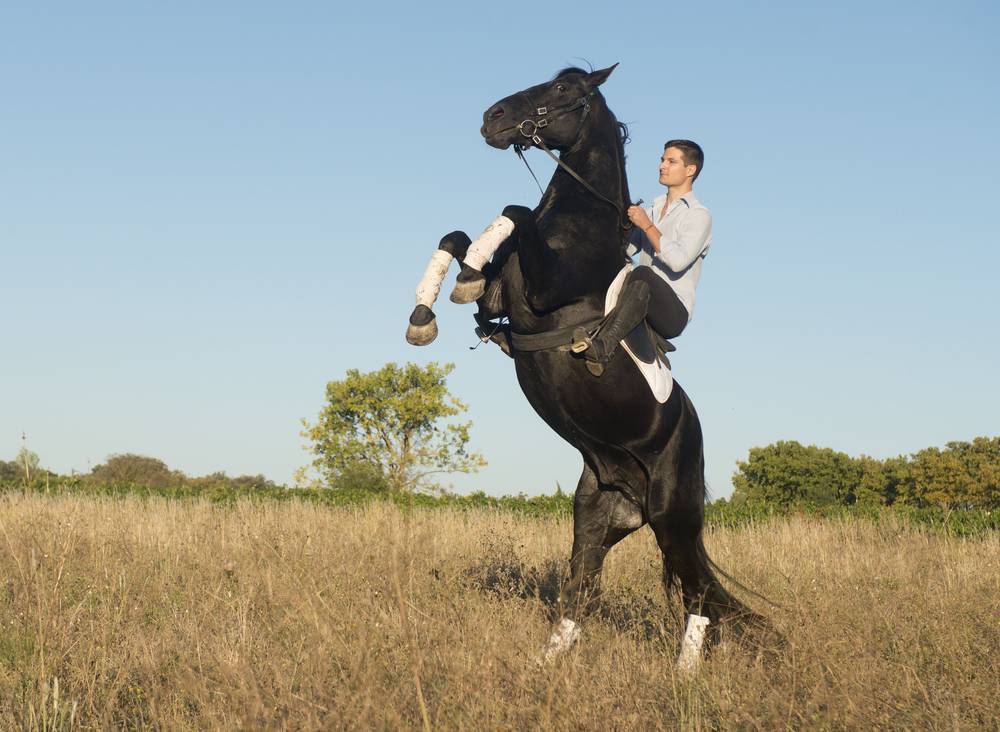 Full Seat Breeches vs Knee Patch – What's the Difference?
Full seat breeches are ideal for experienced riders who need extra grip during extended rides or at difficult angles. Such riding gear is required in dressage as this discipline implies a close connection between a seat and a saddle.
Knee patch breeches are more appropriate for beginner riders. These offer a little less silicone grip, but they provide enough stability to get the rider moving. As its name implies, such patches are located at the knees and provide more protection. They are usually made of solid silicone to ensure a firm grip. Knee patch breeches can be worn in hunting, jumping, and eventing, as well as in pleasure riding. Such riding pants for men provide free movements so you can perform tricks like high jumps.
---
Frequently Asked Questions
Why Do I Need Horse Riding Breeches?
When it comes to horse riding, you have to feel comfortable enough to be focused on training. That's why it's strongly recommended to choose convenient equestrian gear and a pair of riding pants an integral part of it.
It goes without saying that horse riding breeches are specially designed to keep the horseman in a saddle for long and provide freedom of movement. Thus, equestrian pants are seamless in order to avoid friction when you're in a seat. In addition, such apparel comes with knee pads to improve the grip.
What is the Fabric of Horse Riding Breeches?
In terms of comfort, a pair of horse riding breeches has a snug fit, they are breathable and stretchy to keep you move well.
Typically, riding breeches for men are cotton as it breathes well and you can wear them for long with no probs. However, some manufacturers also add polyester / spandex for better flexibility and sweat absorption.
What Are the Main Types of Riding Pants?
In fact, horse riding breeches are not the only kind of riding pants, they are the most popular though. Here's a list of common types of riding pants:
Riding jeans – with a high waist and snug ankles.
Riding breeches – mid-calf pants suitable for tall boots.
Riding jodhpurs – long snug ankles suitable for short boots like paddocks.
Riding leggings – stretchy and breathable, seamless design.
Check out our article on basic equestrian equipment to find out more about horse riding garment.
Can I Wear My Jeans for Horse Riding?
Well, if you're keen on Western style of riding, you can try wearing jeans. But not all regular pants are suitable for horseback riding especially if you do it on a regular basis.
That is because jeans have inner seams that might bring discomfort feelings when you're in a saddle. Besides, baggy jeans may be pinched during the ride which can lead to injuries. So if you'd like to put on your favorite jeans, consider wearing tall boots with them.
Are There Winter Men's Breeches?
Yes, there are horse riding pants for men that are lined with fleece. Such winter pants are specifically crafted to offer additional warmth and comfort during cold weather rides. The fleece lining aids in insulating the rider's legs, ensuring they stay cozy and snug even in chilly temperatures.
How Much Do Man's Horse Riding Pants Cost?
Basic riding pants are available at the price range of approximately $30 to $100, providing fundamental functionality and comfort. Premium men's breeches made from high-quality materials cost anywhere from $100 to $300 or more. The price of riding pants can vary greatly based on the brand, style, and materials used. Ultimately, the amount you spend will be determined by your individual riding requirements and budget constraints.
---
Conclusion
Ride safe wearing a comfortable and protective horse riding gear. The lower body is not an exception, you should protect your legs properly while riding. We throuroghly selected the best equestrian breeches for men designed to keep you tight and comfy during the ride no matter what equestrian sport you're into. A wide range of fabric used as well as size and color styles give an opportunity to find the perfect wear for every avid horseman and horsewoman.