No doubt, equestrianism is grasped as an expensive sport that requires solid safety gear. As there's a huge variety of horse riding equipment on the market, a rookie rider could be muddled about what clothing to choose first. The gear certainly must be comfortable and protective so you're able to stay in the saddle for long.
The modern market is over excessive now with a wide range of horse riding clothing and equipment so we decided to narrow down the list of products, only bare essentials are listed here. That's why the top 5 equestrian gear is highlighted here that has to be acquired by every beginner rider whether you're an adult or a kid. Also, the detailed description and guidelines are provided to outline why these pieces of equipment are so essential for horsemen. Just keep reading!
Horse Riding Helmet
As in every tough sport, head protection is a MUST. No matter whether you ride a bike or a horse, you have to put on a helmet. But DON'T use the same product for each of the activities, there are solid helmets particularly designed for equestrian sports.
Here are some points we'd like to clarify about the benefits and usage of horse riding helmets.
Why Do I Need a Helmet?
An equestrian helmet is a piece of gear that protects the part of the body which we're not able to live without – our head. Moreover, brain and skull injuries are more dangerous and longer to be treated than any other case. It's said that a lion's part of horse-related deaths is caused by head traumas. That's why a solid protective helmet could avoid severe injury and reduce a chance of fatality outcome.
Why Can't I Use My Bike Helmet?
Why don't we use rubber gloves instead of mittens in winter? Because they're made with different materials to be used for different purposes – to clean up and to keep warm. The same situation with helmets. They're designed to meet specific standards. And mind that falling off a bike or a scooter is not the same story as falling off a tall horse, right?
Bike helmets tend to be cheaper and lighter but it's not a reason to use this helmet when riding a horse. In fact, equestrian helmets must be certified by the American Society of Testing and Materials (ASTM) Standard F1163 and the Safety Equipment Institute (SEI).
Such helmets are typically designed in two styles – Western and English, have a wide size and color chart, and more importantly, they have solid protection all over the head especially on the rider's back and sides. The horse riding helmets usually have a thicker shell and well-padded underlining. Unlike bike helmets that don't usually come with an inner cushion and protect mainly the top of the head. In addition, equestrian helmets are quite adjustable and come in different head shapes and sizes in contrast to bike gear.
How to Choose a Horse Riding Helmet
To help you choose the perfect horse riding helmet, here are some guidelines you should follow.
Before you buy a helmet, check the manufacturer's instructions. Typically, the size chart is given as well as the info on how to measure the size of your head properly. Sometimes buyers' feedbacks are also helpful but if you're still not sure, it's better to contact the manufacturer as well.
The helmet should be snugly and sleek perfectly. It has to cover your entire head firmly including the back. If you feel there's an extra room inside – try a smaller size. And vise versa, if it sits too tight – try a bigger one.
The gear mustn't wobble. If you shake your head and the helmet slides – that's definitely not your match. Use the adjustable straps to fit it properly.
The same goes for the chin zone. Don't tighten it up too much, just ensure there's no room between the straps and the chin. Lots of helmets come with a chin padding for extra comfort and sweat absorption.
Mind the ventilation option. The airflow must be improved to stay cool and comfy for a long-term ride, especially in hot weather.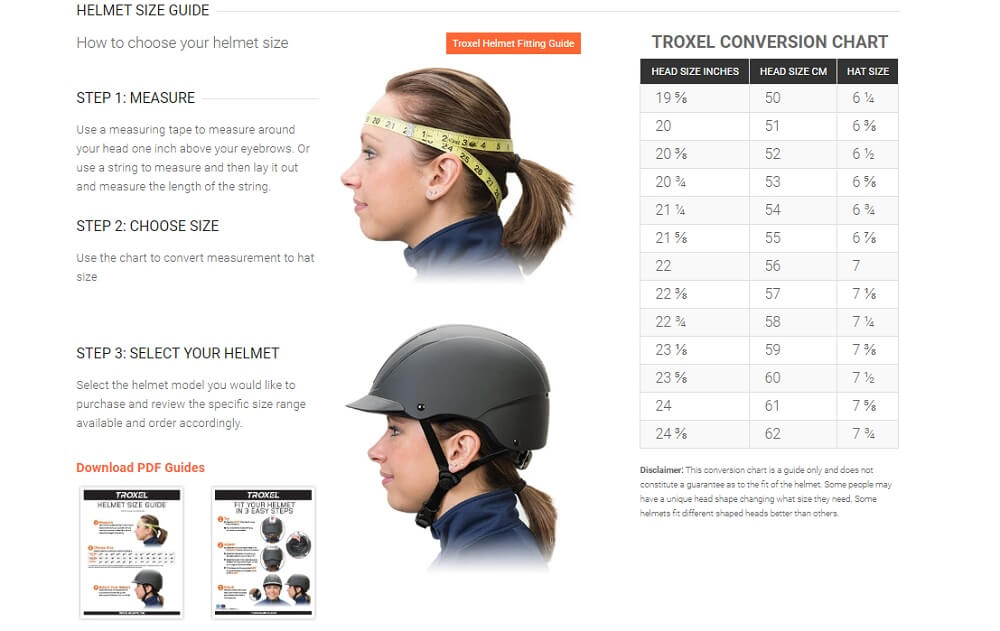 Western and English Horse Riding Helmets – What's the Difference?
The difference lies in the style. Western helmets tend to look more sporty and fancy. Some of them even come in fascinating cowboy hat design! While English helmets have a more strict and sophisticated style. A hunt cap design is a popular one. No matter which equestrian helmet you choose both of them get common necessary features such as comfort, durability, and safety.
Horse Riding Gloves
Another equestrian gear that obviously aims to protect the horseman's hands. The horse riding gloves are not just a classy decoration to your attire, it's an integral part of the equipment especially for the beginners. As using and holding the reins for long could be challenging, getting a solid pair of gloves is a must.
Why Do I Need Horse Riding Gloves?
First of all, a proper pair of equestrian gloves should keep the rider's hands warm and cozy. And it's not just because of making you feel warm. By covering your hands, the blood circulation is increased so that your grip is enhanced. That helps you hold the reins tight and control the horse better. And if you're a beginner and have just recently started horse riding, the gloves could also protect your hands from friction and blisters.
Moreover, the gloves have an absorption effect to reduce the sweat so your hands don't slip. That's why it's important to wear gloves no matter what the weather is. Usually, there are different winter and summer style designs so you can choose which thickness of the material used is best for you.
In addition, there's a range of gloves that could be used not only for equestrian sports but for other purposes too. They can be used when working in the barns, tacking up the horse, or grooming. That's why you need gloves every time you interact with your horse.
How to Choose a Pair of Gloves
As with any equestrian gear, you should consider buying the one that will keep you comfy. Follow the manufacturer's instructions and find your size. The gloves should fit perfectly – not too tight, not too wobbly.
The material used plays a high role in providing comfort. Ranging from leather, cotton, mesh, nylon, neoprene, etc. Every option has its pros and cons so you should choose depending on your preferences and needs.
No matter which material you choose, it should be breathable. As the riding gloves are deemed to be used on a regular basis, they should protect you and enhance your grip, not disturb.
Depending on what climate you live in, you have to pick the gloves that are better fitted to the natural conditions. Same with the weather, summer and winter gloves have their special features.
Horse Riding Safety Vest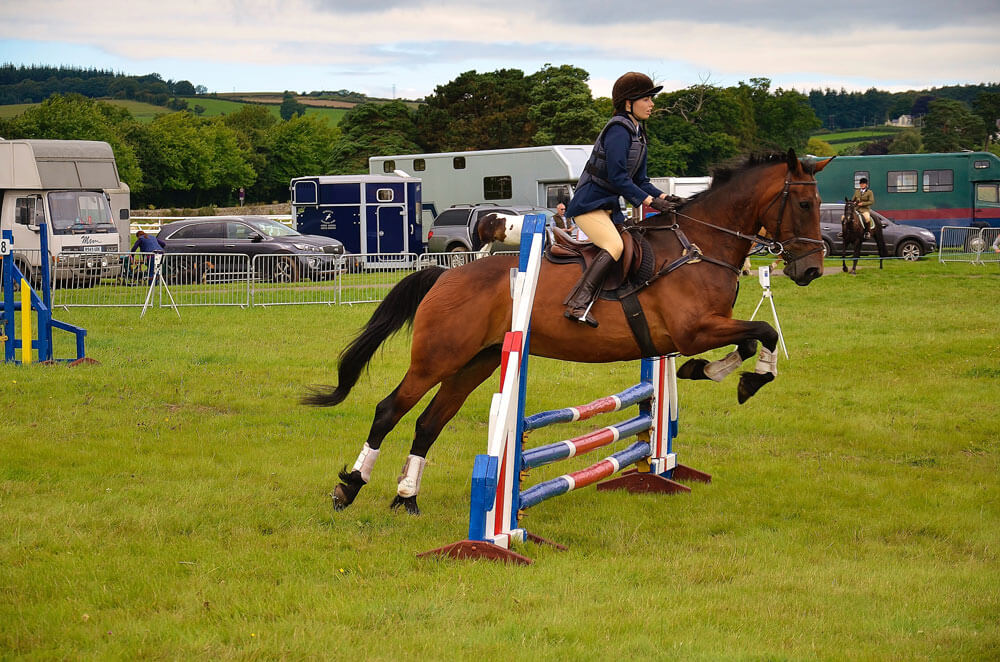 A safety vest or a crash vest is a great protector that is commonly used in equestrian sports. In fact, they are not claimed as a lifesaver but they can profoundly protect the rider's body in case of falling down.
Why Do I Need a Safety Vest?
In case of an accident, a crash vest will protect your internal organs and bones. The equestrian vest features a shock absorption when hitting the ground. That could help soften the falling. Some of the equestrian brands also offer the gear that is BETA/ASTM/SEI certified but not every safety vest meets the standards nowadays, although they could be solid too.
What are the Types of Safety Vests?
All the safety vests can be divided into two types – passive vests and air vests. Passive vests come in a high-density foam design and aim to avoid open seams. They are thick and well-padded, that's why such type is heavier.
Air vests are quite lightweight and have a life-jacket design. The main mechanism lies in a cartridge with compressed air. Such protectors are attached to the horse saddle front and when the rider is about to fall off, the trigger is pulled. So the vest starts to get inflated from the air cartridge immediately providing a cushion.
You can be faced with a mixed type of vest that is more popular in order to use the benefits of both vest types.
How to Choose a Safety Vest
First, you can check whether the vest is approved or not. If it's certified that means it's suitable for certain horse riding activities. For example, an ASTM F2681-08 certified vest is perfect for trail riding as well as racing. And ASTM F1937-04 is great for equestrian sports.
Like any other equipment, the vest must be made of high-quality durable materials to fit your body type properly and sit snugly as well as it should be easy to clean and maintain.
The materials used should be breathable not to overheat the body and absorb the moistures.
Check the size of the product thoroughly as it doesn't have to be too long or too short. It must cover your torso, no more.
Horse Riding Breeches (and Other Types of Riding Trousers)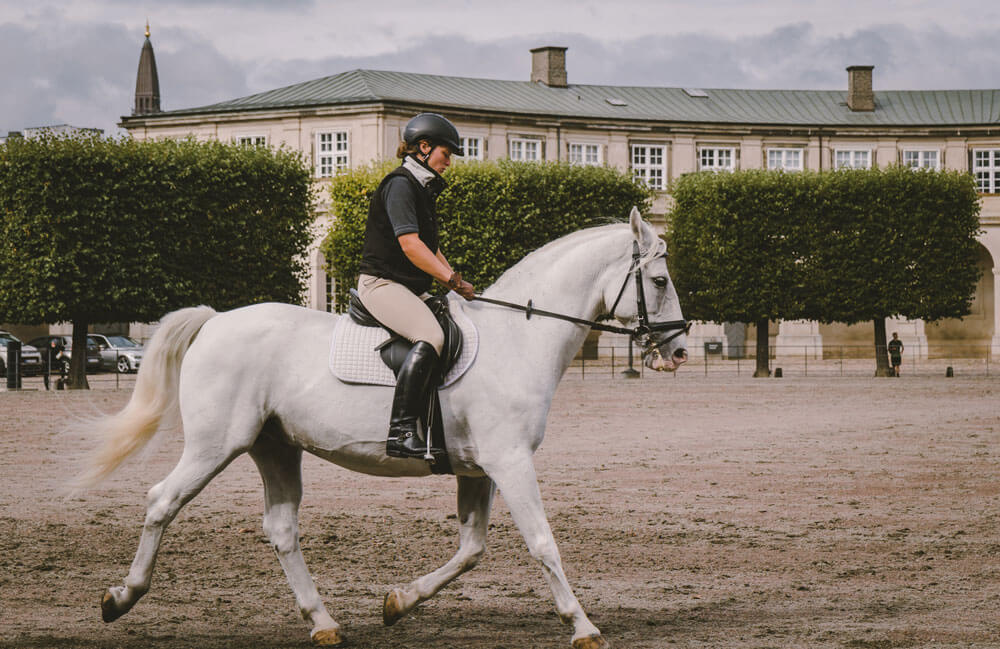 Now it's time to cover the lower body. Unfortunately, your favorite pair of jeans or sweatpants might not be the best clothing for equestrianism, they could even worsen your well-being while riding. That's why there's a big array of horse riding pants available on the market that differ from the regular ones.
Why Do I Need Riding Trousers?
Horse riding pants have a specific style and design, unlike other trousers. They are quite flexible and stretch greatly so the rider can move freely, especially when showing or racing. The main feature is that they usually have soft padded patches on the inner side of the hips and knees to avoid friction and enhance their durability.
In addition, most horse-riding trousers have curved inner seams to avoid it rubbing the saddle or have a seamless design at all. This can help prevent chafing and can stay focused on the ride and not on the sitting position.
What are the Types of Riding Trousers?
There are various names of equestrian trousers that are designed a bit differently from each other.
Riding jeans. They can be worn, but they should be high-waisted and down to ankles. Acceptable for beginners but not for advanced.
Riding breeches. They have a mid-calf design, very soft and flexible, great for competitions. Well-suited to tall horse riding boots.
Riding jodhpurs. Very similar to the breeches but they typically longer and come down to ankles. A great choice for shorter boots.
Riding leggings. They feature a stretchy seamless design and no saddle grip. They are also very lightweight and breathable.
How to Choose Riding Breeches
Choosing horse riding breeches or jodhpurs is similar to picking the regular pants.
Horse riding trousers usually come in a big variety of sizes and color styles to fit any taste. Follow the manufacturer's instructions to choose the best size. It's better to choose a high-waisted model so your belly isn't crushed.
The material used can be different – cotton, nylon, twill, fleece and many others. Some of them are more stretchy, others are more breathable and soft.
Extra options should be taken into account such as front-zip, side-zip, zipless designs. As well as the seams – twisted inseams or seamless pants are available.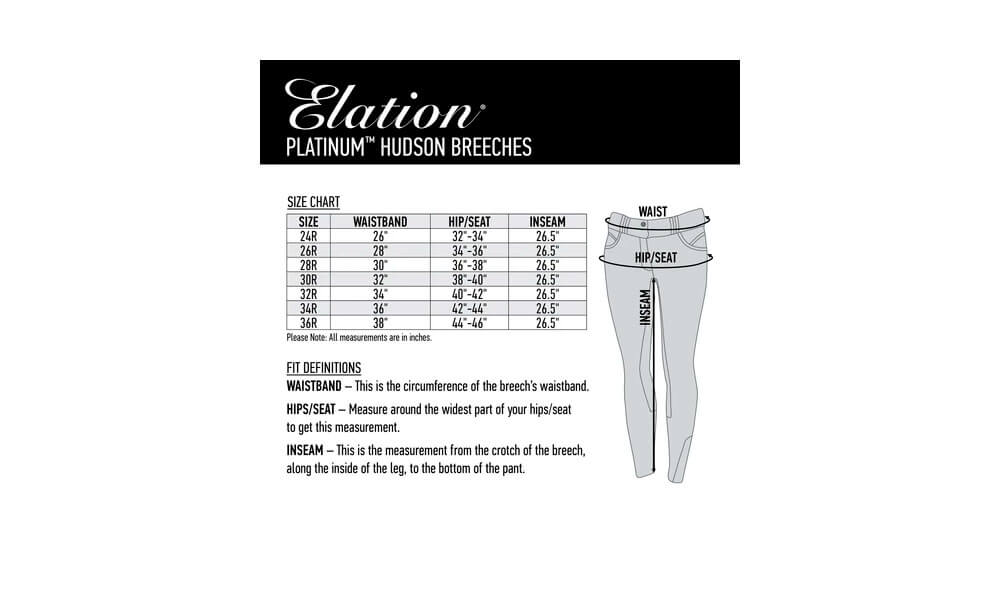 Horse Riding Boots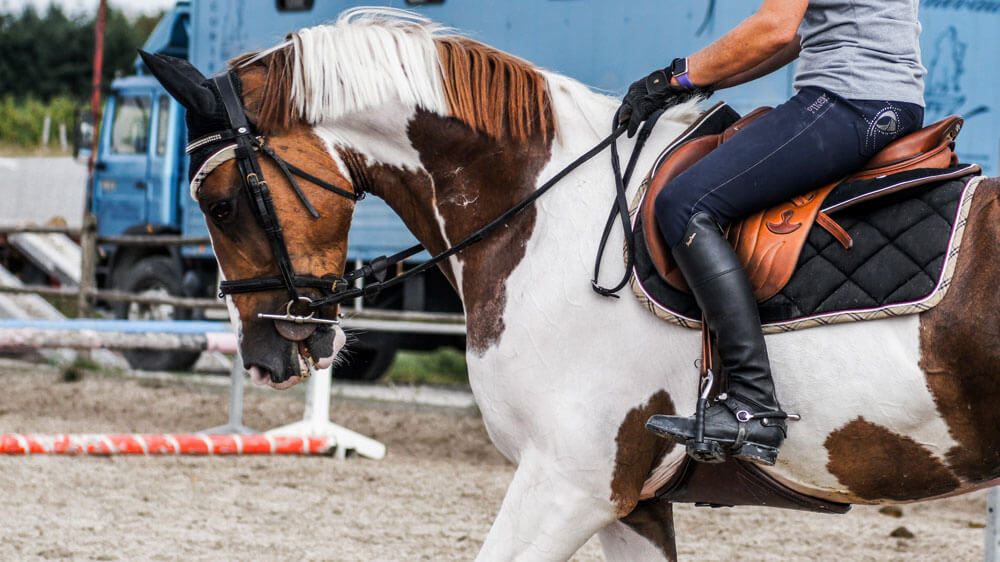 Why Do I Need Riding Boots?
Equestrian boots are also an essential part of the horse riding gear. Have you ever seen a horseman wearing sandals or heels? Sure no, and there's a reason. A solid pair of riding boots can help to prevent the injury if the rider's feet get stepped on by a horse. Moreover, typically they're made with a low-heel design to enhance the grip on the stirrups and thus lower the chance of falling off.
What are the Types of Riding Boots?
Western Boots. The heel is a bit higher but actually it's not a big difference. Traditionally, western boots are high boots but all styles are available now. Also, they tend to be worn with the breeches covered over the boots.
English Boots. Such boots tend to have a tall design but there are lots of different styles on the market. The breeches or jodhpurs are typically worn inside the boots for better protection. As they are quite tall, most of them come with a zipper.
How to Choose Riding Boots
As usual, follow the instructions and check your size. There doesn't have to be too much space between the toes and the boots. If you have issues – contact the manufacturer.
Choosing the material of the boots is very important. The product is usually made of synthetics or leather. The synthetic ones are good for a wet weather as in a hot climate they could heat badly. A leather pair is more expensive but they last longer and make you feel extremely comfortable.
When choosing a new pair of boots, try to find a pair according to your needs as the boots can be claimed as field, dress, dressage boots and others.
Final Thoughts
To sum up, equestrian sport is an extreme activity that requires high-quality durable equipment as any other sport. Not to be puzzled with a high range of products available on the market, we've already listed here essential parts of the equestrian gear needed to take up horseback riding.
When choosing horse riding equipment, be sure that it's totally safe and durable, that your body is highly protected. And the materials should be picked out thoroughly so you can stay cool and cozy for a long time.
In addition, don't forget that not only the riders must be protected but their companions too. That's why we recommend you to consider buying proper horse tack equipment as well. That's how you can bring more joy and safety into the pastime.