Life's a rodeo and all you have to do is stay in the saddle. And after we tested 18 equestrian saddles, we found out that the Acerugs Western Horse Saddle is the best one that will keep you sit tight for long. Keep reading for a detailed saddle review as well as other options.
A horse saddle is a substantial part of any equestrian gear whether you're a beginner or a professional. This necessary piece of equipment gives you more comfort, support, and control over your partner. The saddle encourages the rider to find the balance between the horseman and his horse.
That's why we decided to highlight the most durable, cozy life-tested saddles that feature a wide range of colors and sizes. So you can enjoy the trendy style while riding safely.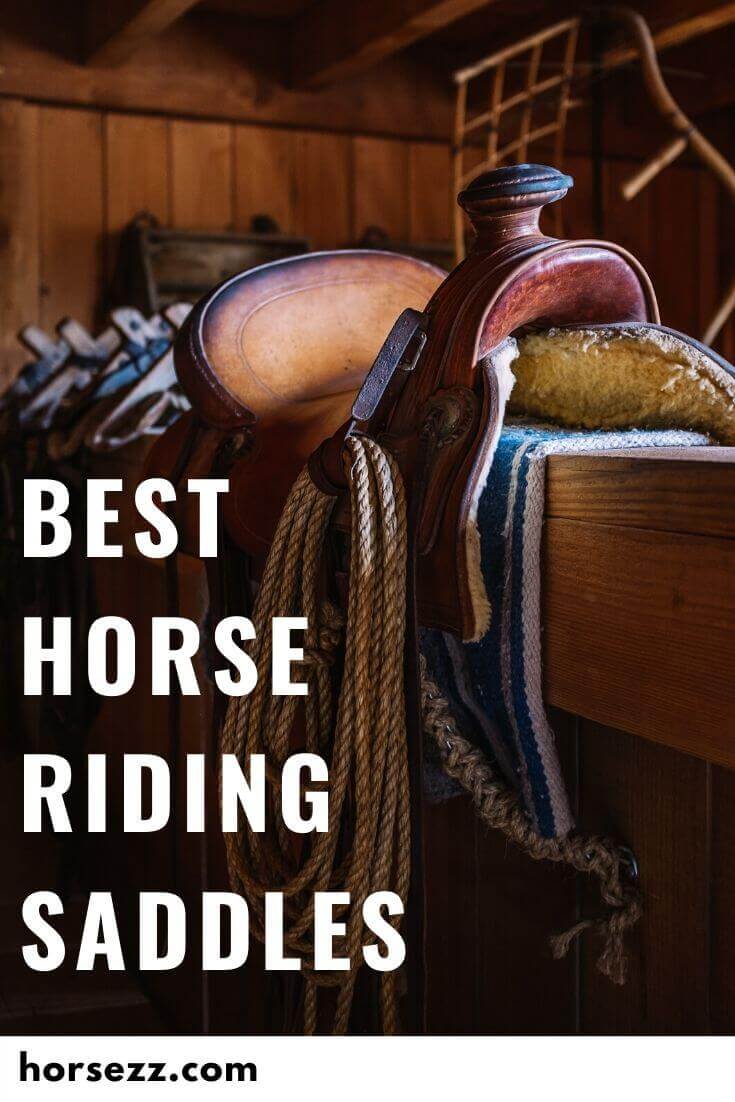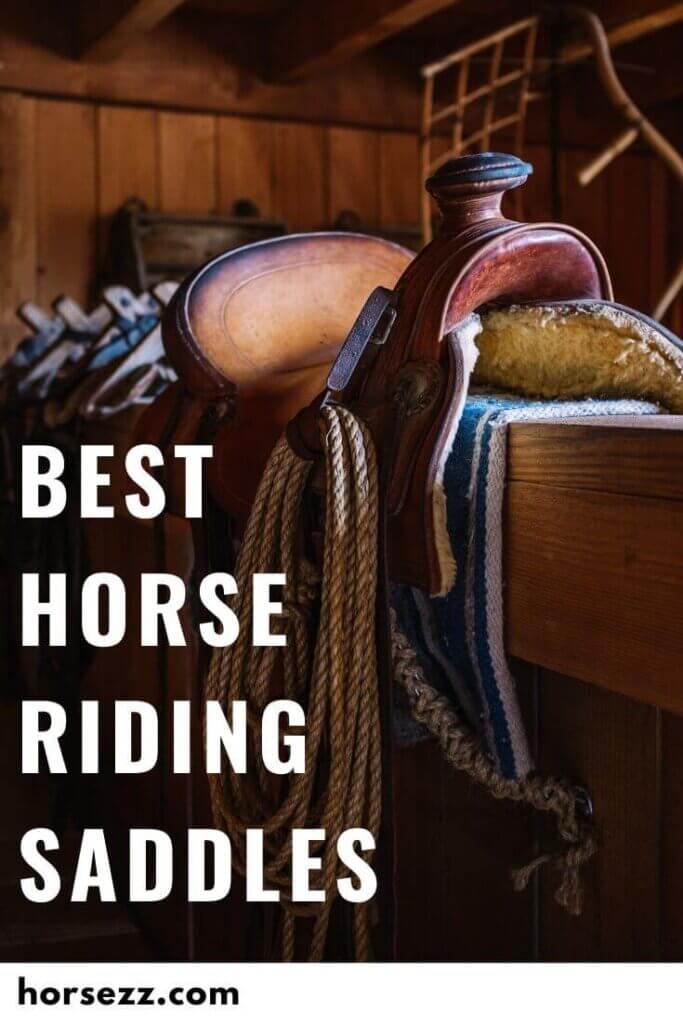 Top 5 Horse Saddles Comparison
Rank
Image
Product
Price

1




Acerugs Western Horse Saddle

Soft synthetic material
Fleece uderlining
Fiberglass tree

Check Price

2




High Horse Daisetta Trail Saddle

Durable cordura material
Thick uderlining
Round skirt design

Check Price

3




Wintec Full Quarter Western Saddle

Equi-Leather square skirt
Full HQ bars
Hard-wearing fenders

Check Price

4




Acerugs Racing Saddle Tack Set

Wood base tree
Deep-sit design
Padded stirrups

Check Price

5




Wintec Kids Saddle

In-built handle
Soft foam pannels
Double-girth design

Check Price
Best Horse Saddles Detailed Review
As the riders' needs are quite different as well as horses' characteristics, we've picked out the top 5 equestrian saddles that are beneficial for different horsemen purposes. Go on reading the detailed review of the products to find the most suitable one.
1 Acerugs Western Horse Saddle – Great Lightweight Saddle
The Acerugs Western Horse Saddle exhibits a great mix of style and comfort. Being designed with crystal and silver accents, it also features a memory foam seat that will bring you joy for long. The saddle is quite lightweight so it's easy to handle and tack up.
Key Features
It comes with a headstall, reins, breast collar, and a pad.
Thick padded seat with memory foam for comfort.
Lightweight saddle design that is easy to use.
The stirrup is well-padded for durability.
Blevins buckles are easy to adjust.
Bottom Line
The Acerugs Western Horse Saddle provides a big array of sizing options so it could handle the weight of 200lbs and more. It comes with a matching tack set so you don't need to look for extras. The seat has a soft finish and the saddle is fleece inside to make it cozy for both the rider and the horse.
Pros
Cushioned seat and pad
Highly lightweight
Great for beginners
Cons
Not good for big-shouldered breeds
The saddle pad could slip
2 High Horse Daisetta Trail Saddle – Thick-Padded Western Saddle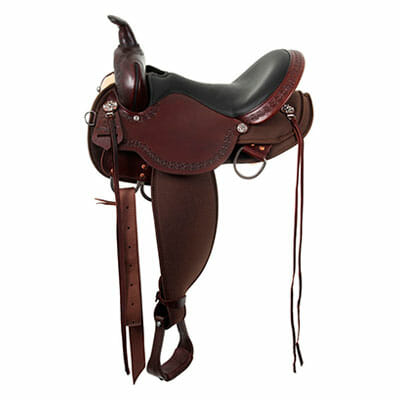 The High Horse saddle is an excellent gear for trail riding. The product is highly customizable. You're able to choose from a range of sizes, colors, and tree designs. The seat also comes in two options – suede seat and grainout seat. The rounded 25" skirt makes it a great choice for shorter backed equines.
Key Features
The saddle is made of cordura line that is quite durable.
Flat plate rigging is friendly to all rigging styles.
The product has a tall cantle design for a deep sit position on the trails.
Copper flower conchos will border tooling are decorated all over the saddle.
The saddle comes with two sets of strings for all the necessary gear.
Bottom Line
The High Horse trial saddle is a comfy seat with a classy look. The double padded seat makes the ride extremely convenient. So you can enjoy the trail for long. The soft corduroy material is lightweight and easy to clean. The riders love this product as they are able to customize the saddle built.
Pros
Durable materials
Thick padding
Adjustable rigging
Cons
No semi QH
Not good for wide horses
3 Wintec Full Quarter Western Saddle – Weatherproof Riding Gear
The Wintec Full Quarter Western Saddle comes in black and brown colors with several size options. It comes with full quarter horse bars so that means it's designed for a horse with a wide-sized back. The buckles are weatherproof so the product could be used in any weather conditions.
Key Features
Double fender design for more comfort
Fleece underlining to stay cozy
The lightweight saddle is easy to put on
Hard-wearing fenders to avoid friction
The gullet is stainless steel
Bottom Line
The Wintec Full Quarter Western Saddle is a great double-fender fleece-lined geat that is easy to handle. Another perk is that the stirrups are easy to adjust. The saddle is quite easy to take care of, no oiling or waxing is needed.
Pros
Great for leisure and trail riding
Good for a wide back horse
The saddle is easy to put on
Cons
Not deep-seated
Not good for short riders
4 Acerugs Racing Saddle Tack Set – Classy Leather Saddle
The Acerugs Racing Saddle is a high-quality western-style gear. It's made with natural leather so it looks great and will last for long. The rounded skirt design is a perfect fit for short back breeds. There's fleece under the skirt for maximum comfort for your horse.
Key Features
The saddle is made with thick cowhide leather.
Wood base tree with fiberglass finish.
It has a deep-sit design and back support.
The stirrups are padded for better comfort.
It comes with a matching headstall, reins, and a breast collar.
Bottom Line
The Acerugs Racing Saddle Tack Set is a fascinating equestrian gear that is comfy and durable. The leather hand carved design will definitely keep you in the spotlight. The thick foam seat padding and the back cushion help the horseman stay cozy for long hours.
Pros
Perfect for barrel racing and trail riding
It comes with an equestrian set
High-quality sturdy materials used
Cons
The reins should be improved
Poor size and color chart
5 Wintec Kids Saddle – Solid Adjustable Gear
The Wintec Kids Saddle is a small saddle that perfectly fits your equestrian riders. The saddle is super lightweight and easy to tack up. The saddle is washable and easy to clean up. It comes with flexible fit panels that are suitable for ponies as well.
Key Features
The saddle is made with synthetic soft materials.
It comes with a built-in handle for better comfort.
Double-girth straps design for a perfect fit.
It features knee rolls to improve protection.
Adjustable foam panels to keep it fit.
Bottom Line
The Wintec Kids Saddle is quite soft and light so your kids could even carry it by themselves. This saddle is a fascinating equestrian gear for young riders. It comes with a handle and knee roll to make the ride more convenient and safe. In addition, the product is perfect for leadline classes.
Pros
Super lightweight
Thick padded cantle
It fits standard girths
Cons
One size only
No stirrup straps
Frequently Asked Questions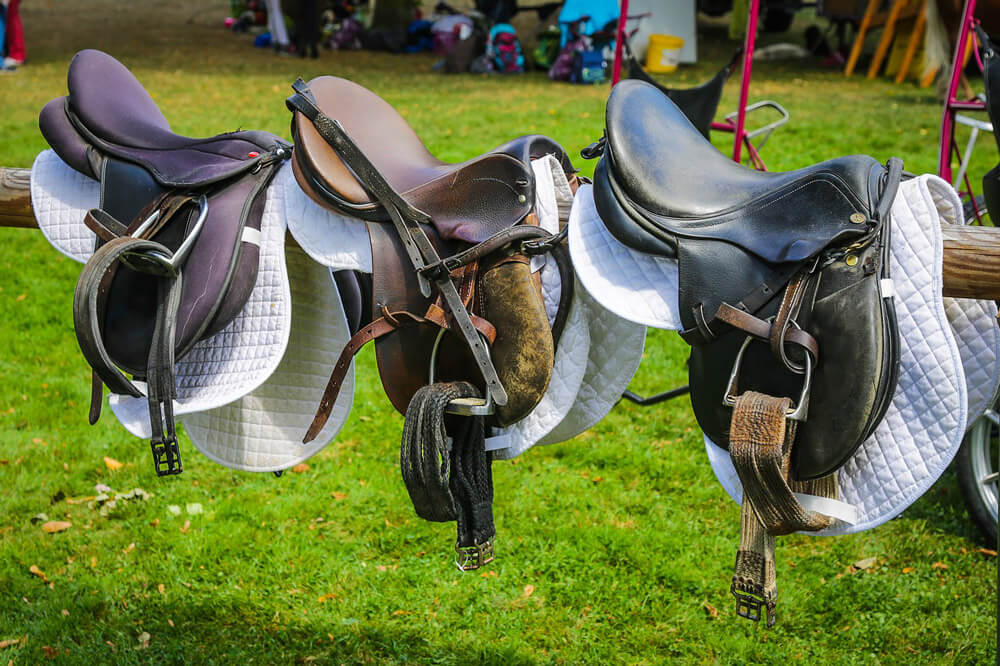 How Much Does a Saddle Cost?
A horse saddle ranges from $200 to $1,000. If you're looking for a top-quality saddle, it will be worth thousands of dollars. Such costly gear is usually custom made with durable materials used. Make sure you purchase a horse saddle from a trusted brand. As you want to get the tack that will last for long.
The manufacturer, materials, and riding purpose – all of these affect the price. On average, the cost ranges from $200 to $600. If you're new to horse riding, this option is pretty enough. If you're an avid equestrian, you may want an unconventional saddle to be in the spotlight. In this case, the gear is worth $1,500 and even more.
You can find tack gear according to your riding style. A Western horse saddle ranges from $300 to $5,000. An English horse saddle ranges from $400 to $10,000. A horse saddle for kids goes as low as $150 to up to $2,500. It's all about the equestrian brand that produces the good.
Tack gear for a wide array of equestrian sports has different price tags. For instance, $500 to $1,000 is fine for a racing horse saddle. While a hunting horse saddle is worth $1,500 to $3,000. A general-purpose horse saddle ranges from $200 to $800.
Why Do I Need a Horse Saddle?
A horse saddle is the very first thing you should consider investing in if you'd like to take up horseback riding. This equipment is an essential tack gear that is designed to serve many purposes.
First, it provides extra comfort when a rider is on a horse to avoid friction and painful bouncing. Second, horses tend to sweat thus a saddle has a moisture absorption feature. Next, riding bareback with no stirrups is complicated and extremely exhausting so a saddle will come in handy in this case too. That's why rookie horsemen are recommended to use a horse saddle.
What Are the Main Types of Horse Saddles?
Horsemen tend to choose one of the horse riding styles – Western or English. Hence saddles are designed to fit this or that style. Here's a list of major horse saddle types:
Western Saddle has a deep-seated design with a high pommel and cantle. Depending on what equestrian sport you choose, there's a wide range of saddle options:

Barrel Racing Saddles
Pleasure Saddles
Roping Saddles
Trail Saddles

English Saddle is considered as a flat-seated tack with no horn, unlike western saddles.

All-purpose Saddle is great for jumping, hacking, trail riding, and other activities.
Close-contact Saddle is suitable for jumping, fox hunting, or eventing.
Dressage Saddle is obviously good for dressage.
To get more information, check out our detailed article on basic horse tack.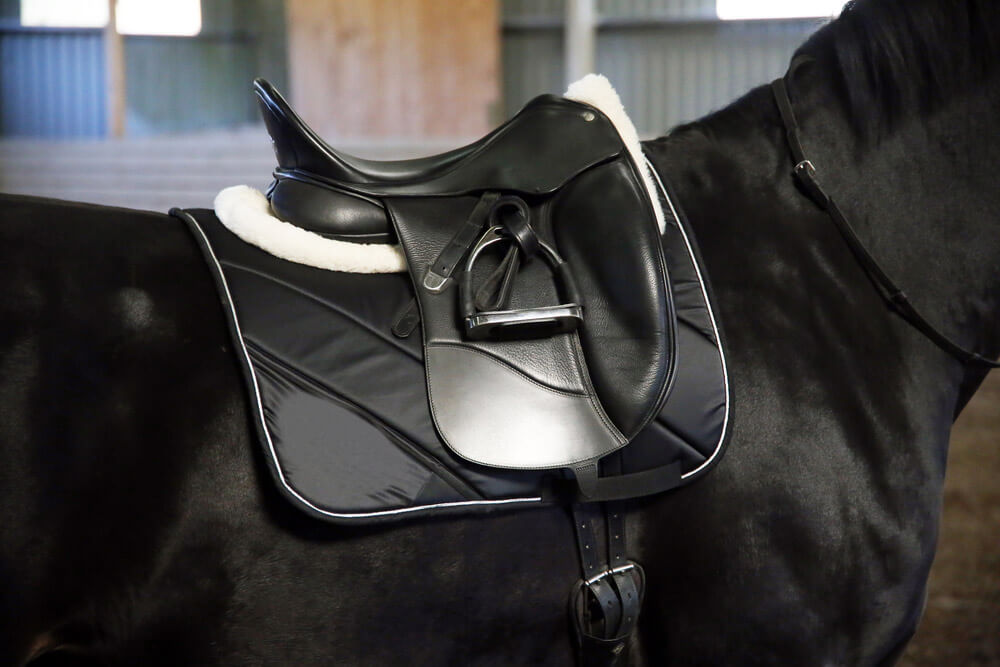 What Are the Materials of Horse Saddles?
Typically, horse saddles can be made with genuine leather or synthetic leather. Leather saddles are quite expensive but it's definitely worth it due to its classy look and great longevity. Besides, there are lots of budget-friendly options – PU leather saddles that are easy to clean and the gear is available in dozens of sizes and colors.
How to Choose the Right Size for My Horse?
It goes without saying that different horse breeds tend to have various conformation, thus it's crucial to pick the right saddle. Horses with defined narrow withers are suitable for semi-quarter saddles. Whereas a full-quarter saddle is a perfect choice for a horse with wide and rounded withers. For medium-whithered horses, there are quarter bars saddles. All of them differ in the style of a tree – the "skeleton" of a saddle.
How Should I Measure My Seat Size?
To find put your seat size you need to take measurements of your body in a sitting position. Grab a soft fabric tape. Sit straight with your feet flat so your knees have a 45° angle shape. Measure the length of your thigh from the knee to the bottom using the tape. It's better to choose the size a bit larger but not smaller in order to avoid sitting on the cantle.
In fact, if you'd like to switch from Western to English saddle, there's an easy formula. If you want to get your English seat size, you have to add two inches to your regular Western seat size. The result is not accurate but very similar.
How to Tack up a Saddle?
The process of tacking up Western and English saddles are quite similar. In order to bring more safety and comfort, you'll need a saddle pad as well.
Generally, when you start placing a saddle on a horse, you should lift it up carefully and then start tacking it up smoothly. It's better to put the saddle a few inches below the withers. So the edges of the saddle pad are shown from both sides of a saddle. Another substantial aspect is setting the cinch/girth tightly so the saddle doesn't wobble around.
You can also read the article on how to saddle a horse to check detailed guidelines.
Can I Ride with No Saddle?
The style of riding with no saddle is called bareback riding which is also popular worldwide. But this type requires good riding skills, coordination, and physical strength. That why it's not the common choice among beginners. However, bareback riding has its perks too. It improves your movement, enhances your physical abilities, and strengthens the ties between you and your companion.
Conclusion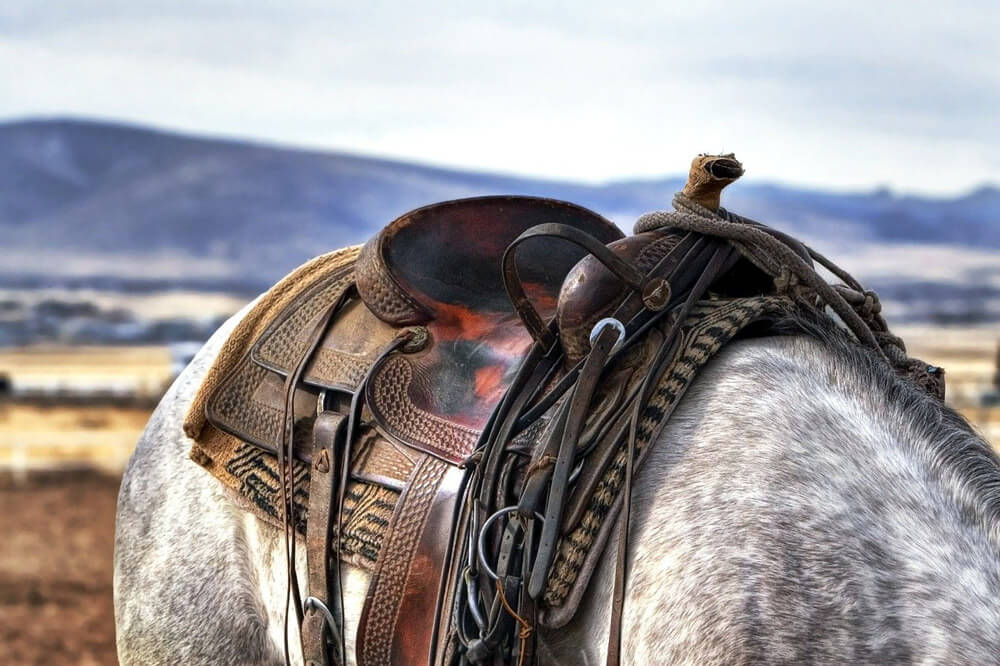 In fact, the list of modern horse riding saddles could be endless, that's why we highlighted the top-notch equestrian gear that could stand you in good stead for long. Particularly, the Acerugs Western Horse Saddle is a great choice if you're looking for classy durable equipment.
While choosing a solid horse riding saddle (as well as a good saddle pad), keep in mind that it's not just a good-looking decoration but a safety gear that should be comfortable both for you and your horse. Having read this detailed review, you could find the perfect product regarding your individual requirements.