Selecting the appropriate riding pants directly affects performance, comfort, and safety. Whether gracefully trotting in an English saddle or embracing the rugged spirit of Western riding, riding breeches should be well-fitted. In this guide, we outline the top 5 Western and English riding pants for women suitable for various riding experiences.
Apart from equestrian helmets and gloves for the upper body, there are also horse riding trousers for the lower body, particularly designed for equestrian sports. A wide selection of such trousers is available nowadays – breeches, jodhpurs, leggings, and many others. Despite the slight difference between these types, they have a common idea – to bring more comfort when horseback riding.
That's why we've prepared a list of top-notch women's riding breeches to help you pick the most suitable gear.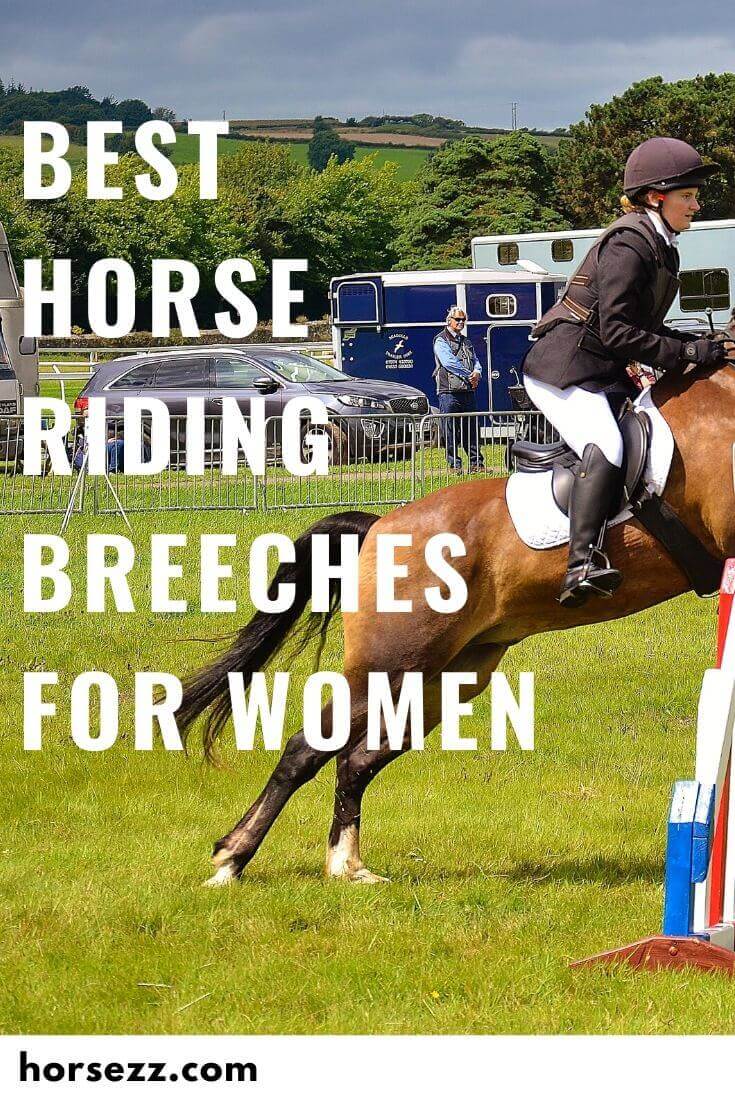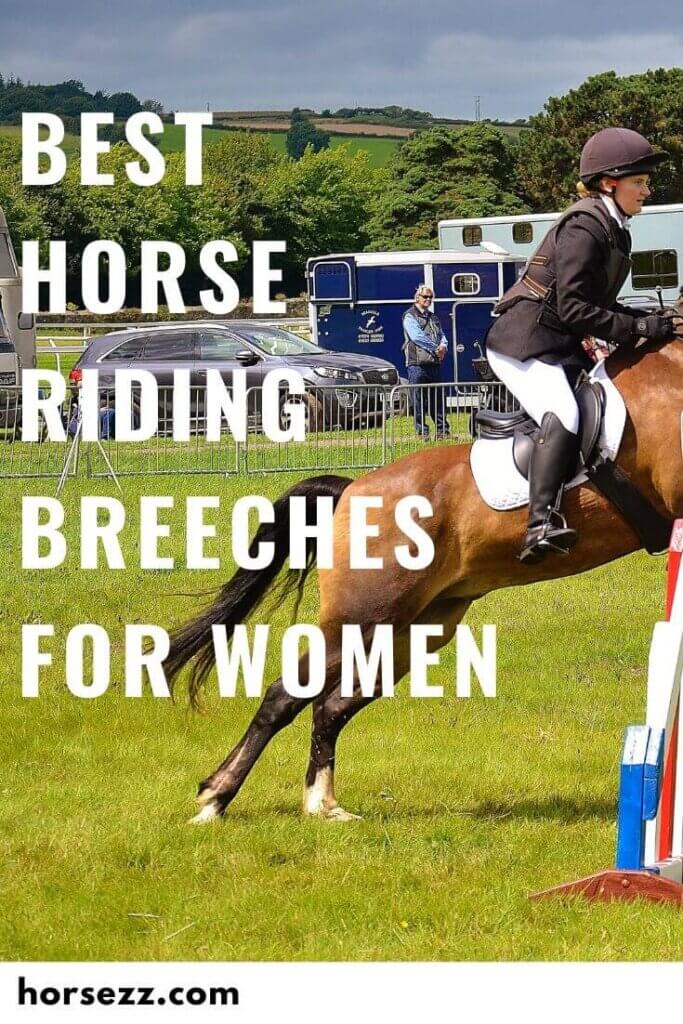 Best Horse Riding Pants for Women Detailed Review
Here's a comprehensive guide of the 5 best women's breeches that suit both Western and English styles.
1. TuffRider Ventilated Schooling Tights – Lowrise Mobile Gear
The TuffRider Ventilated Schooling Tights have a pull-on style with a quite wide waistband to wear them with no issues. The product features a silicone grip that is solid and durable. Moreover, it's highly ventilated, so you can wear the tights in any weather.
Key Features
The tights are made with polyester and spandex for better mobility.
They come with silicone knee patches to improve the grip.
Wide-waistband design to fit snugly.
Ventilated system provided to stay cool during the ride.
Bottom Line
The TuffRider Ventilated Schooling Tights is a fascinating horse riding equipment that is suitable particularly for schooling. The product is light, soft and quite breathable thanks to its wide waistband ventilated style. The silicone patches ensure a strong grip and non-slip effect.
Pros
Lightweight design
Improved airflow
Perfect for schooling
Cons
Seams should be improved
No pockets
---
2. HR Farm Full Seat Breeches – Silicon Grip Jodhpurs
The HR Farm Full Seat Breeches get a blue ribbon because of their fascinating features. The product is made with stretchy cotton blend knit material to keep the rider comfy during the ride. It features a full-seat silicon design to provide an excellent grip. In addition, the bottom of the breeches is elastic to fit ideally.
Key Features
4-way stretchable fabric that is quite breathable.
Elastic design at the bottom to fit snugly.
They come with a firm YKK zipper.
2 pockets at the front and 2 pockets at the back are provided to keep your stuff.
A wide range of colors and sizes is available.
Bottom Line
The HR Farm Full Seat Breeches is a great mix of comfort and durability. Having made with belt loops and a zipper, they will sit tight and not slip off. Different color and size styles will satisfy any lady's taste for sure.
Pros
Strong grip design
Stretchy and breathable
Great for beginners
Cons
Belt loops should be improved
The fabric is a bit thin
---
3. Dublin Shona Denim Breeches – Western-Style Pants
The women's riding breeches by Dublin are a standout option for equestrian enthusiasts seeking a versatile and stylish choice. The gear effortlessly combines fashion and functionality, making it a wardrobe essential for Western Riders. The zip breeches fit cowboy boots perfectly to allow you to tuck them in.
Key Features
The Dublin riding jeans are made with stretchy cotton to provide comfort even during prolonged horseback rides.
With the knee patch design, these pants offer improved stability and grip while riding.
The Western riding pants for ladies are crafted from breathable material, offering comfort and allowing for optimal airflow.
Four pockets boast convenient storage for small necessities like keys, treats, or a smartphone.
The elastic waistband not only provides a comfortable fit but also guarantees that the breeches remain securely in position.
Adorned with suede belt loops, this riding apparel provides a snug fit.
Bottom Line
After trying out this product, we concluded the Dublin Shona Denim Breeches excels in combining Western style and functionality for horse riders. Featuring a knee patch grip, two-way stretch fabric, and hook & loop closure, they cater to both the aesthetic and practical needs of riders. Whether you're hitting the trails, practicing in the arena, or simply enjoying a day at the barn, the Dublin Breeches are a fantastic investment for riders seeking comfort, style, and performance.
Pros
Suede knee patch
Two-way stretch fabric
Four pockets
Cons
Sizing may vary
Thin denim
---
4. Kerrits Full Seat Tights – Extra Cooling Tights
The Kerrits Full Seat Tights are a fascinating option if you're looking for full-seat breathable tights to sit tight and comfy for long. The product features the Ice Fil Tech that helps stay cool during hot weather by reducing the temperature of the rider's skin. In addition, it's designed with UPF 50+ sun protection to keep you safe in hot seasons.
Key Features
The tights are made with nylon and spandex to make them super flexible.
They come with 2 low-profile side pockets to keep your stuff safe.
Inner legs and seat are improved with a sticky grip not to slip off.
The gear is designed with the Ice Fil Tech to keep you cool in hot weather.
There are belt loops to use a belt and keep the tights snug.
Bottom Line
The Kerrits Full Seat Tights are popular for their pull-on stretchy design with anti-slip reinforcement. They will definitely stand you in good stead in hot weather as the tights feature sweat absorption and high breathability. In addition, a vivid color palette will keep you at the forefront for long!
Pros
Great for hot humid weather
A wide waistband
Sun protection
Cons
Belt loops should be improved
The stitches are a bit weak
---
5. FitsT4 Women's Riding Tights – Mesh-Styled Gear
The FitsT4 Women's Riding Tights are highly flexible and convenient thanks to their stretchy pull-on design. The product features a lowrise style with a wide waistband to keep you comfy in the saddle during the ride. It's claimed to be a great choice for schooling and riding.
Key Features
The tights are made with polyester and elastane, which make them greatly flexible.
They come with eco-suede patches to improve the grip.
The product is designed with mesh panels on the sides for extra breathability.
The tights have an inner pocket where you can store your stuff.
Bottom Line
The FitsT4 Women's Riding Tights are greatly suitable for hot weather as they have a mesh design as well as the fabric is moisture absorbable. The light, stretchy material used keeps you comfy and freely movable. The suede knee pads help you hold tight in the saddle.
Pros
Flexible and breathable
Suede soft pads
Not see-through
Cons
Could slip a bit
No belt loops
---
Top 5 Horse Riding Breeches for Women Comparison
Rank
Image
Product
Price

1




TuffRider Ventilated Schooling Tights

Polyester/spandex fabric
Improved ventilation
Wide waistband

Check Price

2




HR Farm Full Seat Breeches

Cotton fabric
Silicone grip
Middle waist

Check Price

3




Dublin Shona Denim Breeches

100% Cotton
Two-way stretch
4 pockets

Check Price

4




Kerrits Full Seat Tight

Nylon/spandex fabric
Cooling design
Full-seat grip

Check Price

5




FitsT4 Women's Riding Tights

Polyester/elastane fabric
Improved ventilation
Suede knee pads

Check Price
---
Factors to Consider When Choosing Riding Pants for Women
Riding Discipline
English and Western riding have unique gear and prerequisites. English riding typically requires a refined and well-fitted look, while Western riding allows for a more laid-back and durable appearance. Familiarizing yourself with the specific expectations of your chosen discipline will direct you towards pants that conform to its traditions and functional requirements.
Material Matters
The choice of fabric for your riding pants is crucial for both comfort and performance. Seek out materials that provide a combination of durability, stretchiness, and breathability. Fabrics that offer four-way stretch allow unrestricted movement while in the saddle, and moisture-wicking properties help keep you dry during vigorous rides or in hot conditions.
Fit and Mobility
Ill-fitting pants can lead to discomfort and chafing, while overly tight ones restrict your movement. Choose a fit that allows comfortable leg and hip mobility without any constriction. Some horse riding pants even offer additional features such as articulated knees or gusseted crotches to enhance mobility.
Grip and Reinforcement
To achieve better stability and control while riding, opt for breeches that boast grip features, such as knee patch styles or full-seat patches. Such patches offer additional traction against the saddle, ensuring a secure seat and effective communication with horses. Reinforced areas like the inner leg can help prolong the lifespan of your pants by preventing excessive wear caused by friction with the saddle.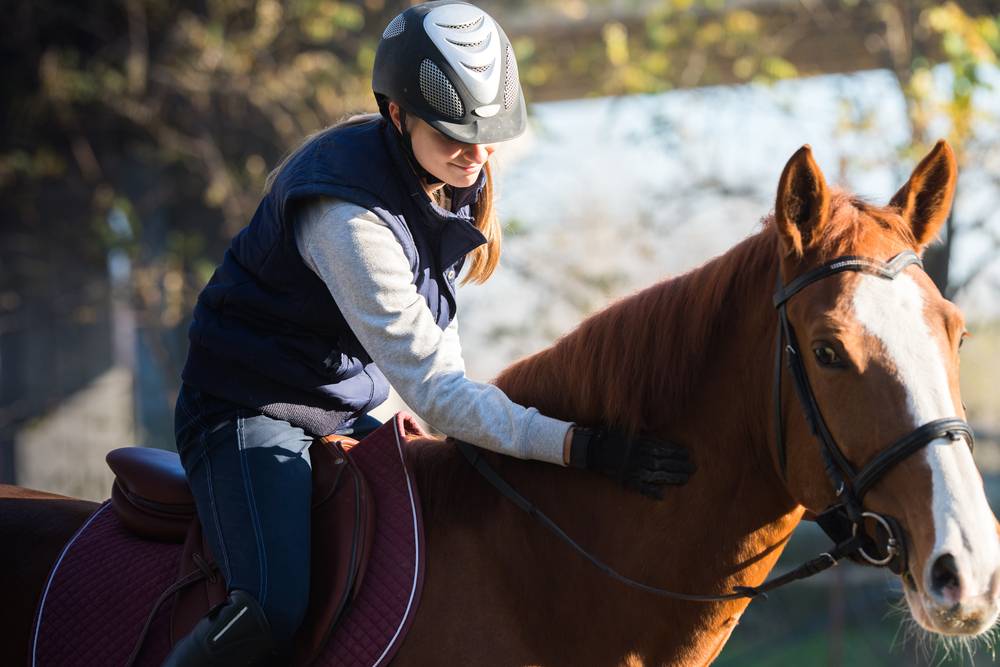 Waistband and Closure
The design of the waistband is vital for comfort and security. An elastic waistband offers flexibility and guarantees that your pants will stay securely in place during rides. Certain pants include adjustable closures such as hooks, buttons, or zippers, enabling a personalized fit that can be easily customized to your preference.
Practicality
Functional elements can enhance your riding experience. Opt for riding pants that feature pockets, especially if you require a convenient way to carry small necessity items such as horse treats, keys, or a phone. Ensure that the placement of these pockets does not cause any discomfort or hinder your movements while riding.
Aesthetic Appeal
While it's important to prioritize practicality, it's also worth exploring pants that align with your personal style. Riding breeches are available in a range of colors and designs, allowing you to showcase your individuality while still adhering to the norms of your chosen riding discipline.
Durability and Care
Choose gear specifically designed to withstand the demands of riding, including abrasion from the saddle. Consider the ease of care – opt for machine-washable pants that maintain their quality even after repeated washes. This way, you can save both time and money in the long run.
---
Choosing the Right Size of Riding Breeches
No matter which brand you'd like to purchase, horse riding breeches should sit well, not too loose, and not too tight. To find your perfect size, you have to take measurements of your body by using a soft fabric tape like with regular pants.
Usually, a size chart provided by a manufacturer offers a variety of measurements to choose the size more precisely. These are the waistline, hips, inseam (the inner length from the crotch of the breeches to the bottom of the gear), outside length, knees, and others. Match your results with the size chart of the brand you picked.
---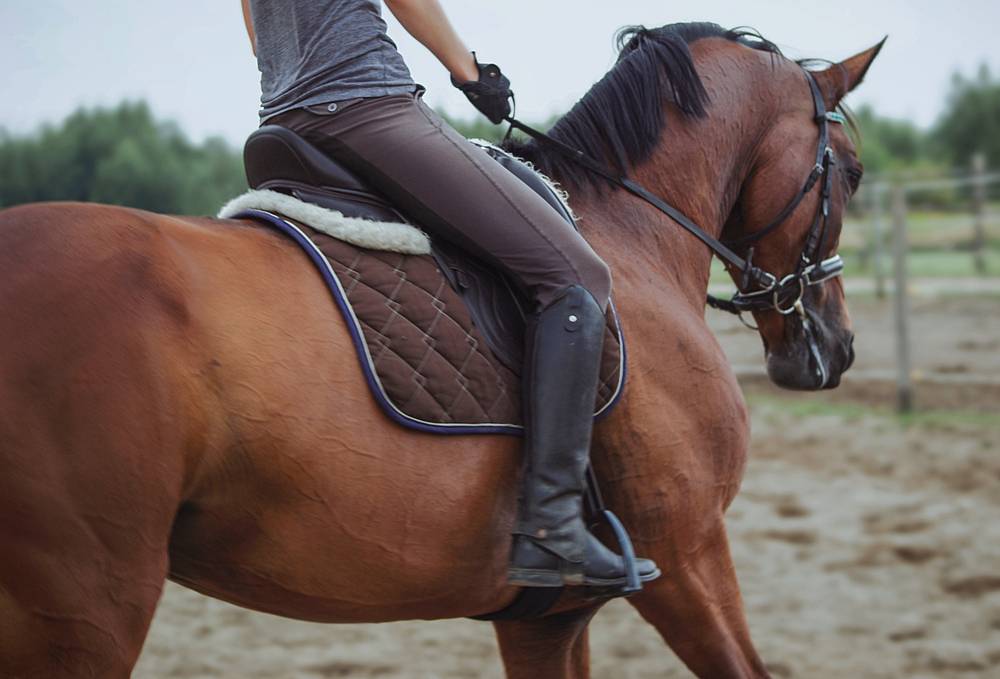 Frequently Asked Questions
Why Do I Need Horse Riding Breeches?
When riding a horse, you should feel quite comfortable to be totally focused on riding. As you sit in a saddle for long, it's recommended to choose a convenient pair of riding pants.
In fact, horse riding breeches are specially designed to bring you more convenience and freedom of movement. Typically, such gear doesn't have inner seams to avoid uncomfortable friction when you're in a saddle. Moreover, most of them come with knee pads to improve the grip.
What is the Fabric of Horse Riding Breeches?
A solid pair of horse riding breeches has to sit snugly, breath, and stretch well in order to shun distraction.
Generally, riding breeches are made with cotton as this fabric is rather thin and breathable. But there are also lots of brands that add polyester / spandex to bring more flexibility during the ride. Apart from that, such pants are moisture-absorbing that's easy to clean.
What Are the Main Types of Riding Pants?
In fact, horse riding breeches are not the only kind of riding pants, they are the most popular though. Here's a list of common types of riding pants:
Riding jeans – with a high waist and snug ankles.
Riding breeches – mid-calf pants suitable for tall boots.
Riding jodhpurs – long snug ankles suitable for short boots like paddocks.
Riding leggings – stretchy and breathable, seamless design.
Check out our article on basic equestrian equipment to find out more about horse riding garment.
Can I Wear My Jeans for Horse Riding?
Well, if you're into Western riding, you can wear regular pants. But when it comes to long-term riding, it's better to consider investing in equestrian gear instead.
That is because jeans have inside seams that may distract you and make you feel uncomfortable in a saddle. Besides, they don't grip well, which is crucial, especially for beginners. Another point is that jeans that are baggy may be pinched during the ride, which can cause an accident. So if you'd like to try wearing jeans, tall boots are the best match in this case.
How Much Do Women's Riding Breeches Cost?
Basic riding pants cost from $30 to $60, while mid-range choices can be found in the $60 to $150 price range, offering improved fabrics and additional features. Premium riding pants, priced at $150 and above, provide exceptional comfort, durability, and advanced technology. The price range for riding gear can vary significantly depending on various the brand, material quality, and extra trinkets.
---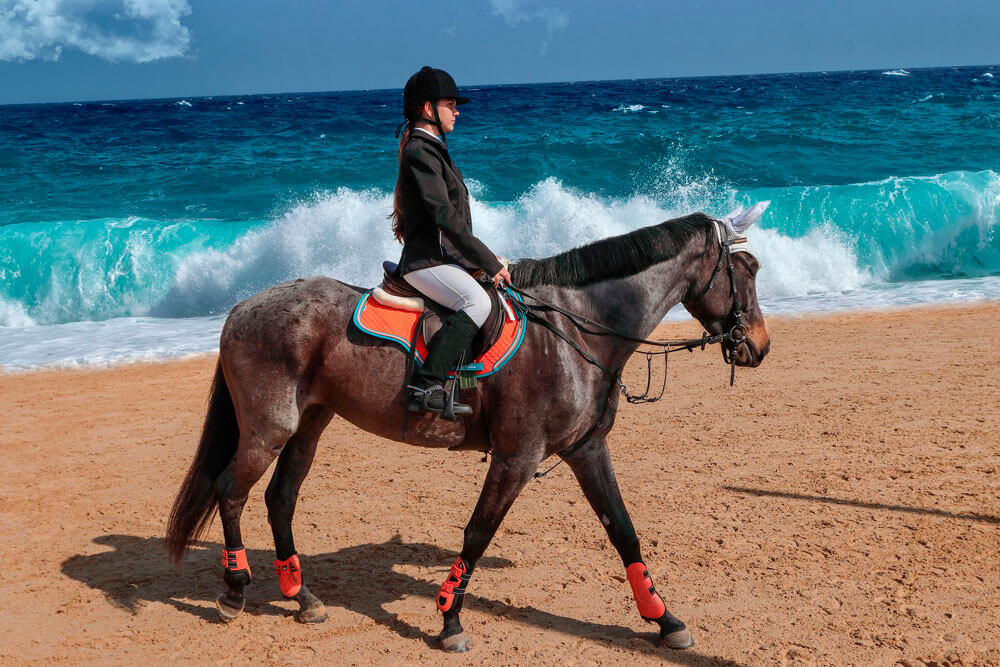 Conclusion
Here's a list of 5 first-rate horse riding breeches, jodhpurs, and tights for ladies that will help you feel snugly in a saddle. Having been made with high-quality stretchable materials, they improve the movements of the rider for sure. The breeches typically come with reinforced knee pads to improve the grip and, at the same time, reduce friction. Most of these products are greatly ventilated as well, so you can stay dry and cozy for a long time. There's a huge bunch of size and color styles on the market. Thus, you're able to find your perfect equestrian breeches according to your individual needs and purposes.