Halloween provides an exciting chance for horse owners to combine their love for equines with the festive spirit of the season. Whether you're joining a local parade, attending a barn event, or simply want to showcase your horse's Halloween spirit, dressing up your horse companion in a unique costume can create a truly unforgettable experience. Here are 14 creative Halloween costumes for horses that are guaranteed to make a lasting impression.
14 Horse Halloween Costume Ideas
1. Eerie Equestrian of Sleepy Hollow
Embrace the eerie legend of the Headless Horseman with a captivating costume that draws inspiration from Washington Irving's timeless tale. Create a collar and neck stump in the size of a horse to imitate the appearance of the spectral rider. Construct a detachable jack-o'-lantern head for the rider and carry it alongside your horse, creating a bone-chilling effect. This costume is ideal for those who appreciate a fusion of historical elements and a spine-tingling thrill.
2. Enchanted Unicorn
Turn your horse into a magical being with an enchanting unicorn costume. Create a sparkling horn and securely attach it to your horse's forehead. Incorporate a touch of enchantment by painting shimmering stars on the coat. Enhance the look with a flowing horse's mane and tail extension in pastel colors to achieve an ethereal appearance.
3. Brave Knight and Noble Steed
Embark on a journey through time by donning a medieval-themed horse and rider costume. Clothe your horse as a gallant steed while you transform into a valiant knight adorned in gleaming armor. Craft a miniature suit of armor for your horse using cardboard and metallic spray paint. Enhance the ensemble with a plumed helmet and a toy sword, all while ensuring your horse's comfort and freedom of movement.
4. Wild West Cowboy and Cowgirl Duo
Celebrate the cowboy culture by turning your horse into a reliable companion, ready to explore the vast open range. Dress up your horse with a saddle and bridle, and embrace Western fashion with cowboy boots and a hat. Such timeless horse and rider costumes are ideal for a scenic ride through the colorful autumn scenery.
5. Mysterious Masquerade
Enhance the intrigue of Halloween with a fun horse costume inspired by masquerade. Design a custom mask that complements your equine's unique features, incorporating feathers, sequins, and fabric. Complete the enchanting ensemble by draping elegant, flowing fabrics over your horse's body.
6. Fanciful Fairytale Characters
Explore the charming realm of fairytales by adorning your horse as a beloved character. Imagine transforming your noble steed into Pegasus, the majestic flying horse from Greek mythology, complete with wings meticulously crafted from lightweight materials. Alternatively, you can create a magical depiction of Cinderella, with a saddle adorned by a pumpkin carriage-like frame. Unleash your creativity and bring these top-notch horse and rider Halloween costumes to life with your beloved companion.
7. Scary Skeleton Horse
For those who appreciate the darker side of Halloween, a skeleton horse costume will definitely grab attention. Simply attach a black bodysuit with white skeleton markings to your horse's body, and use non-toxic paint to create a skull-like pattern on their face. To add an extra eerie touch, strategically place LED lights on the costume for an evening glow.
8. Vibrant Peacock Parade
Emulate the lively beauty of a peacock by getting your horse dressed in a vibrant and feathered costume. Craft a tail attachment that mimics the stunning display of a peacock's fan. Use horse-friendly and washable paint to incorporate peacock-like patterns onto your horse's coat, ensuring a unique and captivating look.
9. Terrifically Tacky Tourists
Embrace the fun with tourist-themed horse costumes. Spruce up your steed with a saddlebag that resembles a travel backpack, and remember to wear a sunhat for both you and your equine friend. Add a camera around your horse's neck for a delightful touch that is bound to bring smiles.
10. Garden Gnomes and Trusty Steed
Add a touch of whimsy to Halloween by donning garden gnome costumes and having your horse play the role of the esteemed garden guardian. Dress your companion in a costume inspired by lush greenery adorned with artificial flowers and foliage. Carry a miniature shovel and wear a pointed hat to fully embrace the gnome aesthetic and complement such Halloween horse costumes.
11. Mythical Merhorse
Create a splash this Halloween with a dazzling merhorse costume. Blend a saddle attachment inspired by seahorses with a tail fin, and apply safe and washable paint to your horse's coat to mimic scales. Enhance the appearance with a mane extension resembling seaweed and embrace the enchantment of the sea.
12. Harry Potter and His Magical Horse
Immerse yourself in the captivating realm of sorcerers and sorceresses by adorning your horse as "Harry Trotter," a whimsical equine rendition of the renowned Harry Potter costume. Outfit your animal with circular spectacles and a simulated lightning bolt scar, both crafted from non-hazardous materials. Create a miniature broomstick prop and affix it to the saddle for an added touch of enchantment. As the rider, embrace the mystical world by donning a robe and wielding a wand, culminating in an enchanting aesthetic for the duo.
13. Galactic Equine from a Galaxy Far, Far Away
Embark on a space-themed journey by transforming your horse into a beloved Star Wars character. Dress your horse as a proud Tauntaun, a noble Bantha, or a pretty Princess Leia to add a touch of intergalactic flair. Get a dark cape and black mask to turn your companion into the baddy Darth Vader. For a fun twist, you can recreate a memorable scene from "The Empire Strikes Back" by attaching a small plush Luke Skywalker to the saddlebag, creating the illusion of a rider on the creature's back.
14. Captain America and His Companion
Pay homage to the patriotic ethos by adorning your equine companion as Captain America. Create a saddle attachment in the shape of a shield featuring the iconic red, white, and blue hues, along with the star emblem. Complement the theme by dressing as the First Avenger yourself, brandishing your own shield. Such horse and rider costume ideas are not only visually captivating but also a tribute to heroism and solidarity.
---
More Horse and Rider Costume Ideas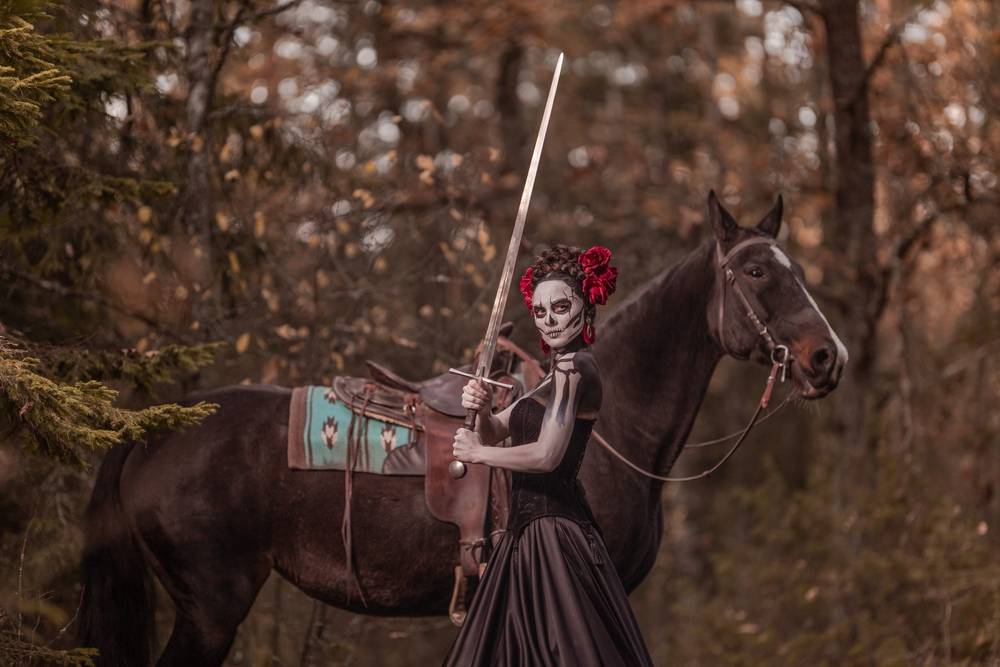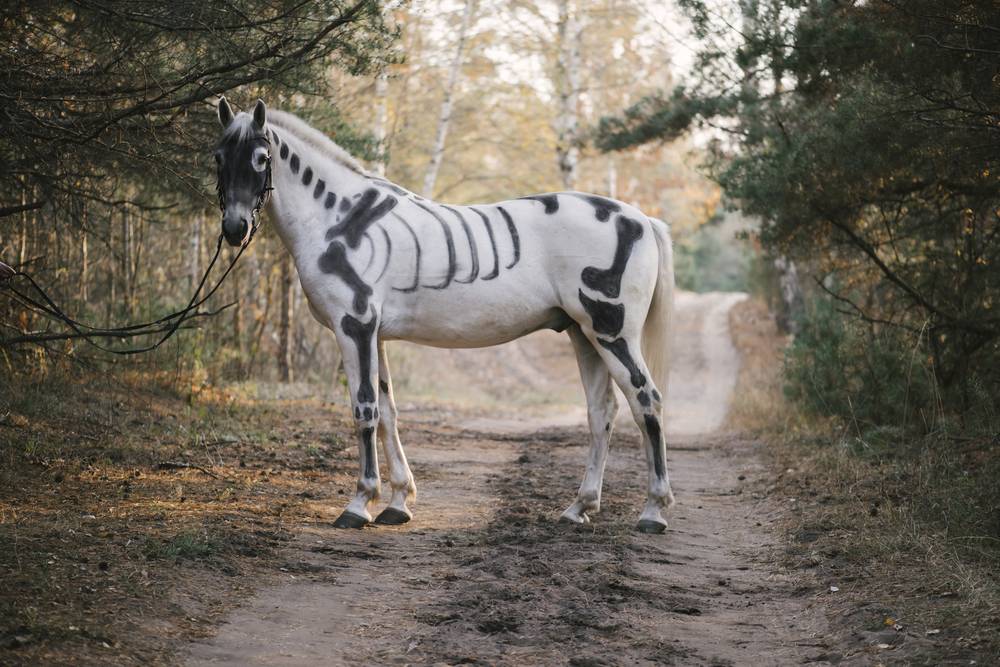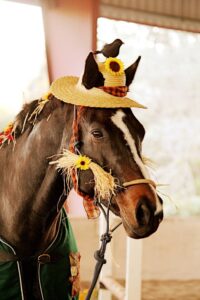 ---
Tips to Follow while Putting On the Horse's Costume
Before starting the process of turning your horse into a Halloween masterpiece, take into account a few essential factors.
Safety first. Always prioritize the safety and comfort of your horse. Make sure that the costume does not impede their movement or cause any discomfort. Take precautions to avoid any possible hazards and introduce the costume gradually, observing your horse's reaction.
Allergies and sensitivities. When designing great Halloween costumes costumes or applying makeup for horses, use a non-toxic body paint. Certain fabrics, adhesives, or paints may cause sensitivity or an allergic reaction in some horses, so perform a patch test before introducing any horse products.
Supervision. When engaging in a Halloween activity or capturing seasonal pictures, never leave your equine unattended while they are wearing a costume. They may encounter unforeseen circumstances that could lead to stress or potential harm.
Respect their limits. Not all horses appreciate being adorned. If your equine companion displays signs of discomfort, anxiety, or distress, it's advisable to forgo the attire and explore alternative methods to enjoy Halloween festivities together.
---
Conclusion
Halloween gives you a special chance to display your horse's individuality and your own imagination. You can throw a top-shelf Halloween party at the barn while wearing fancy costumes. Whether you choose whimsical, eerie, or magical outfits, the most important thing is to prioritize your horse's well-being and enjoyment while having a good time. These 14 awesome horse costume ideas for Halloween are just the starting point for countless possibilities to celebrate this spooky holiday with your four-legged companion.