– What is a ghost's favorite dessert?
– Boo-berry pie with ice scream!
Ghostly Greetings! Looking for horse pumpkin carving patterns? We've got your back! We picked up a list of fang-tastic horse pumpkin stencil ideas to throw a tremendous Halloween party this year. Let's have a look at what we've got.
Celebrating Halloween with Your Horse
For those who consider their horses as best friends, why not organize a thrilling Halloween party for you and your little ones? All you need is get a horse Halloween costume, make some treats, and decorate the barn with printable pumpkin stencils. Besides, don't forget to make a spooky costume for yourself or order it online. The only limit is your imagination.
Speaking of Halloween horse costumes, it would be awesome to come up with a matching apparel idea. So you can complement each other throughout the holiday. And again, surf the Internet to get inspired and make up a spellbinding costume: the Witcher, Roy Rodgers and Trigger, American Gothic… the list could be endless.
Some horse owners use non-toxic horse paint to create a terrific Halloween horse skeleton. If you crave a more peaceful Halloween horse, how about a unicorn? Everybody loves unicorns! If you've got a fabulous long-mane and tail companion, an Angel or Demon horse Halloween costume is an ace choice. So which idea do you root for?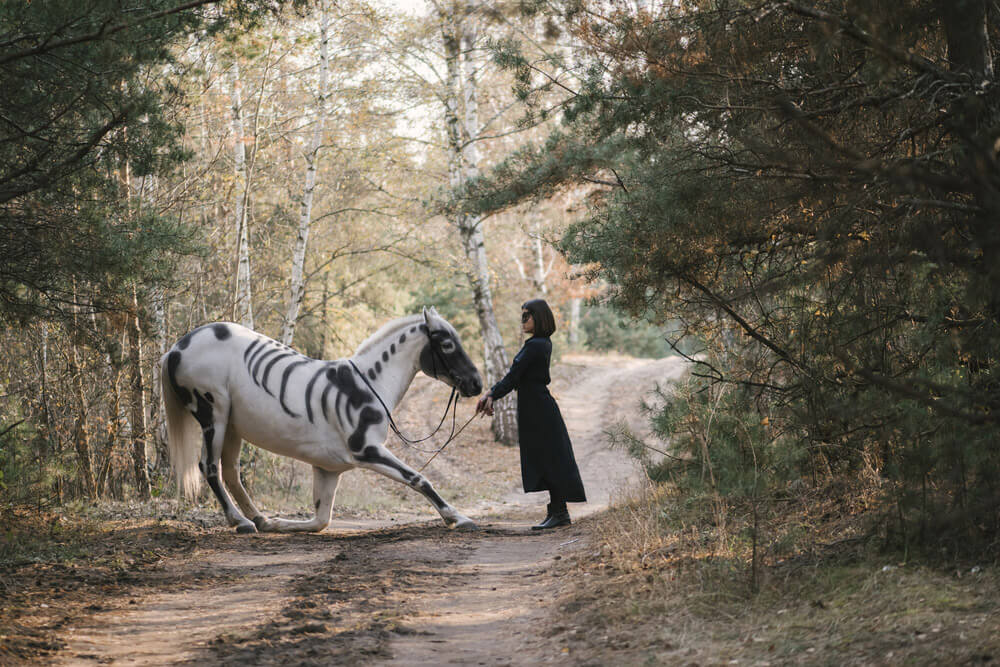 One more thing we'd like to pay attention to a Halloween horse costume, it should be safe for you and your companion. Make a classy dress but at the same, it should be stress-free. As you don't want to mess things up by frightening your horse in the midst of celebration.
Moreover, if you're going out and about with your horse on Halloween, try to avoid overcrowded places. Saddle up a horse to go trick or treating together. But make sure you don't bother the people around you and your companion is feeling cozy among strangers in spooky costumes.
Spruce Up the Ranch
When you decide what to wear on Halloween, it's high time to get the ranch dressed. The most common Halloween decorations include hay, corn stalks, and pumpkins. You're likely to have all of these components, so you can start spicing up your place right away.
If you're short of time, you can merely spread the hay and pumpkins all over the ranch to add a bit of Halloween spirit. Don't forget to add a spooky scarecrow to ward off evil. But don't place it close to the barn not to scare the horses.
Your hooved friends will be obsessed with the Halloween decorations, as they are edible for them. Thus, watch your companion not to eat up all the hay bales before the holiday is over! We know how persistent horses can be when it comes to delicious treats.
If you're a huge fan of Halloween and anticipate the holiday all year long, you may want to add more bootiful knickknacks. You may love such budget-friendly ideas as web decoration, spider and bat stickers, candles, LED lights, fake vampire fangs, and others. If you're into extraordinary Halloween DIY ideas, check out a Halloween coffin or a broom parking sign tutorials. As you can see, a wide range of options is accessible to spice up this holiday.
Get Pumpkins Gleam
You can never have too many pumpkins on Halloween, hands down. Let's discuss various horse pumpkin carving ideas separately. As there's a huge array of patterns available, you can definitely find something to your taste. Here's a bunch of our favorites we'd like to share with you.
Carved Patterns
The most common way to get a breathtaking Halloween pumpkin is to curve it. The Jack-o-Lantern design is outdated, gid deeper! Check out horse pumpkin carving printables to get dozens of carved patterns, which are out of this world. We love these templates as they are easy to do. You don't need to be a carving professional, just print out the desired template, stick it on the pumpkin and start cutting out a masterpiece.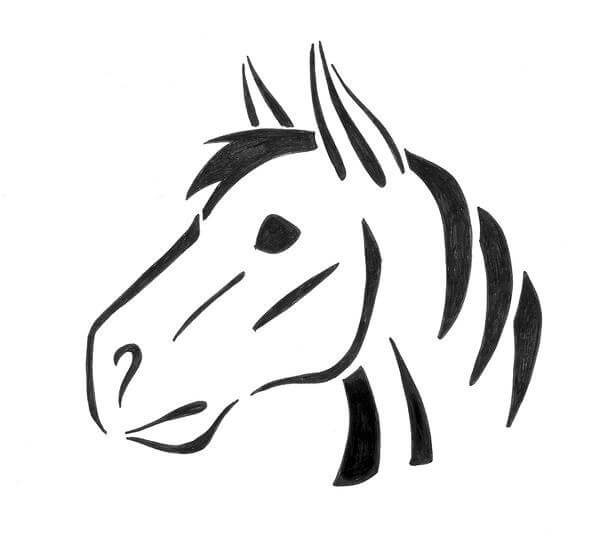 Download JPG: https://www.deviantart.com/bloodwolf666/art/Horse-Pumpkin-Design-66958693
Download PDF: https://pumpkinstencils.org/files/horse-pumpkin-stencil.pdf
Everybody is crazy about unicorns, remember? Here's a solid unicorn pumpkin stencil to be considered.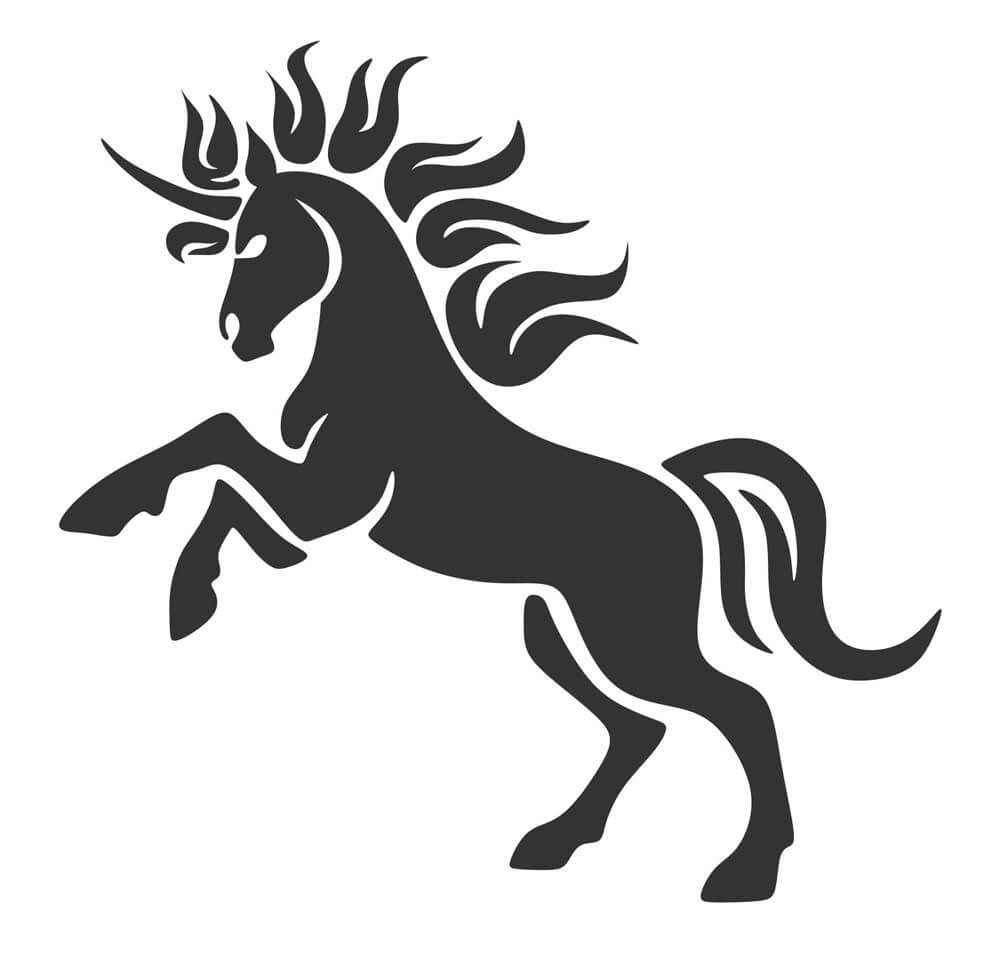 Download PDF: https://pumpkinstencils.org/files/unicorn-pumpkin-stencil.pdf
Pumpkin Carvings DIY
If you want to show off your carving skills, Halloween is the perfect time to brag about it! Level up your decorations with curving exquisite images on pumpkins. Once you put a candle inside the pumpkins, you won't get away from these cuties for sure!
Here are a few ideas to get inspired.
The Headless Horseman is a popular idea related to Halloween. Dress up the ranch in the Middle Ages style and you'll be in the spotlight.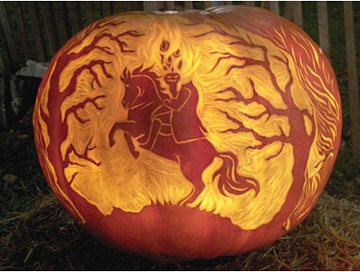 More advanced pumpkin carvings to be considered. Check out this unbelievable horse carousal!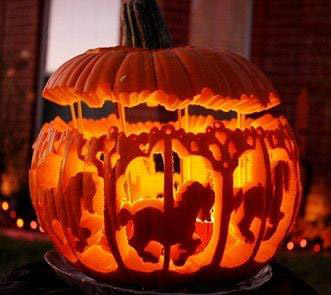 What a neat and accurate work is here.
Cookie Cutters to Carve a Pumpkin
If you're afraid of messing up a pumpkin, you can get an image on it quickly with the help of… cookie cutters! Take advantage of your cooking tools to the fullest this Halloween. Here's what you can get with cookie cutters.
All you need to do is to drive a cutter into a pumpkin with a mallet. Then get a pumpkin carving knife and start cutting out across the shape. After that gently push the leftovers out with your hands. Take the cutter out when you're done. And voila, you've got an exciting horse pumpkin carving!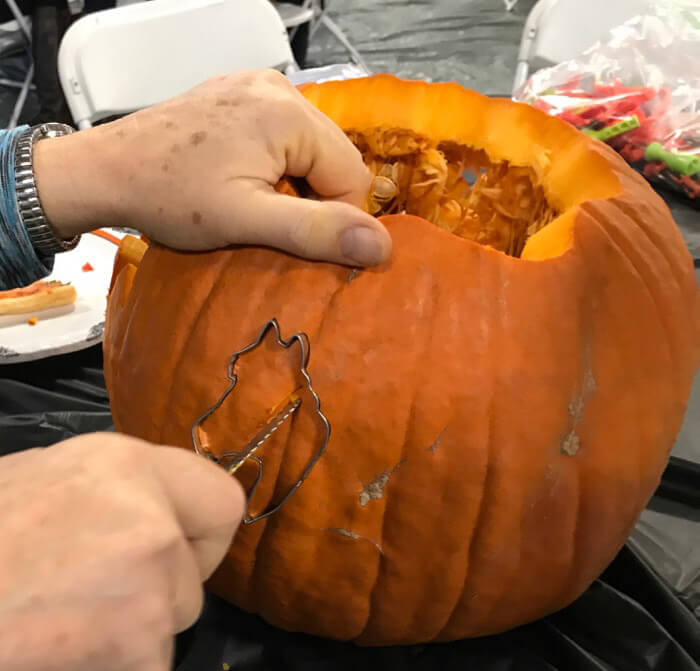 Painted Horse Pumpkins
Alternatively, you can not cut the shapes out but impose a painting on the pumpkin to keep it solid. For instance, what you think of this horse herd image.
And another horse pumpkin. Must be someone's portrait. This buddy looks excited about Halloween.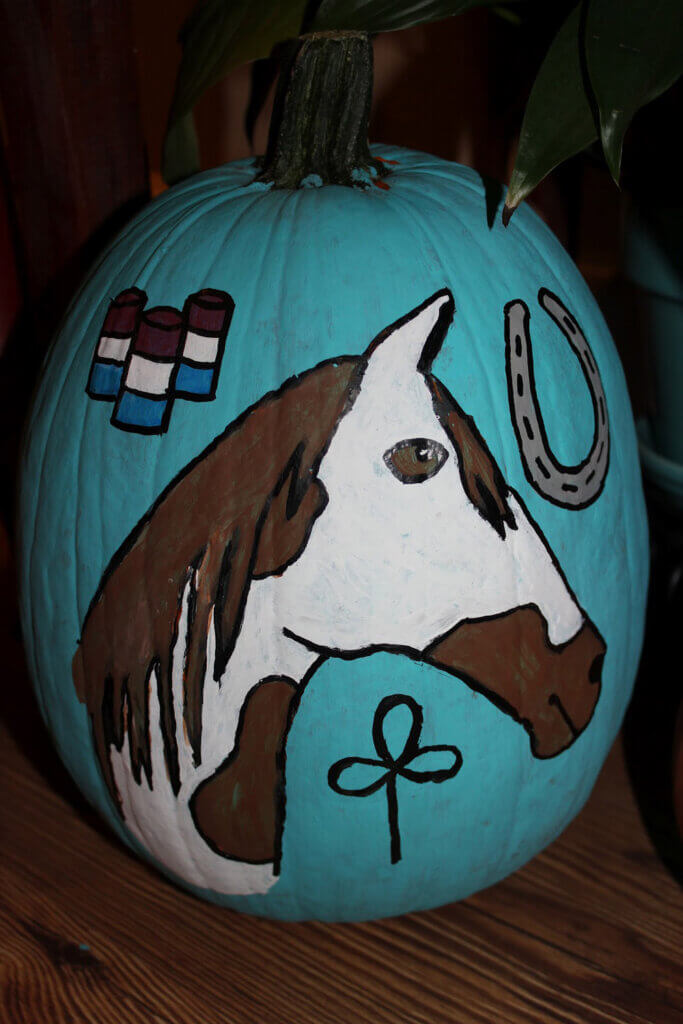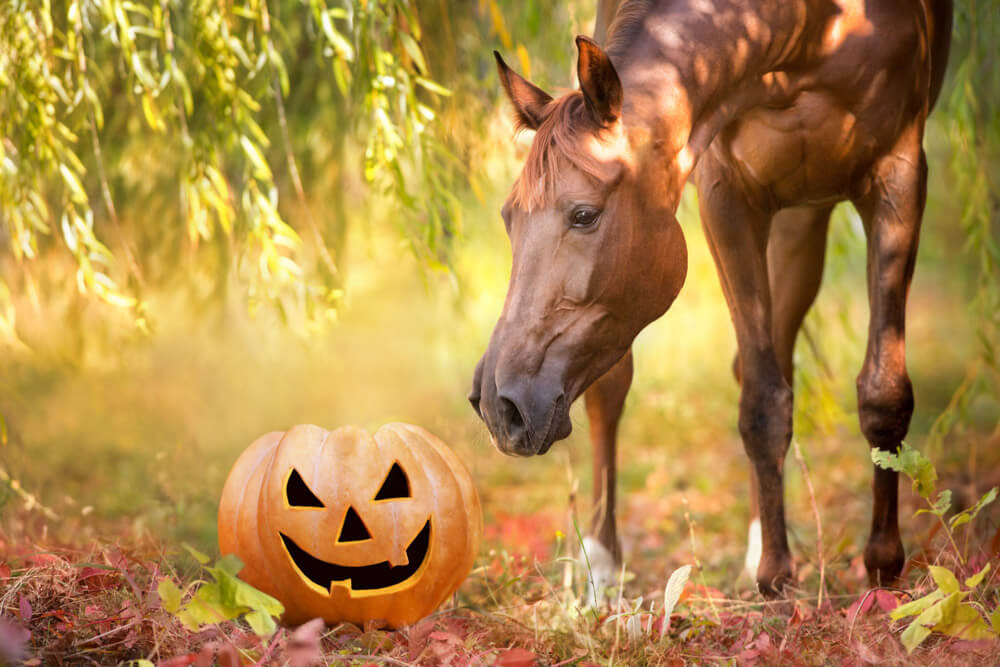 Don't Waste the Pumpkins
When the holiday is over, you may be wondering what to do with all these Halloween decorations. Don't throw them out! As pumpkin is a safe treat for horses and actually, it's a great treat for them. So if your hooved friend behaves himself during the celebration, you can feed him with a few pieces of the delicacy. Don't forget to take a few photos of these spectacular trinkets before your tailed pal devours them!
We wish you a Happy Halloween! Have a blast spending this stupendous holiday with your loved horse.