Amidst the daily routines and interactions, there lies a fundamental factor – maintaining an optimal stall environment. Controlling the proper temperature inside the barn promotes the horses' physical health and provides a comfy place to relax from the sweltering summer heat. This ultimate guide includes the top five horse stall fans to consider for your barn this hot season.
5 Best Barn Fans for Horses Detailed Review
Here is the list of the five horse barn fans that will solidly circulate air all over the stalls.
1. Tornado High Velocity Wall Fan
The Tornado stall fan comes with a totally enclosed motor that ensures durability and protection against dust and moisture, which is essential for its usage in barns and stables. With its large 18-inch diameter, this fan is engineered to maintain superior air movement. The setup process is super easy by hanging the device and boltening it firmly.
Key Features
The 18-inch fan blades generate a high-velocity airflow that effectively circulates air in a large horse barn.
Totally Enclosed Air Over motors prevent dust, dirt, and moisture from entering the motor.
Built with aluminum and powder-coated steel construction, this fan is designed to withstand the rigors of horse stalls.
The wall-mounted configuration saves valuable floor space and keeps the fan out of reach of animals.
The fan's 180-degree tilt angle can be adjusted, allowing for precise airflow direction and coverage within the stall.
Equipped with three-speed settings (4150/3700/3450 CFM), this Tornado fan offers flexibility in circulating air.
Bottom Line
The Tornado industrial wall fan proves to be a reliable cooling solution for horse owners. Its robust construction, TEAO motor enclosure, and high-velocity airflow make it well-suited to withstand the challenges posed by barn environments. Based on our experience, the adjustable tilt angle and multiple speed settings allow for customization, ensuring optimal air circulation regardless of weather conditions.
Pros
65 decibels maximum
3 speed controls
Easy assembly
Cons
Does not rotate 360°
Not waterproof
---
2. Simple Deluxe Wall-Mount Fan
The barn fan by Simple Deluxe is a versatile cooling solution designed to cater to various environments, including horse stalls. With its expansive 20-inch diameter, this fan is engineered to deliver powerful and energy efficient airflow. The noise levels range from 45 to 52 to 60, depending on the variable speed. The Simple Deluxe fan is a perfect choice for indoor and outdoor use due to its quiet operation and modest energy consumption.
Key Features
The 20-inch fan blades generate a high-velocity breeze that effectively circulates air within a spacious horse barn.
Constructed with durable metal, this device is crafted to withstand the demands of industrial and agricultural use.
The double ball bearings in the PSC motor effectively reduce friction.
The fan's 360-degree tilt angle enables users to direct the airflow precisely where it's needed within the stall.
Simple Deluxe horse stall fans boast three-speed settings: 4650 / 4000 / 3500 cfm.
The fan comes with a comfy built-in carry handle, making it relatively easy to move and position within the stall.
Bottom Line
The Simple Deluxe barn fan features a powerful high-velocity airflow, sturdy construction, and a thermally protected motor for top-notch performance at the stalls. The ability to tailor the airflow direction and intensity, along with its portability, fosters a well-ventilated environment.
Pros
Suitable for large spaces
Fully adjustable tilt angle
Corded electric
Cons
Poor chain
Motor sealing must be improved
---
3. OEMTOOLS OEM24883 Oscillating Wall Fan
With its large 24-inch size and oscillating feature, this OEMTOOLS wall fan is created to provide widespread airflow and reduce heat stress. Our tests indicate that the brand produces energy efficient motors to save your bill. The stall fan for horses comes with a mounting bracket, so it's easy to install at the desired place.
Key Features
The 24-inch fan blades are made of aluminum for precise performance.
The 90-degree oscillation feature allows the fan to move back and forth, providing a direct drive to a broader space.
The wall-mounted configuration saves valuable floor space within the barn.
There are three-speed settings with a maximum cfm of 6500 for quick cooling.
OEMTOOLS produces as little noise as 74 dB at max.
Bottom Line
The OEMTOOLS OEM24883 wall fan is loved for its wide coverage, oscillating function, and sturdy build. A large barn will cool in minutes, which is a nice perk. The cutting-edge engineering ends up with the energy efficient device serving on the walls.
Pros
Ample airflow coverage
Three aluminum blades
90-degree oscillation
Cons
No tilt
Loudy for a little barn
---
4. VENTISOL Metal Wall Mounted Fan
The VENTISOL fan boasts a 360-degree tilt so you can control the airflow precisely. With the product weight of only 15 pounds, you can easily lift it up and attach to the wall or ceiling. VENTISOL produces barn fans with sealed motors, which is a nice benefit for indoor use.
Key Features
The fan comes with a 20-inch diameter, generating high-velocity airflow that can effectively cover a substantial area within a horse stall.
The wall-mounted feature keeps the gear out of reach of horses while delivering consistent air circulation.
Constructed from aluminum blades, this VENTISOL fan can endure dust, moisture, and temperature fluctuations.
These exhaust fans offer three-speed settings with a max performance of 4,650 cfm.
The device's head is adjustable, so you can direct the airflow precisely where it's needed the most.
The metal fan comes with a wall-mounting bracket and hardware, making the installation process relatively straightforward.
Bottom Line
The VENTISOL wall-mounted fan boasts an enclosed motor to prevent potential fire hazards. The dual ball-bearing motor will serve you for years. It is also loved for the reinforced wire grill for added safety. Yellow blades and black grid will add a fancy look to the horse stalls.
Pros
Adjustable head
Quiet operation
ETL certification
Cons
---
5. HealSmart Digital Household Fan
HealSmart Digital circulation fans attribute unique digital features and user-friendly design. This stall fan aims to create a comfortable and controlled environment for horses, ensuring their well-being. The 16ft range control is enough to operate the device while doing chores at the barn.
Key Features
One of the top-notch features of this HealSmart fan is its digital display and remote control functionality.
The settings include three speeds, oscillation, and a timer.
With the wall-mounted design, the digital fan remains out of the equines' reach.
The device's quiet operation promotes a calm atmosphere.
The remote control requires 2 AAA batteries.
Bottom Line
The HealSmart Digital fan offers a blend of advanced features and convenience for maintaining an optimal environment within horse stalls. Its digital display, remote control capabilities, and oscillation function make it an attractive option for equestrian settings. By focusing on controlled airflow and swinging options, this product enhances the comfort of horses.
Pros
Remote control
Lightweight (7 pounds)
Easy installation
Cons
Batteries not included
Limited tilting
---
Rank
Image
Product
Price

1




Tornado High Velocity Wall Fan

4150 cfm
6 ft cord
3 speed settings

Check Price

2




Simple Deluxe Wall-Mount Fan

4650 cfm
Low noise
3 speed settings

Check Price

3




OEMTOOLS OEM24883 Oscillating Wall Fan

6500 cfm
Aluminum blades
3 speed settings

Check Price

4




VENTISOL Metal Wall Mounted Fan

4650 cfm
360 degree vertical tilt
3 speed settings

Check Price

5




HealSmart Digital Household Fan

2065 cfm
Remote control
3 speed settings

Check Price
---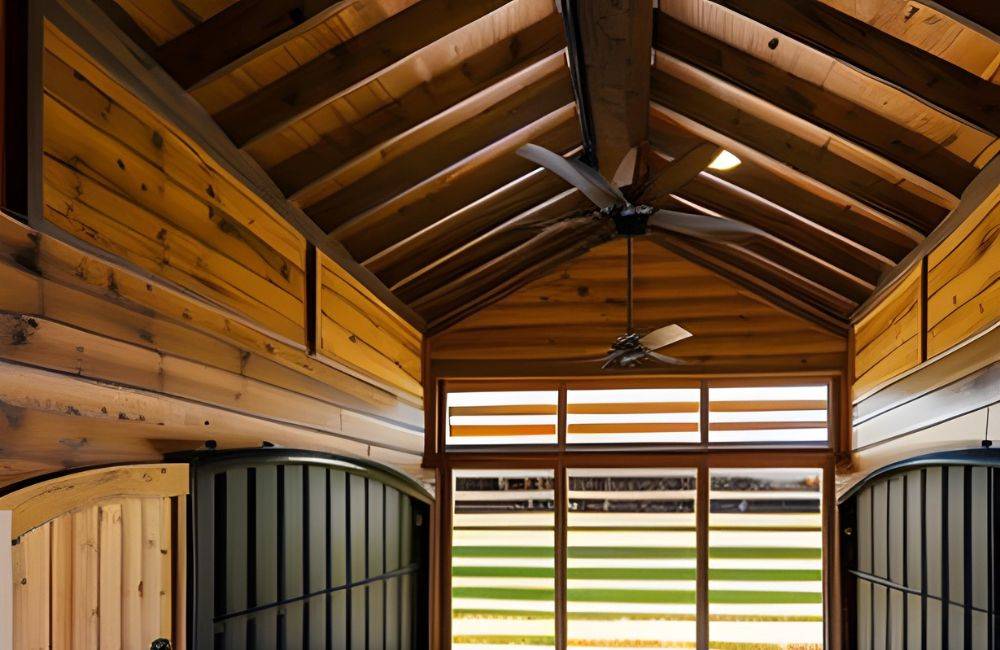 Factors to Consider When Choosing the Ideal Horse Stall Fan
Fan Size and Airflow Capacity
The dimensions of the barn fan and its capacity to circulate air merit prime attention. Larger stables naturally necessitate a device with a heightened airflow potency to ensure a seamless exchange of air. A prudent initial step involves gauging the stall's precise measurements and subsequently calculating the requisite airflow quantum essential for maintaining an ambiance of comfort for your equine companions. As a rule of thumb, a fan endowed with a substantial cubic feet per minute (CFM) index proves the maximum amount of air perfect for expansive spaces.
Safety Features
Many types of fans come with robust protective grilles to preclude inadvertent contact between the horses and the whirring mechanisms. Opt for a device that boasts a totally enclosed motor, meaning the gear is covered to protect from the intrusion of debris and dust. Some advanced models even integrate an automatic shut-off mechanism, preempting instances of overheating.
Noise Level
The equine disposition is characterized by sensitivity, and in this context, noise emission warrants deliberation. Opt for a fan wielding a low-decibel motor configuration, mitigating the potential for unwarranted distress among the four-legged companions. For maximum comfort, check if the noise level doesn't go over the 60-decibel threshold, ensuring a soundscape that remains unobtrusive.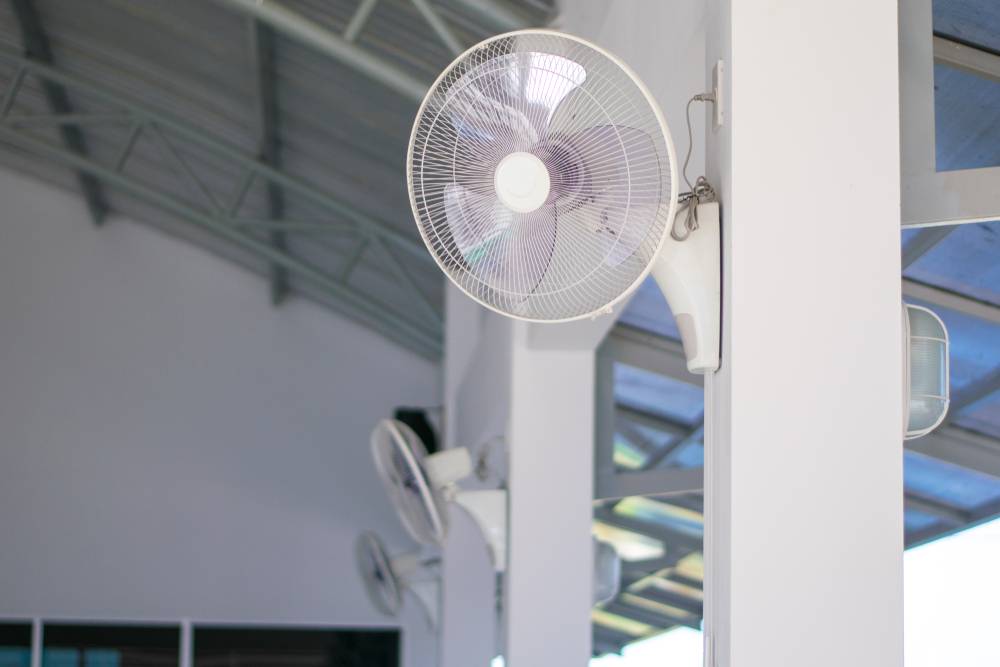 Mounting Options
Wall-mounted models allow keeping the floor uncluttered and out of reach from animals, unlike box fans. This also helps to save the equine from stumbling over the cord. Whether wall-anchored, ceiling-hung, or unconfined, the chosen option significantly influences the uniformity of airflow dispersion and the ensuing cleaning endeavor. While ceiling fans engender comprehensive air circulation, wall-bound counterparts may cater adeptly to compact stalls.
Fan Durability and Construction
Look for a barn fan made from corrosion-resistant metals or high-quality plastics. A fan engineered with a sealed motor is less likely to be affected by dust and hay and cause a barn fire.
Energy Efficiency
Opt for models exhibiting an exemplary cubic feet per minute (CFM)-to-watt ratio. Such energy-conscious fans contribute significantly to mitigating electricity overheads while concurrently facilitating the sustenance of a well-ventilated stable environment. This will save your bill while providing superior cooling.
Adjustable Settings and Directional Control
Prioritize stall fans for horses endowed with variable speed settings, allowing adaptation to prevailing climatic conditions. Additional assets encompass fans equipped with oscillating or tilting capabilities, optimizing the dissemination of air across the stall's expanse. Most models come with three setting controls, so you can choose the most optimal one according to your needs.
---
Choosing the Right Size of a Barn Fan
The size of a barn fan directly correlates with its ability to move air efficiently. Choosing a fan that is too small may result in inadequate airflow, while opting for one that is too large might create excessive drafts or noise. Strike the right balance to ensure a comfortable and productive barn atmosphere.
What to Consider
1. Barn Dimensions
Measure the dimensions of your barn, including length, width, and height. The volume of air in the area determines the desired fan size. You'll need a device with higher airflow capacity for larger horse barns.
2. Air Changes per Hour (ACH)
Calculate the number of air changes per hour you want to achieve in your facility. This depends on the type of animals, barn usage, and climate. For instance, horse barns might require around 10-20 ACH, while poultry barns may need 60 ACH or more. Multiply the barn's volume by the desired ACH to determine the necessary fan airflow.
3. Fan Ratings – CFM and RPM
Bars fans are rated in terms of cubic feet per minute (CFM) and revolutions per minute (RPM). CFM measures the amount of air the device can move in a minute, while RPM indicates the fan's speed. Consider fans with higher CFM ratings for better airflow, but also pay attention to RPM to ensure the fan doesn't create excessive noise. 4000+ cfm is ideal for large barns while those that go under 4000 cfm can easily cover one-two stalls.
4. Number of Fans
Depending on your barn's layout, you might need multiple fans to achieve uniform air distribution. Consider the strategic placement of fans to avoid dead spots and ensure consistent ventilation.
Popular Fan Sizes
16-inch fan. Ideal for small barns, workshops, or confined spaces. Provides moderate airflow suitable for localized cooling.
18-inch fan. Suited for medium-sized barns or areas where airflow needs to cover a specific zone. Offers a balance between airflow and noise level.
20-inch fan. Versatile size suitable for various barn sizes. Provides substantial airflow and is commonly used in mid-sized to large barns.
24-inch fan. Best for large barns or open spaces. These fans offer high airflow capacity but may require a careful placement to avoid creating drafts.
Choosing the Best Size of Barn Fans for Horses
Small barn. A 16-inch or 18-inch fan might be just right but you should take your barn's volume and ventilation requirements into account before purchase.
Medium-sized barn. A 20-inch or 24-inch fan is quite a suitable choice. Consider multiple stall fans for optimal coverage.
Large barn. Opt for 24-inch fans or larger, strategically placed to ensure even air drive without causing discomfort.
---
How to Install the Stall Fan – The Step-by-Step Guide
Materials Needed:
Fan
Screwdriver
Anchors and screws (if not included)
Electrical outlet (if not already present)
Wire stripper and connectors
Wire nuts
Installation Steps:
Determine the most effective location for the fan. It should be positioned to provide optimal airflow to the desired area.
If needed, install an electrical outlet at the desired location. Turn off the circuit breaker before working on the electrical connections.
Assemble the stall fan according to the manufacturer's instructions, attach the fan blades and motor.
Use the provided screws or anchors to mount the device securely to the wall. Make sure it's level and stable.
Connect the fan's wiring to the electrical outlet or existing wiring. Connect the wires according to color codes (hot, neutral, and ground) using wire connectors and wire nuts.
Turn on the circuit breaker and test the fan at different speeds. Check for any unusual noises or vibrations. Adjust the fan's position if necessary.
Always refer to the manufacturer's instructions and consult a professional electrician if you're unsure about electrical connections.
---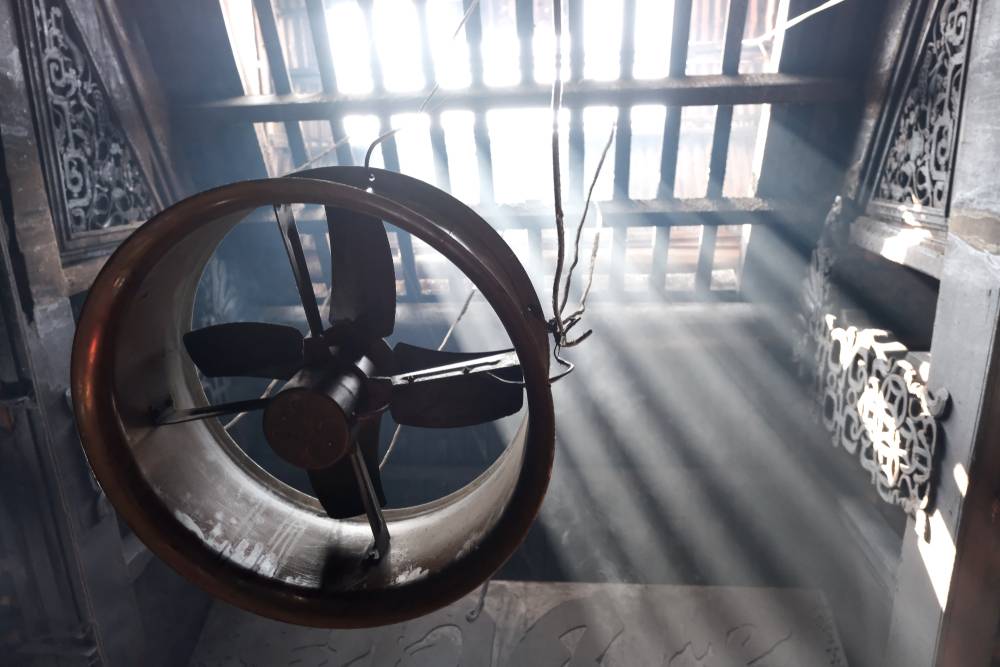 Frequently Asked Questions
Are Stall Fans Safe for Horses?
Yes, fans are safe for horses when properly employed. Opt for fans with protective guards, secure mounting, and place them at a safe height. Make sure your animals are out from reaching fan blades or cords.
What Are Barn Fans Used for?
Fans provide proper ventilation within barns and stables. They improve air circulation, regulate temperature, and reduce humidity. By maintaining a comfortable arena, barn fans prevent heat stress and minimize odors. Barn fans can be used in hot and cold seasons.
What Is the Best Fan for Horse Stall?
The ideal fan for a horse stall depends on the stall's size, layout, and ventilation needs. Opt for a device that features protective guards, adjustable settings, quiet operation, and suitable airflow capacity. Ceiling-mounted and wall-mounted fans are the most common models.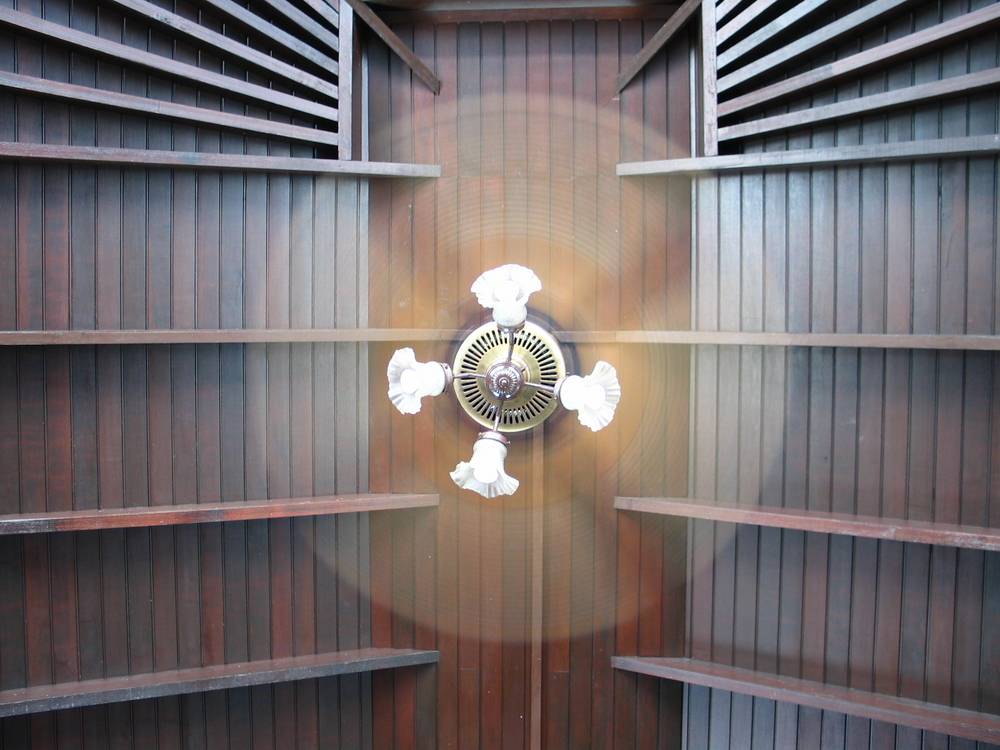 How Much Does a Barn Fan Cost?
An average wall-mounted fan costs around $50-$100, while larger, more advanced ceiling-mounted fans with added features could range from $150 to $500. The price tag of a barn fan varies widely based on the gear's size, brand, power, and cfm features.
Ceiling Fans vs Wall-Mounted – Which Is Best?
The choice between ceiling fans and a wall-mounted ones depends on your barn's layout and needs. Ceiling fans offer broader air circulation and are perfect for larger spaces, while wall-mounted fans provide localized ventilation. Consider factors like stall size, airflow requirements, and installation feasibility to determine which type best suits your specific situation.
---
Conclusion
Selecting the right horse stall fan is a pivotal decision that significantly impacts the comfort, health, and productivity of your equine companions. In this comprehensive guide, we have reviewed the five best barn fans for horses and highlighted a myriad of options tailored to diverse needs. Whether prioritizing airflow capacity, safety features, energy efficiency, or ease of installation, each device on our list presents a unique blend of qualities.