To ensure your child's safety while horseback riding, opt for riding boots designed specifically to protect children's feet. Such footwear will snugly protect their feet and boost their riding performance, allowing them to confidently trot along on a horse. Thus, this article outlines the top 5 kids riding boots that provide enough stability, support, and protection.
Properly fitting riding boots can make a solid difference in your child's riding experience. Whether your kiddo are just starting out or have been riding for a while, top-quality and durable horse riding equipment is a vital part. That's why a solid pair of horse riding boots for a kid should be considered when your child is ready for horseback riding activities.
After our thorough review of kids horse riding boots, we reveal the top-notch 5 pairs that are extremely sturdy and protective. So your little equestrian could spend long hours riding their companion with pleasure.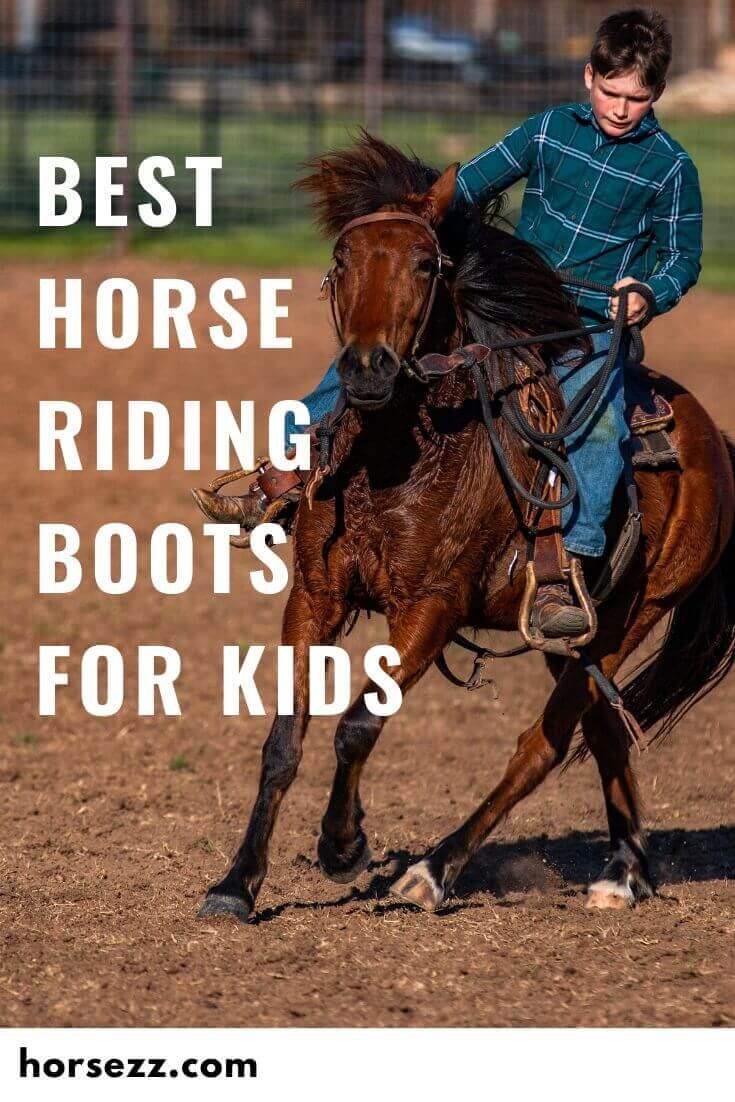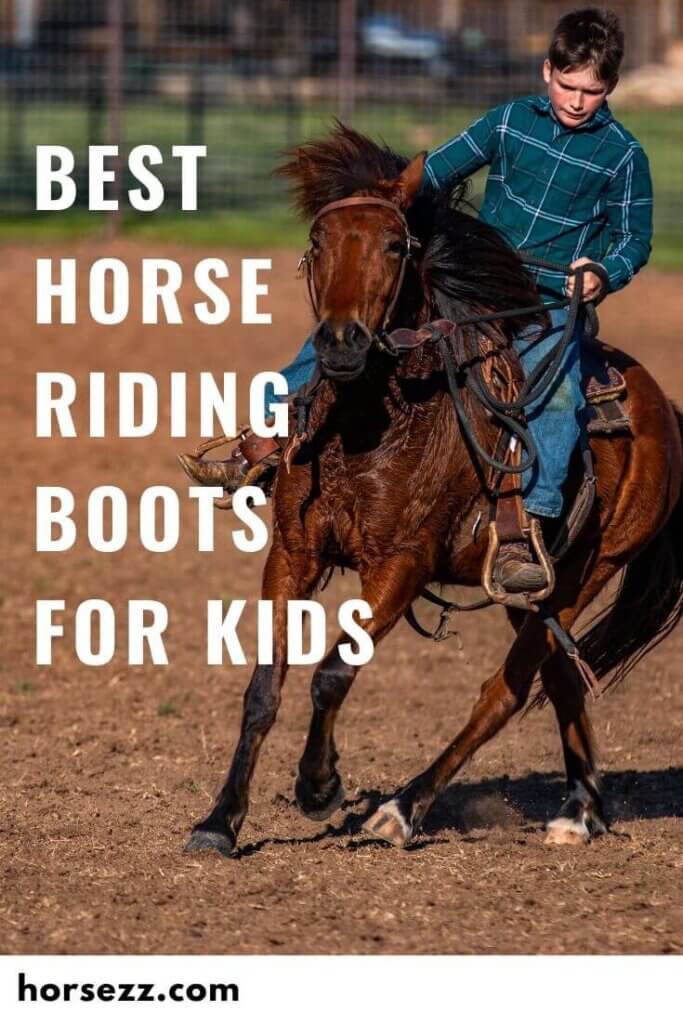 Best Horse Riding Boots for Kids Detailed Review
Discover the 5 equestrian pairs of boots for boys and girls that fit a range of Western and English riding activities.
1. TuffRider Kid's Field Boots – Solid Tall-Shaft Gear
The TuffRider Kid's Field Boots is a product made by a popular equestrian brand with a tall shaft design. The synthetic leather fabric brings a classy look and comfortable fit. The material is thick enough to resist the water. The gear is claimed as schooling and riding boots for kids.
Key Features
The boots are made with a synthetic leather material that is lasting and water-resistant.
They come with stretchy gussets along the shafts at the back for a snug fit.
The reinforced stitching boot design provides high durability.
The back zipper with a snap closure for a fixed protective fit.
Bottom Line
The TuffRider Kid's Field Boots are versatile equestrian sport boots that keep the young rider comfy and provide freedom of movements during the ride. The water-resistant feature fosters durability while elastic gussets and a snap closure enhance adjustability. A wide range of sizings gives you an opportunity to find the best pair of horse riding boots for your child.
Pros
Stretchy and sturdy
Calf fixing
Great for beginners
Cons
Poor zipping
Ankles might be roomy
2. TuffRider Children's Paddock Boots – Soft Punched Wear
The TuffRider Children's Paddock Boots are also known as jodhpur boots. They are designed for the everyday ride so the shoes are great for all weather conditions. The product is quite flexible because of the elastic gussets from both sides which is very convenient to pull on. It is deemed as a trusted equestrian product that is great for everyday riding and schooling.
Key Features
The boots are made with vegan leather that is quite soft and sturdy.
The product comes with decent elastic gussets to fit the size perfectly.
The zip design at the front makes them easy to put on / off.
The outsole with tread is made with solid rubber to enhance the protection during the ride.
Bottom Line
The TuffRider Children's Paddock Boots are great punched jodhpur boots that are highly durable due to the fabrics used. The synthetic leather shaft provides convenient wear while the thick rubber outsole protects from the mud. Being designed with enhanced stitching, elastic gussets, spur rests, and rounded toe box, these unisex boots will definitely bring you joy into equestrian sports.
Pros
Comfy and flexible
Pull-on design
Easy to clean
Cons
Poor toe strip
May be stiff a bit
3. ARIAT Kids Western Boots – Classy Look Garment
The ARIAT presents a solid pair of Wester-style boots for kids that is loved by dozens of young equestrians. They come with a leather ankle and embroidery shaft design which is a wonderful perk. The reinforced stitching improves the durability of these equestrian boots immensely.
Key Features
The cowboy boots are made with full-grain leather fabric that is soft and supple.
There are leather loops at the top, so the boots could be easy to pull on.
The rubber outsole provides a better grip in a saddle.
The squared-toe box is designed for better freedom and comfort.
Bottom Line
The ARIAT Kids Western Boots is a great option for little equestrians who are fond of Western-style riding. The shoes are loved for a comfortable design being provided with loops so the kids could put them on / off with no probs. The Ariat brand offers several vivid color styles so your child will be definitely in the spotlight!
Pros
Snug and cozy fit
Embroidery design
Durable fabric
Cons
Poor sole tread
Toe box may be roomy
4. Brogini Kids Como Piccino Riding Boots – Waterproof Tall Boots
The Brogini Riding Boots are designed for young equestrians who are looking for comfortable and classy riding boots. Made from high-quality leather, this footwear boasts durability and an appearance suitable for a show ring. The best part is a zipper at the back for a convenient putting on and off.
Key Features
These boots are made of Genuine leather, which means they are waterproof and will last a long time.
The Como Piccino boots come in timeless black, making them adaptable for different types of competitions.
The footwear boast both front lace closure and a rear zip that make it easy to put them on and take them off, while also providing a secure and adjustable fit.
The gear features cushioned padding around the ankle and on the footbed. Such details give young riders better comfort for long periods of time.
The Brogini boots feature a durable rubber sole that results in solid traction while riding and walking.
Bottom Line
Our research indicates that the leather riding boots by Brogini combine style, comfort, and durability. The classic English desing makes them suitable for both casual riding and competitions. The attention to detail in design and the use of high-quality materials ensure parents that these boots can withstand the demands of regular horse riding activities. With Brogini's secure fit and comfortable padding, children can focus on their horsemanship without any discomfort.
Pros
Genuine leather ensures durability
Front lace and rear zip
Rubber sole provides excellent grip
Cons
5. EQUISTAR All Weather Paddock Boots – Elastic Sturdy Gear
The EQUISTAR All Weather Paddock Boots is comfy lightweight wear for horseback riding. The shoes feature a zipper at the front and large gussets on the sides for a snug fit. The product comes with a punched toe strap and reinforced seams for better durability and trendy look.
Key Features
These boots are made with synthetic leather that looks like real leather but is easier to clean.
The gear comes with front zip and elastic gussets at the top for convenient wear.
The light insole design is made to bring more comfort into the ride.
The outsole is quite thick and sturdy to be worn in any weather conditions outside and at the barn.
Bottom Line
The EQUISTAR All Weather Paddock Boots are fascinating horse riding shoes for little fans of equestrianism. They are made with quality materials as well as designed in a classy style. The gear is quite stretchy due to the gussets provided to improve the rider's fit. The garment comes in two color styles and several sizes so you have options to choose from.
Pros
Soft elastic fabric
Easy to slip-on
Great for riding lessons
Cons
Poor zipper
Not for wide feet
---
Top 5 Horse Riding Boots for Kids Comparison
Rank
Image
Product
Price

1




TuffRider Kid's Field Boots

Synthetic leather
High-shaft design
Snap closure

Check Price

2




TuffRider Children's Paddock Boots

Synthetic leather
Elastic gussets
Punched strap

Check Price

3




ARIAT Kids Western Boots

Full-grain leather
Pull-on loops
Square toe box

Check Price

4




Brogini Kids Como Piccino Riding Boots

Genuine leather
Rear zip
Elasticated laces

Check Price

5




EQUISTAR All Weather Paddock Boots

Synthetic leather
Enhanced seams
Punched strap

Check Price
---
The Main Types of Kids Riding Boots
Horse riding is grasped to be divided into two styles – Western and English. Each of these styles has different boot designs.
Western boots. Such cowboy boots have a bit higher heels than English boots. They tend to have enhanced sole to avoid slipping from the stirrups.
English boots. These are classy tall black boots but nowadays you can find a variety of color and style options suitable for your children.
Tall boots. They typically come with a back zipper along the shaft so they are easy to take on / off. It includes field boots for eventing and dress boots for dressage.
Short boots. It's quite a versatile design that is more budget-friendly than tall boots. Usually, they come with pull-up gussets or a zipper which is comfy for everyday use. Paddock boots or jodhpur boots is an English-style short footwear that has pull-on, zipper, or laced designs.
How to Choose the Right Size of Kids Riding Boots
If it's your first time you purchase a pair of horse riding boots for your child, you have to know how to choose the right size. That's why you need a soft fabric tape as if you do it for casual footwear.
Modern equestrian manufacturers provide their customers with a proper size chart so you can pick the perfect pair. The main measurements that are required when choosing horse riding boots are the foot size, the width of your kid's calf under the knee, and the calf height.
---
Frequently Asked Questions
Why Does My Kid Need Horse Riding Boots?
When it comes to kids' activities, we crave for safety and convenience. Thus, horse riding boots as an essential part of equestrian gear is a must. This garment is specially designed to make your kids feel comfortable while they're sitting in a saddle. The boots come with enhanced sole to grip well in stirrups and avoid slipping. That's why it's recommended to wear proper equestrian attire and boots is not an exception.
What are the Fabrics of Horse Riding Boots?
When choosing a comfy pair of riding boots for kids, the material used is a substantial aspect you should take into consideration before purchasing. As there's a big array of options on the market, you're able to choose the best horse riding boots for your child.
Typically, you can find horse riding footwear made with genuine leather that is classy, solid but costly. As an alternative, you should consider PU leather riding boots that are quite comfy for regular use and less expensive. In addition, this variant is a great option for schooling.
Can My Kid Wear Walking Boots for Riding?
That's not a good idea to wear walking or any other non-relevant shoes for equestrian sports. Horse riding boots are designed to protect your child while they are in a saddle, hence other types of boots don't provide enough safety.
Casual shoes might be "heavy" that don't fit the stirrups. Furthermore, walking boots don't have enhanced tread unlike riding footwear which is a plus in terms of solid grip. Thus, we recommend wearing special apparel for equestrian activities.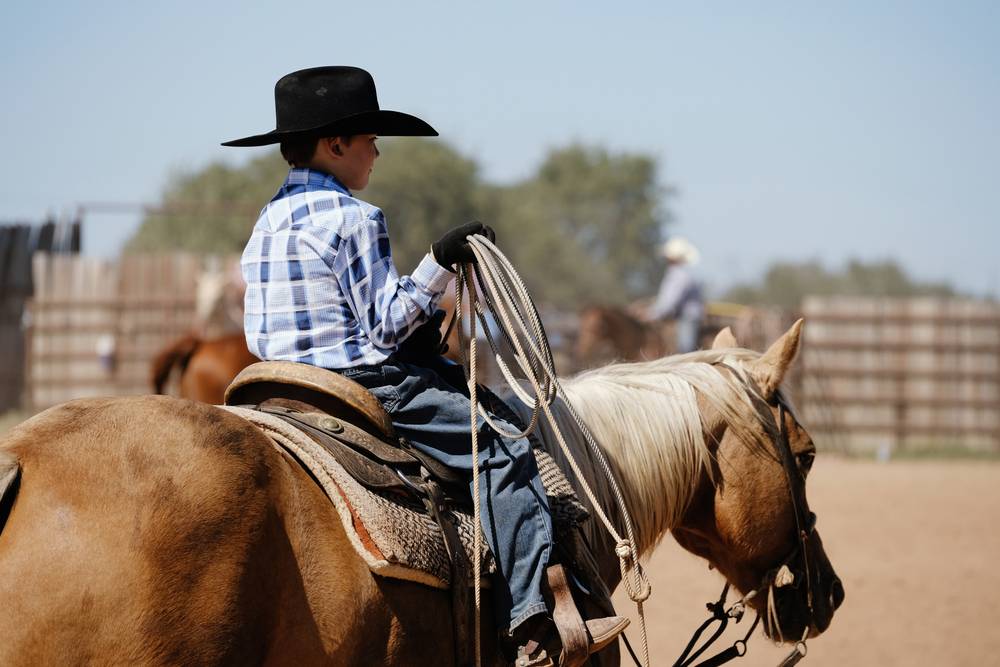 How Much do Horse Riding Boots for Children Cost?
Basic riding boots for kids cost anywhere from $50 to $150. This footwear comes with basic features and can be made of synthetic materials or lower-quality leather. The pricing of horse riding boots for children depends on the brand, quality, material, and style of the gear.
Riding boots with improved durability, higher quality materials, and advanced features are classified as mid-range and can cost between $150 and $300. Such boots are often made of better leather and provide enhanced comfort and performance. Premium kids boots can be quite expensive, with some starting at around $300 and going up to several hundred dollars or more. This is because they are made from top-quality leather, provide advanced design elements, and offer outstanding comfort, durability, and style.
What Socks to Wear for Kids Riding Boots?
Choose socks with extra cushioning in the heel and toe areas so your children stay comfortable for long rides. Moisture-wicking socks made from merino wool or synthetic fabrics help to keep feet dry and prevent blisters. Make sure the items fit properly and aren't too tight or loose to avoid discomfort.
---
Conclusion
There's a large selection of equestrian gear for kids available on the market so it's essential to find the trusted one that is comfortable and protective. After our thorough inspection, we narrowed down the list to the top 5 pairs of horse riding boots so you can choose the comfy gear for your kid made by a reputable manufacturer.