If you want to dive into equestrian activities, you should know what dressage riding is. It's a popular sport, which is recognized all over the world. Dressage horseback riding is an art of advanced horse training that shows a paramount interaction between the horseman and their companion. Let's dip into the nitty-gritty of horse dressage to broaden your equestrian horizons.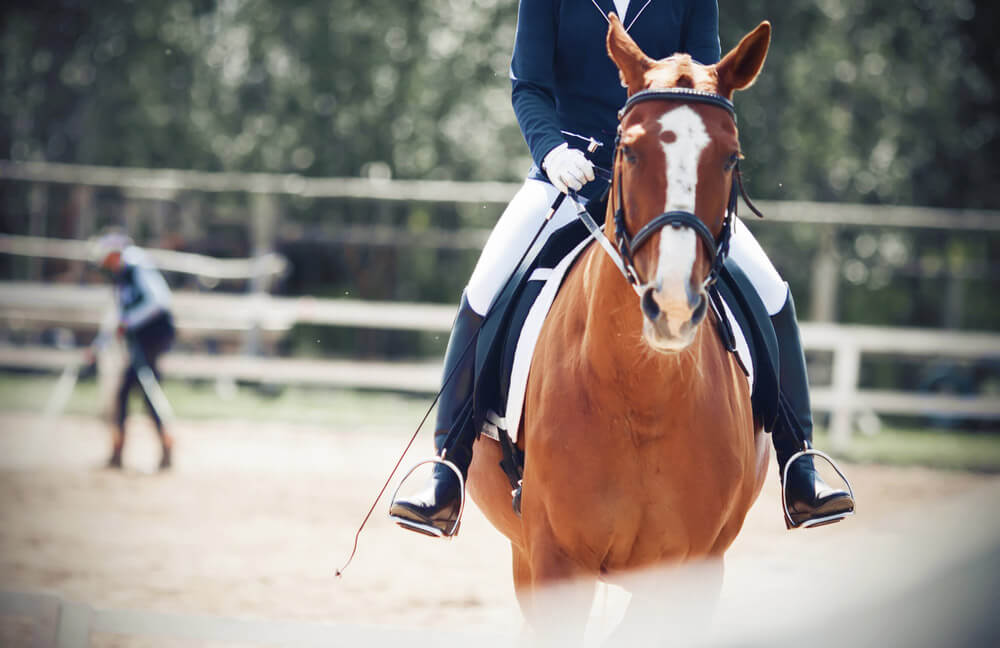 What Is Dressage in Horse Riding?
The term "dressage" is derived from the French "dresseur" and means "training". It's a well-known equestrian discipline that requires lots of exercises, both for the rider and the horse. The dressage horse riding is held at all levels, starting from beginner shows to the Olympic Games as well as the World Equestrian Games (Federation Equestre Internationale).
So what is dressage riding? The discipline aims to perform exquisite and balanced motions while keeping the tandem intact throughout the performance. A series of predetermined moves are being exhibited and tested for accuracy and smoothness. The rider and their horse have to show their confidence and attentiveness while making a little effort.
If you're into dressage horseback riding, you should master your physical training, as the discipline requires proper sitting in a horse saddle. You'll need to hone your posture, make your motions easy and smooth. With a perfect balance on the seat, you'll get your companion to perform their gaits duly. Thus, a high level of trust is in demand to slay dressage riding like a pro.
What Is a Dressage Horse?
To sum up what has been formulated before, a dressage horse is a companion that can perform various movements of different levels of difficulty. Such an equine is trained and tested in order to present its endurance, agility, confidence, sophistication, and other traits.
Besides, the horse's appearance is also judged as an integral part of the entire equine style. That's why it's better to choose a horse breed with appropriate traits of character that are suitable for dressage. Keep reading to get the finest dressage horse breeds.
Best Dressage Horse Breeds
If you're a rookie equestrian (just for now), you may be wondering what horse breed is perfect for dressage. We've got your back! Here's a list of the best dressage horse breeds for all levels.
Best Dressage Horse Breeds for Beginners
Arabian
The Arabian Horse is truly underestimated in the world of dressage riding. If trained well, this breed can nail the discipline with flying colors! Arabians are said to be extremely intelligent and durable. Great stamina is their upside, so the Arabian horse can perform in dressage for sure. Researches show that this breed is getting more popular yearly in dressage riding.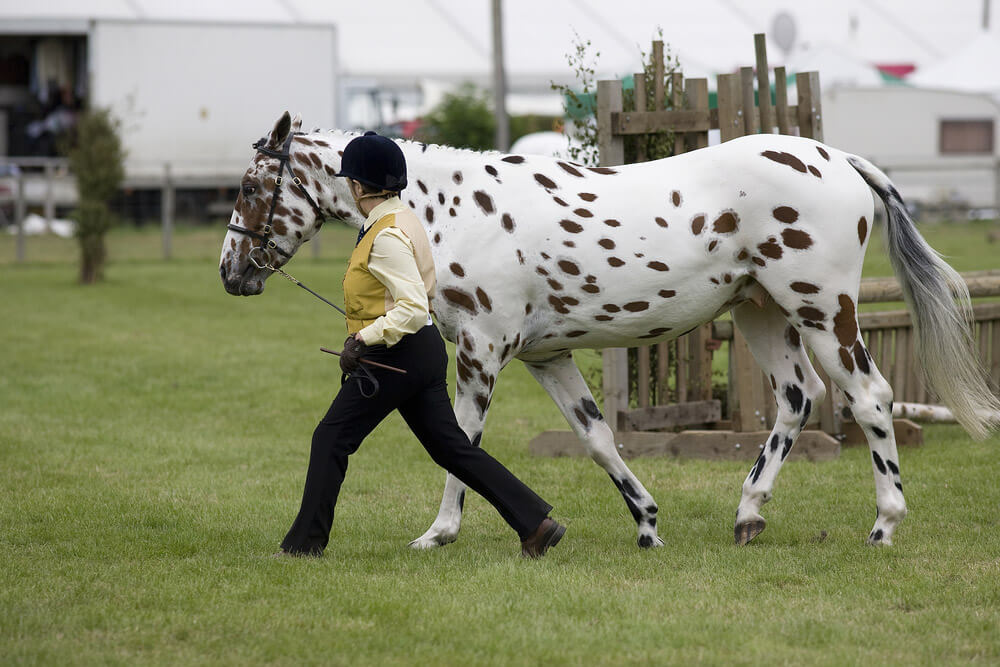 Appaloosa
The Appaloosa breed is loved by its outstanding coat pattern and ace characteristics. Such an equine is great for lower levels of dressage even though the breed is not common in this discipline. Having said that, you're likely to change your companion with the upper levels, as Appaloosa horses are hard to train to perform a prolonged series of movements.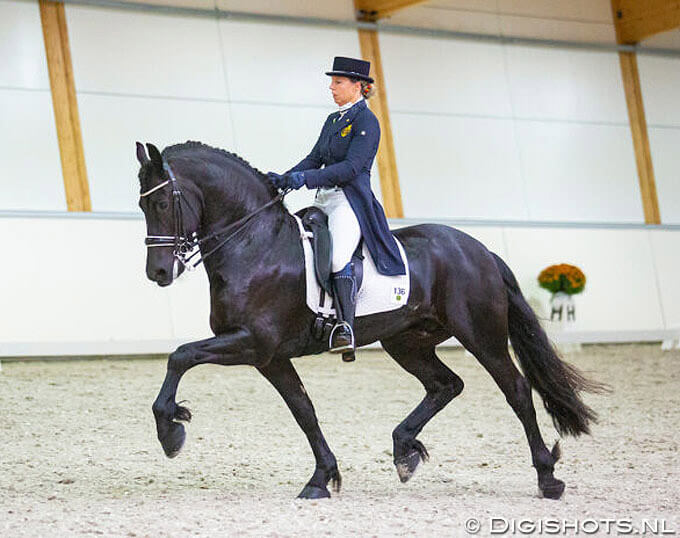 Friesian
The Friesian Horse is a marvelous breed with its high-knee style of movement. The breed stands out by its tremendous beauty having a long mane and tail. The Modern Friesian is better to choose as a dressage horse. It's characterized by longer limbs, neck, and back as well as warmblood sport horse look.
Best Dressage Horse Breeds for Intermediate Riders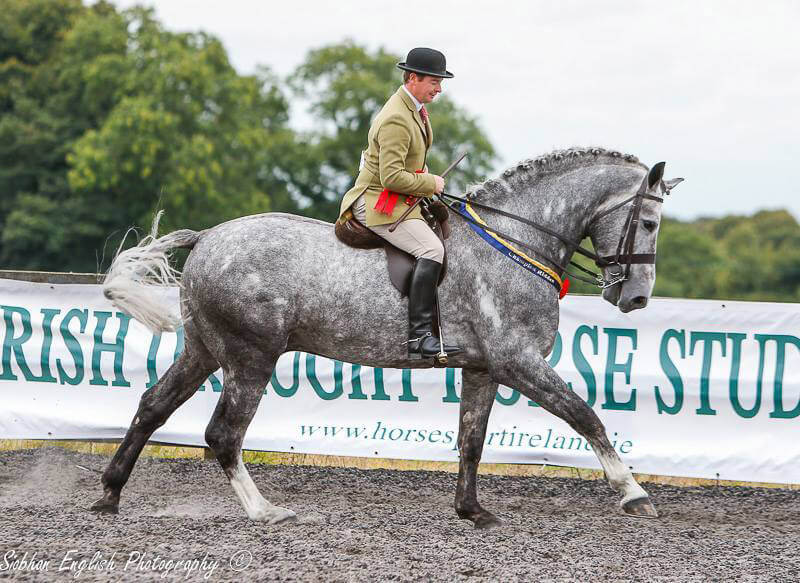 Irish Draught
The Irish Draught Horse is claimed as an athletic and sturdy equine. Thus, that's a great dressage horse breed to be considered. The breed is widely used in various equestrian sports, and dressage is not an exception. The Irish Draught is safe, reliable, and easy to learn. Great choice in order to train the winner.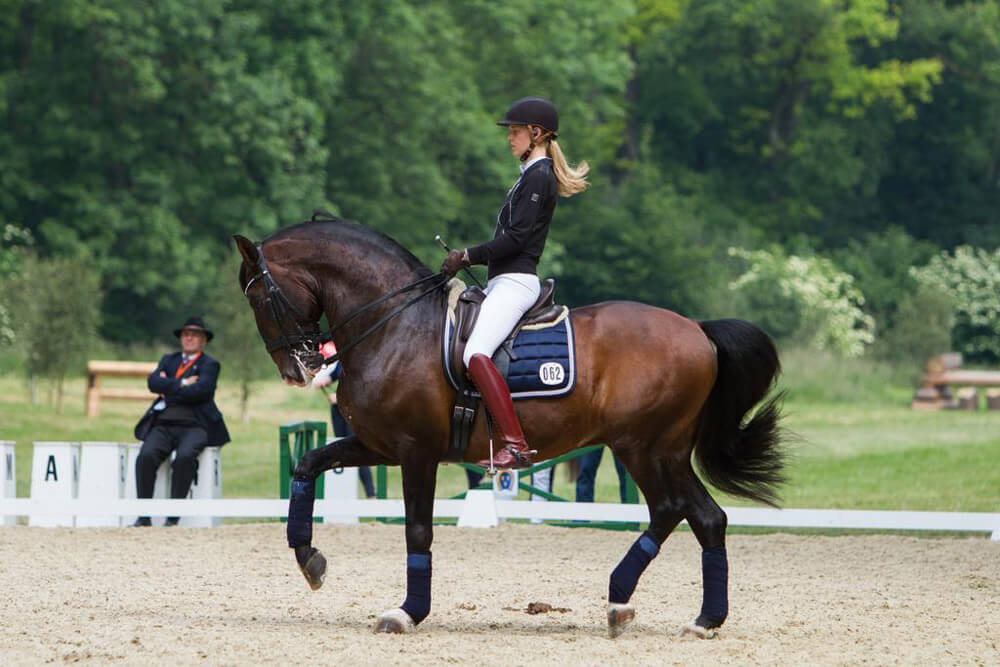 Lusitano
The Lusitano Horse is kind, enthusiastic, and friendly. Training such a companion is a great pleasure. Thus, you can't go wrong picking this breed for dressage horseback riding. Besides, the Lusitano breed can concentrate well to learn the flow of moves at any level. They are also agile and speedy, which is an ace perk.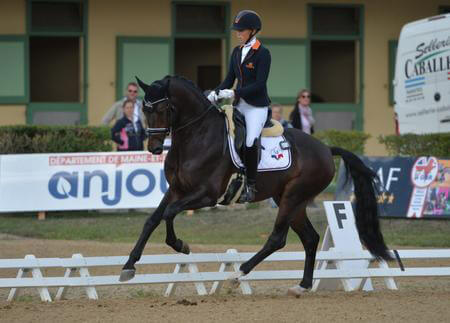 Selle Francais
The Selle Francais is a French breed that is known for its gorgeous look and elegant motion. The equine can perform balanced gaits while being highly athletic. The muscular body and lush main and tail are adorable. As for temperament, the Selle Francais horse is friendly and energetic, which is good for a dressage horse.
Best Dressage Horse Breeds for Experts
Dutch Warmblood
The Dutch Warmblood is a crossbreed of French and German blood in order to create a loyal and sturdy equine. The breed is loved by its sporty build, slender conformation, and a beautiful long tail. The Dutch Warmblood is said to be a smart and enthusiastic dressage horse.
Westphalian
The Westphalian Horse was originally used for ranch work but now it's a sport horse too. This breed implies obedient horses that are athletic to provide superb performance. Thus, such an equine is great for both novice and pro riders. Besides, it's a bold horse breed that is rather willing.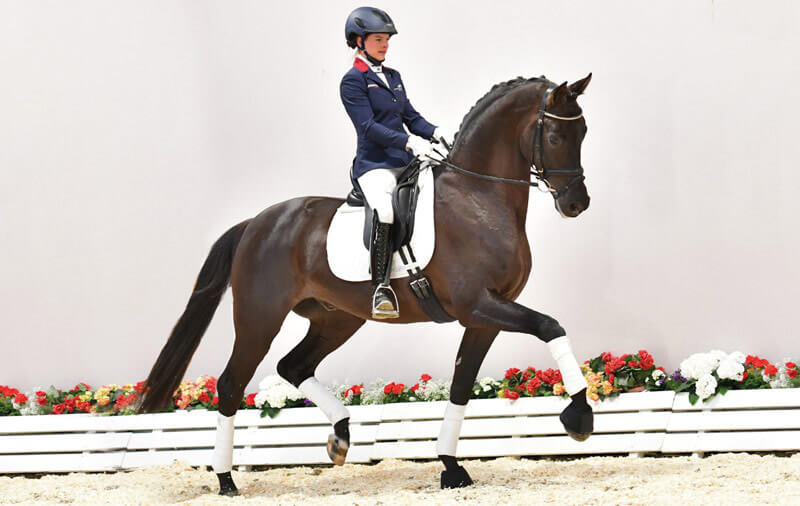 Oldenburg
The Oldenburg Horse is an excellent choice for dressage horse riding. The breed is sturdy and hardworking. In addition, the equine is developed as a sport horse. They are loved for their rhythmical and active gaits. The Oldenburg Horse is extremely talented, that's why it's used in various equestrian disciplines.
Horse Dressage Levels
Dressage riding is tested and judged on a variety of so-called levels. Each level represents the experience gained while performing different moves. The more advanced you are, the higher dressage test you can take.
The American National Levels
The Introductory Level – walk and trot only. The horse performs a trot at a distance of 20 meters.
The Training Level – medium walk, working trot, and canter. The horse performs gaits at a distance of 20 meters with a curved route.
The First Level – medium walk, medium trot and canter, trot, and canter lengthening. The equine performs trots at a distance of 10 meters and canters of 15 meters.
The Second Level – medium trot or canter, canter-walk-canter, rein back, turn on haunches.
The Third Level – medium trot or canter, extended trot and canter, sitting, shoulder-in, travers, half-pass.
The Fourth Level – medium and extended gaits, canter pirouette, changing in repetitions.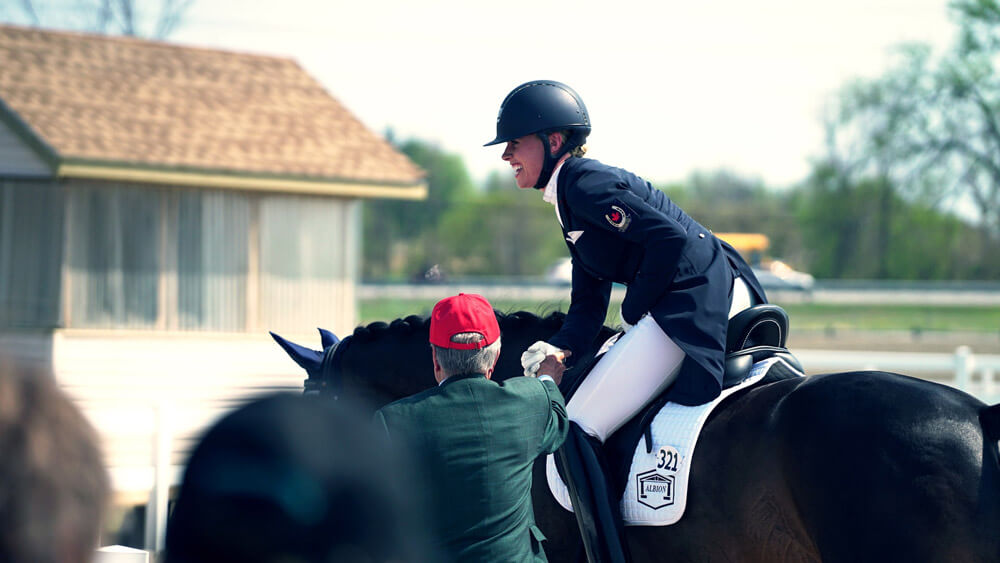 The UK Dressage Levels
Intro – walk and trot only.
Preliminary – walk, trot, canter.
Novice – lengthened trot and canter, serpentines, rein back.
Elementary – simple changes and counter canter, leg yields, stretch in canter.
Medium – shoulder in, travers in trot, half pass in trot and canter, collected walk or trot or canter, half walk pirouettes, extended walk or trot or canter.
Advanced Medium – trot and canter circle, single flying change.
Advanced – canter half circle, quarters in.
Prix St George – counter canter to true canter, half canter pirouette.
Intermediate I – full canter pirouette, two time tempi changes.
Intermediate II – one time tempi changes, piaffe, passage, flying changes after half pass.
Grand Prix – piaffe, passage, tempi changes on each stride.
Here's a Dressage Level Chart to demonstrate the difference between these dressage tests.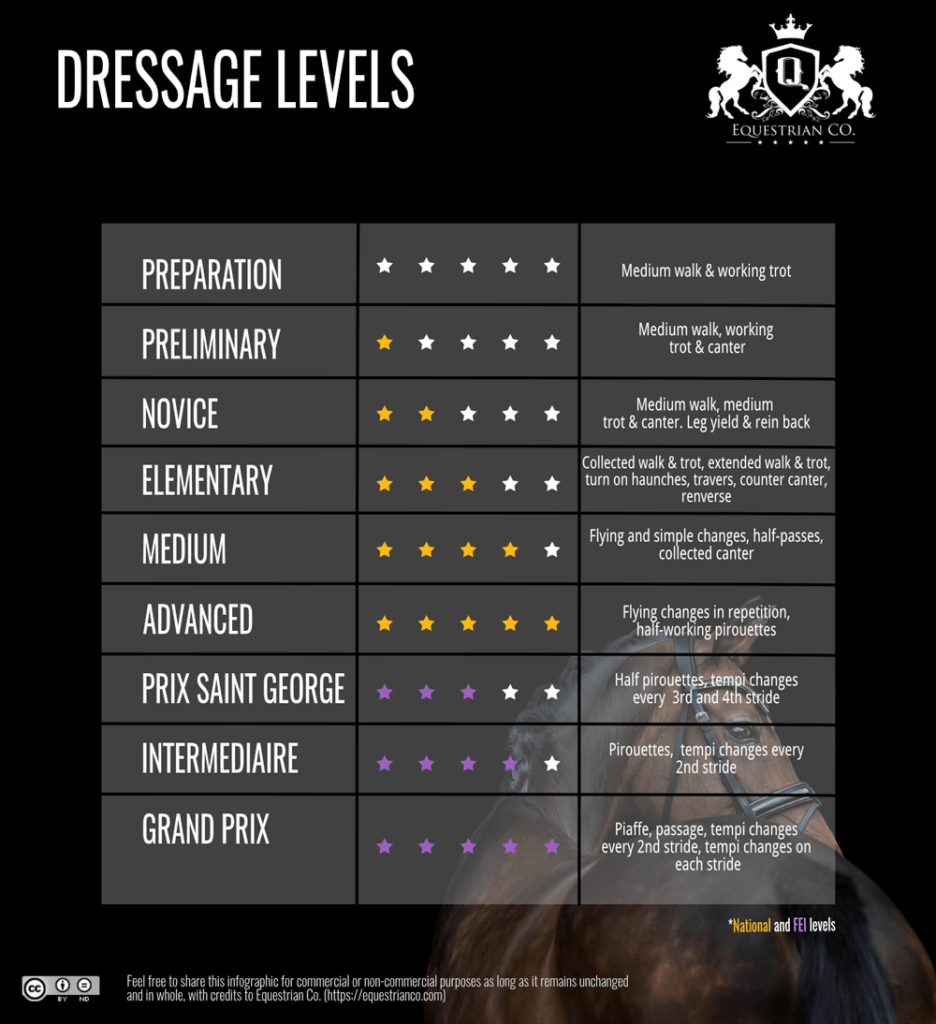 Check out this useful video provided by the Federation Equestre Internationale (FEI) that reveals the basics of the Olympic Horse Dressage.
Final Thoughts on Horse Dressage
The article answers the question "What is dressage riding?" and introduces horse dressage basics. As you can see this discipline is versatile and requires hard work from both equestrian and their companion.
If you choose the best dressage horse breed and train it duly, you'll end up getting a top-class equine to perform in dressage horse riding. Horse dressage levels are given to assess your ability to bond and balance with your horse. Wish you to breeze through all the obstacles and obtain the greatest outcomes!