The top-notch horse girth will keep the rider sit still which is crucial in equestrian sports. And after testing of 32 products, with no shadow of a doubt, we can say that the Professionals Choice Equine English Girth is definitely on the ball with its solid materials used and a stretchy design.
Professionals Choice Equine English Girth - Stretchable Horse Gear
Neoprene is quite stretchable.
The girth doesn't absorb sweat.
Stainless steel buckles for great durability.
Double-reinforced stitching so hardware is set firmly.
A horse girth (English style) or a cinch (Western style) is an integral part of an equestrian tack gear that is attached to the saddle over the horse's barrel beneath. It's a part of safety equipment that helps reduce friction and avoid wobbling.
That's why it's vital that the cinch is made from sturdy materials that will last for long. Lots of variations are available on the market nowadays so we highlighted top quality horse girths that you might like.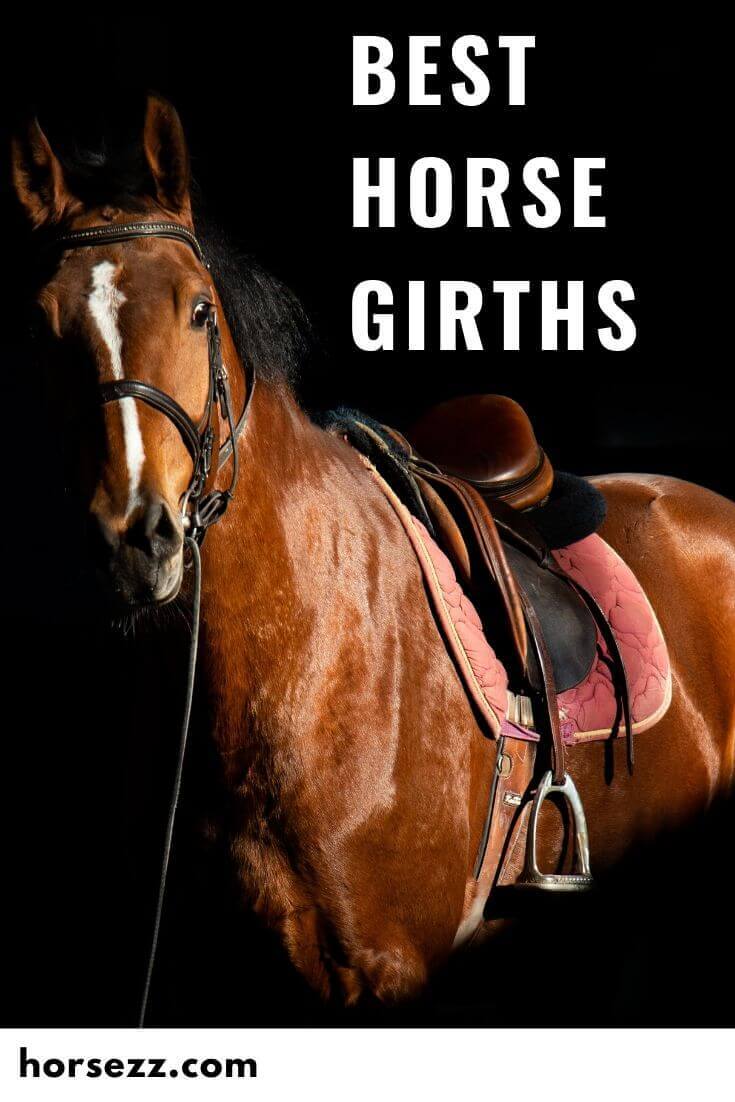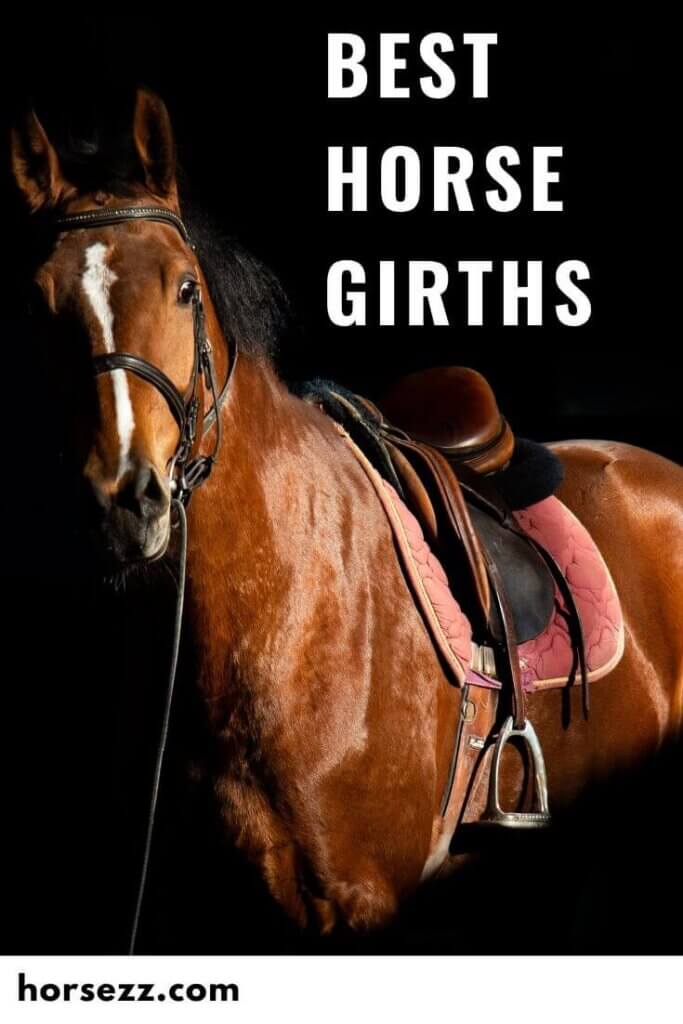 Click to Share. We Appreciate Your Help:
Top 5 Horse Girths Comparison
Rank
Image
Product
Price

1




Professionals Choice Equine English Girth

Polyester webbing
Removable liner
Double buckles

Check Price

2




Ovation Airform Girth

Synthetic leather
Double buckles
Stretch ends

Check Price

3




Weaver Leather Lined Smart Cinch

Polyester webbing
Rolling buckle
Felt lining

Check Price

4




Total Saddle Fit Western Cinch

Saddlery leather
Removable liner
Shoulder-free design

Check Price

5




Intrepid International Fleece Cinch

Nylon top
Fleece lining
Stainless steel buckles

Check Price
Best Horse Girths Detailed Review
As horse cinches may differ from each other, we included a detailed review of each of the goods to allow you to compare the products and pick the best one. Here you go!
1

Professionals Choice Equine English Girth - Stretchable Horse Gear
The Professionals Choice Equine English Girth is loved for its stretchy design as well as its easy maintaining. Double buckle design is highly durable and comfortable to tack up. Moreover, the product features double-reinforced stitching in order to enhance the solidity of the good.
The Professionals Choice Equine English Girth might bring more comfort and safety for the horseman and their horse in equestrian activities. The product is popular for its soft design and stretchy abilities. The neoprene part is thick and comfy while it's removable to be washed. The girth comes in black and brown color options and a wide sizing chart which is a plus.
2

Ovation Airform Girth - Double-Buckle Gear
The Ovation Airform Girth is a high-quality product made by a greatly reputable manufacturer of horse riding gear. This piece of safety gear will stand you in good stead forever and a day, being made with quality leather. It comes with elastic straps on one side so you can fix the cinch perfectly on your horse.
The Ovation Airform Girth is a wonderful option, especially if you have several horses to ride and you need something durable and adjustable to tighten it up. The product is easy to clean off due to the materials used. The girth comes in two color styles and a range of sizes to choose the perfect one.
3

Weaver Leather Lined Smart Cinch - Great for Trail Riding
The Weaver Leather Lined Smart Cinch is made by another well-known equestrian supply brand that offers a durable horse cinch. What a small item of safety gear but every piece is thoroughly designed. The gear comes with a unique roller design to make the process of tacking more easier for horsemen.
The Weaver Leather Lined Smart Cinch is a great choice for those who are craving for convenience. Having improved the buckle design, Weaver Leather took care of the rider's comfort for sure. The gear comes with straight and roper styles and a wide array of sizes for a better fit.
4

Total Saddle Fit Western Cinch - Shoulder-Free Tack
The Total Saddle Fit Western Cinch differs from other products by its improved design that provides more freedom of movements during the horse ride. Moreover, the gear features a detachable liner that is easy to wash and interchange. The material and thickness of the lining can be picked by a customer which is a great plus.
The Total Saddle Fit Western Cinch is a wonderfully versatile product that is quite sturdy and comfy. It's popular for its interchangeable lining design so you can easily control the thickness of the good not buying extra cinches for different purposes. The gear comes in a big range of color and size options to fit every equestrian.
The Intrepid International Fleece Cinch was made with the thought of great longevity. The product features a thick layer of fleece lining for better comfort. As well as the buckles are made with stainless steel for greater durability. Another perk is great adjustability so you can fit the cinch to various horses with no probs.
The Intrepid International Fleece Cinch would be an awesome trouble-shooter in saddle sore issues. Thanks to the thick fleece design, the gear sits conveniently and does not bother the horse. The product comes with a variety of color options as well as sizings to choose the most suitable one.
Frequently Asked Questions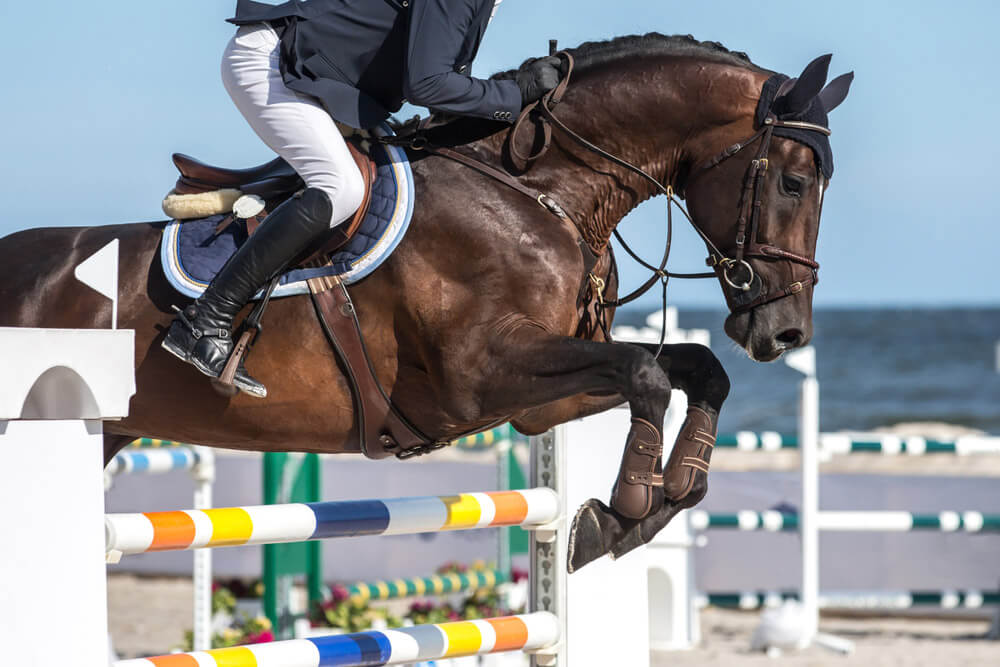 Why Do I Need a Horse Cinch?
In fact, a horse cinch (Western) or a horse girth (English) is a key element in terms of safety. When you're riding a horse, you may perform rapid moves and instant drift. That means you need to sit tight on a seat all the time.
Thus, a horse cinch is needed to fix a saddle on a horse to avoid wobbling. As a result, if the saddle is tacked still, it may prevent your companion from uncomfortable friction.
What Are the Main Styles of Horse Cinches?
Generally, saddle cinches may be divided into two types – front cinches and back cinches. The front girth is used to securely tack up a saddle on a horse's back. The back cinch is exclusively used in Western riding in order to add more safety by keeping the back of the saddle tight.
In view of design, there is a wide variety of options, including:
Straight. The most common type, it can be made with various materials and used as a front girth. Straight cinches are suitable for most equestrian disciplines.
Wide. As its name implies, this style is distinguished by the wide design in the middle of the product to add extra belly support. It's commonly used as a back girth for long-lasting riding sessions.
Roper. The style is similar to the wide cinch, but the roper girth is generally made with mohair to be set at the front and prevent the saddle from slipping off.
Contoured. Such tack has a cut-back design, going around the horse's armpits. This's made to improve flexibility and movements during active equestrian events like dressage.
What Are the Materials of Horse Girths?
As the array of cinch designs is varied, the same goes for materials used to produce this tack gear. Here's a list of the common horse girth fabrics.
Fleece – it's an extra soft material that will comfortably sit on your horse. However, it's a bit slippy, so you should tight it well to avoid wobbling.
Mohair – the fabric is claimed as a breathable one. The roper cinch is typically made with mohair. The material is not easy to clean, but it dries quickly.
Neoprene – it's loved for its gripping feature as well as easy maintenance. On the other hand, neoprene is not as breathable as other fabrics, so it could be not suitable for horses with sensitive skin.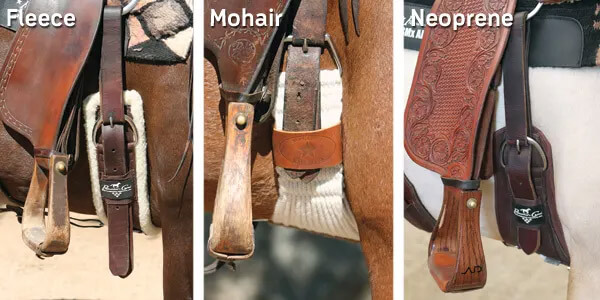 How to Choose the Right Size?
There are various methods of how to measure the proper cinch size, and here's the most popular one. Before you start, it's recommended to tie up your horse to a stall, so he stays still.
First, tack up a saddle on your horse and take a soft measuring tape. Start taking measurements from a D-ring on one side of the saddle and go underneath the belly, where the girth is usually placed. You may need a helping hand to finish measuring on the other side of the saddle, reaching another D-ring. After you get the result, you have to subtract 16 inches, and here's your total.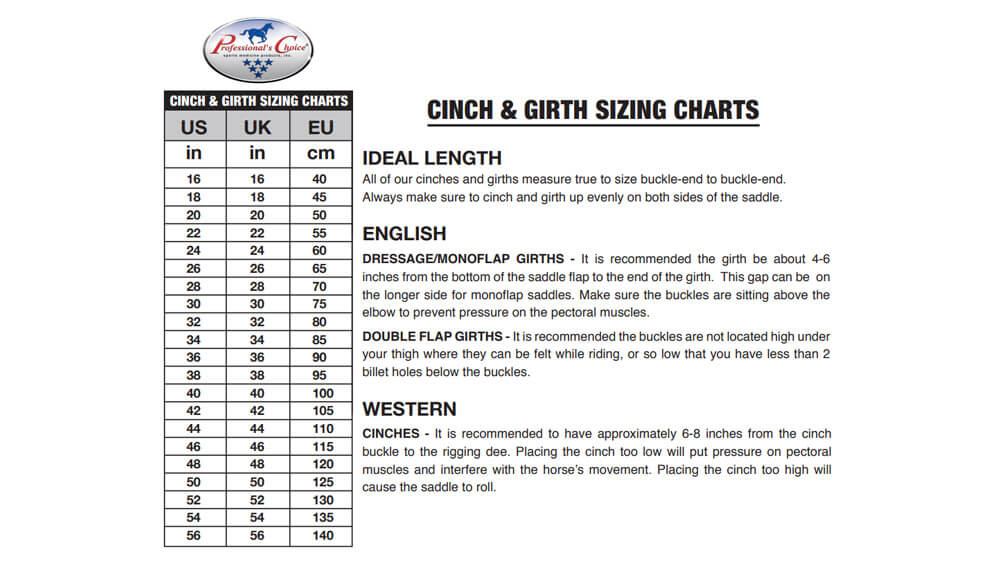 If you're planning to saddle your horse, don't forget about a horse girth or a cinch depending on your style of riding. This will protect you from slipping off while keeping your companion comfy to avoid saddle sore. There are dozens of girth styles available, with a high range of materials used, gear length and width, buckle design, stretchability, and other features. So you're able to pick a piece of safety equipment according to your preferences and purposes.
In addition, don't forget to check out our winner – Professionals Choice Equine English Girth – that exhibits its great durability and adjustability features. When a solid horse saddle and a cinch is already purchased, one substantial equestrian gear should be considered as well, a saddle pad. This is another item that keeps a saddle tight not to slip off when you're on.
Image Source: horseandrider.com, profchoice.com.