Choosing the best helmet for young riders is not just about style but about keeping your child safe. Whether they're exploring trail riding or participating in thrilling competitions, ensuring the best protection is imperative. In this comprehensive guide, we reveal the top five horse riding helmets on the market designed specifically for young equestrians.
Selecting the appropriate kid's helmet for horse riding can make all the difference between an enjoyable gallop and a potentially catastrophic accident. Parents should recognize the significant role a well-chosen helmet plays in protecting their children from the potential risk of injury while they explore the world of horseback riding.
Horse riding helmets reduce the risk of head injuries by up to 70%. And that's why it is so important to choose the proper headgear for youth and kids. The gear must be certified and come with safety features like foam padding, shock-absorbing, and harness.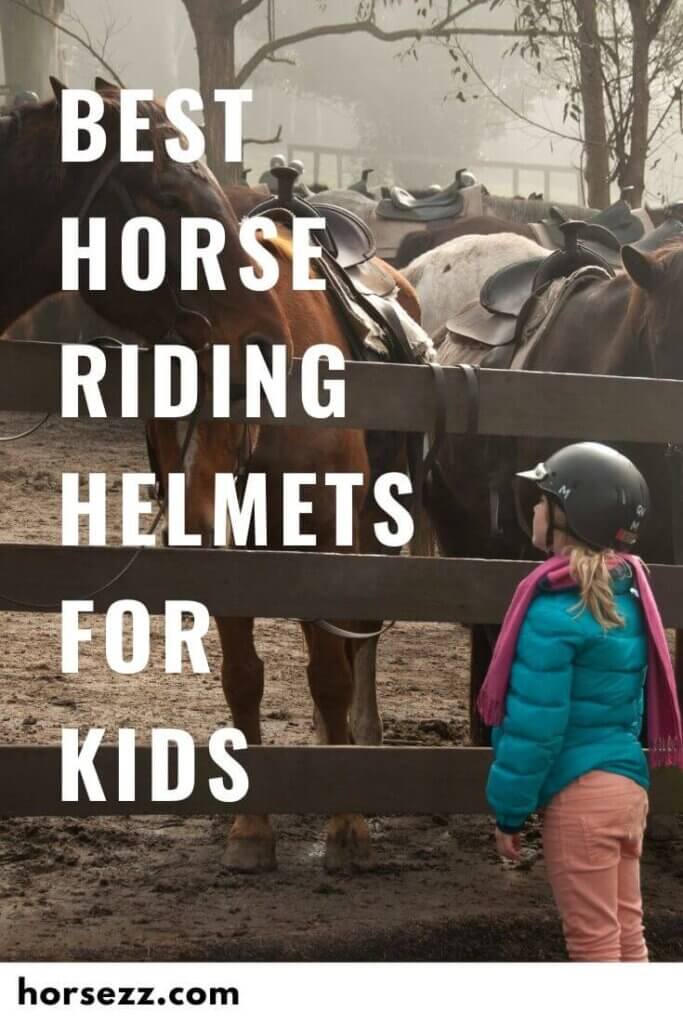 5 Best Horse Riding Helmets for Kids Detailed Review
From advanced technology to comfort and style, we have carefully selected the best kids helmets so your youngsters can embark on their equestrian journeys with confidence.
1. Troxel Spirit Horseback Riding Helmet – Sturdy Adjustable Helmet
The Troxel Spirit Helmet is loved for its flexible features and colorful styles. It has a dial-fit system, so you can fit the kid's helmet by using the twist dial and chin straps. The Troxel Spirit Performance Helmet has mesh apertures on the helmet to provide better ventilation. Troxel helmets are ASTM-SEI certified, so it's safe for children. Lots of colors and sizes are provided, thus both girls and boys will definitely find their favorite style.
Key Features
Low profile helmet design.
Removable washable headliner.
Adjustable headgear to fit the kid's head ideally.
It comes with a flexible peak.
The helmet fits ASTM-SEI certification.
A big size chart fits both adults and kids.
Bottom Line
The Troxel Spirit Riding Helmet could be a stylish protective gear for young riders. We highly recommend this headgear for its sturdy full-coverage design and adjustable features. The lining inside the helmet ensures firm head protection while on the go. The ventilation option makes it super cozy to wear during long rides.
Pros
Great for riding and jumping
Meet all safety requirements
Adjustable dial and chin straps
Cons
---
2. TuffRider Starter Basic Horse Riding Helmet – Great for Beginners
The Tuffrider Starter Horse Riding Helmet comes with a thick padded design. There are mesh vents at the front and back of the helmet to keep your kids cool while riding a horse. This TuffRider helmet is perfect for riding lessons, trail riding, and camp packages. The ABS outer shell improves protection to avoid severe head injuries. There's a soft liner that ca be easily removed to let your child feel comfy wear. The dial-fit mechanism is easy to adjust.
Key Features
The ABS shell provides better protection.
Airflow vents that keep airflow all over the helmet.
Adjustable dial, straps, and buckles to fit ideally.
The CoolMax lining is easily washable.
SEI-certified helmet.
Bottom Line
The TuffRider Starter Helmet is an ideal beginner's horseback riding helmet for kids and adults. This SEI-certified helmet is lightweight and sits snugly. An adjustable strap provides comfy wear for a wide range of head shape options.
Pros
Quite durable and sturdy
Mesh vent slots
CoolMax lining
Cons
Poor sizing chart
Vents should be improved
---
3. Champion Junior X-Air Helmet – Sparkling English Helmet
The Champion Junior headgear is a premium horse riding helmet that prioritizes maximum protection, comfort, and style. The product is loved for its eye-catching design featuring a glitter center panel. With the quick-release buckle system, young riders can easily take off this children's horse riding helmet on their own.
Key Features
The helmet comes with a lightweight injection molded ABS shell that solidly protects from a serious head injury.
The Champion Dazzle Plus helmet is certified to ASTM / SEI and meets the Quick release buckle Standard.
This headgear features vents that allow it to regulate airflow and mitigates the risk of overheating.
There are soft 4-point padded harnesses along with the adjustable crown.
The kid's helmet can be customized to securely fit the child's head size, reducing the risk of discomfort during riding.
Bottom Line
Our team discovered through using this product that the Champion Junior X-Air Dazzle Plus helmet is an excellent option for young dressage riders. With its adherence to the most recent safety regulations, superior ventilation system, and fashionable design, it is the right horse riding helmet for competitions and shows. The customizable fit and lightweight structure enhance the overall riding experience and help your child fully enjoy the pleasure of horse riding.
Pros
Certified English helmet
Effective ventilation system
Perfect for dressage
Cons
Poor buckle
Limited color options
---
4. Ovation Metallic Riding Helmet – Great Lightweight Headgear
The Ovation Metallic Riding Helmet is loved for its metallic shell and lightweight design. The adjustable dial mechanism provides comfortable wearing. The Ovation Deluxe Schooler helmet gives an opportunity to fit most children's heads using the same gear. It comes with high-flow vents to stay cool for a long ride.
Key Features
Lightweight low-profile helmet with a removable visor that is sleek and sturdy.
Rubberized metallic or matte style is an eye-catcher.
The exclusive ykk adjuster clip with the dialfit system provides flexibility in the helmet size.
Great ventilation and sweat absorption for better comfort.
A wide range of sizes to fit young riders of all ages.
ASTM-SEI certified helmet.
Bottom Line
The Ovation Metallic Riding Helmet is a top-notch option if you're searching for protective gear that is quite durable and lightweight. The product is highly adjustable with a removable liner and visor that can be washed after rough training. This Ovation riding helmet for your child will definitely last for long.
Pros
Great for schooling and showing
Good for a round-shaped head
Lightweight vivid color design
Cons
Weak visor
The finish may bubble up
---
5. Tipperary Equestrian Riding Helmet – Helmet with Improved Ventilation
The Tipperary Horse Riding Helmet is a classic helmet with a modern twist. It's made from high-quality materials that make it lightweight but also durable. The helmet has an improved ventilation system to keep sweaty heads cool during hot summer days. The ABS plastic shell provides a shock-absorbing feature while the inner foam disperses an impact's energy.
Key Features
The ABS material is used for better protection.
11 mesh vents for improved ventilation.
Adjustable dial, straps, and buckles to fit perfectly.
Removable and washable liner for easy maintenance.
ASTM-SEI certified helmet.
Bottom Line
The Tipperary Helmet is a well-built helmet for a child and an adult. The protective feature is improved by the steel mesh and ABS shell. The headliner is washable and moisture-resistant. This headgear is ideal for all types of horse riding styles.
Pros
Super durable and sturdy
Improved mesh vents
EPS foam liner
Cons
Could be a bit heavy
Poor sizing chart
---
Horseback Riding Helmets for Youth & Kids Comparison
Rank
Image
Product
Price

1




Troxel Spirit Horseback Riding Helmet

Low-profile design
Adjustable dial
Washable headliner

Check Price

2




TuffRider Starter Basic Horse Riding Helmet

Lightweight design
Rubberized finish
Adjusting clip and buckle

Check Price

3




Champion Junior X-Air Helmet

Durable synthetic suede
Light ABS shell
Breathable mesh vents

Check Price

4




Ovation Metallic Riding Helmet

Slim profile
Dial-fit system
Classy design

Check Price

5




Tipperary Equestrian Riding Helmet

High-density ABS material
Thick inner padding
Stainless steel mesh

Check Price
---
How to Choose the Best Horse Riding Helmet for Kids and Youth?
Picking the proper helmet for kids may be challenging. That's why we made a checklist that shows crucial aspects you should pay attention to.
The properly fitting helmet suits ideally. Look for the proper head size by taking measurements as required. Most helmet manufacturers provide gear that comes in sizes to suit kids of all ages. An adjuster clip is a good perk to keep the snug fit.
Make sure the helmet is made with durable materials. Check the product's description before purchasing the goods. The outer shell made with plastic or fiberglass has excellent impact absorption. Low-profile equestrian helmets have less padding to sit tightly. The inner foam should be thick-padded for better cushioning and hence, protection. The washable liner that can be easily detached makes the gear easy to maintain.
Look for riding gear that comes with vents to keep your child cool when riding. The child helmet that comes with mesh-covered vents fosters cooling airflow through the headgear. So your child can enjoy riding in any weather conditions. A schooler helmet has such a feature as well.
A helmet for children has to be firm and lightweight. Helmet manufacturers are improving their technology to make toddler equipment more convenient to wear. Bulky horse riding helmets are not appropriate, the gear should provide a snug fit.
Look for certified horse riding helmets for kids. Horseback riding gear that meets ASTM (American Society for Testing and Materials) or SEI (Safety Equipment Institute) standards is a good option. These horse riding helmet certifications indicate that the product has passed safety tests.
Make sure the helmet's shell has a shock-absorbing feature. This means that in case of a fall, the horse riding helmet will protect your child's head from severe injuries.
The horseback riding helmet for youth must have a moisture-wicking lining. This horse-riding gear feature ensures your child won't sweat excessively while wearing a helmet.
Choose a horseback riding helmet with removable breakaway visors. This horse riding gear feature protects your child's eyes from harmful UV rays.
---
How to Pick The Right Size of a Helmet
If you'd like to purchase a helmet for your kids online, you have to be sure that the size is accurate. We recommend using the size chart that is usually available on the website of the manufacturer, which brand you'd like to order.
To pick the right helmet, just take measurements of your kid's head using a regular measuring tape and following the manufacturer's instructions. Typically kids' horse riding helmets have adjustable designs, so there's a great chance of choosing the right helmet.
---
Frequently Asked Questions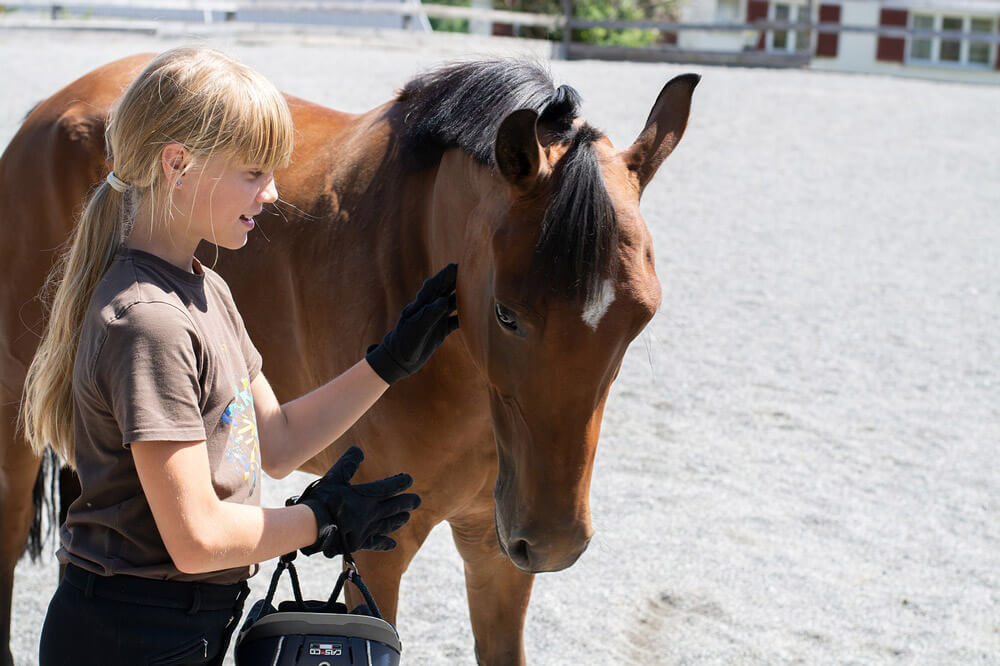 How Much Does a Horse Riding Helmet for Kids Cost?
A kid's helmet for beginners costs approximately from $30 to $50. These helmets generally meet standard safety requirements and offer the necessary protection. The price of a children's horse riding helmet can differ based on the brand, quality, features, and store.
Mid-range helmets, priced between $50 and $100, come with added features and enhanced comfort. Such a helmet also provides improved ventilation, adjustable fit systems, and appealing designs. For top-notch helmets featuring cutting-edge safety technology, premium materials, and fashionable designs, the cost can exceed $100, reaching as high as $200 or even more.
Do My Kids Need a Horse Riding Helmet?
Horse riding equipment is designed to provide both safety and comfort to the rider, especially when it comes to children. A horse riding helmet is not an exception. The headgear is designed in order to protect your children's skull and brain from serious traumas in case of falling off a horse. In addition, a solid riding helmet has a shock-absorbing feature that helps reduce the impact on the kid's head. Properly ventilated headgear guarantees a comfy ride during a hot season.
What Is the Best Horse Riding Helmet for Kids?
The best horse riding helmet for kids is the one that meets your child's specific needs. It must be safe, durable, and comfortable to wear. It should also have a proper fit to ensure that the helmet will not slip off during horse riding. Make sure the headgear fits the style of riding and the riding discipline.
How to Know if the Helmet Is Safe for Kids?
The horse riding helmet for kids must meet some safety standards set by the authorized organization. The safety helmet should also bear the label of one of these organizations:
American Society for Testing and Materials (ASTM)
International Standards Organization (ISO)
Sheltered English Immersion (SEI)
European Standard (EN) or similar
Look for the certification sticker inside the horse riding helmet. Do not buy a horseback riding helmet that does not have any certification sticker.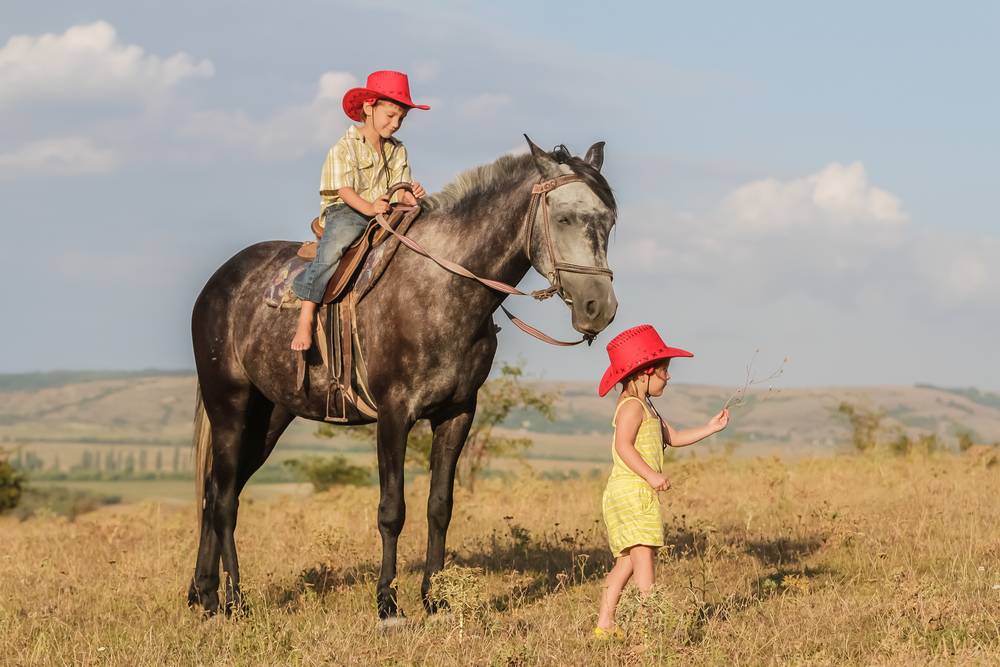 Are There Western-Style Helmets for Kids?
In fact, horse riding is deemed to be divided into two styles – British and Western. Check out our article on how to differ these two types of horse riding.
Traditionally, western riders wear a cowboy / cowgirl hat, not a helmet. This is a substantial part of their classy riding apparel. But nowadays, you can also find Western protective riding headgear for your kids. It comes with a small hat size to provide a snug fit for young riders.
Can My Kid Wear a Bike Helmet for Horse Riding?
Actually, it's not recommended to use a bike helmet for horse riding as it's designed especially for riding a bike. The main reason is that the garment for horse riding is deeper and covers more areas of your kid's head, including their forehead and the back of the head. Unlike bike helmets, horse riding headgear is ASTM-certified and / or SEI-certified, which means they are safe for equestrian sports and horse riding.
Can My Child Wear a Ponytail with a Helmet?
The high pony is prohibited while wearing a riding helmet for kids as it can compromise the effectiveness of the helmet and its proper fit. Some helmet models allow wearing low pony but make sure the headgear fits securely and snugly, leaving no gaps between the helmet and the skull. If a ponytail or hairstyle creates uneven pressure or spaces between the head and the gear, it can diminish the helmet's capacity to absorb impact and provide head protection.
To guarantee optimal protection, the child's hair must be styled in a manner that ensures a comfortable and secure fit of the helmet. For individuals with long hair, a suitable alternative would be to wear a low bun or a braid that rests flat against the head. While choosing a helmet, look for models that are equipped with adaptable systems or detachable pads. These add-ons can accommodate diverse hairstyles while upholding a proper fit.
Should I Buy a Used Riding Helmet for My Kid?
Purchasing a used helmet for your child is not advisable due to safety concerns. Older helmets may not meet safety standards, and their history is often unknown, which could compromise their effectiveness. A solid helmet must fit properly and provide comfort in order to offer adequate protection. A used helmet may not fit well or may have worn-out components. Investing in a new riding helmet ensures that your child's head is well-protected with the latest safety features and comes with a warranty.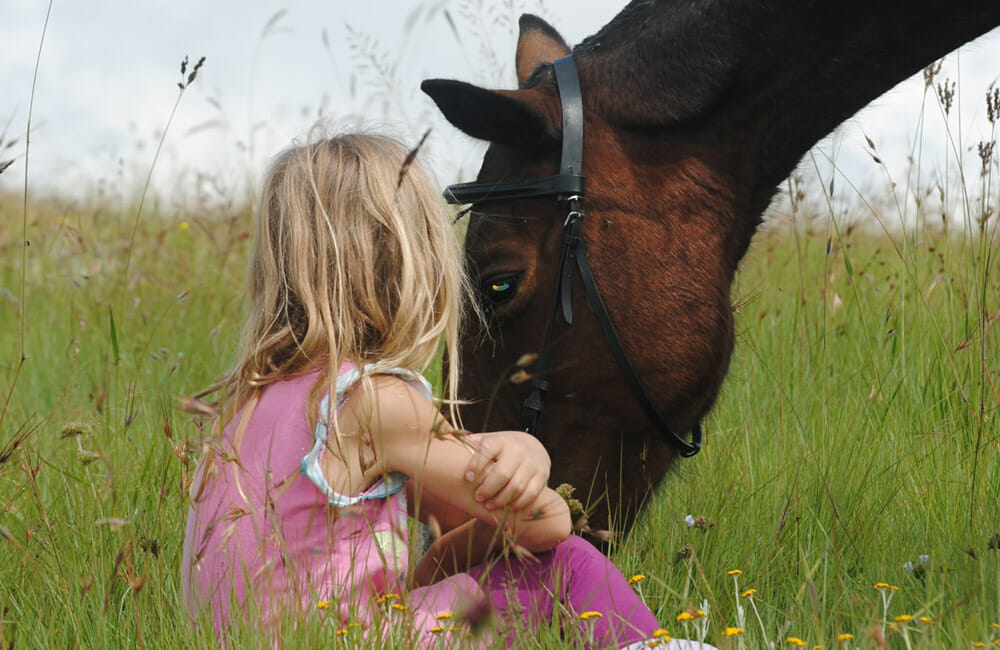 Can My Toddler Ride a Horse?
There're no strict guidelines about what age you start riding. This means a toddler can ride a horse if parents feel they're ready. However, some riding schools may have age restrictions. You may expect children are allowed to ride at the age of 5 or older. Thus, contact the office before enrolling your child in classes.
A young rider can be offered to start from a pony or a miniature horse. Make sure your kid feels safe and comfy sitting on a companion. Safety equipment is a must on the like of a schooler helmet and riding boots.
It's up to the parent to decide whether their child is ready to hop on a saddle. A professional riding instructor will help your toddler with horse selection and skill development. The expert has to consider if the kid can obey the rules and follow instructions. The sense of balance and coordination of your toddler is also examined. And of course, whether your child is truly interested in riding a horse.
Parents can be present in the lessons to watch their children and cheer them up.
Can I Ride a Horse with My Child?
Some parents may consider starting riding by taking their child on the horse. Actually, it's not recommended to ride with a toddler, whether it's a pleasure riding or training. There's a high risk of getting hurt in case of rapid unexpected moves.
If you decide to take your kid with you, you should take care of riding gear then. Riding helmets, safety vests, riding boots, and more must be on both of you.
When Should I Replace My Child's Horse Riding Helmet?
You should replace your kid's horse riding helmet every three-five years or sooner if it sustains any damage. Also, don't forget that horse riding helmets for kids and youth sizes are different. If your kid had a growth spurt, you should replace the helmet as well.
---
Conclusion
Choosing the most comfortable equestrian helmet for kids could be challenging, that's why we did thorough research and tested dozens of the most popular products. No doubt, the horse riding helmet must be well-fitted, durable, and meet safety standards. The gear must come in small enough sizing to fit the head of a young rider.
No matter which horse riding helmet you choose, just remember that safety takes the highest priority. Thanks to professional equestrian gear manufacturers, we're able to choose a convenient child's helmet according to our needs, requirements, willings, and style. Both kids and adults sizes of riding helmets are available to wear a solid helmet when riding horses. Ride safe!