After a number of durability tests of 24 kids riding helmets, we concluded that the Troxel Spirit Horseback Riding Helmet would be the best protection of your child's head due to its firm design, thick padding, and adjustment features.
When our children take up doing sports, we have to be very careful and pay attention to the kids' safety gear, and head protection is not an exception. Moreover, it's a vital piece of equestrian equipment, especially for beginners.
In fact, horse riding helmets reduce the risk of severe head injuries so not wearing them could lead to serious health issues and, as a result, make your child give up the sport. That's why we've chosen extremely durable, solid, trusted horse riding helmets for kids.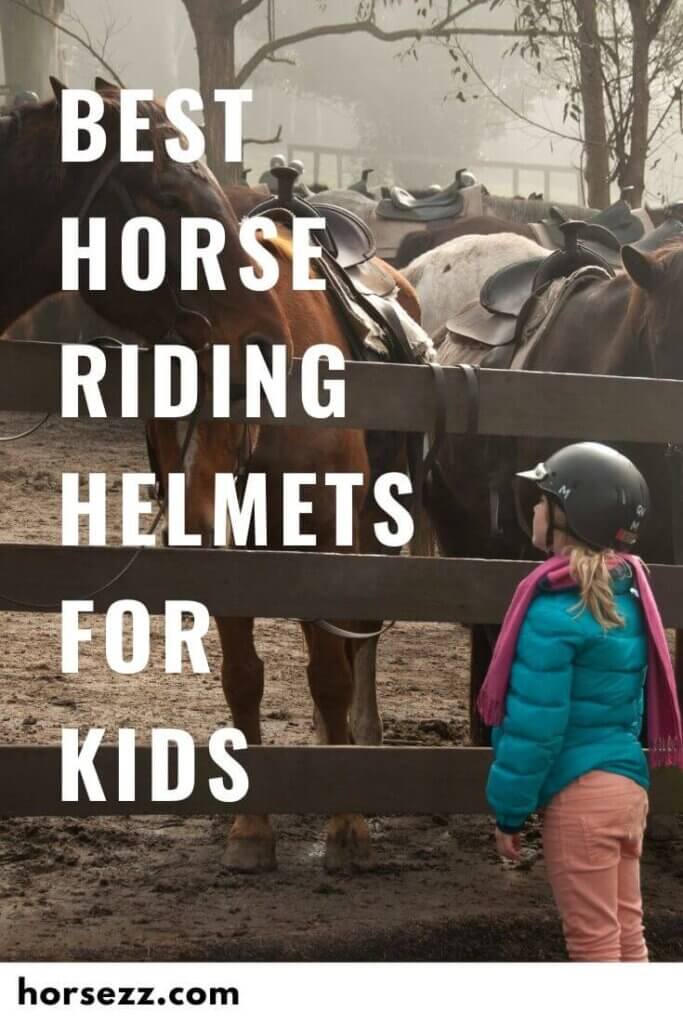 Top 5 Horse Riding Helmets Comparison
Rank
Image
Product
Price

1




Troxel Spirit Horseback Riding Helmet

Low-profile design
Adjustable dial
Washable headliner

Check Price

2




Troxel Legacy Schooling

Slim profile
Dial-fit system
Classy design

Check Price

3




Ovation Metallic Riding Helmet

Lightweight design
Rubberized finish
Adjusting clip and buckle

Check Price

4




IRH Equi-Lite Helmet

3-point harness design
Dial-fit system
9 cooling vents

Check Price

5




TuffRider Starter Horse Riding Helmet

High-density ABS material
Thick inner padding
Stainless steel mesh

Check Price
Best Horse Riding Helmets for Kids Detailed Review
Check out the list of the top 5 equestrian helmets for kids that are certified as safety is the highest priority with regard to the kids' well-being. Furthermore, modern manufacturers provide their customers with trendy helmet designs suitable for girls and boys so you could mix business with pleasure. What a win-win solution!
1 Troxel Spirit Horseback Riding Helmet – Sturdy Adjustable Helmet
The Troxel Spirit Riding Helmet is known for its flexible features and colorful styles. It has a dial-fit system so you could fit the helmet by using the twist dial and chin straps. It comes with mesh apertures on the helmet to provide better ventilation. The helmet Troxel is ASTM-SEI certified so it's been protection tested. Lots of colors and sizes are provided, thus both girls and boys will definitely find their style as well as their parents.
Key Features
Low profile helmet design.
Removable washable padding.
Adjustable feature to fit a child ideally.
It comes with a flexible peak.
ASTM-SEI certified.
A big size chart fits both adults and kids.
Bottom Line
The Troxel Spirit Riding Helmet could be a great protective gear for young equestrian riders. It's highly valuable for its sturdy full-coverage design and adjustable features. The ventilation option makes it super cozy to wear during long rides.
Pros
Great for riding and jumping
Meet all safety requirements
Adjustable dial and chin straps
Cons
2 Troxel Legacy Schooling – Slim Profile Helmet
Another fascinating product by Troxel is the Legacy Schooling model that features a sleek narrow profile that is perfect for children and teens small head sizes. It comes with a dial-fit system on the back that allows you to tighten it or release while your child grows up. The headliner inside is removable and washable.
Key Features
Narrow profile helmet design.
Dial-fit adjustable system.
The flip-fold inside headliner.
Removable washable headliner.
ASTM-SEI certified product.
Bottom Line
The Troxel Legacy Schooling Helmet is a perfect choice for kids and teens due to its narrow profile design. The helmet is quite adjustable because of the dial-fit mechanism on the back of the helmet. And the horse print will blow you away!
Pros
Perfect for small kids
Good for schooling
Classy lightweight design
Cons
Not good for a round-shaped head
The visor might fall off over time
3 Ovation Metallic Riding Helmet – Great Lightweight Gear
The Ovation Metallic Riding Helmet is popular for its metallic finish design and a lightweight feature. The adjustable dial mechanism improves comfort and gives an opportunity to fit a range of sizes using the same gear. It comes with high flow vents to stay cool for a long ride.
Key Features
Low profile helmet with a removable visor that is sleek and sturdy.
Rubberized metallic style is an eye-catcher.
The exclusive ykk adjuster clip provides the flexibility of the helmet size.
Great ventilation and sweat absorption for better comfort.
A wide range of sizes to fit the riders of all ages.
ASTM-SEI certified gear.
Bottom Line
The Ovation Metallic Riding Helmet is a great option if you're searching for a protective gear that is quite durable and lightweight. The product is highly adjustable with a removable and washable liner and visor. This helmet for children will definitely last for long.
Pros
Great for schooling and showing
Sturdy and protective
Lightweight vivid color design
Cons
The visor might fall off over time
The finish could bubble up
4 IRH Equi-Lite Helmet – Highly Vented Helmet
The International Riding Helmets is a trusted brand that produces high-quality durable gear with a big range of colors and sizes. The IRH Equi-Lite Helmet is not an exception, it features a dial-fit system that helps your kid fit the helmet perfectly. It comes with a 3-point harness and a buckle to put on / off the product easily. The helmet is greatly ventilated because of the numerous cooling vents all over the gear.
Key Features
Dial-fit system to tighten and loosen properly.
The 3-point harness and a release buckle are easy to on / off.
The inner padding is super soft and protective.
5 front and 4 rear apertures for maximum ventilation.
ASTM-SEI and CE certified.
Bottom Line
The IRH Equi-Lite Helmet is good protective gear for kids of all ages, beginners and higher. The solid design is quite practical and comfortable due to its dual-fit mechanism and 3-point harness. Another perk is that the product meets American and European standards so it's been thoroughly tested.
Pros
Perfect for schooling and trail riding
The helmet holds tight
Great for hot weather
Cons
The color might be lighter a bit
The padding should be improved
5 TuffRider Starter Horse Riding Helmet – Tough Equestrian Gear
The TuffRider Starter Horse Riding Helmet is well-known for its solid and thick padded design. The vent apertures are covered with stainless steel mesh for better durability. The ABS outer shell design improves protection to avoid injuries. The dial-fit mechanism on the back is easy to adjust.
Key Features
The ABS material is used for better protection.
Airflow vents with stainless steel mesh.
Adjustable dial, straps, and buckles to fit perfectly.
The lining is removable and washable.
ASTM-SEI certified helmet.
Bottom Line
The TuffRider Starter Helmet could be a great protective equestrian gear for a child and an adult. The protective feature is improved by the steel mesh and ABS coverage. The visor is detachable as well as the headliner that is also washable and moisture resistant.
Pros
Super durable and sturdy
Improved vent slots
Padded retention system
Cons
Could be a bit heavy
Poor sizing chart
Frequently Asked Questions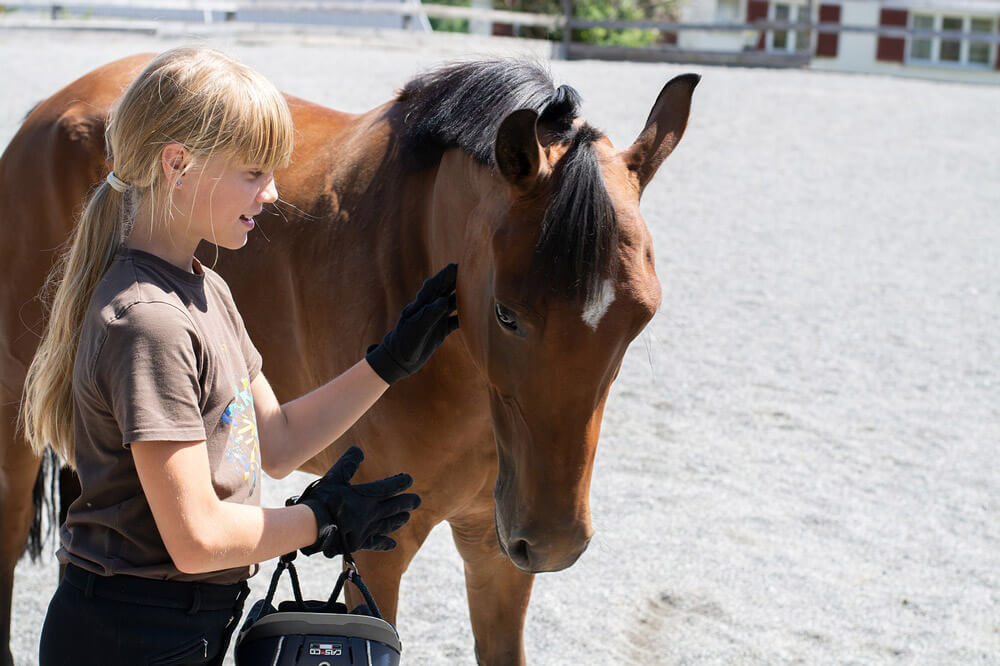 Do My Kids Need a Horse Riding Helmet?
Horse riding equipment is designed to provide both safety and comfort to the rider, especially when it comes to children. A horse riding helmet is not an exception. The headgear is designed in order to protect your children's skull and brain from serious traumas in case of falling off a horse. In addition, a solid riding helmet has a shock-absorbing feature that helps reduce the impact on the kid's head.
How to Pick a Size of a Helmet?
If you'd like to purchase a helmet for your kids online, you have to be sure that the size is accurate. We recommend using the size chart that is usually available on the web site of the manufacturer, which brand you'd like to order.
To pick the right helmet, just take measurements of your kid's head using a regular measuring tape and following the manufacturer's instructions. Typically kids' horse riding helmets have adjustable design so there's a great chance of choosing the right helmet.
Are There Western-Style Helmets for Kids?
In fact, horse riding is deemed to be divided into two styles – British and Western. Check out our article on how to differ these two types of horse riding.
Traditionally, western riders wear a cowboy / cowgirl hat, not a helmet. This is a substantial part of their classy riding apparel. But nowadays you can also find a Western protective riding headgear for your kids. It comes with a small hat size to provide a snug fit for young riders.
Can My Kid Wear a Bike Helmet for Horse Riding?
Actually, it's not recommended to use a bike helmet for horse riding as it's designed especially for riding a bike. The main reason is that the garment for horse riding is deeper and covers more areas of your kid's head including their forehead and the back of the head. Unlike bike helmets, horse riding headgear is ASTM-certified and / or SEI-certified which means they are safe for equestrian sports and horse riding.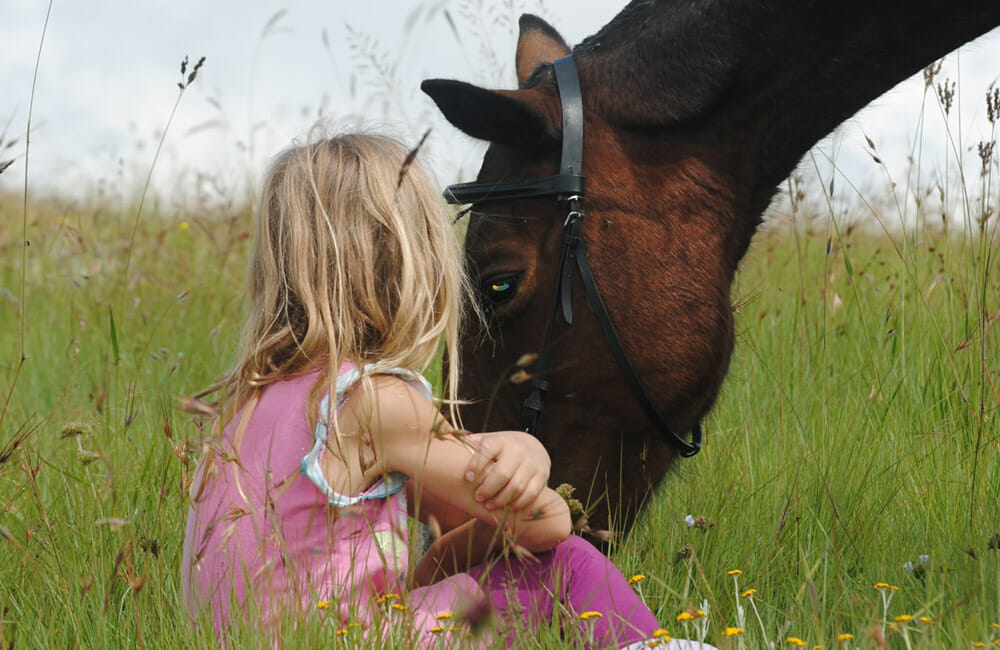 Can My Toddler Ride a Horse?
There're no strict guidelines about what age you start riding. This means a toddler can ride a horse if parents feel they're ready. However, some riding schools may have age restrictions. You may expect children are allowed to ride at the age of 5 or older. Thus, contact the office before enrolling your child in classes.
A young rider can be offered to start from a pony or a miniature horse. Make sure your kid feels safe and comfy sitting on a companion. Safety equipment is a must on the like of a schooler helmet and riding boots.
It's up to the parent to decide whether their child is ready to hop on a saddle. A professional riding instructor will help your toddler with horse selection and skill development. The expert has to consider if the kid can obey the rules and follow instructions. The sense of balance and coordination of your toddler is also examined. And of course, whether your child is truly interested in riding a horse.
Parents can be present in the lessons to watch their children and cheer them up.
Can I Ride a Horse with My Child?
Some parents may consider starting riding by taking their child on the horse. Actually, it's not recommended to ride with a toddler, whether it's pleasure riding or training. There's a high risk to get hurt in case of rapid unexpected moves.
If you decide to take your kid with you, you should take care of riding gear then. Riding helmets, safety vests, riding boots, and more must be on both of you.
How to Choose the Best Horse Riding Helmet for Toddler?
Picking the proper helmet may be challenging. That's why we made a checklist that shows crucial aspects you should pay attention to.
The helmet fits ideally. Look for the proper head size by taking measurements as required. Most helmet manufacturers provide a solid size range to choose from. Adjuster clip is a good perk to keep the snug fit.
Make sure the helmet is made with durable materials. Check the product's description before purchasing the good. The outer shell made with plastic or fiberglass has an excellent impact absorption. Low profile helmets have less padding to sit tightly. The inner foam should be thick-padded for better cushioning, and hence, protection. The removable washable liner makes the gear easy to maintain.
Look for riding gear that comes with vents to keep your child cool when riding. The child helmet that comes with mesh-covered vents fosters cooling airflow through the headgear. So your child can enjoy riding in any weather conditions. A schooler helmet has such a feature as well.
A helmet for children has to be firm and lightweight. Helmet manufacturers are improving their technology to make toddler equipment more convenient to wear. Bulky helmets are not appropriate, the gear should provide a snug fit.
Summary
Choosing the most comfortable equestrian helmet for kids could be challenging, that's why we did thorough research and tested dozens of the most popular products. No doubt, the horse riding helmet must be safe, solid, and durable, and the Troxel Spirit Horseback Riding Helmet meets all of these requirements. So if you're still not sure what to pick, check out this helmet first.
No matter which horse riding helmet you choose, just remember that safety takes the highest priority. Thanks to professional equestrian gear manufacturers, we're able to choose a convenient product according to our needs, requirements, willings, and style, both kids and adults sizes of riding helmets are available. Ride safe!