When it comes to perfect riding pants for little riders, comfort and durability are crucial. Quality jods ensure that your young equestrians can ride with both style and confidence. With robust materials and innovative designs, these pants will keep your kids comfy and protected, allowing them to fully immerse themselves in their riding adventures. In this comprehensive review, we have carefully reviewed the top five horse riding breeches for kids and teens.
You think your child is ready for horseback riding? Then it's time to gear up! Not only a head and feet should be protected but the rest of the body too. So considering a comfy pair of breeches is not an exception. There are lots of types of equestrian trousers such as breeches, jodhpurs, and tights that are designed a bit differently but for one common reason – to provide the best comfort for the rider. That's why we prepared a list of five-star riding breeches for kids so the young riders could be satisfied for long.
Best Horse Riding Pants for Kids Detailed Review
Check out the following detailed review of the top 5 horse riding breeches to pick the best option for your little adventurer. Here, you'll find quality products to any taste.
1. TuffRider Lowrise Breeches – Super Durable Gear
The TuffRider Lowrise Breeches is a product of a well-known equestrian brand that is highly reputable for dozens of avid horse riders. These kids' breeches are popular for their great flexibility and soft fabric. The gear also features foot elastics that are very convenient to use.
Key Features
Made with cotton and spandex to stretch well.
Lowrise design with a false fly, the belt loops are attached.
Velcro ankle closures for a comfortable fit.
The soft knee patches have the same color as the main fabric.
Bottom Line
The TuffRider Lowrise Breeches is a wonderful equestrian gear that is quite durable and comfortable. The reinforced knee pads will provide a good grip and solid protection. The garment comes in a big range of color and size chart so you're able to find the perfect pair.
Pros
Elastic and breathable
Belt loops included
Machine washable
Cons
Not adjustable waist
Could be long
2. Hope & Henry Ponte Riding Pants – Organic Cotton Gear
Hope & Henry pants are uniquely known for their perfect blend of style and comfort. Our investigation demostrated that these breeches are meticulously crafted from premium materials and tailored to provide an impeccable fit for girls of diverse body shapes. Such gear features handy trinkets like pull-on closures, suede knee patches, pockets, and more.
Key Features
The kids breeches are crafted from a blend of ponte fabric that boasts both softness and durability.
The elastic waistband boasts a secure and comfortable fit, ensuring effortless movement while riding.
Hope & Henry children's pants showcase a traditional riding style, complete with faux front pockets, to elevate the look of any ensemble.
These pants offer a variety of colors and can be easily styled up to fit various riding activities.
This gear is designed to be machine washable, ensuring convenience and easy maintenance.
Bottom Line
Hope & Henry Riding Pants offer a wonderful combination of style and comfort for young girls. Whether it's for a special occasion or everyday use, this garment provides a refined appearance and prolonged wear. Their versatile design as well as high-quality materials make them an excellent addition to any children's equestrian apparel.
Pros
Stretchy waistband
Double welt pockets
Faux suede knee patches
Cons
Bottom may be wide
May fade over time
3. Ovation Four Pocket Breeches – Memory-Stretch Breeches
The Ovation Four Pocket Breeches are well-known for their high-quality design and non-sleek look that boys prefer most. They come with belt loops to keep the fit snugly and pockets to store your items during the ride. The gear is easy to wash so you don't have to worry about the maintenance.
Key Features
Made of polyester and viscose with velcro ankles so they stretch well.
The garment comes with a front zipper and belt loops.
The microfiber fabric absorbs moisture to keep you comfy in a saddle.
There are 2 front and 2 back pockets to store your stuff.
The synthetic suede knee patches improve the grip immensely.
Bottom Line
The Ovation Four Pocket Breeches is an awesome choice as equestrian gear for boys that is designed to fit them ideally. Front zipper, 4 pockets, and belt loops are great extras to the product. Great breeches to enhance protection and comfort during the ride.
Pros
Retains shape
Great for beginners
Absorbs well
Cons
Warm for summer
Could be long
4. HR Knee Patch Silicone Breeches – Silicone Grip Wear
The HR Knee Patch Silicone Breeches have a fancy pull-on design with vivid colorful gripping. The material used is quite soft and breathable so they could fit different weather conditions. The garment features silicone knee pads and a crown print so your little rider will look stunningly, no doubts.
Key Features
Low-mid rise design with a wide waistband for better comfort.
The gear comes with silicone knee patches for an excellent grip.
The ankles are adjustable to improve the fit.
Machine washable soft and stretchable fabric is used.
Bottom Line
The HR Knee Patch Silicone Breeches are known for their comfort and adjustable features. In addition, the silicone grip improves the confident seat. The gear comes with a zipper pocket so you can keep your items safely during the ride. It comes in different bright colors to keep a young lady at the forefront.
Pros
Zip pocket
Silicone grip
Elastic sock bottoms
Cons
Not good for hot weather
No belt loops
5. FitsT4 Kids Riding Tights – Extra Flexible Wear
The FitsT4 Kids Riding Tights are designed to fit tight and set free your moves. The fabric is sweat absorbable to keep the rider dry during the long ride. The drawcord waistband is made to provide a super adjustable fit for comfortable riding. Great option for schooling and riding.
Key Features
Made with polyester and spandex to improve flexibility.
Drawstring midrise waist to adjust the fit ideally.
Eco-suede knee patch design to grip well.
No seams on the seat zone to avoid friction.
Bottom Line
The FitsT4 Kids Riding Tights are extremely light and comfortable for everyday horse riding. The 4-way stretchy fabric helps you improve your mobility. The elastic waistband is a great feature if you want to stay cozy for long. Different vivid colors are available to keep your child in the spotlight.
Pros
Great for beginners
No seat seams
Easy to wash
Cons
The fabric should be improved
No pockets
---
Top 5 Horse Riding Breeches for Kids Comparison
Rank
Image
Product
Price

1




TuffRider Lowrise Breeches

Cotton/spandex fabric
Velcro ankles
Reinforced grip

Check Price

2




Hope & Henry Ponte Riding Pants

Cotton/polyester/spandex
Decorative pockets
Quilted knee patches

Check Price

3




Ovation Four Pocket Breeches

Polyester/viscose fabric
Lycra ankles
4 pockets

Check Price

4




HR Knee Patch Silicone Breeches

Silicone knee patches
Adjustable ankles
Zip pocket

Check Price

5




FitsT4 Kids Riding Tights

Polyester/spandex fabric
Adjustable waistband
Faux leather knee patches

Check Price
---
What to Look for When Choosing Horse Riding Pants for Your Kid
Material. Choose riding pants made from resilient and breathable fabrics like cotton, nylon, or a combination of materials. These fabrics guarantee comfort, flexibility, and moisture-wicking features, ensuring your child stays cool and dry during extended periods of time in the saddle.
Fit and comfort. When shopping for riding pants, find ones that provide a proper fit and allow for unrestricted movement. Look for gear with a waistband that is snug yet comfortable, fabric that offers ample stretch, and a length that avoids any potential discomfort.
Reinforcement and grip. Riding pants frequently include strengthened knee patches or full-seat grips, serving to enhance stability and security while riding. They providing additional grip and durability in the areas that make contact with the saddle.
Safety features. Safety is of utmost importance when participating in horse riding activities. To improve visibility, pick pants with reflective elements or vibrant colors, particularly when riding under low-light circumstances. Certain riding breeches come with extra padding or protection in critical areas like the hips for enhanced safety.
Easy care. Children's riding pants should be low-maintenance as they tend to get dirty often. Opt for machine-washable choices that can endure regular cleaning without compromising their shape or color.
Style and design. Although not necessary, the aesthetics of style and design can enhance your child's horse riding experience. Opt for jods that visually appeal to your child and align with their riding discipline or personal preferences.
Price and durability. When purchasing riding pants, take your budget into consideration alongside the durability of the apparel. Seek a harmonious blend of quality and affordability to guarantee optimal value for your investment. Premium riding pants by top brands are designed to endure the demands of riding and offer longevity, leading to long-term cost savings. While pants with low prices offer affordable outfit perfect for beginners to try schooling.
Size and adjustability. Ensuring proper sizing is essential for both comfort and safety. You should accurately measure your child's waist, hips, and inseam to select the appropriate size. Some modern pants may offer adjustable waistbands or length options, providing a more personalized fit as your child continues to grow.
By taking these aspects into account when selecting equestrian trousers for children, you can browse an appropriate pair that prioritizes comfort, safety, and a pleasurable riding for your little one.
---
Choosing the Right Size of Breeches for Kids
The process of choosing the right size of riding pants is quite the same as you pick an ordinary pair of trousers for your kids. You just need a soft fabric tape to take measurements.
Generally, equestrian manufacturers provide their customers with a size chart and instructions you should follow to pick the perfect size. The common measurements are the waistline, hips, knees, and inseam (the inner length from the crotch of the breeches to the bottom of the gear).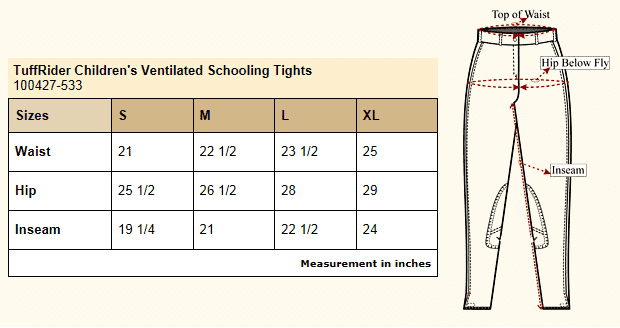 ---
Frequently Asked Questions
Why Does My Kid Need Horse Riding Breeches?
If your children are into horse riding, you have to be sure that they feel comfy in a saddle and nothing distracts them. Thus, we recommend considering quality equestrian gear like horse riding breeches for kids.
Such equestrian breeches differ from regular pants as they provide more comfort and flexibility. Riding pants for kids have no inner seams in order to avoid discomfort friction. Moreover, the garment comes with leather / faux knee pads to enhance the grip.
What is the Fabric of Horse Riding Breeches?
Nowadays, there's a wide range of horse riding pants for kids with various designs to bring extra durability and breathability. These features help your child sit in a saddle for long and move easily.
The most popular riding breeches for kids are cotton because they are light and breathe well. Apart from that, there is also some polyester / spandex fabric that is quite stretchy and it's easy to clean.
What Are the Main Types of Riding Pants?
In fact, horse riding breeches are not the only kind of riding pants, they are the most popular though. Here's a list of common types of riding pants:
Riding jeans – with a high waist and snug ankles.
Riding breeches – mid-calf pants suitable for tall boots.
Riding jodhpurs – long snug ankles suitable for short boots like paddocks.
Riding leggings – stretchy and breathable, seamless design.
Check out our article on basic equestrian equipment to find out more about horse riding garment.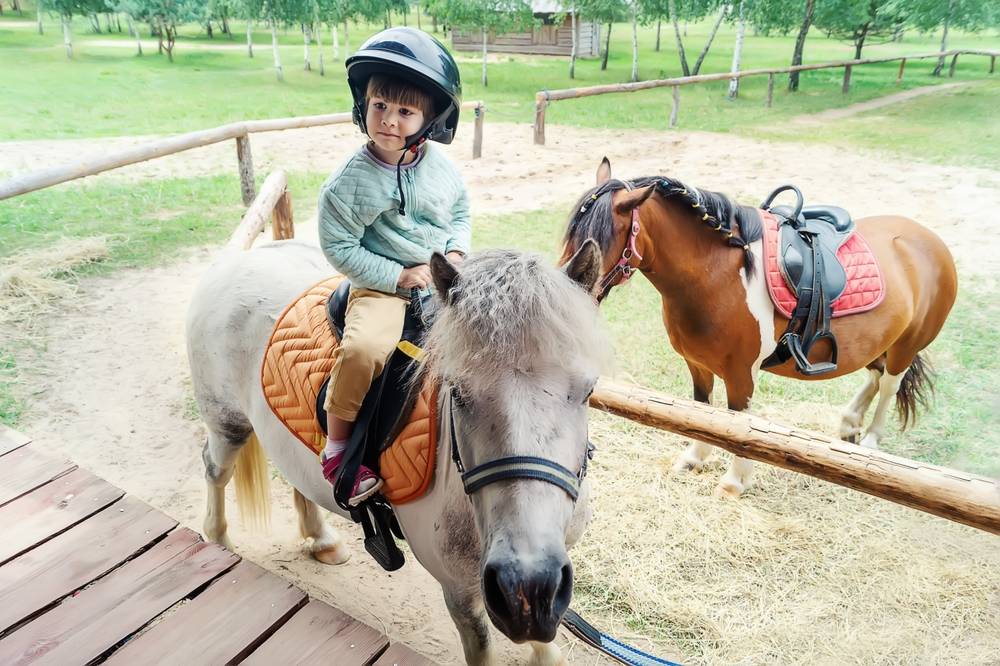 Can My Kid Wear Jeans for Horse Riding?
Well, if your little rider is a fan of Western style, you can try wearing jeans. But you have to be aware that regular pants might be non-suitable for long-term horseback riding.
The reason lies in that ordinary jeans have inner seams that are distracting when your kid is in a saddle. Moreover, it's not recommended to wear baggy jeans as they may be pinched during the ride which can lead to accidents. But if you still want to put on your everyday jeans, it's better to wear tall boots with them.
How Much Do Horse Riding Pants for Kids Cost?
Basic kids pants for horse riding cost approximately $20 to $50. These pants may present fundamental characteristics and materials, yet they still deliver sufficient functionality and comfort. In the mid-range, the price tag differs from $40 to $80. These pants provide a solid balance of quality, durability, and comfort. Some may include features such as reinforced knee patches or full-seat grips for improved performance.
On the higher end of the price range, equestrian pants for children can vary from $80 to $150 or even higher. These trousers are usually made from top-notch materials, incorporating a large selection of cutting-edge features like moisture-wicking technology and specialized padding. They are meticulously designed to provide unparalleled comfort and long-lasting performance.
Prices differ depending on the breeches' brand, location, and any added customization choices. Moreover, there might be sales and free shipping accessible, so always check for lucrative offers.
---
Conclusion
Horse riding breeches are an integral part of an equestrian gear for any horseman, especially when it comes to young riders. While choosing the best horse riding equipment, well-known and tested products should be considered. No matter what equestrian gear you're looking for, breeches for adults or kids, you should pay attention to different aspects such as stretchable and breathable fabric used as well a variety of extras like foot straps and pockets would be a plus.