Choosing a proper horse girth ensures the comfort and safety of your companion as well as the rider. From saddle stability to optimal airflow, the right girth comes with solid benefits. This ultimate review provides expert advice and essential tips for finding the perfect fit.
A horse girth (English style) or a cinch (Western style) is an integral part of an equestrian tack gear that is attached to the saddle over the horse's barrel beneath. It's a part of safety equipment that helps reduce friction and avoid wobbling.
That's why it's vital that the cinch is made from sturdy materials that will last for long. Lots of variations are available on the market nowadays, so we tested and highlighted top-quality girths that you might like.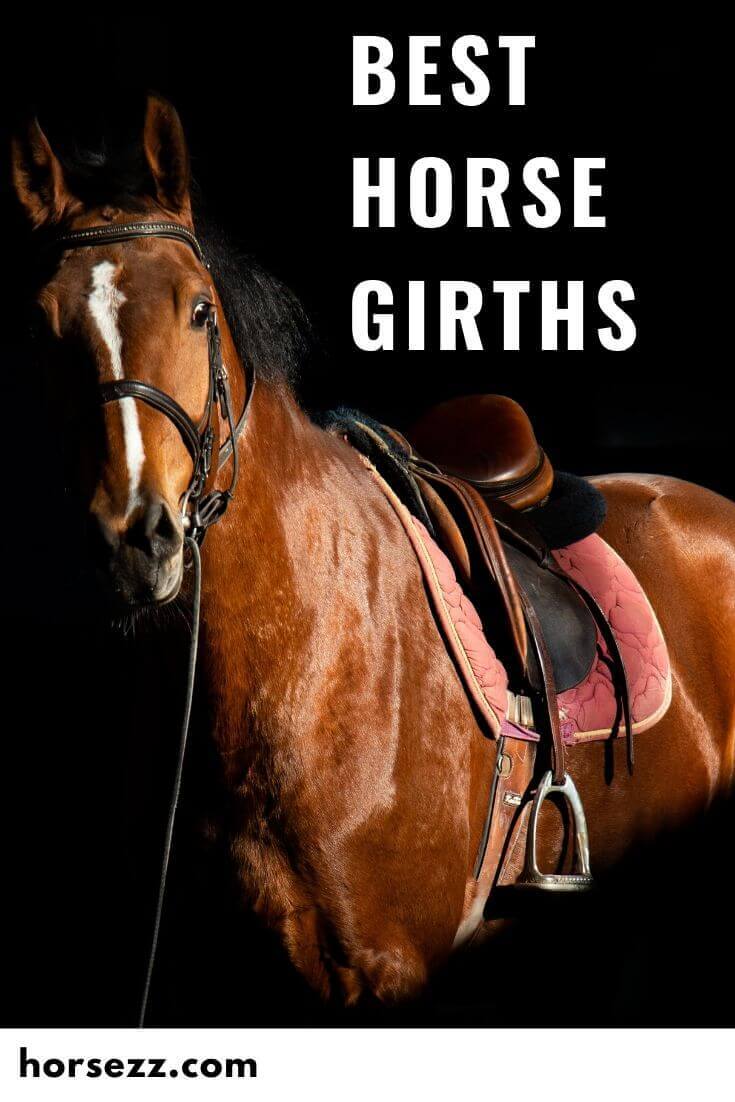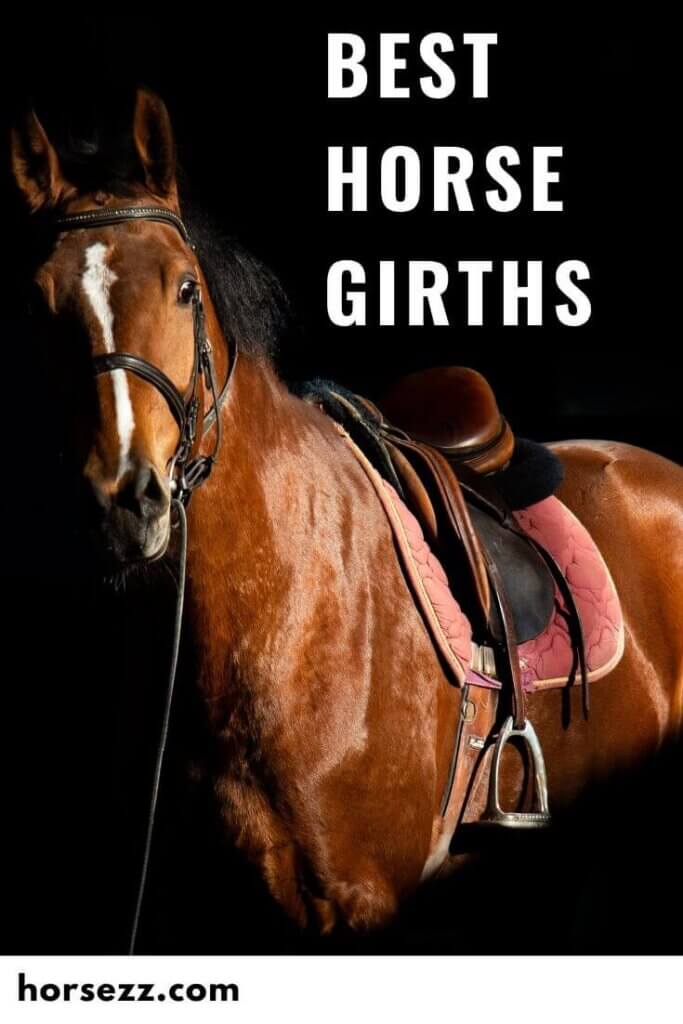 Best Horse Girths Detailed Review
As horse tack differs from each other, we mentioned five girths and cinches based on our firsthand experience so you compare the products and pick the best one.
1. Professionals Choice Equine English Girth – Stretchable Horse Gear
The Professionals Choice Equine English Girth is loved for its stretchy design as well as its easy maintenance. When we trialed this tack, we noticed the double-buckle design is highly durable and comfortable to tack up. Moreover, the product features double-reinforced stitching in order to enhance the solidity of the good.
Key Features
The girth is made with poly webbing material that is quite sturdy.
The neoprene material used enhances the stretchability feature.
The buckles are made with stainless steel to make them long-term gear.
It comes with a roller buckle style to ease the process of gearing up the horse.
Bottom Line
The Professional's Choice Equine English Girth might bring more comfort and safety for the horseman and their horse in equestrian activities. The product is popular for its soft design and stretchy abilities. The neoprene part is thick and comfy while it's removable to be washed. The girth comes in black and brown color options and a wide sizing chart which is a plus.
Pros
Elastic ends
Improved buckles
Great for schooling
Cons
Low sweat absorption
Stretch ends might be short
2. Ovation Airform Girth – Double-Buckle Gear
The Ovation Airform Girth is a high-quality product made by a greatly reputable manufacturer of horse riding gear. This piece of safety gear will stand you in good stead forever and a day, being made with quality leather. It comes with elastic straps on one side so you can fix the cinch perfectly on your horse.
Key Features
The gear is made with synthetic leather that is solid to wear for long.
It comes with a cushioned design to prevent discomfort when riding.
There are double buckles on the ends that are easy to attach to the saddle.
One side of the girth is stretchable, so you can adjust the length of the product.
Bottom Line
The Ovation Airform Girth is a wonderful option, especially if you have several horses to ride and you need something durable and adjustable to tighten it up. The product is easy to clean off due to the materials used and boasts an unbeatable price. The girth comes in two color styles and a range of sizes to choose the perfect one.
Pros
Double buckles
Textured design
Sweat absorbable
Cons
Only one side stretches
Cushion should be improved
3. Classic Equine Mohair Straight Cinch – Super Soft Item
The Classic Equine cinch offers exceptional comfort and durability, making it an ideal choice for equestrians who opt for a straight design. The product's shape ensures a secure fit that also minimizes saddle slippage. The Alpaca Mohair material used in this tack provides a plush feel against the horse's skin. The gear features stainless steel hardware that will serve for years.
Key Features
The Classic Equine cinch is crafted from a blend of alpaca and mohair fibers, known for their softness, strength, and durability.
Alpaca Mohair fibers possess excellent moisture-wicking properties, keeping your horse dry even during intense workouts.
The straight design of this cinch ensures even pressure distribution, reducing the risk of pinching.
The gear features top-quality stainless steel hardware, including roller buckles and D-rings.
Bottom Line
Drawing from our experience, the Alpaca Mohair Cinch is a top-notch product that delivers outstanding comfort, durability, and performance. While it may come at a slightly higher price, the benefits the horse tack offers are well worth the investment. If you're seeking soft gear, this is a perfect girth.
Pros
Soft Alpaca fibers
Moisture-wicking properties
Easy-to-use hardware
Cons
Higher price point
Requires regular cleaning
4. Weaver Leather Lined Smart Cinch – Great for Trail Riding
The Weaver Leather Lined Smart Cinch is made by another well-known equestrian supply brand that offers a durable horse cinch. What a small item of safety gear but every piece is thoroughly designed. The gear comes with a unique roller design to make the process of tacking more easier for horsemen.
Key Features
The cinch is made with polyester webbing and nylon materials that have great strength.
The felt lining brings more cushion and comfort during the ride.
The rolling system is on the top of the buckle for smoother tacking.
The thick-designed buckle tongue keeps the latigo more safely.
Bottom Line
The Weaver Leather Lined Smart Cinch is a great choice for those who are craving convenience. Having improved the buckle design, Weaver Leather took care of the rider's comfort for sure. The gear comes with straight and roper styles and a wide array of sizes for a better fit.
Pros
Improved buckles
Easy tightening
No dirt accumulation
Cons
Low sweat absorption
Non-stainless buckles
5. Total Saddle Fit Western Cinch – Shoulder-Free Tack
The Total Saddle Fit Western Cinch differs from other products by its improved design that provides more freedom of movements during the horse ride. Moreover, the gear features a detachable liner that is easy to wash and interchange. The material and thickness of the lining can be picked by a customer, which is a great plus.
Key Features
The cinch is made with a firm saddlery leather that is extremely durable.
The improved design of the gear creates more space for elbows and freedom for shoulders.
The product comes with neoprene, felt, or fleece liner for greater convenience.
The buckle comes with a roller to make the process of gearing up more delightful.
Bottom Line
The Total Saddle Fit Western Cinch is a wonderfully versatile product that is quite sturdy and comfy. It's popular for its interchangeable lining design, so you can easily control the thickness of the good not buying extra cinches for different purposes. The gear comes in a big range of color and size options to fit every equestrian.
Pros
Ergonomic design
Lining diversity
Elbow comfort
Cons
Leather might be stiff
Could slip a bit
---
Top 5 Horse Girths Comparison
Rank
Image
Product
Price

1




Professionals Choice Equine English Girth

Polyester webbing
Removable liner
Double buckles

Check Price

2




Ovation Airform Girth

Synthetic leather
Double buckles
Stretch ends

Check Price

3




Classic Equine Mohair Straight Cinch

100% Mohair
Straight design
31 strand

Check Price

4




Weaver Leather Lined Smart Cinch

Polyester webbing
Rolling buckle
Felt lining

Check Price

5




Total Saddle Fit Western Cinch

Saddlery leather
Removable liner
Shoulder-free design

Check Price
---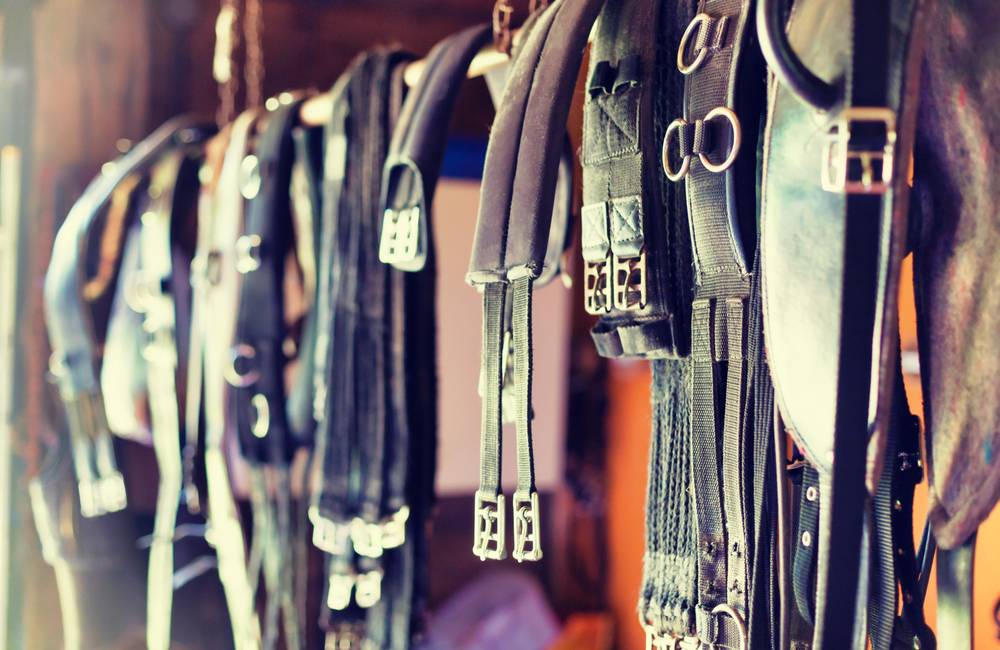 The Different Types of Girths and Cinches
English Girths
English girths are often used in dressage, show jumping, and eventing. They are constructed using a combination of synthetic materials and leather. English girths come in two types- traditional and anatomically shaped. They help distribute pressure evenly across a horse's girth area and provide stability.
Western Cinches
Western cinches are also called cinch straps or latigos. They are used in various Western riding activities like reining, cutting, and trail riding. A cinch comes with a broader and longer structure than the English girth. It can either be made of synthetic materials or leather. Western cinches use buckles to fasten the saddle around the equine's belly. This provides stability and guarantees that the saddle fits appropriately.
Dressage Girths
Dressage girths are made for dressage riders, and they are shorter than other girths. They sit behind the horse's elbows. So they do not interfere with the horse's movement during dressage movements and provide a close contact feel. Dressage girths can be found in a straight or contoured shape.
Jumping Girths
Short girths, which are also called jumping girths, are popularly used in show jumping and cross-country events. They are made shorter to fit the forward leg position that jumping requires. Jumping girths may have elastic sections for flexibility and extra padding for comfort and protection.
Endurance Girths
Endurance girths are specially made for long-distance trail riding and endurance racing. They are usually crafted from lightweight and breathable materials, like neoprene or synthetic fibers. You can expect these girths to have extra cushioning or gel inserts to provide shock absorption and moisture-wicking features to guarantee the horse's comfort during long rides.
Racing Girths
Racing girths are intended for horse racing and are lightweight, minimalist, and usually made of synthetic materials. The purpose of these girths is to give stability and a secure fit to the horse without affecting its performance negatively.
---
How to Choose the Right Size of a Cinch
There are various methods of how to measure the proper cinch size, and here's the most popular one. Before you start, it's recommended to tie up your horse to a stall so he stays still.
First, tack up a saddle on your horse and take a soft measuring tape. Start taking measurements from a D-ring on one side of the saddle and go underneath the belly, where the girth is usually placed. You may need a helping hand to finish measuring on the other side of the saddle, reaching another D-ring. After you get the result, you have to subtract 16 inches, and here's your total.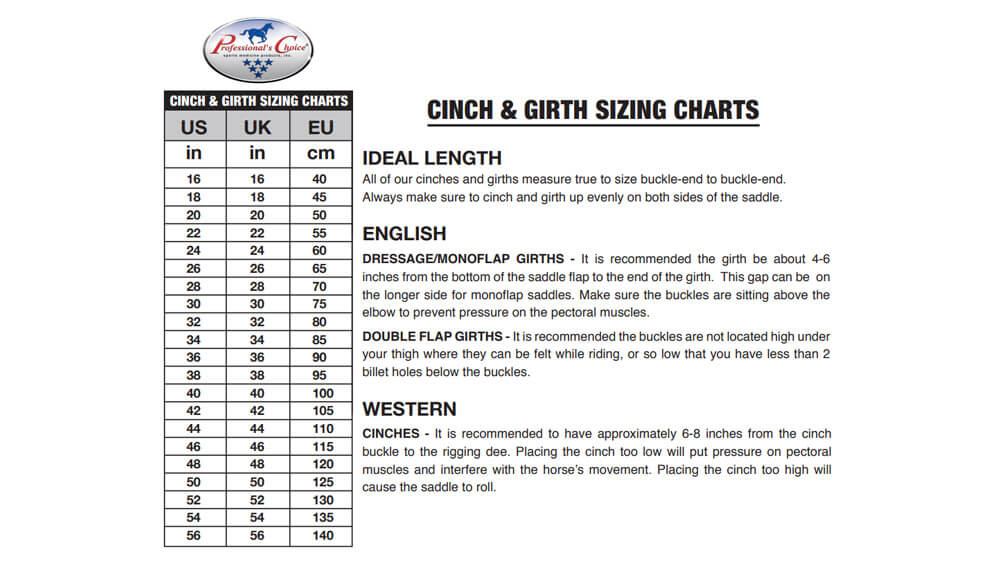 ---
How to Cinch a Horse – The Step-by-Step Guide
Follow these instructions to learn how to cinch a horse properly.
Find a calm place where you can work with your equine in a safe manner.
Now you need to place the saddle on the horse's back. Make sure it's centered, and the pad or blanket is positioned correctly. Avoid any wrinkles or pressure points.
Calmly approach your horse from their left side and gently pet your companion to soothe them.
To tack a cinch, use one hand to grab the gear and make sure it's completely unbuckled. Then, check for any twists or tangles and straighten it out if necessary.
Lift the front left leg slightly to prevent the girth from pressing against the horse's elbow. Next, position the gear correctly just behind the equine's front limbs by sliding it under their belly.
To stabilize the saddle, use one hand to hold onto the saddle horn or pommel. Then, with your other hand, reach under the horse's belly to grab the loose end of the girth.
Now you have to tighten the girth. Lift the loose end and guide the buckle through the girth billets on the right side of the animal. Then pull the girth snugly.
Secure the buckle on the left side of the horse by inserting the tongue into the appropriate hole on the billet. The buckle should not be too tight but securely fastened. Also, check for uniformity on both sides of the horse.
Step away from the horse and examine the snugness of the girth to ensure it's evenly tightened and positioned correctly. It shouldn't be too tight to affect the equine's breathing or discomfort them but tight enough to prevent saddle movement.
Check the placement of the girth on the horse throughout the ride. Check the tack regularly to confirm that it hasn't become loose or caused any discomfort to the horse.
---
Frequently Asked Questions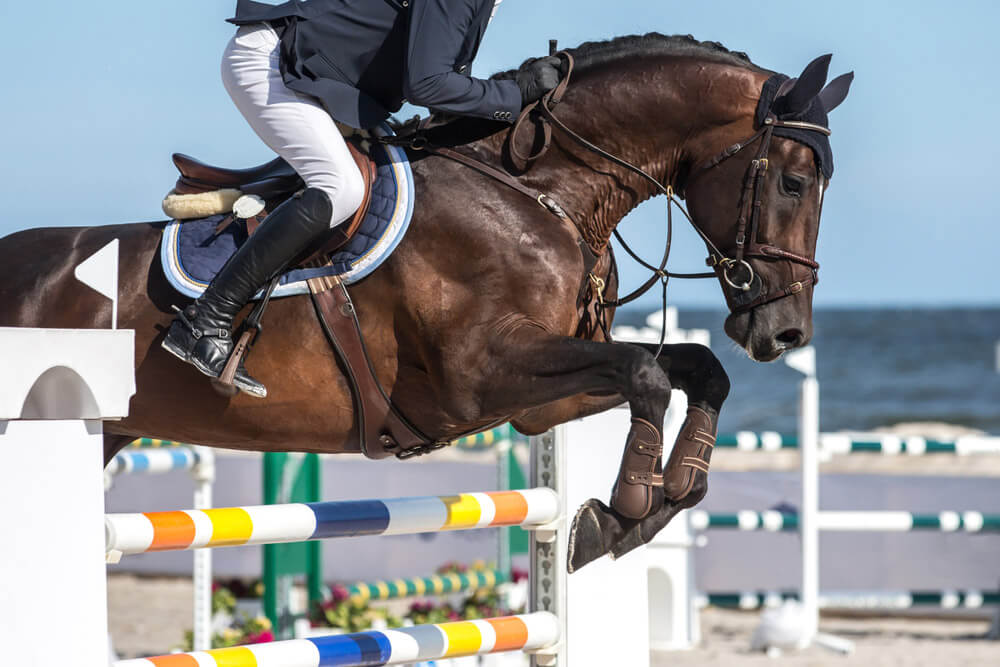 Why Do I Need a Horse Cinch?
In fact, a horse cinch (Western) or a girth (English) is a key element in terms of safety. When you're riding a horse, you may perform rapid moves and instant drift. That means you need to sit tight on a seat all the time.
Thus, a horse cinch is needed to fix a saddle on a horse to avoid wobbling. As a result, if the saddle is tacked still, it may prevent your companion from uncomfortable friction.
What Are the Main Styles of Horse Cinches?
Generally, saddle cinches may be divided into two types – front cinches and back cinches. The front girth is used to securely tack up a saddle on a horse's back. The back cinch is exclusively used in Western riding in order to add more safety by keeping the back of the saddle tight.
In view of design, there is a wide variety of options, including:
Straight. The most common type, it can be made with various materials and used as a front girth. Straight cinches are suitable for most equestrian disciplines.
Wide. As its name implies, this style is distinguished by the wide design in the middle of the product to add extra belly support. It's commonly used as a back girth for long-lasting riding sessions.
Roper. The style is similar to the wide cinch, but the roper girth is generally made with mohair to be set at the front and prevent the saddle from slipping off.
Contoured. Such tack has a cut-back design, going around the horse's armpits. This's made to improve flexibility and movements during active equestrian events like dressage.
What Are the Materials of Horse Girths?
As the array of cinch designs is varied, the same goes for materials used to produce this tack gear. Here's a list of the common girth fabrics.
Fleece – it's an extra soft material that will comfortably sit on your horse and is perfect for everyday use. However, it's a bit slippy, so you should tighten it well to avoid wobbling.
Mohair – the fabric is claimed as a breathable one. The roper cinch is typically made with mohair. The material is not easy to clean, but it dries quickly.
Neoprene – it's loved for its gripping feature as well as easy maintenance. On the other hand, neoprene is not as breathable as other fabrics, so it could be not suitable for horses with sensitive skin.
Leather – this strong material makes the tack long-lasting and provides excellent support during rides. Leather girths are both stylish and practical. Soon after, they shape themselves according to the horse's body. However, a leather girth must be cleaned regularly in order to maintain its suppleness and prevent the item from drying out.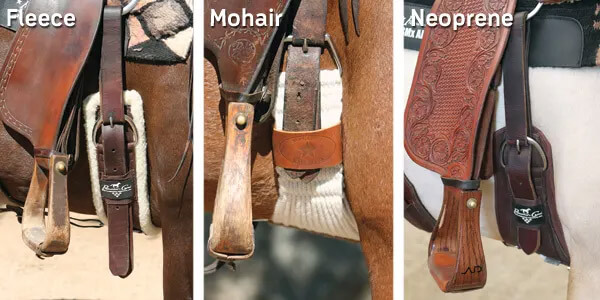 What Is the Best Girth for a Sensitive Horse?
Consider a girth that is made of fleece or neoprene. Such materials offer solid padding and can reduce chafing or rubbing, which may cause your horse discomfort.
You may also consider getting an anatomically shaped girth. This gear is made to match the shape of your horse's body, which can help distribute pressure more evenly. This can lower the risk of pinching or any friction. To provide additional comfort, search for fleece-lined girths that feature padded and wider panels around the sternum and elbow areas.
How Much Does a Horse Girth Cost?
An average cost of a standard horse girth goes between $20 and $50. However, girths made from better quality materials or with special features like elastic inserts or anatomical shaping may cost between $50 to $150. The price tag of a cinch may differ based on the brand, material, design, and extra accessories.
---
Conclusion
If you're planning to saddle your horse, don't forget about a horse girth or a cinch depending on your style of riding. This will protect you from slipping off while keeping your companion comfy to avoid saddle sore. There are dozens of girth shapes available, with a high range of brands, materials used, gear length and width, buckle design, stretchability, and other features. So you're able to pick a piece of safety equipment according to your preferences and purposes.
When a solid horse saddle and a cinch are already purchased, one substantial equestrian gear should be considered as well, a saddle pad. This is another item that keeps a saddle tight not to slip off when you're on.
Image Source: horseandrider.com, profchoice.com.