Western chaps, or chaparreras, are a type of protective clothing worn by cowboys and those who work on a ranch. The word "chaparreras" is Spanish for "cover the legs." Chaps come in many different styles, colors, and lengths depending on the region where they are used. While half chaps are worn on horse riding boots over the calf. They help to protect the rider's legs from the stirrups.
In this article, you'll learn about some of the most common types of western chaps. As well as how to measure for them and wear them properly. You will also find out what half-chaps are. Find out why they're useful if you want your legs protected but not covered up completely.
What Are Chaps for?
Chaps are a Western garment worn by people who work outdoors. They cover your legs for more protection. Chaps come in many different styles, most of them are made of leather. They usually consist of two pieces, a front panel that is worn around the waist and two rear panels. The back of chaps may also feature attachments for spurs or other equipment. Chaps have no seat so you can mount a horse without difficulty.
Cowboys primarily wear chaps to protect their lower body from dirt that gets kicked up during horse riding or working with cattle. Or while handling livestock-related chores like branding and castrating animals. They also help keep their pants clean. Chaps are made of thick material that protects from sharpy thorns of wild plants.
Chaps are also a great fit when riding a horse. Bareback riders prefer wearing cowboy chaps as they provide a solid grip. You can wear them on a saddle as well, leather chaps and a leather horse saddle are an ideal combo.
You'll find riders wearing chaps in different competitions and shows. These include rodeo, bull riding, bareback riding, and saddle bronc.
The Common Types of Chaps
Chaps are usually made of leather on the outside and fleece or wool lining. The two most common types of chaps include:
Breakaway chaps;
Western-style chaps.
Breakaway Chaps
Breakaway chaps are made of a tough piece of leather with reinforced stitching. They often come in a variety of colors and styles, from floral to camouflage prints. Breakaway chaps also have an elastic band at the bottom that breaks apart when you need it to. It's handy for keeping your hands free.
Western Style Chaps
The most popular type is the western style chaps which have ornate stitching on both sides. They come standard in black or brown. The front of these types of chaps can be folded down. So they fit close around the calf while there's enough room for movement behind them. So you don't bunch up under a saddle horn or stirrup strap. Western-style chaps may not be as durable as breakaways. But still, provide good protection against brush and thorns.
How to Measure for Chaps?
To get the right size of cowboy chaps, put your riding boots and trousers on. Get a measuring tape. Measure from the top of the hip bone to the ankle. Keep in mind, you want a snug fit that doesn't ride up when riding.
Measure your waist that refers to the top of the chaps area.
Measure the circumference of the upper thigh.
To get the inseam measurement, measure from the crotch to the floor.
The outseam measurement is taken by measuring from the top of the hip bone to the floor.
Ask for a helping hand to take precise measurements. The chaps' manufacturer usually provides a size chart with a description of how to measure for chaps.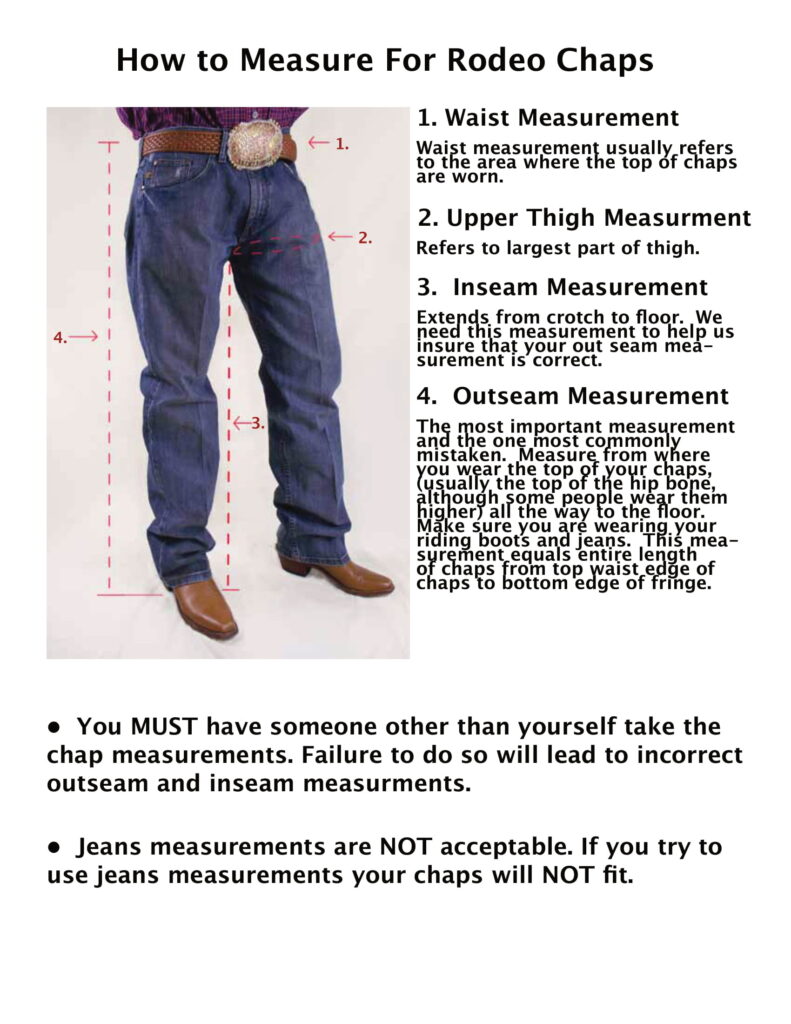 How to Wear Chaps?
You'll want to start with a clean pair of pants that will fit into your chaps easily. You can ask for help to find out if you have enough room around your waistline. While also making sure they stay put when riding horses. Pull up the straps over each shoulder so it's comfortable yet tight enough. Chaps shouldn't slip off during movement.
Fasten your chaps by tying an attractive knot at the backside. This is called the "cinch". Then, tie a knot in your belt to keep the front closed.
The cinch should be tight enough so it doesn't loosen during riding and stays close to the body. The straps on your shoulders should also stay put while you move around. However, they shouldn't pull at all or tighten too much. This can cause chapping of skin under them.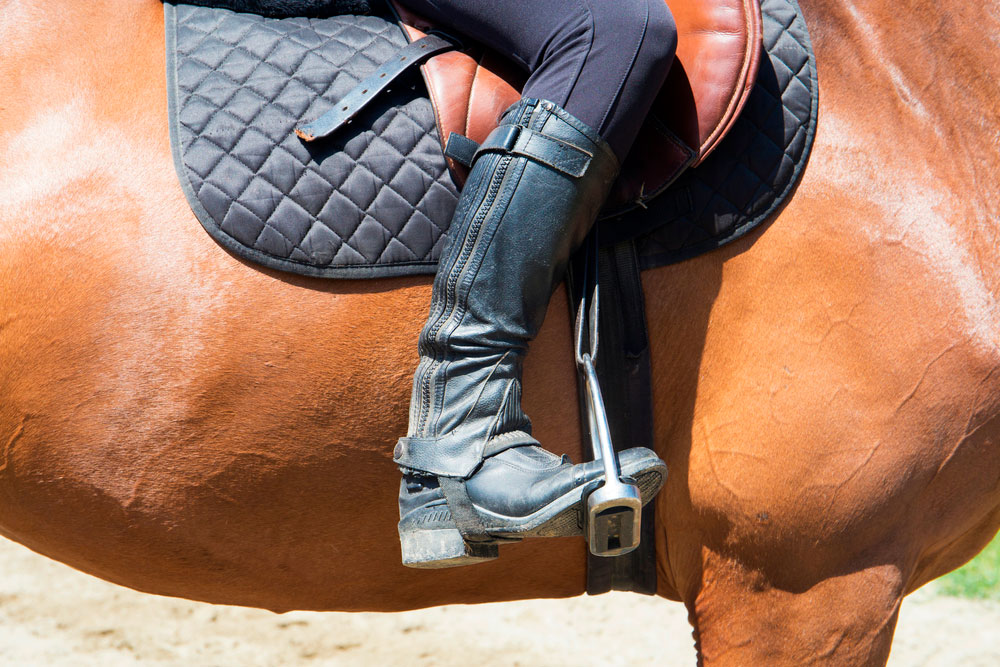 What Are Half Chaps?
Half-chaps (or chapettes) is one type of protection you can wear on your legs when riding in wet conditions. They cover just above the knee and include elastic straps to attach them to boots. Unlike full chaps which offer more coverage, half-chaps only protect from the inside edge of your boot down to right below. Where your jeans would be if wearing them with pants rolled up over top. Some people do it in westerns films.
This leaves your lower leg exposed but protects against water getting into your upper calf area. As well as keeping rock salt out of higher areas of your leg.
What Are Half Chaps Used for?
If your riding requires wearing tall boots but you have only paddock boots, half chaps are a way out. You can put them on your paddock boots and create a look of high-calf boots. Half chaps are usually made of leather and come with a zipper.
Half chaps also make riding look more fashionable. This is why some people use them in western films.
Children often wear half chaps when performing at horse shows or for trail riding. Riders who are prone to English-style riding, prefer to wear half chaps.
How to Measure for Half Chaps?
Put your usual riding breeches or leggings on.
Sit down on a chair with your knees bent at 90 degrees.
Ask someone to get a measuring tape and take measurements.
Measure the circumference of your calf at the widest part.
Measure the lower leg height by getting from the floor up to the tendon. Do it at the back of your calf and knee.
Note down your measurements.
Use the manufacturer's half chaps size chart to find the best match.
How to Wear Half Chaps?
Attach the elastic straps around your boots. Start at the top where you would normally put on a boot. Then work down over and back up. Starting with a left or right side, either one will do as long as it goes in opposite directions. It's due to get all four sides snugly attached.
When tightened properly, half chaps should be tight enough. When pulling them away from each other there is no slack for water or salt to seep in between panels. But loose enough so they are not cutting off circulation in cold weather. And preventing air circulation in warm climates by trapping body heat against the skin in hot weather.
Then tuck under the lower pant's edge if wearing jeans. Roll up overtop like commonly seen in western films.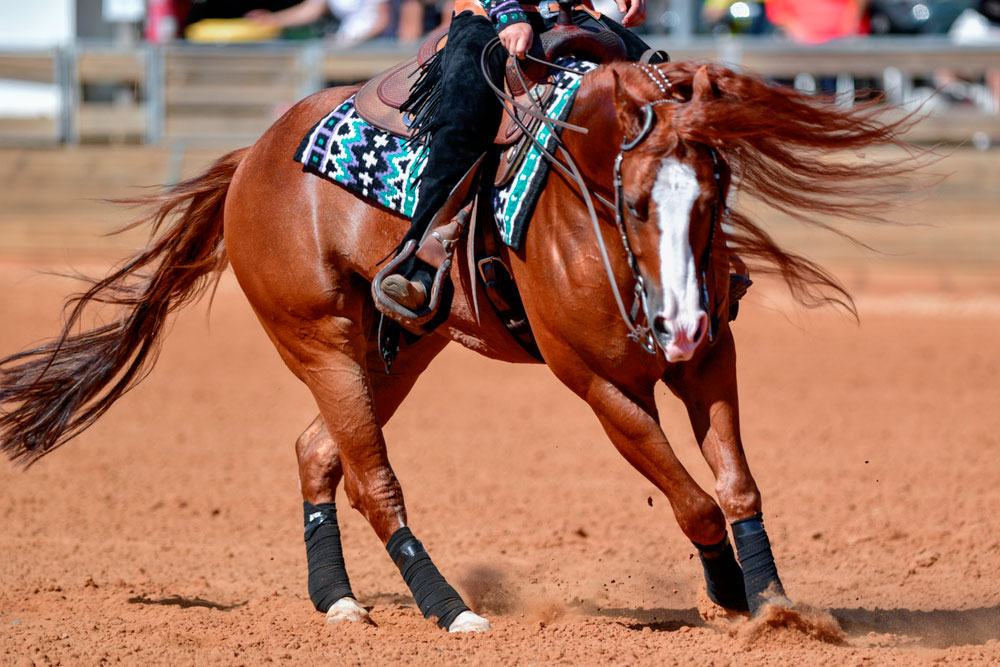 Cowboy Chaps and Half Chaps Explained
Cowboys wear chaps to protect their legs and thighs from dirt, brush, thorns, cactus spines, or other sharp objects. Even though chaps were brought from the cowboy culture, today people also wear them for decorative purposes. The best-known style of chaps is the leather chaps that extend from just above the knee to mid-thigh. There are chaps made in one piece with a flap at the top Chaps are fastened around belt loops on pants. Sometimes they also have snaps for easy access when riding horses.
Half chaps are designed to protect your lower legs while riding. It's a common piece of equipment among horse jockeys. Half chaps are usually made of leather with a zipper or closures.
Image Source: shutterstock.com, barstowprorodeo.com.