A jockey is a professional horse rider who competes in horse races. Many jockeys work as independent contractors. Horse trainers hire them. Jockeys get money from winning races. A winning jockey may get a solid percent of the purse. Most jockeys earn modest prize money with a smaller percentage. While some of them can get a six-figure income from horse racing. Let's get the hang of horse jockey salary and what they need to do.
How to Become a Horse Jockey?
Becoming a professional jockey is a long path. You have to be good at a range of aspects related to horses. These include horse training, breeding, and performance. You have to distinguish various horse breeds and understand their upsides and downsides. Plus, jockeys are athletes that must be physically prepared for the rides.
Great knowledge of horse grooming, shoeing, anatomy is essential too. You can start your career as a hot walker or a groomer. You'll need to work at the stable and race track to maintain horses. This can give a solid experience of working with equines and taking care of them.
Jockeys have their own equipment to perform in a race. Thus, you must get the hang of horse tack and riding apparel. You have to choose a riding horse saddle, saddle pad, helmet, breeches, and more. All the equipment should fit running the races. Jockeys usually wear special colors to represent the horse or its owners.
Most jockeys are not horse owners. They usually attend jockey schools. Then they are hired by horse trainers. Such schools are great to introduce you to the world of sport races. Here, you'll learn the competition rules, safety guidelines, and get some practice. It's also recommended to find a well-experienced jockey to learn from them.
Schooling races are a part of education. They are usually sponsored by racetracks. Such races are obligatory to get a racing license. There may be a license of Category A and B. Category A Licence allows you to compete against other amateur riders. While Category B Licence is for professional horse jockeys. You can become an Apprentice Jockey riding in flat racing. Or a Conditional Jockey who rides over jumps.
Job Requirements
There's a bunch of requirements that all jockeys must follow:
To enter a jockey school, they must have a high school diploma or General Educational Development Test (GED).
You have to be at least 16 years old to get a license.
The height and weight requirements must be followed. You have to be able to maintain the required levels in a healthy manner.
In some states, you have to put in some time working at the stables.
You have to pass all the health and race requirements to let you get on a track. You must be strong enough to control a horse at a high speed. The tests include strength, endurance, and cardiovascular exercises.
You're required to obtain at least 60% of the overall score to pass the test.
How Tall Are Horse Jockeys?
Horse jockeys have an average height of 4 feet 10 inches to 5 feet 7 inches. However, there are no height limits for horse jockeys. They are usually short due to their light weight.
How Much Do Horse Jockeys Weigh?
There are weight limits for jockeys set by horse racing authorities. Kentucky Derby requires a jockey to weigh up to 126 pounds including their equipment. An average jockey's weight is 108 to 118 pounds. They must be light enough to control the horse and move fast.
How Much Do Horse Jockeys Make?
Horse jockeys earn around $30,000 to $40,000 yearly. Their own finances acquired depends on the number of winnings and rides taken. Jockeys can get some extra from sponsorships like sports bettings. Winning jockeys get a golden nugget when they grab a first place at a Triple Crown race.
For instance, this year John Velazquez won the race at the Kentucky Derby. The prize of $1.86 million went to the winning horse Medina Spirit. And Velazquez got 10% from the prize money – it's $186,000.
Another famous jockey is Frankie Dettori – an Italian rider based in the UK. He's known for riding seven winning horses in a day. It was on British Champions' Day at Ascot Racecourse in 1996.
Mind that jockeys pay their agents and valets. Each of them gets around 10% of the jockey's money. Plus, they need to pay for travel and rent expenses. There's a federal tax that should be paid too. Whether it's in monetary or non-monetary form, all the earnings are taxable.
How Much Does a Jockey Get Per Race?
Jockeys are paid when they bring their horse to the first, second, or third place. Purse compensation is usually 6 to 10% for the first place. 2% is for the second place. And 0.5 to 1% is for the third place.
Apart from the salary earnings, jockeys get a mounting fee for each race. It's around $25 to $100 per ride.
The prizes are higher in flat races rather than in the National flat hunt (NH). Flat jockeys earn less than those in NH. If you compete in top-notch races like the Kentucky Derby or the Belmont Stakes, you can win thousands of dollars per one race. Some jockeys ride several times per day.
Best Jockeys Outfit You Should Consider
Rank
Image
Product
Price

1




Troxel Spirit Horseback Riding Helmet

Low-profile design
Adjustable dial
Washable headliner

Check Price

2




Ovation Jockey Helmet Cover

Made of 83% nylon, 17% lycra
Vivid colors
Stretches well

Check Price

3




Kroop's Horse Racing Goggles

Vintage style
Lightweight design
Anti-fog ventilation

Check Price

4




Ovation Jockey Vest

Made of polyester
Thick protection
CE level 3 certified

Check Price

5




TuffRider Full Seat Breeches

Cotton/spandex
2 pockets
Contoured ankles

Check Price

6




TuffRider Baroque Dress Boots

Soft leather
Round toes
Snap closures

Check Price

7




Ariat Half Chaps

Made of leather and suede
Zip closure
Contoured skirt over instep

Check Price

8




Hunters Saddlery Jockey Whip

27 inches long
Soft padded design
Easy to clean

Check Price

9




Intrepid International Horse Blinker Hood

Prevents view from the rear
Made of polyester
Stretches well

Check Price

10




STS Racing Stirrups

Bar design prevents dragging
Solid foot grip
Angled foot support

Check Price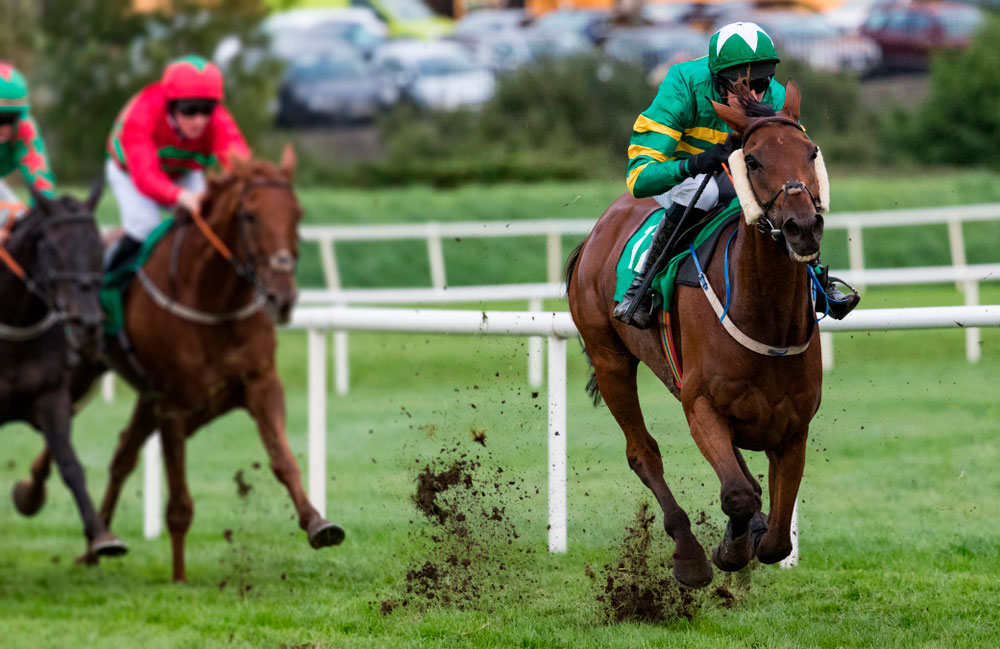 Become a Professional Jockey
Horse jockey is a great profession to earn money on horse riding. They earn a percentage of the purse each time they win a ride. A jockey who rides a race horse earns around $30,000 per year. You can increase your income by getting a sponsor and partaking in more races. You can take part in several races a day.
Experience is what you need to improve. After you get a license in a jockey school, you have to practice more. Find a professional coach to lead you. As your goal is to cross the finish line first. You need to expand your horizons in many fields. This will give you a chance to become a jockey in high demand.