What should you wear with cowboy boots? This is a question that many girls ask themselves. Cowboy boots are versatile and can be worn on different occasions. They're perfect for every season, too. In this article, we'll talk about the best outfits for wearing cowboy boots. You will find out what dress to wear with cowgirl boots to make your outfit stand out.
What Dress to Wear with Cowgirl Boots?
Cowgirl boots are quite versatile in use. You can spruce up almost every outfit with such Western boots. Here are the top-notch dresses to wear with women's cowboy boots.
1. Denim Dress
Denim dresses are perfect for wearing cowboy boots. The dress looks girlish and charming thanks to the print with flowers, stars, or hearts. It is a good fit for a pair of black cowboy boots that look good against jeans material.
Such dresses can be worn on different occasions such as at work, parties, weddings, etc. As it has a simple design that can be used on an everyday basis. Use a denim belt to outline your waist. Putting Western-style bracelets on your wrist is also a good idea.
2. Chiffon Dress
Such a dress is ideal for a party or a wedding. Chiffon is a light and airy fabric. This allows the dress to look elegant, graceful, and chic thanks to its see-through design.
Such dresses are easy to maintain as they can be cleaned by dry cleaning at all times. They come in different colors from pink or white ones. All the options go well with black or brown leather cowboy boots.
Avoid such prints as big flowers or large-scale stripes on these outfits. As it makes you look bigger than your actual size. It's better to choose smaller floral patterns instead. Pair them up with high-heel boots if you want more sophistication.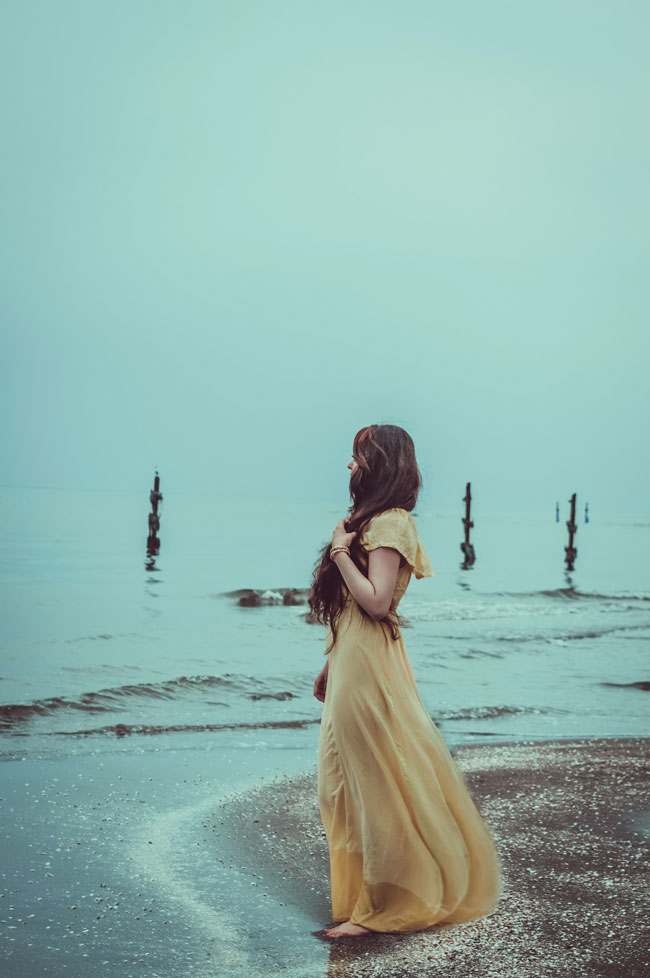 3. Party Dress
Look for easy-to-dress-up apparel that goes well with Western jewelry. This can be a light black lace dress of a middle length. You can also go for a knee-length forest green dress with sequin work on it. Pairing them up with cowboy boots gives an elegant look to the wearer.
4. Wedding Dress
Cowboy boots are perfect outfits for weddings. They give you comfort and style at the same time. If you opt for these shoes, then choose simple white dresses that have small patterns or prints on them. Such a dress should be easily paired up with other accessories like necklaces, earrings, and bracelets.
For making your feet appear smaller, try avoiding heavy Western boots in summer. All the length sizes are acceptable for a wedding dress with Western boots. A white dress and brown cowgirl boots, what can be cozier?
5. Lace Dress
The lace fabric is ideal for warm seasons. The dresses made of lace fabric are comfortable and breathable. It creates an exquisite look for the wearer. You can match such a dress with cowboy boots or any other simple shoes like sneakers, flats, etc.
Try green and brown color mix to be at the frontline. The middle length is just fine. A fancy lace dress will complement cowgirl boots with stitching ideally. Such a simple outfit makes this option acceptable on any occasion.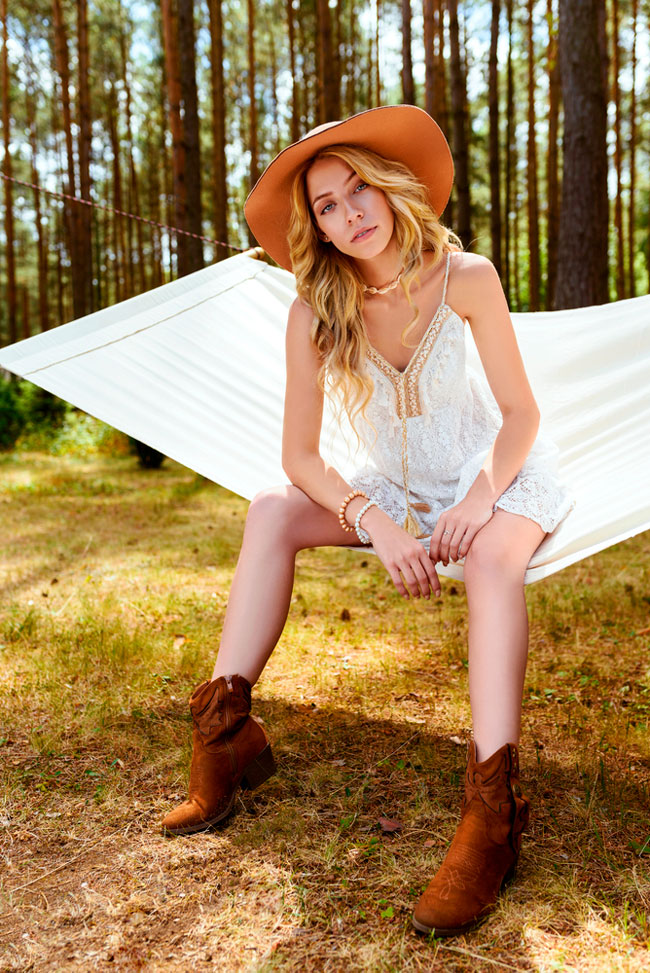 Mother of the Bride Dresses with Cowboy Boots
As we already mentioned, a wedding dress and cowboy boots are a great mix. If you're looking for dress ideas for a mother of the bride, Western boots are the one. They're stylish, elegant, and versatile. You can wear them during the ceremony or reception. Here are some styles to go with.
Cowboy boots worn by a mother-of-the-bride look great in a cream color dress. It has a full length that makes it long enough even with cowboy boots on top of it. The best part about this outfit is its simplicity as well as elegance. All you have to do is matching your accessories with such an outfit very carefully. Put on makeup for a more accentuating result.
Wear one-shoulder dresses over black cowgirl boots. This will make for a perfect combination for weddings held at night time. Black leather looks quite formal, yet not too much. Because of the touch brought by silver embellishments of this outfit, it manages to be classy.
Another great idea for the nighttime is wearing red dresses with cowboy boots at weddings and parties. Red color brings excitement while black leather looks formal enough in such an outfit. Even if the rest of the details are not too expensive looking.
On daytime occasions, wear short skirts over casual cowgirl boots made out of denim or suede instead of leather. Because they look softer than real leather does. This will make your mother-of-the-bride more relaxed as well as comfortable. Especially when dancing all night long.
Frequently Asked Questions
How to Wear Cowboy Boots with Dresses?
Think over the color match. Great color mixes include white and black, green and white, blue and brown. These colors look good with pretty much all boots.
A short dress will work well for both formal and informal occasions. Besides, they make any woman who wears them feel sexy as hell. Add a leather bag to look classy.
Materials play an important role when choosing the outfit. Look for leather cowgirl boots that look expensive. At the same time, avoid plastic items. Some Western boots come with suede and stitching. Look for a simple casual dress to make the main focus on footwear.
The main point is that your outfit should be comfortable as well as stylish. If unsure what style suits you better – choose the midi length for an elegant look and the mini one for casual style.
How to Dress for a Western theme Party?
Choose a comfortable pair of Western boots for a party. If you crave that classic Western cowgirl look, put on jeans, leather chaps, and a hat. Or consider a chiffon dress instead. Leather is on the agenda nowadays. Play with colors. White leather cowboy boots with high calve with grab you the spotlight for sure.
How to Dress Like a Cowgirl for a Rodeo?
Get blue denim jeans and leather chaps. Add a pink t-shirt or a white shirt to complete your outfit with cowboy boots. The cowboy's outfit is quite flexible and allows more than just brown colors. For example, florals are also in trend this year so consider adding them too.
Chic Cowgirl Outfit Revealed
Here are some tips for pairing your dress with cowgirl boots. Look for quality and breathable materials for comfortable wear. No matter what your occasion is, cowboy boots will nail it. They get on well with dresses of all lengths and color options. Try out this Western outfit to look chic and classy.