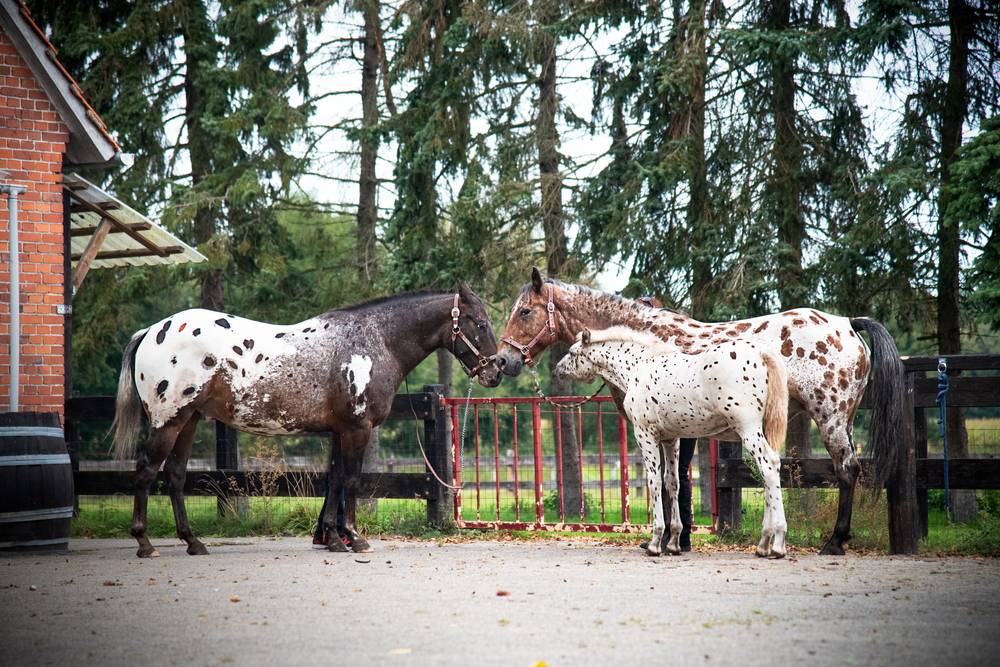 You want to name your spotted horse so it sounds catchy and easy to pronounce. The process can be exciting as it allows the horse owner to showcase their creativity and imagination. Let's explore 200 of the best names for spotted horse breeds, from traditional to unique horse name options. This extensive list of potential spotted horse names will make sure your companion stands out from the crowd.
100 Female Names for Spotted Horses (Mares)
Aurora – meaning "dawn"
Bella – meaning "beautiful"
Brandy – meaning "spirited"
Calypso – meaning "she who conceals"
Cara – meaning "beloved"
Caramel – a sweet, light-brown color
Celeste – meaning "heavenly"
Champagne – a pale, creamy color
Cherry – a deep red color
Cinnamon – a reddish-brown color
Clover – a plant with three-leafed foliage
Coco – a chocolate brown color
Cookie – sweet and playful
Copper – a reddish-brown color
Coral – a pink-orange color
Daisy – a white flower with a yellow center
Dakota – meaning "friendly one"
Daphne – meaning "laurel"
Diamond – a precious stone
Dixie – a nickname for the southern United States
Dot – short for Dorothy or dotted pattern
Ebony – a dark, black color
Eden – meaning "paradise"
Electra – meaning "shining"
Ember – meaning "spark"
Esmeralda – meaning "emerald"
Faith – meaning "belief"
Fawn – a light brown color
Felicity – meaning "happiness"
Fern – a green plant with fronds
Fiona – meaning "fair"
Flora – meaning "flower"
Gia – meaning "God's gracious gift"
Ginger – a reddish-brown color
Goldie – meaning "golden"
Grace – meaning "elegance"
Harmony – meaning "agreement"
Hazel – a light brown color
Holly – a green plant with red berries
Honey – sweet and golden
Indigo – a dark blue color
Iris – a purple flower
Isabella – meaning "God's promise"
Jade – a green stone
Jasmine – a white flower with a sweet fragrance
Juniper – a plant with blue-green foliage
Kahlua – a coffee liqueur
Karma – meaning "destiny"
Kiki – a playful nickname
Kiwi – a brown fruit with green flesh
Lacey – meaning "delicate"
Lady – a title of nobility
Lila – meaning "purple"
Lily – a white or pink flower
Luna – meaning "moon"
Macy – meaning "enduring"
Mandy – meaning "worthy of love"
Maple – a tree with red leaves in autumn
Marigold – a yellow flower
Matilda – meaning "mighty in battle"
Meadow – meaning "grassy field"
Melody – meaning "musical"
Mercy – meaning "compassion"
Midnight – meaning "the middle of the night"
Misty – meaning "foggy"
Mocha – a coffee-colored brown
Molly – meaning "bitter"
Montana – meaning "mountainous"
Moon – meaning "the Earth's natural satellite"
Morning – meaning "the early part of the day"
Mystic – meaning "mysterious"
Nala – meaning "successful"
Nellie – meaning "bright, shining one"
Nut – meaning brown color
Olive – a green color or a type of fruit
Opal – a precious gemstone with iridescent colors
Paisley – a pattern with swirling teardrop shapes
Pearl – a round, iridescent gemstone
Penny – meaning "weaver"
Pepper – a black and white or gray speckled pattern
Phoenix – a mythical bird that rises from the ashes
Piper – meaning "flute player"
Poppy – a red flower with a black center
Precious – meaning "valuable"
Primrose – a yellow flower
Princess – meaning "royal daughter"
Promise – meaning "pledge"
Pumpkin – an orange color or a type of squash
Rainbow – a multicolored arc in the sky
Raven – a black bird
Rayne – meaning "queen"
Rose – a flower with various colors and meanings
Ruby – a red gemstone
Sable – a dark brown or black color
Sadie – meaning "princess"
Sage – a green or gray plant with a fragrant aroma
Sapphire – a blue gemstone
Savannah – meaning "treeless plain"
Scarlett – a red color, famously worn by Scarlett O'Hara in "Gone with the Wind"
Sierra – meaning "mountain range"
---
100 Male Names for Spotted Horses (Stallions)
Ace – meaning "one"
Apollo – the Greek god of music and light
Arrow – meaning "pointed projectile"
Ash – a light gray color
Atlas – the Greek god of endurance and astronomy
Bandit – meaning "thief"
Blaze – meaning "flame"
Blue – a color of the sky or water
Bolt – meaning "lightning"
Brando – meaning "firebrand"
Brody – meaning "ditch"
Buck – meaning "male deer"
Bullet – meaning "small metal projectile"
Caesar – the name of a Roman emperor
Cash – meaning "wealth"
Cedar – a tree with aromatic wood
Chance – meaning "luck"
Charlie – meaning "free man"
Chase – meaning "to pursue"
Chief – meaning "leader"
Coda – meaning "tail"
Comet – a celestial object that streaks across the sky
Copper – a reddish-brown color
Cowboy – a term for a cattle herder
Cruz – meaning "cross"
Dagger – a short, pointed blade
Dallas – a city in Texas
Dakota – meaning "friendly one"
Dart – meaning "small pointed object"
Diesel – a type of fuel
Domino – a game played with tiles
Duke – meaning "nobleman"
Dusty – meaning "covered in dust"
Eagle – a bird of prey
Echo – meaning "reverberation"
Elvis – a name associated with the "King of Rock and Roll"
Ember – meaning "spark"
Flint – meaning "hard stone"
Frost – meaning "ice crystals"
Galaxy – a group of stars and celestial bodies
Ghost – meaning "apparition"
Gizmo – a term for a gadget or device
Goliath – a giant in the Bible
Granite – a type of rock
Harley – a type of motorcycle
Havoc – meaning "chaos"
Hawk – a bird of prey
Hercules – a mythological hero
Hudson – a river in New York
Hunter – meaning "one who hunts"
Indy – short for Indianapolis or Indiana Jones
Jasper – a type of gemstone
Jet – a type of aircraft
Jett – meaning "black gemstone"
Jupiter – the largest planet in our solar system
Knight – a title of medieval European nobility
Leo – meaning "lion"
Lightning – an electrical discharge
Loki – a Norse god associated with mischief
Magnum – meaning "large"
Maverick – meaning "independent thinker"
Max – meaning "greatest"
Mercury – the smallest planet in our solar system
Midnight – meaning "the middle of the night"
Mustang – a type of wild horse
Nero – a Roman emperor
Ninja – a Japanese warrior
Nitro – a type of explosive
Onyx – a black gemstone
Orion – a constellation in the sky
Ozzy – a nickname for Ozzy Osbourne or the Wizard of Oz
Panther – a big cat
Phoenix – a mythical bird that rises from the ashes
Pirate – meaning "one eye"
Ranger – meaning "keeper of the range"
Rebel – meaning "one who resists authority"
Renegade – meaning "one who has abandoned their previous allegiances"
Riptide – a strong ocean current
Rocky – meaning "full of rocks"
Rogue – meaning "dishonest person"
Rollo – meaning "famous wolf"
Romeo – the male protagonist of Shakespeare's play "Romeo and Juliet"
Rusty – meaning "covered in rust"
Sable – a dark brown or black color
Samson – a biblical figure known for his strength
Savage – meaning "fierce or untamed"
Shadow – a dark area created by blocking light
Silver – a shiny metallic color
Simba – the main character in Disney's "The Lion King"
Skipper – a term for a boat captain
Smokey – meaning "covered in smoke"
Sparky – meaning "energetic"
Spirit – meaning "essence or soul"
Spotty – a nickname for a spotted animal
Steele – meaning "of steel"
Storm – meaning "a violent disturbance of the atmosphere"
Sundance – a Native American ceremony
Taz – short for Tasmanian Devil
Thunder – a loud noise caused by lightning
Zeus – the Greek god of lightning and thunder
---
The Importance of Choosing the Proper Spotted Horse Name
A solid name helps to identify and distinguish your horse from others. This is especially important if you plan on showing or competing with your horse. Judges and officials need to be able to differentiate between multiple equines. Additionally, a name can reflect the horse's personality, traits of character, or conformation.
The horse's name can also affect how the horse is perceived by others. Certain names can convey strength, beauty, or other desirable qualities. A well-sound name can be an important aspect of its history, especially if the horse goes on to produce offspring or achieve notable accomplishments.
---
Frequently Asked Questions
What Is a White Horse with Black Spots Called?
A white horse with little black spots is commonly called the Appaloosa horse. The Appaloosa breed is known for its distinctive coat patterns, which can include spotted, striped, or marbled markings in a variety of colors. Appaloosas are known for their hardiness, versatility, and intelligence. These traits make them popular among beginner riders for a wide range of disciplines.
The Appaloosa horse was originally bred by the Nez Perce people of the Pacific Northwest. The people used them as mounts and for hunting and war. Today, Appaloosas can be found in many parts of the world, competing in various disciplines. These include dressage, jumping, and western riding. In addition to their striking coat patterns, Appaloosas are also known for their strong, muscular builds and their calm, easygoing temperaments.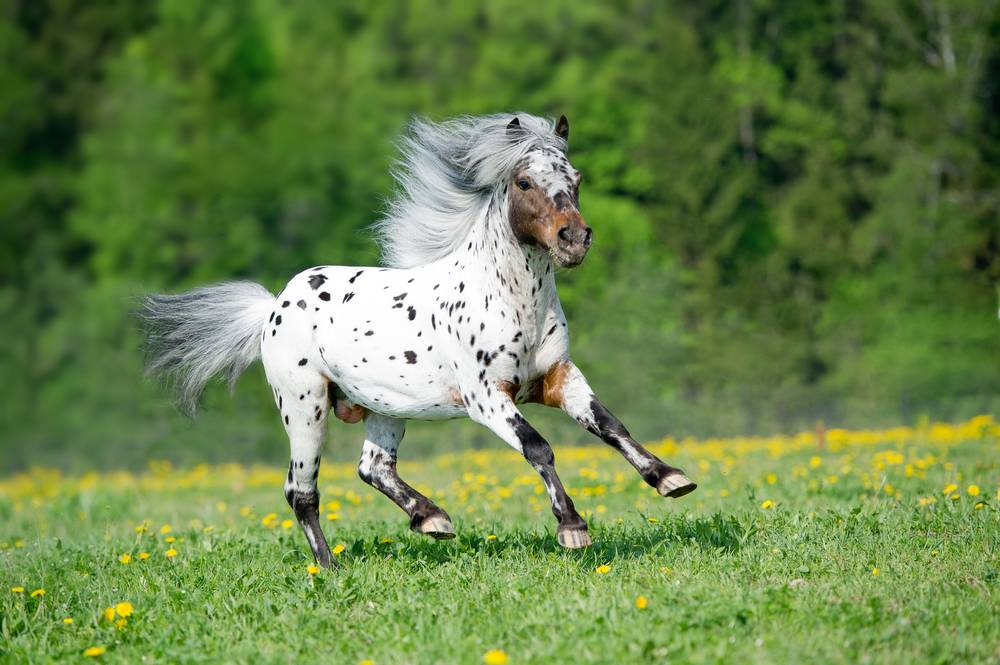 How to Choose the Best Name for My Spotted Horse?
Consider your horse's physical appearance, personality traits, or heritage when choosing a name. Think about the name that reflects the horse's breed or lineage or that has special meaning to you personally. Many horse owners choose names based on the horse's coat color. While others opt for good names that convey strength, beauty, or other desirable qualities. There are not many spotted horse breeds, so it's a great chance to underline their uniqueness.
What Are The Best Brown and White Horse Names?
Some of the best brown and white horse names may include "Sundance" (meaning "place of the sun"), "Hershey" (after the chocolate), "Cookie" (for a sweet horse), "Cocoa" (a warm, comforting name), or "Marble" (for a horse with unique coloring). Other options might include names that reflect the personality or behavior of white and brown horses.
---
Conclusion
Choosing the best name for a spotted horse can be a fun process for a horse lover. It will showcase the unique personality and characteristics of your equine. There are many horse breeds with unconventional marks with the famous Appaloosa horse at the top. Choosing the perfect name for your spotted companion can make it the brightest star on the farm. Whatever name you pick, it will mirror the special bond between you and your horse.