Wondering what a Quarter Horse price is? You're in the right place. Frankly, there's no firm price on a Quarter Horse. However, the tag ranges from $2,000 to $50,000 and even higher! Don't forget that keeping a horse also requires constant spendings.
An American Quarter Horse is one of the most popular horse breeds. They are speedy, intelligent, strong, and loyal – no wonder they are a favorite of many horse riders. If you want to buy a brand-new horse, the first thing you should consider is a Quarter Horse price. Plenty of factors affect the price tag, thus, we mentioned them in this article.
Keep reading to answer the question "How much does a Quarter Horse cost?". So you can manage your budget wisely and get ready for yearly spendings.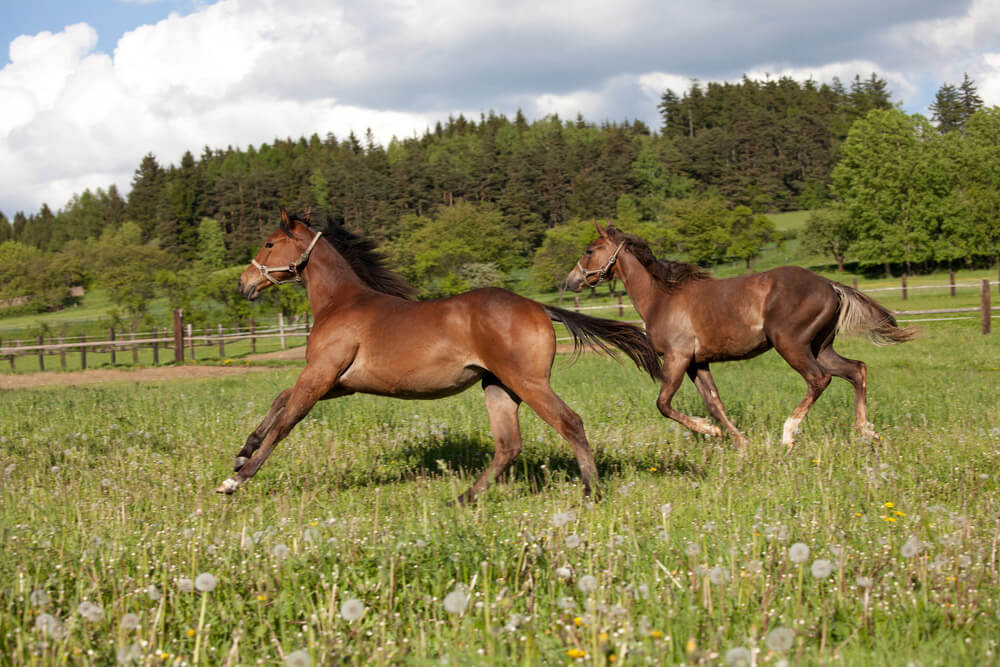 What Factors Affect the Cost of a Quarter Horse?
In fact, lots of aspects should be taken in mind when choosing a new horse. Different breeds are famous for various characteristics, thus, here's a list of factors that affect the price of the Quarter Horse.
Age
A foal (a baby horse) will cost lower than an adult horse. That's because a young horse needs extra care and time to be grown up and raised to hit your purpose. Hence, if you're looking for a companion to take part in various events and competitions, it's better to look for a mature horse that's ready to be trained.
Additionally, the price of old horses is reduced, as they may need extra treatment and living conditions. Besides, retired horses are obviously not good for performing, so there are not many activities to do with them.
Read the article if you want to know how long horses live.
Background History
It goes without saying that purebred horses are more wealthy than crossbred breeds. In fact, the Quarter Horse has considerable Thoroughbred blood, which is valuable in the equestrian world. That's why such a breed is pricey, as they inherit excellent qualities from their ancestors. Thus, the bloodline is a crucial aspect affecting the price tag.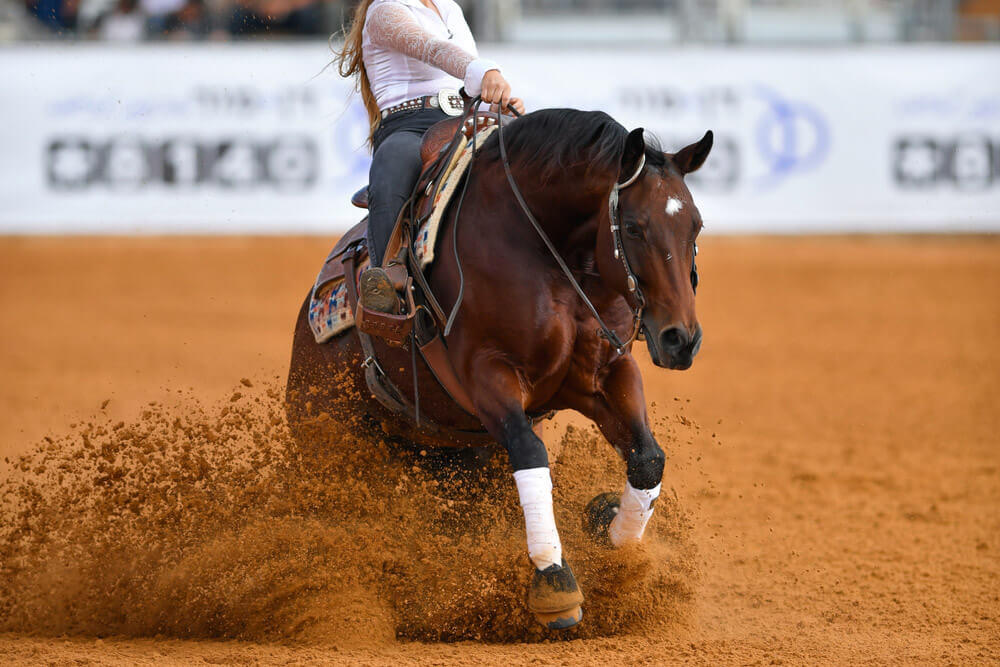 Riding Experience
As in every field, professionals are more valuable than beginners. The same goes for horses. If you stumble over a trained horse that's ready for equestrian events, be ready to face a solid price label. On the contrary, novice horses are a budget-friendly option. But they need extra time and effort to get them skilled.
Apart from that, if a horse has already won some competitions, you need to fork out to get the winner. Alternatively, if you'd like to start from scratch and save some bucks, a brand-new Quarter Horse is a great variant.
The State of Health
The overall well-being of a horse affects its price as well. No doubt, if a horse offered has a chronic disease or serious injuries, don't hesitate to knock off the price. Perhaps you don't need a sick horse to invest all the money in its treatment.
Look for a strong and healthy horse that can become a wonderful companion for racings as well as ranching. And a Quarter Horse can do both if treated accordingly.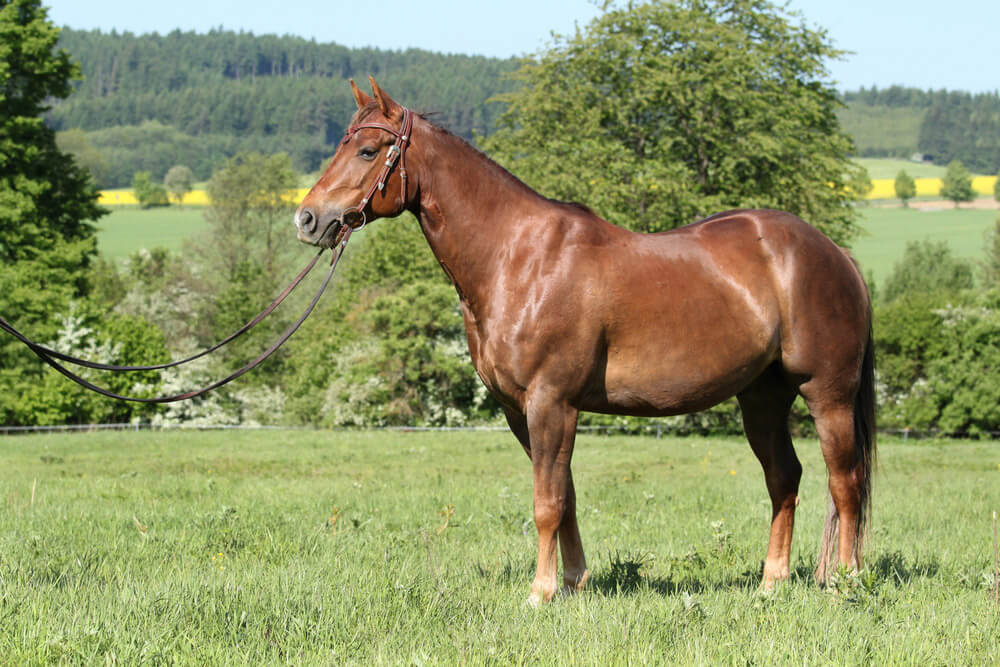 How Much Does a Quarter Horse Cost?
If you already know what a Quarter Horse price is, you may also take into account the extra expenses needed when buying a horse. Even though the Quarter Hoese is not the most expensive horse breed, the annual charges are quite imposing.
Here's a list of the main spendings you may be faced with a Quarter Horse purchase:
The first check goes for a horse purchase – $2,000 to $50,000, depending on the factors mentioned above.
A horse needs constant feeding (with hay and grains included) – $80 to $100 per month.
Tack up your companion with all necessary gear (a horse saddle, saddle pad, bridles, etc.) – $500 to $1500 per month depending on the equipment you need.
Stable maintaining (including cleaning and disinfecting) – $50 per month.
Stall fee – $500 per month, depending on the horse itself and its needs.
Regular health treatment (vet appointments for check-ups) – $100 per month.
Emergency health treatment – $250 per session.
Trimming and grooming, food supplements, deworming – $200 per month.
Dental check-ups – $25 per month.
And this is not the full list as it could be endless according to your horse's special needs. It shows that keeping a horse is a demanding process that requires lots of money and effort. Besides, if you're looking for a racehorse to take part in competitions, constant chargers for new equipment and health care will be an integral part of your monthly bills.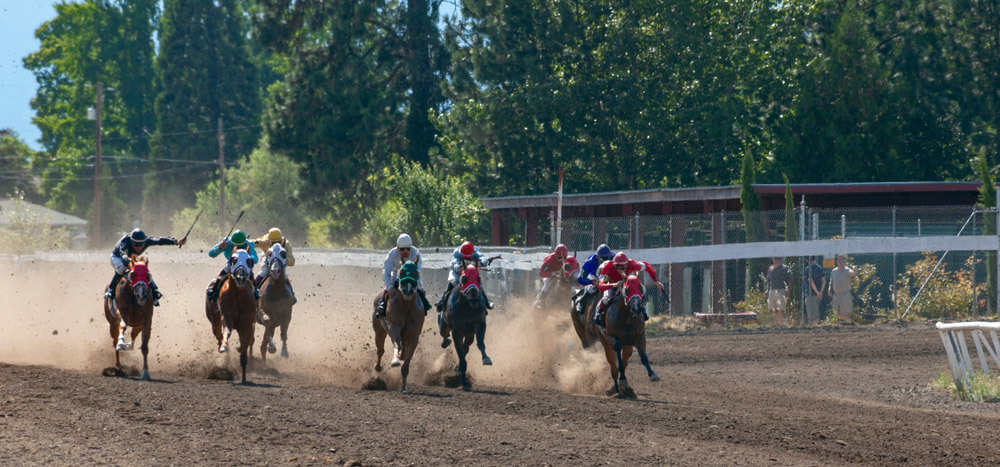 Why You Should Buy an American Quarter Horse
Why would you buy an American Quarter Horse? Why is this breed so special? The answer is simple – they are extremely intelligent, strong, and more. The breed is loved for its endurance, as such horses are great in the arena as well as at the ranch.
Thus, the Quarter Horse breed is versatile in use, it could meet all your needs. Showing, trail riding, dressage, ranch riding – no brobs, an American Quarter Horse can perform all of those. Western barrel racing, English show jumping – just choose the style you're eager to. The Quarter Horse can deal with loads of equestrian disciplines and working activities as a breeze.
The Quarter Horse is grasped as a highly athletic breed for sure. If you're looking for a companion to grab the winning prize at championships – that's the best deal. An American Quarter Horse, as well as a Thoroughbred, is a speedy horserace. That would be a 5-star investing if you purchase a powerful and healthy Quarter Horse.
Having said that, keep in mind that racehorses require constant health care in order to avoid severe issues. Besides, a pro trainer is needed who specializes in particular events you want to take part in with a Quarter Horse. Therefore, mind all the expenses and responsibilities you need to take after you get a new horse.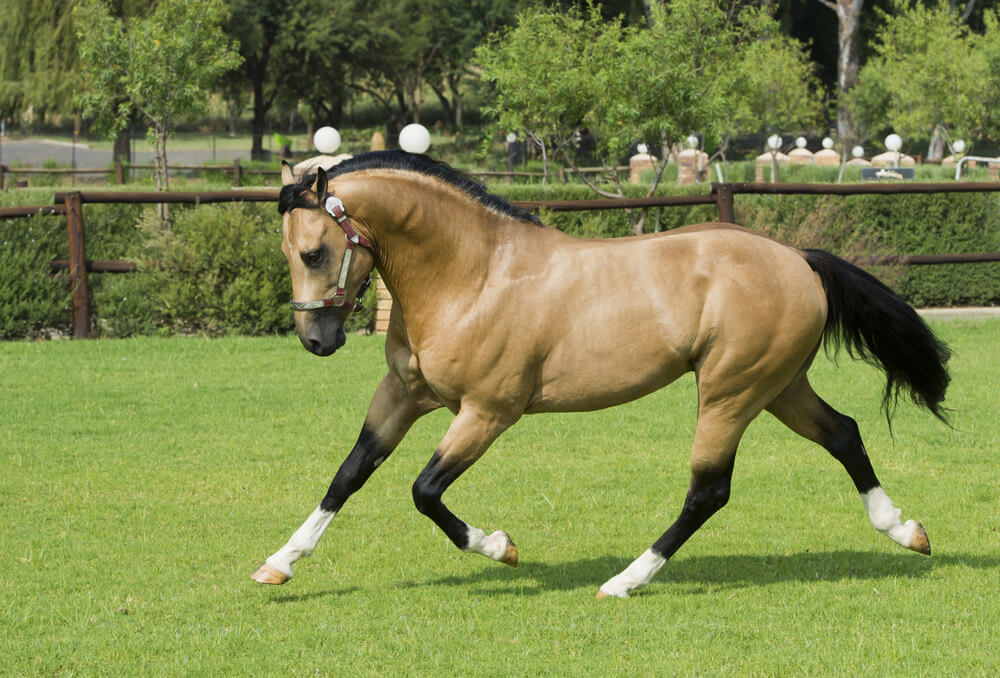 A Quarter Horse for Sale
You may find a myriad of ads on the Internet offering an American Quarter Horse for sale. You can start your search with online message boards that are well-know among equestrians like Ehorses or EquineNow. You're able to find a great deal near your location, which is a plus. Lots of mobile apps are also available, so you can get an instant message once a new ad is posted.
If you're searching for a Quarter Horse online or you want to post your own ad, here's a list of crucial horse specs you may face on a market website:
Gender,
Age,
Color,
Height,
Weight,
Racing experience,
Training abilities,
Current health condition,
Past diseases and treatment,
Horse characteristics,
Horse temperament,
Level of a rider preferred (beginner or advanced),
Price,
and other aspects that are essential to mention.
The list can differ as you may be interested not only in a Quarter Horse price but also in its condition and characteristics. As if you purchase a new car, you should make sure that the price tag meets the quality of the good. Go on reading to check general Quarter Horse characteristics to confirm that's the American Quarter Horse is the One you're looking for.
Quarter Horse Characteristics
The American Quarter Horse is one of the oldest horse breeds in the USA. The horse is a result of crossbreeding between Spanish horses and English breeds. In fact, the Quarter Horse has Thoroughbred blood. Hence, they have similar characteristics, but still, these are two different horse breeds.
Such a breed is commonly used in racing, as the Quarter Horse is well-known for its utmost agility and fast-speed skills. They are good for rodeos, barrel racing, eventing, driving, dressage, hunting, etc. With their well-muscled body and willingness to train, they can handle any equestrian activity, both Western and English.
As for their built, the average Quarter Horse is 64 inches high and 1100 pounds weight. The head is short with small alert ears. The neck is muscular, the chest is broad. The legs are long and spread. However, the hooves are relatively smaller than the ones of other breeds.
Quarter Horses may be found in a wide array of color patterns. The most common Quarter Horse colors are chestnut, bay, black, brown, gray, palomino, roan, and so on. Besides, the horse breed is extremely intelligent, friendly, and persistent.
The American Quarter Horse Association (AQHA) is a breed registry accepted worldwide. It includes all the necessary info about the breed and its population. There's a blog with the latest news from the equestrian world that will always keep you up to date.
Final Thoughts
The very first thing that pops to your mind when choosing a horse is "How much does a Quarter Horse cost?". This article answers the question about a Quarter Horse price as well as reveals the main factors that affect the cost.
As you can see, keeping a horse is pricey, but any equestrian would say it's worth the effort. As soon as you get a new companion you should manage your budget in order to cover all the following expenses. A well-treated horse will bring you paramount satisfaction and the greatest outcomes!
Interested in other breed prices? Check out the article that uncovers how much an Arabian Horse costs.