A horse fence is an essential part of a horse facility. Its construction should be planned thoroughly in advance. The fence is used to keep horses away from other animals or other herds. A well-made fence system promotes proper grazing and group division.
Horse owners are able to build a horse fence with a range of materials and sizes. Solidly constructed fences aid facility management. There are different purposes for why fences should be installed. The list includes pastures and paddocks for grazing, riding arena, and to outline the property.
First, we'd like to point out what a horse owner needs to build a fence.
Things to Consider When Fencing Horses
Before you start fencing, you have to make sure that you have a solid plan. Here are common questions you should ask yourself.
What Size of a Horse Fence Do I Need?
A small paddock is enough if you own a horse or two. The more horses you own, the more area you need. At least 1 acre of the paddock is needed so the horse can graze there.
How Tall Should the Fence Be?
The fence height depends on the horse. 5-feet fencing is enough for an average horse to keep it protected. For miniature horses and ponies, you could consider even shorter fences.
What's My Budget for Horse Fencing?
Think over your budget before building it. Various fence types have different prices. For instance, the wooden board is more pricey while electric fencing is a budget-friendly option. With a smaller paddock, you may afford more quality fencing.
Best Horse Fence Types
Wooden Posts
Posts are installed at the corners to pull the wires and keep tension. Use concrete to set the wood posts firmly. It's a common type of fence for horses. The cost is $10 to $50 per post.
Depending on the wood type, you could expect some advantages and disadvantages of a wood fence. For instance, softwoods ward off rot and insects. However, you'll need to fork out for such a quality product. Hardwood is more durable but horses may not like its taste.
Horse owners tend to use pine, oak, or poplar for horse fencing. In case you're looking for softwood materials, spruce is a good option. It's recommended to look for pressure-treated lumber (PTL) wood. It's impregnated with chemical preservatives to protect the material from insects, rot, and fungi. Search for certificated PTL wood posts that are in-ground friendly.
Ask a contractor to set the wooden posts as it will save you some time and effort. Besides, they may offer you driving the fence posts. That's a special technique that is used to install the posts in a more confident way. Instead of digging the post hole, it's compacted around the wooden posts. Make sure you allocated the budget so you could cover the installation bills.
Metal Posts
Metal T-posts is a more budget-friendly fencing option but less safe. There's a risk of horse impalement in case of grazing over the fence. The animal can get injured because of the sharp tips at the top. It's recommended to cover the metal t-posts with plastic caps to avoid that risk. Be careful when communicating with a horse over such fence posts. The average cost of a metal post is $50.
Wooden Board Fence
As we already mentioned, the wood board is quality, durable, and looks classy. It provides great visibility and decent strength. The cost is $5 per foot. On the other hand, horse owners have to maintain the board fence on a regular basis. Check the fence for weathering or chewing. In case of attempts to break through, the nails may lose. Tighten all the nails regularly to avoid injuries.
PVC Board Fence
Such horse fences are easy to maintain, which is a plus. They can be easily painted, which adds more aesthetics. But this type of fence is quite pricey – the cost is $10 per foot.
The PVC material is solid to withstand various weather conditions. However, it couldn't resist a horse breaking away. Thus, electrical fence wire is required to add more protection to the property.
Electric Fence
A fence electric system is deemed as safe and easy to maintain. The price is friendly – the wire fencing costs from $0.05 to $0.15 per foot. It's an excellent option for those who are considering spacious fencing options.
The fence usually goes with four or five electric fence wires. This type requires a charger as well as grounding rods. All these fence materials complete a circuit. Electric fences are a great way to teach a horse not to touch the fence quickly.
Pipe Steel
Steel fences are long-lasting options. The pipes are durable and resistant to weather conditions. However, there's a risk of horses get hurt if they smashed into this type of fence. But such rail fences are highly visible that minimizes the risk.
Making a DIY horse fencing with steel pipes could be challenging. Thus, get ready to pay for cutting and welding the pipes to the fence. Planning fences require accurate measurements. Besides, you may need to paint the pipes as well. The pipe fencing is worth $10 per foot.
High-Tensile Wire
High-tensile wires are wires with a firm tension. They sit tightly like the strings of the guitar. While installing the fence, check that all the line posts, сorner assemblies, and braces are set intermittently. Make sure that the tension is reducing with aging and weathering. So you should check the high-tensile wires for stretching from time to time. Temperature changes also affect the tensile wire. The average price for high-tensile wiring is $3 to $10 per foot.
Smooth Wire
Smooth wire horse fencing is an inexpensive option. It's a barbed-wire fence with no barbs. The fence poles are spread with huge gaps that help to save extra bucks. There's a wide range of wire length to be considered. The product is not highly visible. That's why manufacturers offer various wires of different colors. The cost of smooth wire is $1.20 per foot.
Such horse fencing is safer as there are no metal sharp edges. Smooth wires are horse-friendly that can be pulled around the post. Such wire fences usually go with electric fences so horses don't push the strings.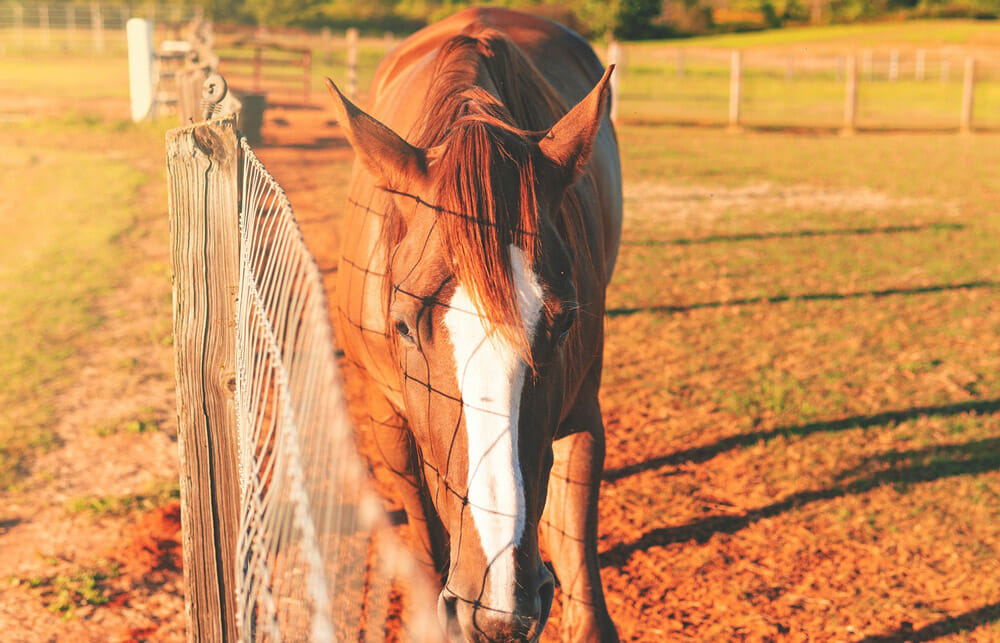 Mesh Wire
Mesh wiring has a variety of shapes. It can go with diamond, square, or V-shapes. This type of fencing requires little maintenance, which is a great perk. It's also a safe option for horses as the mesh is pretty smooth.
The mesh wire fences have a shock-absorbing option in case a horse smashes the barrier. Besides, such a fence protects horses from predators and dogs. The cost is $4 per foot that is equal to the high-tensile wire.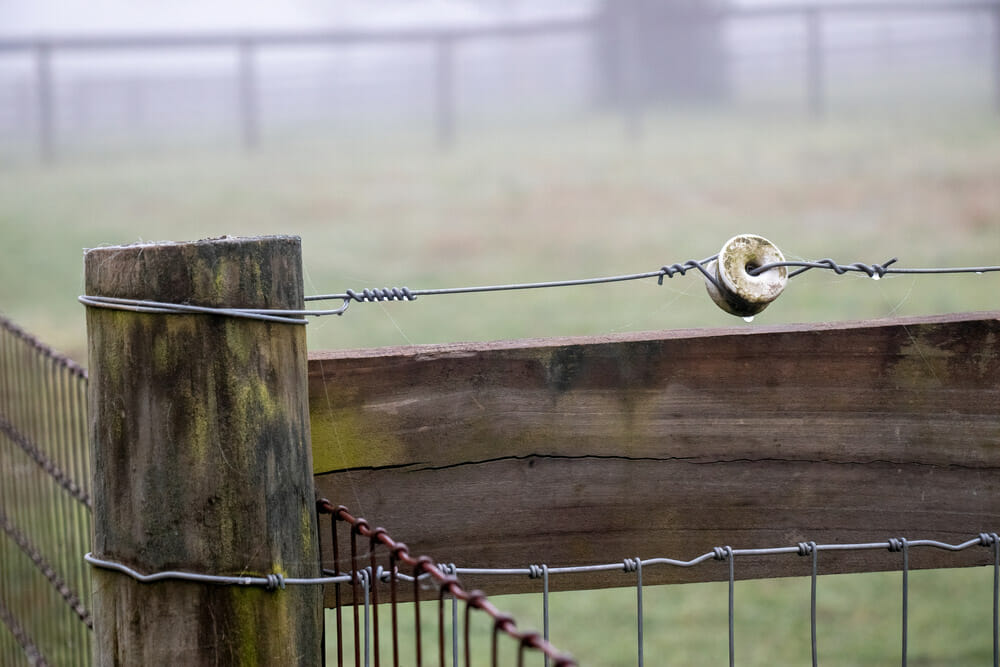 DIY Horse Fencing
You can build a fence on your own if you consider the following guidelines. The instructions may differ depending on the type of fence. Here are general rules to follow when building a horse fence.
Tools Needed
Digger for post holes
Circular saw
Hammer
Screw gun
Measuring tape
Shovel
Pencil
Twisted nylon line
Materials Needed
Wooden posts – 5″ diameter
Fence rails – 1″ x 6″ x 16 foot boards
Wood screws – galvanized 3″ long
Concrete (quick set) – 100-pound bag per post
Paint
Directions
Plan your horse fence. Mark the corners on the map. Use a nylon line to stretch between the marks. That will help you to spread the posts, 7.5 feet apart from each other.
Dig the post holes. Search for the frost line on your property and start digging. Dig 6″ below the point at 3 feet long. The base of the hole should be wider. That will ease your digging and post-installation. Dig the number of holes that you can concrete at a time. Don't leave the holes overnight as bad weather may delay the process.
Install the posts. Take the fence posts and put them in the holes. Backfill the holes with concrete to the ground level. Temporary braces may help you hold the post so you can put it in the hole.
Fix the fence posts. You have to tame the posts so they have a single height. Adjust the corner posts to the desired height, cut them if needed. Take the line and tack it 1″ from the top of the posts. This line exhibits the top rail that intersects the posts. If it doesn't trace fluidly, adjust the line placement on the intervening posts. Mark the spot where the line reaches each post. Cut an angle 1″ above the mark with a circular saw.
Nail the fence. Use galvanized nails or screws to secure the rails while building a fence. Use a screw gun if you opt for the second option. Drive the nails at least 1″ away from the edges of the boards to keep the wood solid. The rail fence system should be spread evenly from the top to the bottom. But make sure the bottom rail is 4″ away from the ground for flawless moving.
Paint the fence. After building a fence you should wait for a couple of months before painting. In case the wood is wet it won't absorb the paint properly. Grab solid gloves to protect your hands when working.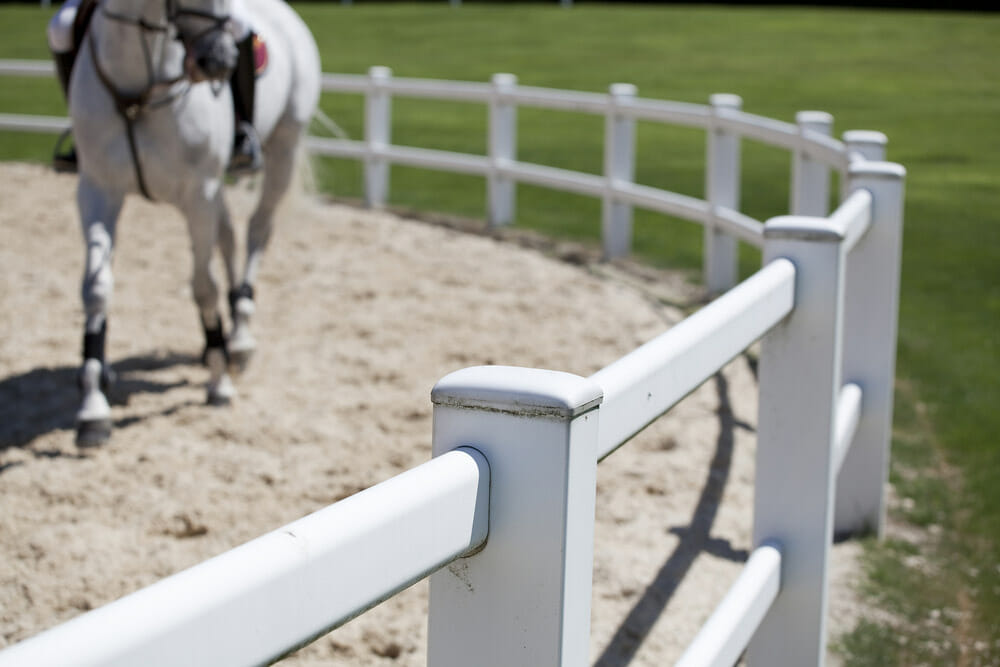 Horse Corral Ideas
Every horse needs about 200 square feet of corral space, apart from pasture. Consider this while building a fence. A corral can be different in shape, height, construction, and stiffness. The following horse corral ideas could be helpful to build the ideal facility.
There should be a pass-through lane for trailers. The gates provide easy access for animal loading and transferring. You may need protective boots when trailering your horses.
An "over-build" design provides more security and post strength.
The gates have to be made with durable materials that have a swing function.
Install firm gate latches so the horses won't break away.
The horse corral should have a comfy design that keeps the horses calm and secured.
The horses should be provided with easy access to water and hay.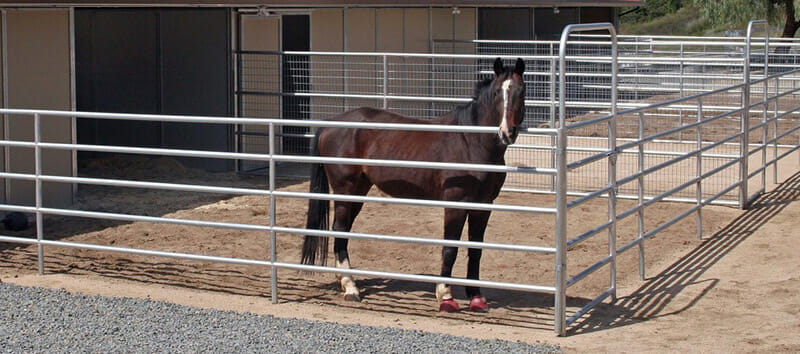 Wrapping Up
There's a huge array of horse fencing options you may consider for your horse property. A solid fence is a guarantee your livestock is protected and outlined. Fence constructors require precise measurements to install the facility duly.
Depending on the type of horse fencing, you should expect various costs and maintenance. Wood or metal posts with smooth wires and mesh are the most common options.