Horse lovers, Christmas is coming! If you don't know what to give your favorite horse trainer this year, check out our list of the 12 best Christmas gift ideas for a horse trainer. These gifts are sure to be an instant hit with any equestrian enthusiast. From stocking stuffers to gift certificates, there's something for every taste and budget. So whether you're looking for the perfect present or just want some inspiration before starting your hunt, keep reading.
Without further ado, here are the top 12 gifts for horse trainers this Christmas.
Gift Idea #01: Leather Riding Gloves
Leather riding gloves will stand you in good stead. They are comfortable to wear, they offer protection for the hands while riding. And they have a beautiful design inspired by horse bridles. Leather gloves are durable and of good quality. They can be used on cold days when you need extra protection for your hands. If cared for properly, leather gloves will serve you all year round. This makes riding gloves a safe bet.
Gift Idea #02: Customized Horse-Themed Ornament
This gift is perfect for anyone who loves horses. It's a beautiful horse ornament that can be customized with the recipient's name and a special message. It also comes in a lovely gift box, making it an ideal present for any occasion. Such horse decorations will spruce up a Christmas tree for sure!
Gift Idea #03: Personalized Leather Journal
A personalized leather journal is a perfect gift for any horse lover who likes to keep track of their thoughts and ideas. The journal is made from high-quality leather. It features a beautiful design on the cover. It makes a great to any desk or bookshelf. Besides, some journals come with a personal engraving that is a great perk. Keep the records of your horse in one place.
Gift Idea #04: Horse-Shaped Cutting Board
This gift is perfect for the chef who loves horses. It's a beautiful cutting board that's made from high-quality wood and features a horse-shaped design. The recipient can use it to chop vegetables, fruits, or meat. No matter what the recipient's cooking skills are, this Christmas gift will come in handy.
Gift Idea #05: Wooden Horse Statuette
This gift is perfect for horse trainers. It's a beautiful wooden statuette of a horse that stands over 12 inches tall. It's handcrafted from high-quality wood and makes a great addition to any home décor collection. Let this figure remind you of your horse all the time. Apart from the wood, such statuettes can be made of plastic, rubber, metal, or rock. The gift comes in a wide range of color and size options.
Gift Idea #06: Horse Head Mask
This is a gift for a horse trainer who loves funny gifts. It's an amazing latex mask of a horse head that looks incredibly realistic. Your favorite coach can use it as part of their costume during Christmas celebrations at work. Don't forget to take pictures so you can laugh together later.
Gift Idea #07: Horse Stickers & Car Decals
This is a great gift for anyone who loves horses and has their own car. The decals are available in different sizes. So you can pick one that will fit perfectly on your friend's car window. It comes with an application manual. It's super easy to install the decal onto any smooth surface of your choosing. Let others know how bad you love your horse!
Gift Idea #08: Horse Bracelet
A beautiful рorse bracelet makes a lovely Christmas gift idea for anybody – not only horse trainers. This is a classy accessory that looks amazing on both women and girls. That's a perfect gift that suits any budget. Depending on the material used, you can find an option for a few bucks and up to thousands of dollars. Try to find matching earrings or a pendant to complete this look.
Gift Idea #09: Horse Riding Apparel
If you're looking for a horse-themed gift to wear every day, consider buying riding equipment. There are many different options to choose from. These could be a helmet, gloves, long sleeves, breeches, or boots. You can find such clothes in specialized stores – both online and offline. Just make sure to check the size charts before making your purchase. If you're not sure about the size, ask the receiver directly to avoid a confuse later.
Apart from riding clothes, you can gift a horse too. Visit your local tack shop for a saddle, saddle pads, hoof picks, and more. Matching-color horse equipment is a game-changer! Prepare great gifts for your trainer and their horse.
Gift Idea #10: Horse-Shaped Salt and Pepper Shakers
Salt and pepper shakers are a great addition to any kitchen and they make a perfect gift for horse trainers. The shakers are made of ceramic material that is solid and durable. The items come in a range of colors to match the kitchen color palette. They also have an adorable horse design on them.
You can even go further and look for other horse-related kitchen tableware. Match the shakers with mugs, plates, cutlery, and more. Spruce it up with horse-printed tissues and the perfect gift is set.
Gift Idea #11: Custom Wooden Horse Sign
This is another unique and personalized gift idea that is perfect for horse trainers. You can have a wooden sign with the horse's name printed on it. The best part? You get to choose the font, text color, background color, and more.
The average size is of the sign is 12 inches by 12 inches. And it usually has a keyhole on the back so you can hang it easily. What a great idea to highlight the stall with your loved horse in.
Gift Idea #12: Horse Keychain
Keychains are one of those things that everyone uses. If your horse trainer is always looking for their keys or misplacing them, this Christmas gift idea will be just what they need. The horse keychain comes in different colors and designs to choose from. Some keychains feature personal texting on them. That's a great chance to leave a warm message to your trainer. Another option is to include the horse's photo on the keychain, which is a great perk.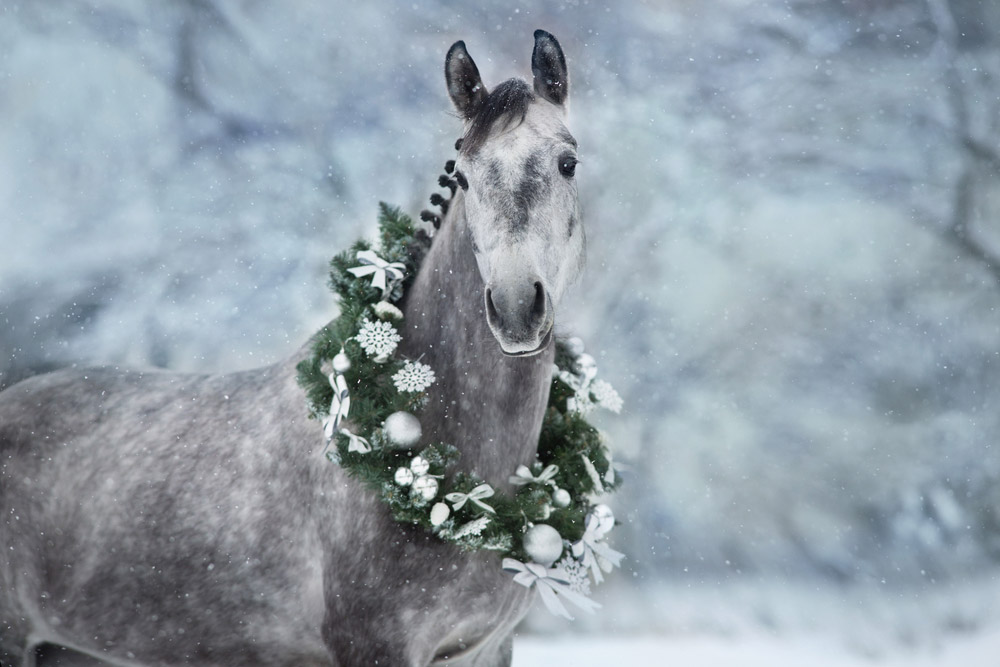 Conclusion
Surprise your favorite horse trainer with lovely Christmas gifts. Choose between the 12 ideas revealed in this article to show your appreciation. No matter how much money you're ready to spend, you'll definitely find something worthy. Happy winter holidays!