Cowboy boots can be really expensive and it's important to keep them in excellent condition. The 8 tips in this article will help you polish your boots properly. This will help to get maximum performance and prolong the cowboy boots' lifespan. If you're a cowboy or just like wearing boots, then this article is for you. Here, a bunch of polishing methods is revealed suitable for any needs and budget.
How To Polish Cowboy Boots with Stitching?
Stitching is the first thing to take care of. Staining may occur on leather and suede cowboy boots, which can be removed with white vinegar or alcohol (preferably ethanol). To remove stains from colored stitching, you will need pure acetone. Acetone dissolves fibers so make sure not to use it too close to stitches in order to avoid damage. For white stitching, consider a bleach pen or a wax pencil.
Boots often look dirty because of dust build-up between the upper layer's fabric and its lining. This leaves a stain that cannot be removed by regular brushing off ingrained dirt. Use a soft brush dipped into water mixed with dish detergent for best results. You can use a damp sponge instead. You should also try using lemon juice or hydrogen peroxide if they are more available than dishwashing liquid at home. If you're looking for ways on how to remove scuff marks, use a common eraser to rub the scuff off.
Here's a step-by-step guide on how to polish cowboy boots with stitching.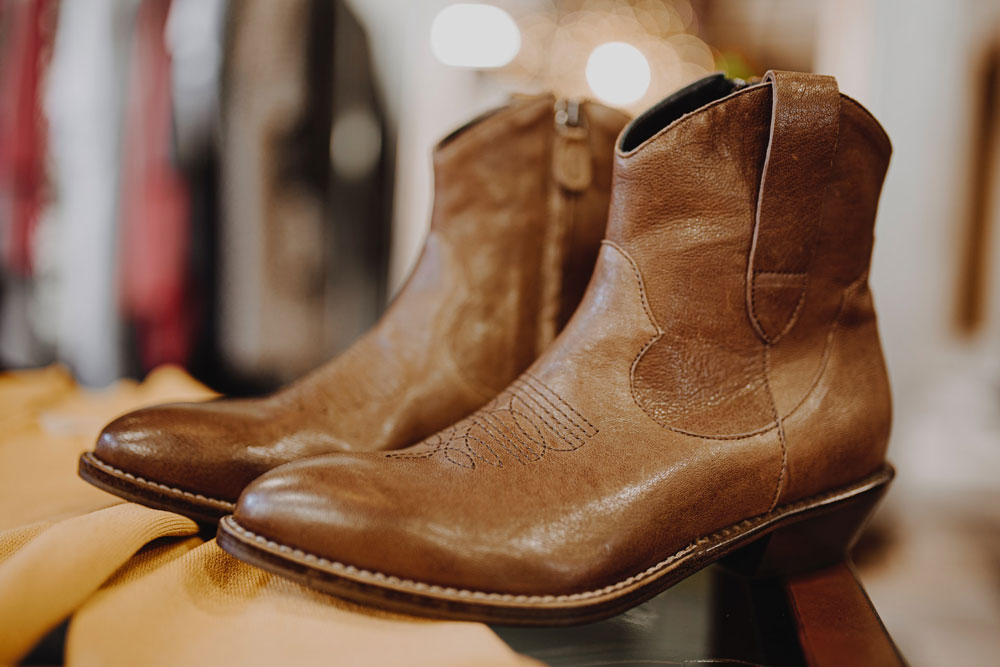 Step 1. Apply Shoe Polish
Apply thin layers of polish to the surface using your fingertips. Let it dry for at least five minutes before applying another coat. You can also apply linseed oil if you have some at hand. It helps with shine and provides water resistance. It also prevents cracks from forming in leather surfaces when exposed to sun or heat too often. If you happen to get any stains on your boots through the polishing process, never use acetone – this will only make matters worse!
Don't rush through the process by putting one thick layer of polish over everything without allowing time between layers and periods where no coats are applied at all. Rub the polish cream over your boots. Take your time to soak the cream in the cowboy boots.
Step 2. Brush Your Cowboy Boots
Brushing your boots is a crucial step in polishing cowboy boots. It helps distribute the polish evenly and removes any excess polish that may have been missed during application. One of the most important things to keep in mind when brushing your boots, as well as when applying polish, is not to use too much pressure!
Applying too much force will lead to scratches on surfaces like leather or suede. These are very difficult to remove and can even cause permanent damage. If you find yourself struggling with hard-to-reach areas of your boot, try using something firm but flexible. Consider an old toothbrush or hair comb for these spots instead of risking causing permanent marks.
Steps For Brushing Boots:
Apply a generous amount of polish to the brush.
Use long strokes, from the heel of the boot towards the toe. Only swipe in one direction – do not go back and forth!
Repeat application as necessary until boots are fully polished.
Additional Tips:
After you have finished brushing your boots use a damp cloth or sponge to gently wipe off any excess dirt that was transferred onto the surface of your leather shoes. While sweeping them clean with the brush.
Be careful when using water on suede. It's best not to submerge it completely underwater. This may lead to sagging due to too much weight being applied. But wiping gently is always okay. If you find yourself struggling with hard-to-reach areas on your cowboy boots, a cotton swab or earbud can come in handy.
The key to keeping cowboy boots soft and supple is maintaining them properly with regular shoe care. The idea of using leather lotion, polish, water repellent spray, or waterproofing agent may sound like overkill. But it will help maintain the quality of your shoes for years to come.
In order to reduce scuffs on cowhide, you'll need not just any old shoe cream. Use something that was designed specifically for this type of hide instead! This includes products such as Saphir Renovateur Leather Cream. It contains pigments that won't rub off while they're being rubbed into the skin surface.
It's important to remove all the dirt from all surfaces including the toe box, gullets, and heels. Use a brush or cloth to gently rub dirt from these areas, then use water and gentle soap to remove it with the help of a sponge or soft rag. If you've got stubborn stains on your boots that can't be removed with just water alone, try using an acidic cleaner like Tarrago Instant Shoe Cleaner & Leather Conditioner (a non-acidic version is also available) instead.
It's important not to polish cowboy shoes too much – this will only cause unnecessary wear and tear on them as they age.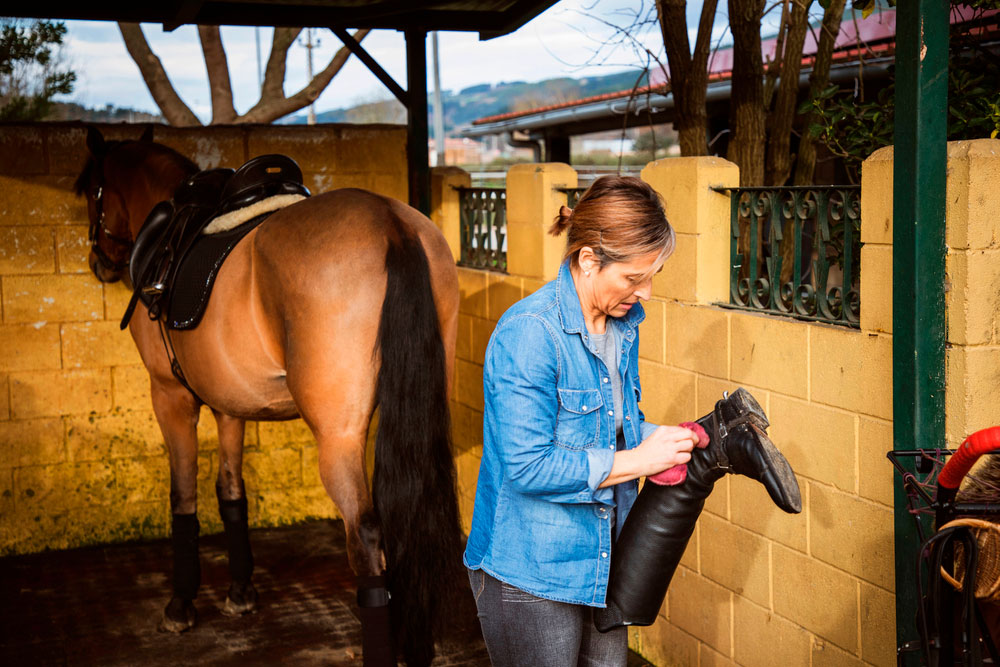 Step 3. Wipe Your Cowboy Boots
Remove excess polish from your horse riding boots using a clean cloth or paper towel. Wiping is essential to ensure that the polish has been properly distributed evenly throughout your boots. But it's also important for drying purposes.
Step 4. Buff Your Cowboy Boots
Make your boots shiny by buffing them with shoe cream or paste. Buff your boots until they are the desired shine. Then apply one last coat of polish and buff again to ensure that it's been distributed evenly across your boot.
Tip: when using a cream-based product, put pressure gently not to cause damage to leather materials.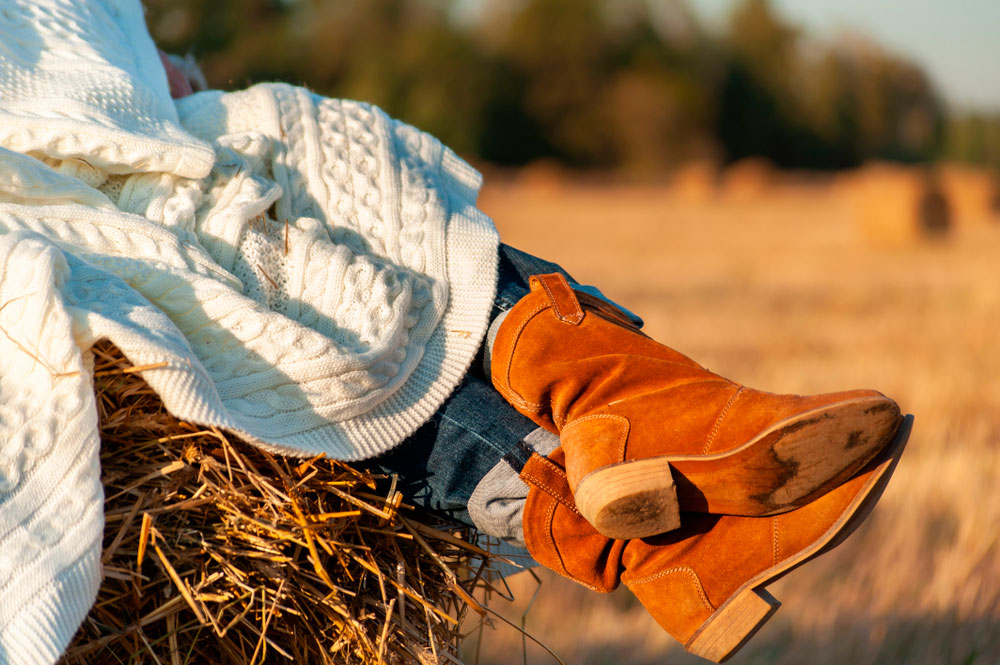 Can I Polish Suede Boots?
No, you shouldn't polish suede boots as it will cause the material to become dry and cracked. Use a suede brush in order to clean dirt from your boots as it's more gentle than leather brushes.
Can I Polish My Boots With A Paper Towel?
No, you shouldn't polish cowboy boots with paper towels because they are too rough on the materials of a boot. They can easily damage them if not careful. Lay out an old towel or cloth that is preferably cotton for polishing purposes.
How to Polish Leather Cowboy Boots?
Leather cowboy boots can be polished by using a high-quality leather polish or saddle soap. Use a clean damp rag to apply the product onto your boots, then buff it in with an old cotton towel.
How Often Should I Polish My Boots?
You should polish cowboy boots at least once every six months for best results. After you've used one of these polishes and rinsed off all excess material, allow them to completely dry for 24 hours before wearing again.
Can You Use Shoe Polish on Cowboy Boots?
Yes, shoe polish can be used on cowboys boots. Make sure that the type of boot is compatible with the shoe wax. Some products are not designed specifically for shoes like those made from synthetic materials.
How to Get a Mirror Shine on Boots?
Use a soft cloth to buff the surface of your boots with some polish. This is great for when you want that perfect shine and will make them look like glass. Ask advice from professionals who get the hang of polishing cowboy boots. You may find help online and offline.
Shoe Polish Alternatives
Shoe polish is not the only option to make your cowboy boots shine. Cowboy boots can be cleaned with soap and water. If they're too dirty then use just water alone depending on what type of leather your cowboy's boot has been made out of. Mind that some materials don't react well to soap.
Make sure you dry them off before applying any oil-based products like gloss cream onto them. As it will sometimes lead to discoloration if not done properly.
Here are other alternative ways on how to polish and clean cowboy boots with improvised means like milk, vinegar, and more.
1. Banana Peel
Use a banana peel to polish your cowboy boots with their natural shine. Mix a banana peel and some vegetable oil to polish brown leather cowboy boots. Rub the mixture on your cowboy's boot until it starts giving off the desired luster. Then wipe it clean with a cloth or paper towel.
2. Milk
Apply some milk on a cloth or paper towel and start polishing your cowboy boots. The milk will leave a nice shine on the brown leather cowboys' boots. But it may also darken them as well. Be sure to wipe down any excess after you are done with this method of cleaning.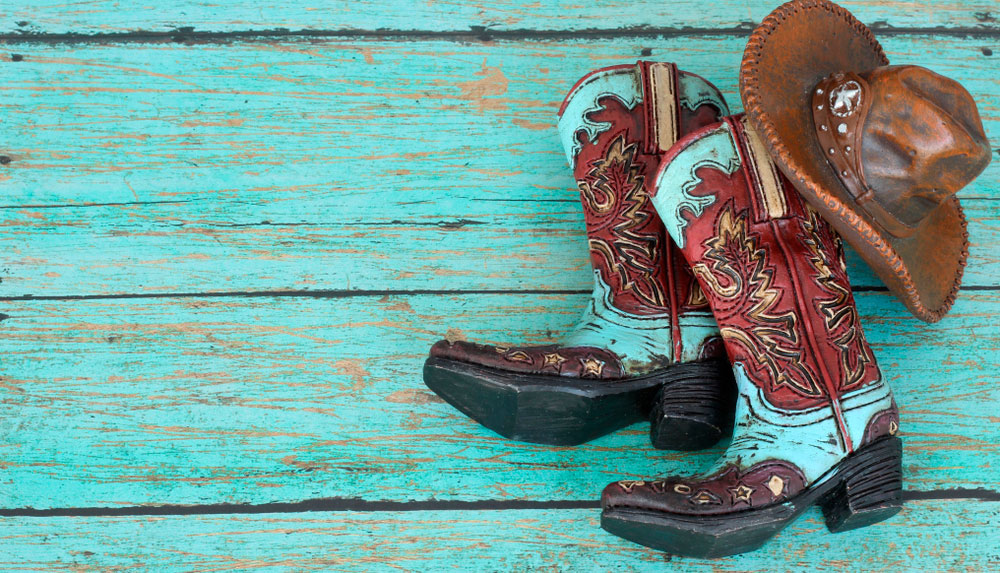 3. Vinegar or Lemonade
Clean white and black cow-hide leather by rubbing them down with vinegar. This will remove stains that may have been brought about by blood, water, or other liquids which can cause discoloration over time if not removed soon enough. Vinegar is also a great solution to remove salt stains in winter.
Vinegar is also great for polishing suede. It is an effective way of cleaning both types of material at once without having to buy multiple products just for one type of material. Just make sure you use distilled vinegar because this is the only type that will not leave any harsh odors behind.
Lemonade is another option to polish your cowboy boots. This is a natural cleaning product that will not only shine them up. It also removes any excess water stains or grease!
Use the following steps to polish cowboy boots with lemonade:
Apply some of your favorite floor cleaners onto an old rag.
Rub the mixture into your suede and white cowhide leather in order to create more friction so as to properly clean these materials.
Use two kitchen sponges that have been moistened with warm water. One for each shoe. Rub both shoes vigorously until they are clean.
Rinse off all residue from previous products used on the surface before moving onto the next step.
Dip a dry sponge into cold tea in order to wet down the material again.
4. Wax Paper
When your cowboy boots are cleaned, use wax paper to buff the outer surface of your boots. Apply a thin layer onto the cowboy boot. Then brush it in using circular movements with your fingers or another clean cloth until you have reached an even gloss on both surfaces.
Wax paper can also be used to shine up handbags, shoes, belts, or anything else made out of leather!
5. Vaseline
Apply vaseline on the cowboy boots. Rub it in with your fingers until the entire surface is covered. Then blow on it to dry the material off and leave a light haze of vaseline that will create a protective barrier.
Next, use a soft cloth or a soft bristled boot brush (or an old toothbrush) to remove any excess residue from the boots before you buff it away for extra shine.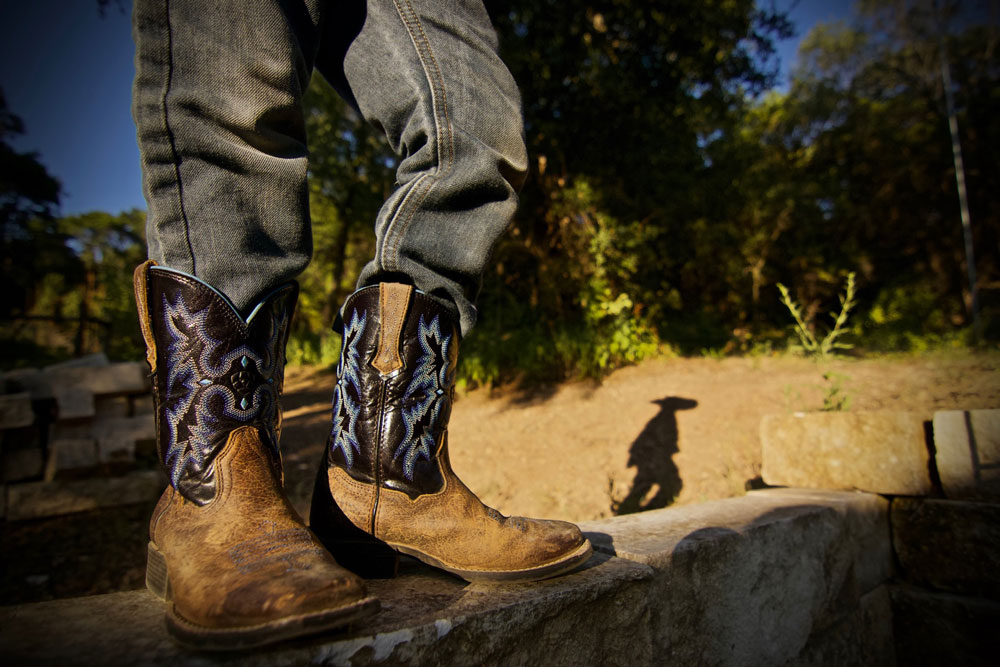 6. Olive Oil
Spray olive oil on your cowboy boots. Other alternatives to olive oil are mineral or canola oil.
Next, rub the surface of the boots in circular motions all over the boot with a clean cloth or brush (again, like an old toothbrush). This technique will give your cowboy boots that extra shine and protection they need.
Finally, buff away any excess residue with another soft cloth or brush for more shine.
Polish Leather Boots Properly
If you're looking for ways to keep your work boots in tip-top shape, this article is right for you. You'll find 8 boot care tips below that will help you make sure your boots are always ready for the next ride. Polishing cowboy boots is not only about cream or wax to protect from water and stains. There are even more ways to polish cowboy boots. Read this guide to find the best polish solution.
Just got a new pair of shoes? Here's a detailed guide on how to stretch cowboy boots.