A new saddle costs up to a few thousand dollars. That's why some riders consider buying used tack to save their budget. Choosing a used horse saddle may be challenging for rookie equestrians. You have to know what to look for and where to buy used equipment. This guide will help you buy a used saddle for your horse.
Used Western Saddles for Sale
Custom-made Western saddles are of the highest price. Expect to pay from $1,000 to $5,000 for new horse tack. Used leather Western saddle cost $300 to $1,000. A synthetic saddle can be found with a price tag of $80 to $200.
Top 3 Used Western Saddles
1. Piland Cutting Saddle
The Piland Saddle is a good Western saddle for cutting and others disciplines. The gear comes with strings on the back and a flank strap. The wide tree design fits a range of horses.
2. SaddleSmith Roping Saddle
The SaddleSmith Roping Saddle is made to last for years. It comes with a rawhide-covered wood tree that is solid. The saddle comes with a flank strap and rear billets.
3. Tucker Cheyenne Frontier Trail Saddle
The Tucker Saddle will make you feel comfortable when you trail riding. The lower horn and cantle design alleviate rider mounting and dismounting. The Tucker quality saddle comes with in-skirt single Dee rigging to attach the straps.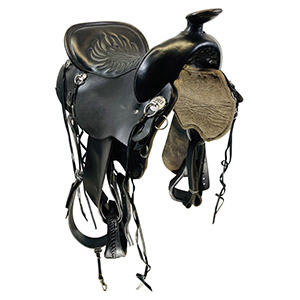 Used English Saddles for Sale
A brand-new English saddle costs from $300 to S7,000 depending on its quality and brand. An average market price for leather saddles is $1,000 to $2,000. A synthetic English saddle is a budget-friendly option. It comes in a price range of $300 to $1,000. Used English saddles are worth $300 to $1,500.
Top 3 Used English Dressage Saddles
1. Stubben Jump Saddle
The Stubben Saddle is a piece with a medium-wide tree design. It comes with a short round skirt. A lightweight tack for your horse's comfort.
2. Antares Jumping Saddle
The Antares Jumping Saddle is not a cheap one but of the highest quality. It has a lightweight design with a short round skirt. The seat size is 19 inches.
3. Germainian Dressage Saddle
The Germainian Dressage Saddle comes with a medium-wide tree design. A seat pocket is a nice perk. The seat size is 18.5 inches.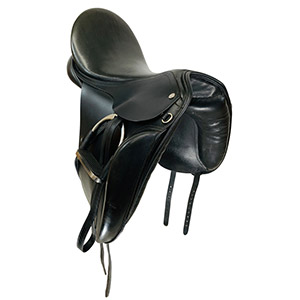 Used Circle Y Saddles for Sale
The Circle Y is at the top of the agenda in the horse tack industry. The manufacturer provides high-end quality saddles for a reasonable price. If you crave to save some bucks and still get a nugget, consider a used Circle Y saddle.
Top 3 Used Circle Y Saddles
1. Circle Y Trail Saddle 2131
The trail saddle has a medium-wide tree design. The seat size is 16 inches. It comes with adjustable position rigging and a short skirt.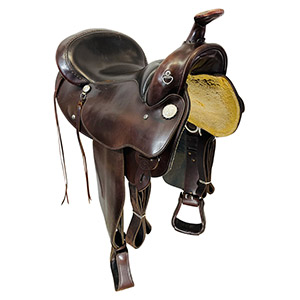 2. Circle Y Show Saddle 2878
The show saddle features a fiberglass-covered wooden tree. The seat size is 15 inches. It comes with a low-profile horn.
3. Circle Y Kelly Kaminski Limelight Flex2
This saddle is ideal for barrel racing. The seat is covered with suede. The tree size is wide flex. The seat size is 15 inches.
Used Billy Cook Saddles for Sale
Billy Cook is another recognizable saddle brand. It offers a wide range of leather tack and accessories for a horse and a rider. When looking for a high-end used or new saddle, Billy Cook is a great choice if you're looking for a quality Western saddle.
Top 3 Used Billy Cook Saddles
1. Billy Cook CJ Trail Saddle
The trail saddle comes with a wide tree design. It features a Single Western Dee rigging. The seat size is 16 inches.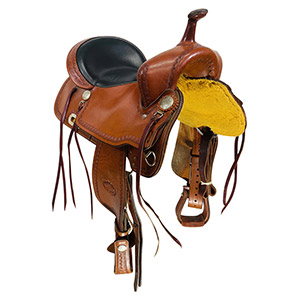 2. Billy Cook Barrel Saddle
Get on a show ring with a high-quality Billy Cook saddle. The seat size is 14 inches. It comes with an in-skirt Single Dee rigging.
3. Billy Cook Wade Ranch Mule Saddle
The ranch saddle is designed for a mule's back line that is flatter. The tack comes with a rear crupper ring. The seat size is 15.5 inches.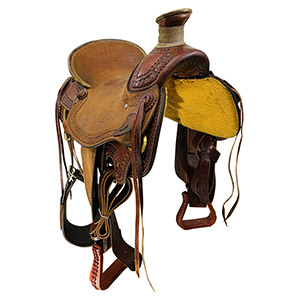 Used Trail Saddles for Sale
Look for a good-quality saddle that will make you feel comfy during long rides. The essential features are a user-friendly horn and a deep seat. The saddle skirt may be round or square. Here, you'll commonly find saddles with double rigging, instead of on a single one.
Top 3 Used Saddles for Trail Riding
1. Crates Light Ladies Trail Saddle
The Crates saddle features an Equifit Fiberglass-covered tree. It comes with a short round skirt that is great for shorter-backed horses. The seat size is 16 inches.
2. Tex Tan Trail Saddle
The Tex Tan Trail Saddle has a wide tree design. It's padded to 15-inch size. The strings are attached to the saddle.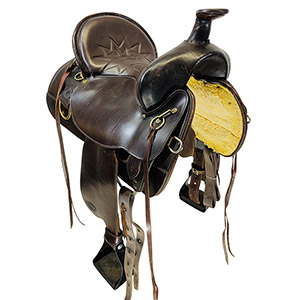 3. Timber Ridge Trail Saddle
The Timber Ridge Trail Saddle is designed with a suede seat. The saddle tree size is medium. The seat size is 15 inches.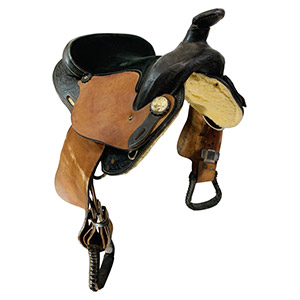 Used Barrel Racing Saddles for Sale
Barrel Racing Saddles are usually lighter than traditional Western saddles. They come with a rounded skirt and in-skirt rigging. All of these are made to knock seconds off when barrel racing.
Top 3 Used Barrel Racing Saddles
1. Reinsman Molly Powell Barrel Saddle
The Reinsman Barrel Saddle offers a tree of a medium flex. The seat size is 14 inches. The saddle weighs only 27 pounds.
2. J.B. Heritage Barrel Saddle
The J.B. Heritage Barrel Saddle comes with medium-wide tree size. It features a high cantle and deep pocket seat. The seat size is 15 inches.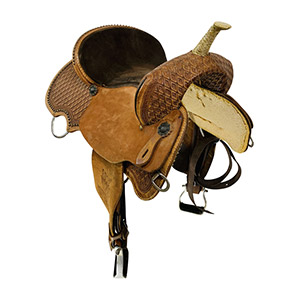 3. Top Hand Barrel Saddle
The Top Hand Barrel Saddle is designed with a wide tree. The seat size is 15 inches. The entire saddle is covered with suede.
Frequently Asked Questions
How to Buy a Used Horse Saddle?
Here are useful tips on what to look for when buying a used horse saddle:
Check the entire saddle for signs of damage: areas of wear, cracks, and scratches.
Check for losing stitching.
Use a tape measure to check the tree width.
Check the panels underneath for channel width.
In the case of a broken saddle tree, the tack is useless.
Check the fitting of the saddle if it works fine.
Check the seat size.
Test the product even with no ride. You can do it in a barn by sitting on the saddle while it's on a saddle rack.
Check the serial number to get all the product's specs.
Ask what extras come with the saddle (straps, stirrup bars, girth, bridle).
Ask a trusted saddler to examine that saddle before you purchase it.
If buying a used saddle online, use secure payment platforms.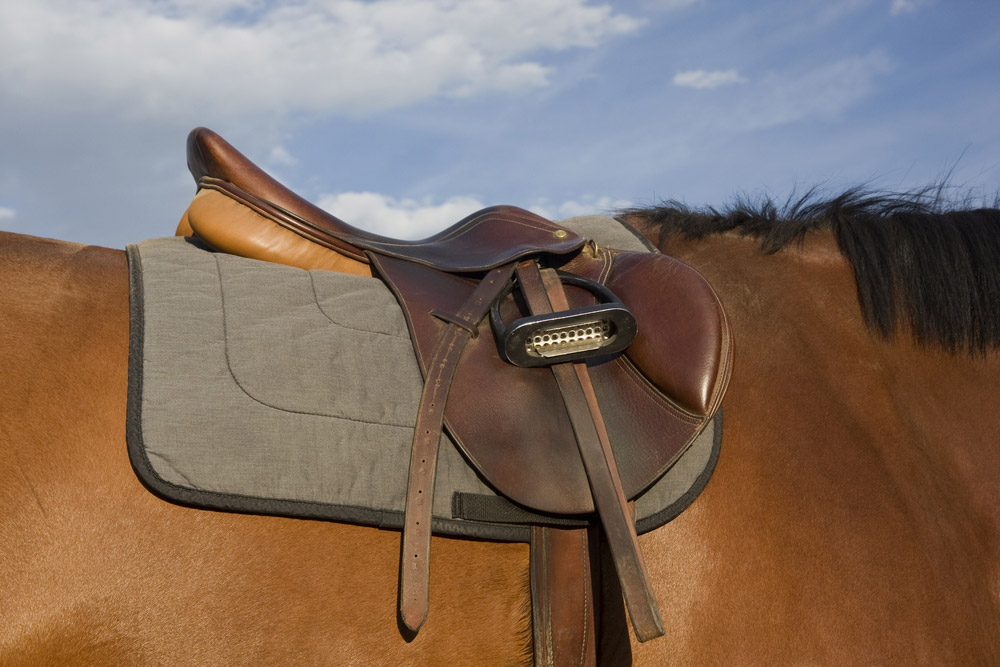 How Much Does a Used Horse Saddle Cost?
You can buy a used saddle for under $300 with no probs. But if you want to purchase a quality tack, expect to spend $1,000 or more. Leather saddles are pricey while synthetic ones are cheaper. An average price of a Western and English saddle is $1,000-$2,000. The price depends on the product's quality, condition, manufacturer, and discipline.
Is It Safe to Buy a Used Saddle on eBay or Craiglist?
eBay and Craiglist are popular platforms where sellers offer their goods. Here, you may find a bargain and you have a deal with saddle owners directly. However, you risk getting a saddle of poor quality. You don't know for sure what you're paying for until you get it.
Thus, it's better to look for used saddles shops that offer product prechecks and money-back guarantees. This will increase the chances you'll purchase a quality used saddle.
Is it Possible to Buy a Used Western Saddle Under $100?
A good-quality Western saddle is worth around $1,000 to $3,000. Don't expect to find a solid used tack with a cost lower than half of the new one's price.
Once you buy a good saddle, you'll use it for long. Poor equipment may disappoint you very soon. If you stumbled across a "used western saddles for sale under $100" ad, it's likely a marketing trick. You don't want to get a poor saddle that will cause discomfort for you and your horse.
The Final Word About Used Saddles
Used saddles are a great option for beginner riders and those who want to get more bang for a buck. Check your local tack shop for good deals. Alternatively, you could search for a used horse saddle online. Mass-produced close-contact saddles are more budget-friendly. But if you want to be at the front line, look for a saddle maker that offers custom-made leather saddles.
Choosing a used saddle might be challenging. It makes sense to contact a professional saddle fitter first. They will explain you to what you have to pay attention to. This will help to allocate a realistic budget depending on your needs.